So if you happened to read this post, you already know that we have been learning about reducing waste in the past few weeks! We had our grand finale of the unit this week when we set up our compost bin. Check it out!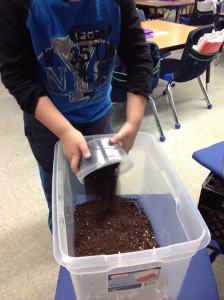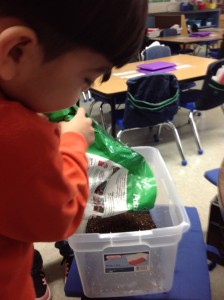 It's basically just a plastic tub with air holes punched in it (thanks, Mr. Lilypad!) filled with dirt. We put some food waste in it, as well as keep the worms watered daily. I've also read that putting in shredded newspaper is good.
People who are real serious about composting also put things in like tea, egg shells, and try to maintain a certain balance of the foods they put in. However, my goal was just to teach the kiddos something they can apply to their own gardens at home, so we keep it simple!
Here are some useful links about composting – before I ever brought the worms in, I read a nonfiction book aloud to them about worms, and we watched a few videos about composting. They were in charge when it came to setting up the bin!
Happy composting! (And please cross your fingers for me that the worms don't die / escape!!)