Have you ever been following your phonics scope and sequence closely – but your students just aren't keeping up? Or maybe you've had certain students who are flying ahead, and the curriculum seems too easy for them? What do you do if you have both types of students in your classroom?
Pacing can be tricky, especially if your students have a big range of needs!
In this post, I'll talk about where to start when you're teaching phonics (at the beginning of the year or anytime you need a "reset"), how you'll know when to move on to a new concept, and what to do when students need a refresher on previously-taught skills.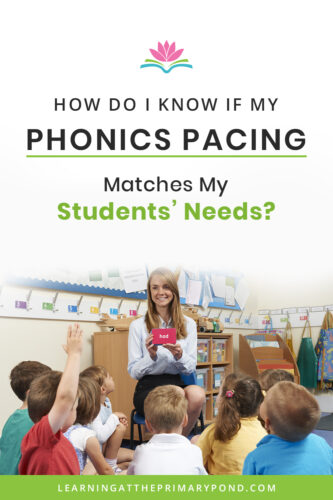 Assessment First
The first step to successful pacing in phonics instruction is to know your starting point. Does your school have an assessment you use?
Many phonics programs include a beginning of the year assessment that lets you know exactly where your students are and helps to pinpoint strengths and areas of growth. This is all important information to have!
Not all phonics assessments, however, cover both decoding and encoding. Sometimes there will be either a reading or spelling assessment, but not both.
However, I've found that it's extremely valuable to understand your students' decoding (reading) and encoding (spelling) abilities. Children can often read words that are more challenging than those that they can spell, and we want to understand what they can do in both areas.
Here's an example of a pre-test "summary sheet" from my phonics program, From Sounds to Spelling. This is the first grade example, and as you can see, the complete test covers different phonological awareness, decoding (word reading), and encoding (spelling) skills.
You may or may not give students the entire test, depending how they do – many first graders are not yet ready to read words with vowel teams, for example, at the beginning of the school year. The beautiful thing about the test, though, is that you CAN give the more advanced components to students who are ready for them!
If you'd like a free phonics assessment, I have one for you! It's not nearly as comprehensive as the one pictured above, but it will still help you determine what phonics skills students need to work on.
To access the free phonics assessment, go to the From Sounds to Spelling website at this link and then click "Free Trial." Inside the login area, you'll get access to the encoding assessment (remember that the assessments in the complete program include both decoding and encoding components).
Determining a Starting Point
Once I've completed a phonics assessment, I ask myself, "What did this student get right? What are they ready to learn next?"
In the From Sounds to Spelling phonics program, we have a placement guide to help you determine the best starting point based on students' scores.
At the bottom of the placement guide, it says this:
"Any decision you make does not have to be permanent, and you can always course-correct as you go."
This is so important to keep in mind! An assessment is just one barometer; not an end-all, be-all. Upon working with your students and getting to know them, you may find that they have different needs than what an assessment indicated – and that's perfectly okay.
When Do I Move On?
So you've given the assessment, and now you've begun teaching a phonics program. How do you know if you're moving too fast, too slowly, or if the pace is correct? This is where assessments (informal and formal) come in again!
At the end of each week, I do a dictation with my students. They spell sounds, words, and sentences that contain the skills that we covered during the week. If they get 80% or more of the items correct, that tells me that we're ready to move on.
I also give an end-of-unit assessment after multiple weeks of instruction. Here's an example of a summary sheet from an end of unit assessment for Kindergarten in From Sounds to Spelling:
This breaks down the key skills and objectives from the unit into tangible data.
Again, I know my students are ready to move on if they perform the tasks with at least 80% accuracy.
Once you've got your data, use this chart to make decisions about what to do next: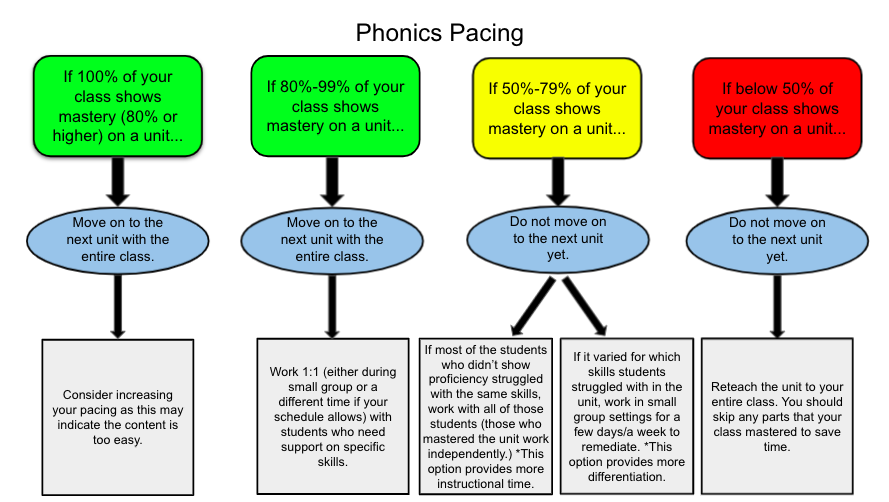 Here's the most important thing to remember: you will want to match the pacing of your phonics program to your students' needs, not what the program says to do! Follow the sequence of skills, of course, but go at a pace that works for your kids.
What Happens If Students Forget Skills?
Sometimes you might teach a skill, students seem to have mastered it, and then, weeks later, they seem to have forgotten it! This has happened to me many times. And guess what? This is totally normal. Don't ignore it – address it!
As students learn more and more about how words work, they sometimes forget certain skills or confuse spelling patterns. You can be proactive, rather than reactive, by purposefully planning "review time" into each phonics lesson.
Sometimes referred to as "spiral review" (because you're circling back to a previous concept), this time is designated for revisiting past skills.
In From Sounds to Spelling, I allow about 2-3 minutes daily for "Phonics and High Frequency Word" review. It's already in my lesson plan! When you use From Sounds to Spelling, the review topics are laid out for you; however, based on what you're seeing, you can always adjust the skills.
Below is an example of a 2nd grade lesson where I've written in that review ahead of time.
Conclusion
Effectively teaching phonics can be challenging in itself, and figuring out all the pacing "stuff" is an added layer that can feel overwhelming.
Fortunately, intentional assessment, built-in review, and being flexible will go a long way in helping you and your students stay on track!
If you'd like a FREE phonics workshop to learn much more about how to make phonics stick for your students, check out this webinar here!
Happy teaching!