There are TONS of terms and acronyms in education! And when it comes to literacy instruction, there's no shortage.
For example, you may have heard of these 3:
Read-aloud
Shared Reading
Guided Reading
They kinda sound the same, right? But they're not!
There are subtle — but important — differences among these 3 instructional practices.
Each instructional practice can help your students grow in a different way. When you understand the differences, you can better utilize them to help your students become stronger readers!
In today's post, I'll explain the differences through some simple, easy-to-read charts!
Whether you've been teaching for 10 weeks or 10 years, it's always helpful to revisit these concepts and reflect on your teaching!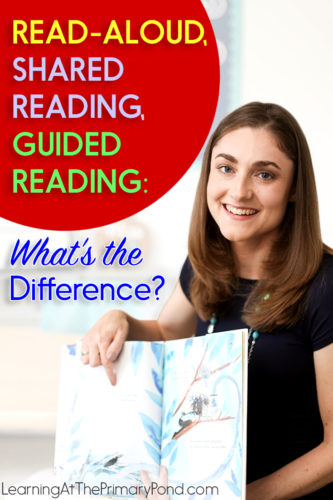 I think it's helpful to compare these instructional routines in a few areas:
Timeframe (how long they take to implement)
Skills to address
The teacher's role
The students' role
Text difficulty
Let's look at each area individually:
Timeframe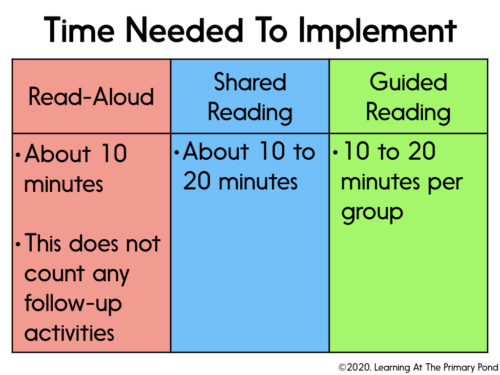 In a nutshell, a read-aloud typically takes the least amount of time (because you're doing most of the work).
Always pay attention to your students' attention spans and adjust accordingly!
Skills to Cover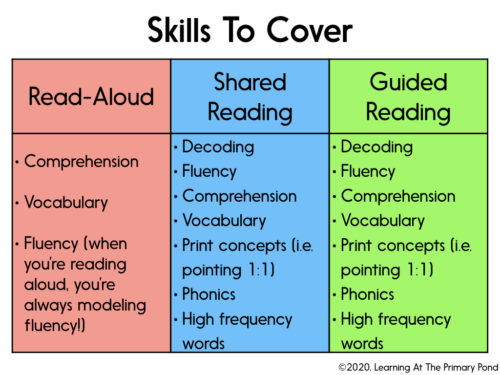 To sum it up, read-alouds are great for working on skills that don't require students to be able to see and read the text.
With a read-aloud, you can engage students in higher-level thinking. By reading aloud, you're giving students access to more challenging text (that they often can't yet read on their own).
Shared reading and guided reading are great for working on all skills. They're "closer" to independent reading, so you're getting students ready to use these same strategies on their own.
Teacher's Role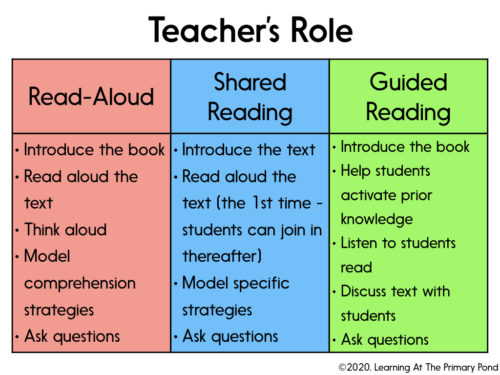 Out of these 3 instructional practices, the teacher does the most work during a read-aloud. She does the least work during guided reading. Shared reading falls somewhere in between.
Students' Role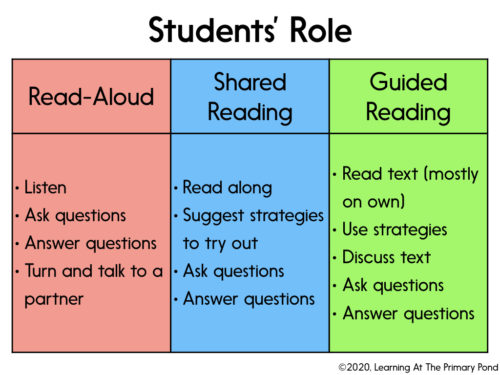 Out of these 3 instructional practices, the students do the least actual reading during a read-aloud (their job is not to decode, but simply to listen and comprehend). They do the most work during guided reading, as they should be reading the vast majority of the text. Shared reading falls somewhere in between, as the teacher and students share the work of decoding and comprehending the text.
Text Difficulty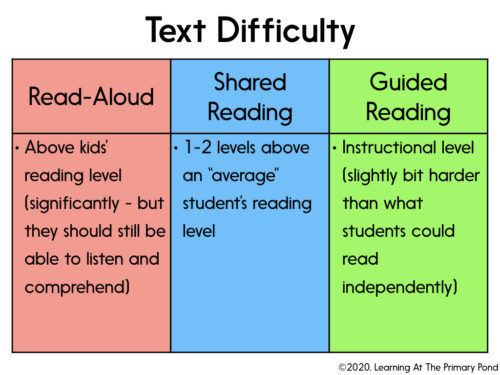 Together, these 3 practices give kids opportunities to work with texts at a variety of levels.
Learn More
If you'd like to learn more about these instructional practices, grab one (or both!) of these freebies:
Free Shared Reading / Reading Workshop Lesson Plans
You can also check out these additional posts that go more in-depth:
What Is Shared Reading, and Why Is It So Important?
3 Reasons Why It's Okay to Do a Readaloud (Just for the Sake of Doing a Readaloud)
What are the components of a guided reading lesson in a Kindergarten, first, or second grade classroom?
Happy teaching!