Are you a bilingual, dual, or immersion teacher wondering how to implement guided reading in Spanish? Well, the good news is that if you've taught guided reading in English, you more or less know how to do it in Spanish. Keep reading to find out how to tweak your guided reading instruction to make it Spanish-friendly, AND download a free "Guided Reading en Español" pack of materials!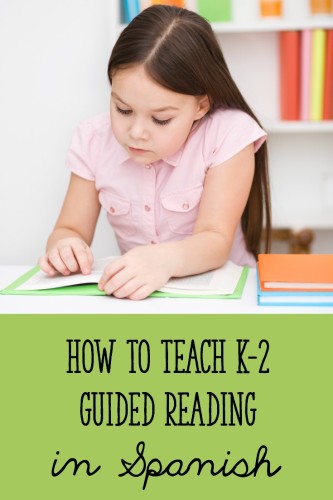 What is Guided Reading?
Whether you teach in English or Spanish, guided reading is a time for students to practice reading at their instructional levels. The texts students read during guided reading will be slightly harder than texts that they can read independently. During guided reading, you provide support so that students can decode and comprehend those texts that are a little bit hard.
Guided reading is not "round robin reading." Round robin reading is having students each take a turn reading aloud from a text. Guided reading, on the other hand, provides all students in a small group (3-6 kids) with simultaneous reading practice. Students are all whisper reading or silently reading the same text at the same time (but at their own pace). This provides much more practice and "eyes on text" time than does round robin reading.
In addition to reading part of or all of a text, guided reading may include brief components of decoding instruction, comprehension instruction, word study, sight word practice, phonemic awareness, and/or vocabulary study.
What Does a Guided Reading Lesson Look Like?
A typical guided reading lesson lasts 10-20 minutes, averaging about 15 minutes. A Kindergarten guided reading lesson at the beginning of the school year will be closer to 10, while a second grade guided reading lesson will be closer to 20.
When students come to your small group table for guided reading, you may want to begin the lesson with a few "fluency items." You can use flashcards or another means of quickly reviewing letter sounds, syllables, or high frequency words. If you choose to do this, use a digital clock or timer to carefully keep track of your time. You want this review to last only 1-3 minutes.
After finishing with your fluency items, you may choose to have students do a reread of familiar texts that you have already read in previous guided reading lessons. Rereading familiar texts helps improve students' reading fluency. Kindergarteners who are reading short, patterned books may go through multiple familiar texts during this time. First or second graders may get through just one text or part of a text. You can introduce the familiar reading activity by giving a quick tip on fluency (i.e., "Try to make your voice sound like you are talking as you reread today" or "Look for question marks and make your voice go up at the end"). If you teach first or second grade and would like to go more in-depth with a comprehension conversation about a text, have them all reread the same familiar text during this time. Then, spend a few minutes on in-depth comprehension (students will be more ready for this since they will have read the text at least twice). Provide students with about 4-5 minutes for their familiar reading practice.
Next, you will introduce the main text for the day. Your book introduction should be brief and give students what they need to successfully decode the text. You may have students look at 1-2 of the pictures in the book and talk about what they notice. You might ask students to share what they already know about the topic of the book. Or, if there's a word that you know students will struggle with because it is beyond their current level, you may want to show them the word. If you encourage students to talk about the text a little bit before they begin reading, you are helping set them up for success.
Before students begin reading or perhaps after they read a page or two, you will likely want to highlight a decoding strategy that you'd like them to use. This decoding strategy may be something relevant to this particular book, or it may be something that the group has been practicing recently. As with your book introduction, keep your decoding strategy instruction very brief.
Next, students will whisper read or silently read the day's text. You will want to listen in on a few students' reading and take a running record of one student's reading. If students finish their books early, you can have them reread or go back and search for a certain spelling pattern or new vocabulary words.
After students have finished reading, I like to talk about the content of the text right away. This sends the message to students that the most important part of reading is comprehension. After a brief comprehension conversation, we may also touch back on the decoding strategy I mentioned. If I noticed that a student used the strategy, I will recognize that student in front of the group and share what he/she did.
If there is leftover time after our comprehension/decoding conversation, we may take a quick look at a spelling pattern found in the book, discuss a vocabulary word, or do a quick phonemic awareness activity.
Whew. This sounds like a whole lotta stuff for a 15-20 minute lesson! Realistically, you will not be able to include all of the "extra" components (fluency items, familiar reads, word study, etc.) into every guided reading lesson that you teach. You can mix and match the "extras" (i.e. include syllable practice on Tuesdays and phonemic awareness practice on Thursdays).
There are lots of variations on the model I've described here. However, I do recommend always making sure that you do two things during every guided reading lesson you teach:  1. Have students read instructional level text and 2. Discuss the content with them (for comprehension). I also try (as much as possible) to minimize my "talk time" during each lesson, in order to maximize students' talk time and reading time.
How Is Guided Reading Different When Taught in Spanish?
Guided reading largely follows the same format, regardless of if you are teaching in English or Spanish. However, having taught guided reading in both languages, here are some things to consider when teaching it in Spanish:
When reviewing fluency items with students, focus on syllables (when developmentally appropriate). Spanish is a syllabic language. While your English-speaking teaching partners may be focusing on word families and vowel spelling patterns, you will need to help students learn to read and blend different types of syllables.
Decoding strategies differ slightly between English and Spanish, particularly for beginning readers. Certain strategies are the same (i.e. "Look at the picture" or "Look at the first letter"). However, as I mentioned above, students should be encouraged to decode and blend syllables when reading in Spanish. "Look at the first syllable" or "Blend two sounds to make the syllable" are strategies that Spanish readers need, even though you will likely not see them on a list of English decoding strategies. My "Guided Reading en Español" pack has reading strategy menus and posters that are designed specifically for students who are learning to read in Spanish.
Different phonemic awareness activities are appropriate for students who are learning to read in Spanish. Students should practice separating / clapping the syllables in words, blending syllables to make words, blending individual sounds to make syllables, segmenting syllables into their individual sounds, etc.
You may have to spend more time on comprehension than decoding as students become more fluent readers. Since Spanish is a phonetic language, once students have "cracked the code," they will likely be able to decode texts that are much more difficult than they can comprehend. In late first grade and second grade, you may have students who can decode perfectly but do not comprehend what they read. Keep this in mind as you are planning your teaching points and the amount of time you will spend on decoding strategies and comprehension.
Free Materials for Teaching Guided Reading in Spanish
All of this is a lot to think about when planning for a lesson that lasts only about 15 minutes! Even though I've been teaching guided reading for years, I am always trying to find ways to improve my lessons.
To help make your lessons easier to plan for and teach, download my FREE "Guided Reading en Español" pack! It includes 3 different types of lesson planning templates, decoding strategy menus and cards, comprehension prompts, sentence starters, phonics posters, alphabet flashcards, syllable flashcards, and more. Click on the image below to get it: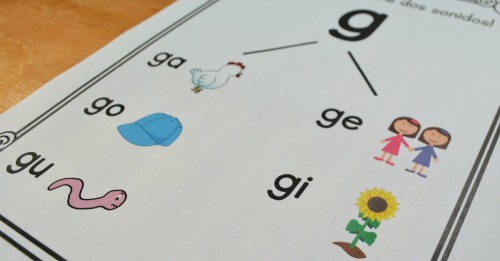 Do you have any guided reading tips of your own to share? Comment below!