Wondering what grammar skills to teach to your Kindergarten, first grade, or second grade students?
I've got you covered! In this "grammar skills by grade level" post, I'm listing out skills to teach in each grade level, K-2!
Where did this list come from? Well, it reflects the Common Core Standards — but also what I've personally seen to be appropriate and helpful for each grade level.
Of course, what you teach your students will ultimately depend on your own curriculum and your own standards — and most importantly, what you see that your kids need. Every class and school is different!
So while I hope that these lists are helpful to you as a starting point, I anticipate that you'll need to make some adjustments and adaptations.
Let's dive in!
Pssst..Update! The grammar-post series is now complete!
You can read each post in the series here:

– How to Integrate Grammar into Your Writing Instruction
– How to Integrate Grammar Instruction into Shared Reading or Close Reading
– How To Find Time for Grammar Instruction
– 5 Tips for Helping K-2 Students Actually Apply Their Grammar Learning
– 15 Picture Books for Teaching Grammar and Conventions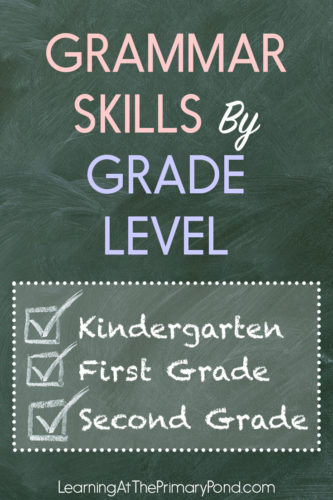 Each list includes grammar, language arts, and writing conventions skills. (Vocabulary skills are not included, nor are concepts that can be included in spelling instruction, like homophones.)
Grammar & Language Skills for Kindergarten
Use spaces between words
Write from left-to-right, top-to-bottom
Identify "sentence" and "word" by name (use those terms)
Identify the period, question mark, and exclamation point by name
Consistently use periods to end sentences
With support, use question marks or exclamation points to end sentences
Capitalize the first word in a sentence
Capitalize the pronoun "I"
Capitalize names of familiar people (i.e., friends' names)
Speak in complete sentences
Write in complete sentences (may need support)
Understand and use question words (who, what, where, when, why, how) orally
Use common nouns to name people, places, and things — orally and in writing
Use describing words to give detail — orally (adjectives, but I don't require Kinders to know the word "adjective")
Use specific action words — orally (verbs, but I don't require Kinders to know the word "verbs," though I may use it myself)
Use simple pronouns correctly — orally and in writing
Demonstrate understanding of and use common prepositions — orally
Use plural nouns with -s and -es — orally (should also attempt in writing but may not spell them correctly, especially the -es ending)
Produce statements, questions, and exclamations with prompting — orally (I don't require Kinders to identify these sentence types by name)
Expand simple sentences by adding more details — orally, with prompting
Discuss differences between present and past tense verbs and use them correctly — orally, should also attempt in writing
Grammar & Language Skills for First Grade
Use spaces between words
Write from left-to-right, top-to-bottom
Identify "sentence" and "word" by name (use those terms)
Identify the period, question mark, and exclamation point by name
Consistently use correct ending punctuation marks
Use commas to write the date
Use commas to separate words in a list or series
Capitalize the first word in a sentence
Capitalize words in the date
Capitalize names of people
Form the abbreviations Mr., Ms., and Mrs. — in writing, with support
Speak in complete sentences
Identify the subject and predicate of a simple sentence (know terms "subject" and "predicate")
Write in complete sentences (use knowledge of subject and predicate)
Understand and use question words (who, what, where, when, why, how) — orally and in writing
Use common nouns to name people, places, things, and ideas — orally and in writing
Correctly identify nouns (using the term "noun")
Use proper nouns to name specific people, places, and things — orally (should attempt to use in writing but may not always capitalize correctly yet)
Use possessive nouns (i.e., "the girl's book") — orally (may attempt in writing but correct spelling and punctuation are not yet expected)
Use pronouns correctly — orally and in writing
Use personal pronouns (i.e., "me"), possessive pronouns (i.e. "ours"), and indefinite pronouns (i.e., "someone") correctly — orally and in writing
Correctly identify action verbs (using the term "verb")
Use correct subject-verb agreement in simple sentences — orally and in writing
Discuss the differences in meaning between the past-tense, present-tense, and future-tense forms of a verb
Use past-tense, present-tense, and future-tense forms of verbs correctly — orally and in writing
Discuss and use irregular past-tense verbs — orally and in writing
Correctly identify adjectives (using the term "adjective")
Use adjectives to give detail and describe — orally and in writing
Use common conjunctions (i.e., "and," "but") — orally and in writing
With support, combine 2 simple sentences to form a complex sentence
Expand on simple sentences — orally and in writing
Use "a" and "the" correctly — orally and in writing
Use "this," "these," "that," and "those" correctly — orally
Demonstrate understanding of common prepositions
Use common prepositions correctly — orally and in writing
Produce statements, questions, exclamations, and commands — orally and in writing (may or may not know names of these sentence types, although I use the terms with them)
Discuss the meaning of simple contractions — orally
Discuss how language is used differently in different contexts (i.e., formal and informal English)
Grammar & Language Skills for Second Grade
Identify the period, question mark, and exclamation point by name
Consistently use correct ending punctuation marks
Use commas to write the date
Use commas to separate words in a list or series
Use commas in the greeting and closing of a letter
Capitalize the first word in a sentence
Capitalize words in the date
Capitalize names of people
Capitalize names of products
Capitalize names of holidays
Capitalize geographic names
Form and correctly punctuate the abbreviations Mr., Ms., and Mrs.
Correctly form simple contractions with an apostrophe
Correctly form simple possessives with an apostrophe
Speak in complete sentences
Identify the subject and predicate of a simple sentence (know terms "subject" and "predicate")
Write in complete sentences (use knowledge of subject and predicate)
Understand and use question words (who, what, where, when, why, how) — orally and in writing
Use common nouns to name people, places, things, and ideas — orally and in writing
Use plural nouns correctly — orally and in writing
Use pronouns correctly — orally and in writing
Use reflexive pronouns correctly — orally and in writing
Correctly identify nouns (using the term "noun")
Use proper nouns to name specific people, places, and things — orally and in writing
Use common collective nouns (i.e., "herd," "group," or "crowd") — orally and in writing
Use possessive nouns (i.e., "the girl's book") — orally and in writing
Use personal pronouns (i.e., "me"), possessive pronouns (i.e., "ours"), and indefinite pronouns (i.e., "someone") correctly — orally and in writing
Correctly identify action verbs (using the term "verb")
With support, identify "to be" verbs and linking verbs as verbs
Use past-tense, present-tense, and future-tense forms of verbs correctly — orally and in writing
Use common irregular past-tense verbs — orally and in writing
Use correct subject-verb agreement in sentences — orally and in writing
Discuss the differences in meaning between the past-tense, present-tense, and future-tense forms of a verb
Correctly identify adjectives (using the term "adjective")
Use adjectives to give detail and describe nouns — orally and in writing
Use the comparison forms of adjectives (-er, -est) — orally and in writing
Correctly identify adverbs (using the term "adverb")
Use adverbs to describe verbs — orally and in writing (may need prompting to use in writing)
Correctly choose between adjectives and adverbs — orally and in writing
Identify contractions and explain how to form them (using the term "contraction")
Identify possessives and explain how to form them
Use conjunctions (i.e., "and," "but") — orally and in writing
Expand on simple sentences — orally and in writing
Combine 2 simple sentences with a conjunction to form a complex sentence — orally and in writing
With support, combine 2 simple sentences into 1 sentence by eliminating parts and rearranging parts
Use "this," "these," "that," and "those" correctly — orally
Use common prepositions correctly — orally and in writing
Produce statements, questions, exclamations, and commands — orally and in writing (and identify these sentence types)
Discuss what dialogue is (may attempt to produce it in writing, but correct punctuation is not yet expected)
Discuss how language is used differently in different contexts (i.e., formal and informal English)
It's a lot, I know! I have a complete grammar program for Kindergarten, first, and second grade available to help you teach all these skills.
Check it out, HERE