The school day is sooo packed! It's so hard to fit everything in, right?!
Grammar or language arts instruction is essential. But when do you teach it? How do you find time for it all?
In today's post, I'll explain why grammar instruction does not need to take up tons and tons of time. I'll share tips for fitting grammar instruction into what you're already teaching (time saver)!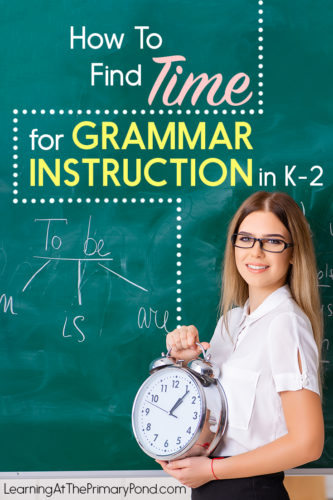 Why Grammar Instruction Doesn't Have to Take Up Tons of Time
Good news – you don't have to allow 30 mins a day for your grammar or language arts instruction!
Research shows that grammar instruction is most effective when you connect it to your writing instruction and your reading instruction.
So you can integrate grammar instruction into your writing and reading lessons – rather than always setting aside a specific block of time for grammar.
I do think it's important to sometimes set aside time for specific grammar lessons. But I don't think you have to do it every day.
To see examples of how to integrate your grammar instruction into your writing and reading instruction, check out this post and this post.)
Scheduling Tips
Now for some scheduling tips to help you find time for grammar instruction!
Set aside 1-2 days per week when you'll spend 10 or 15 minutes on a grammar activity.
If your grammar program does require more than 10 or 15 minutes for a lesson, consider having A Days / B Days. On A Days you teach your required grammar lessons. On B Days you don't teach one – you just discuss the target grammar skill as part of your other reading and writing instruction.
Remember that grammar activities don't all have to be lengthy, fancy, or extensive. It only takes 3 minutes to have students identify the verbs in stories they wrote…or name the punctuation marks in a big book…or add missing capital letters to their writing!
Have students practice grammar skills as part of centers or D5 (once they've had the initial instruction with you). For example, they could do a punctuation mark hunt in books that they're reading. Or they could find proper and common nouns in an article.
Conclusion & More Scheduling Help!
For more help with creating your daily schedule, please check out the posts below – they all have sample schedules!
Note: In those posts, I didn't list grammar on the sample schedules – because it's not something that I teach (in isolation) every day. However, you can easily take 5-10 minutes off another activity in order to fit in a minilesson. And the rest, as I mentioned, can be integrated into your reading and writing lessons.
How to Schedule a Balanced Literacy Block for Kindergarten
How to Schedule a Balanced Literacy Block for First Grade
How to Schedule a Balanced Literacy Block for Second Grade
The time crunch is REAL…but I hope this is helpful to you! In an upcoming post, I'll share more details about what my grammar instruction looks like on a daily / weekly basis.
More Resources
The grammar series that this post is a part of is now complete! You can read each post in the series here:
Need grammar lessons, materials, and games for all year long?
Click on any of the images below to read more about my Grammar Alive program for Kindergarten, first grade, and second grade:
Or, if you're looking for no-prep activities to help your students practice grammar skills, check out my BoomCardsTM Grammar Games!
These activities can be played on any device with internet. My students LOVE them, and I love the fact that A) they include audio directions, and B) students get immediate feedback about their answers.
Happy teaching!