**Looking for 1st grade literacy block schedules? Click HERE. Or for 2nd grade literacy block schedules, click HERE.**
Building a literacy block for Kindergarten was always one of the most challenging parts of creating my daily schedule. There was SO much I wanted to fit in – and that was especially true when I co-taught in a half-day Kindergarten classroom!
Whether you teach full day or half day Kindergarten, creating a literacy block schedule can be tricky. Keep reading to see the components of my Kindergarten literacy block, how long we spent on each component, and some sample schedules for full-day and half-day Kindergarten.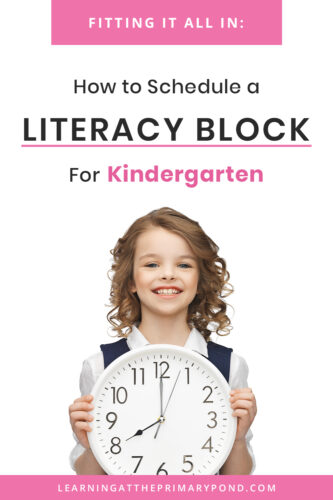 Components of a Kindergarten Literacy Block
There are many different ways you can structure a Kindergarten literacy block, but you may want to include the following components:
Now for a little more detail on what I teach during each component, and how long I spend on each part of the literacy block:
Readaloud & Vocabulary (10-15 minutes):  If I can swing it, I actually do a readaloud twice a day:  one time, we read a book for pure enjoyment, and another time, we read a book to focus on comprehension strategies and vocabulary. You might choose to focus on comprehension and vocabulary during your literacy block readaloud. Then, you could do a readaloud for enjoyment after lunch or recess. You don't necessarily need 2 brand new books for each day, however. For example, you could read aloud a book for enjoyment on Monday after lunch. Then, you dive into that same book more deeply on Tuesday during your literacy block. I've found that kids can better focus on practicing comprehension strategies when they've already listened to the book previously. If you don't have time for two readalouds in a day, you might focus on comprehension Monday, Wednesday, and Friday, and read just for enjoyment on Tuesday and Thursday.
Shared Reading (10-15 minutes): This is when I read aloud (and have students help me read) a big book or one of the projectable books from Reading A to Z. Students sit on the rug so that they can see the print. We typically read only 1 or 2 books per week, because we read each text multiple times (first time for comprehension and enjoyment, and additional times for teaching points like "Point once under each word."). At the beginning of the year, I use shared reading to teach concepts about print (directionality, concept of word, punctuation, etc.). As the year goes on, I focus more on decoding strategies and fluency.
Guided Reading / Small Group and Centers (45 minutes – less at the beginning of the year):  During this block of time, I meet with students for guided reading or small group while the other students work independently (as much as Kinders can be independent!!). In guided reading at the very beginning of the year, we work on simple tasks like learning the letter sounds, but I try to get them reading emergent books as soon as possible (get the lessons I use HERE). The students who are not meeting with me work in literacy centers. At least one of the center activities provides students with further practice on the phonics skill taught during the day's phonics / word study lesson. Later on in the year, I differentiate that center to give students practice with phonics skills that are more appropriate for their current skill levels.  I usually incorporate a picture or word sort from my phonics program From Sounds to Spelling.
Reading Workshop Minilesson (10 minutes): I teach a decoding, fluency, or comprehension skill (just one per lesson) that students can practice in their independent reading. This is a very brief, focused lesson and can be combined with shared reading.
Independent Reading (20 minutes +5 for sharing time): Students read independently (not silently, but whisper reading). You can also incorporate independent reading time into your literacy centers, but I've found that kids are more focused when the classroom is quiet and everyone is focused on independent reading at the same time. I confer with kids individually while everyone is reading. After independent reading time, we come back together as a group so the kids can share about their reading and strategy use with a partner or the class.
Writing Workshop Minilesson (10 minutes): I teach a brief, focused lesson on a writing skill that students can use in their own writing. I structure my writing units by genre, so whatever skill I'm teaching is related to that genre. I model real writing during almost every one of these minilessons.
Independent Writing (25 minutes + 5 for sharing time): Students write independently, and I confer with kids individually. After independent writing time, we come back together as a group so students can share their writing with a partner or the class.
Phonics / Word Work Lesson (10-30 minutes):  At the beginning of the school year, while I'm teaching the alphabet, our whole group phonics time usually lasts about 30 minutes. As the year progresses, I do more phonics work in small group. However, I still do teach a short phonics lesson or review in a whole group setting. For a free yearlong guide to teaching phonics in Kindergarten, click HERE! (Note: We work on phonics for more time than is listed here. We work on phonics during our small groups, and students also have independent phonics practice activities.)
Phonological Awareness (5-10 minutes spread out throughout the day):  This is when we do quick, oral activities to increase students' awareness of the sounds in words. Phonological awareness activities can include rhyming, segmenting words into their individual sounds (cat -> /c/ /a/ /t/), blending individual sounds to make words, substituting sounds, clapping syllables, etc. I don't usually write phonological awareness into my daily schedule because we do these activities during transition times and small group/guided reading.
Morning Message (10 minutes):  I didn't include morning message in the list above, but I also use this routine to teach literacy each day. Before the kids arrive in the morning, I write a sentence or two to start the message. We read those sentences as shared reading (you can quickly teach decoding skills, concepts of print, and phonics – just choose one teaching point per message). Then, I tell the kids that I want to add on another sentence, and we write it together as interactive writing.
Sample Schedules for a Kindergarten Classroom
So what does this look like in a full-day Kindergarten classroom? Here are a few sample schedules – the first one is what my schedule most closely resembled, and the second one follows more of a Daily Five / rotations approach: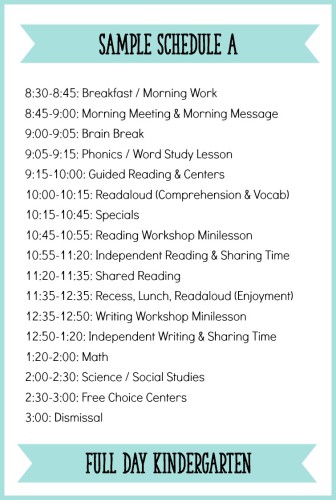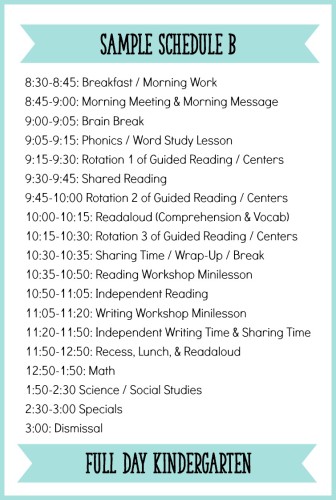 Or, if you teach half-day Kindergarten, here are some possible schedules: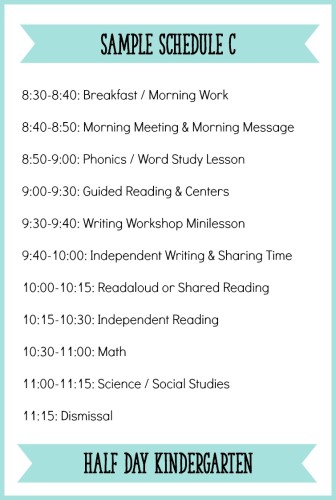 If you teach half-day Kindergarten, kudos to you! Seriously. Trying to cram everything into a couple of hours is such a challenge. Although my students were always tired at the end of full-day Kindergarten, I would much rather deal with that than have only a few hours to get everything in.
If you look between the full-day and half-day Kindergarten schedules, you'll notice that I did the following to consolidate the literacy block:
Cut down on the time allotted for guided reading and centers (45 minutes to 30 minutes)
Placed the readaloud and shared reading in a single time slot – you could do a readaloud on Mondays, Wednesdays, and Fridays, and then do some sort of shared reading on Tuesdays and Thursdays. Either way, you're still reading to the kids – your focus would just shift depending upon whether it was a readaloud or shared reading.
Allowed very little time for science / social studies. You can absolutely still teach science and social studies, but you will need to integrate the content into your literacy block. You can create units of study about a content area topic, and then use your readaloud and guided reading books to address that topic.
General Tips for Scheduling
In an ideal world, you could choose one of these schedules, adapt it slightly, and go with it. However, I know from experience that it's not always that easy! If you can't use any of these schedules and have to write one from scratch, here are some general tips that I keep in mind when doing my scheduling:
Plan to teach the most important skills right at the beginning of the day. Students are most focused at this time and are more likely to retain what you teach. At the beginning of the year, I go over the letters and sounds right after our morning meeting.
Alternate activities that involve sitting quietly/listening with activities that involve movement. For example, you might teach a minilesson, have students work in centers, and then read a book aloud. If you must have two "sitting and listening" activities back-to-back, make sure to include a movement break in between them.
Prioritize student practice time. When I have limited time, I tend to want to fill it with teaching, to squeeze in every possible lesson I can. But what kids really need is time to practice with your support. I try to distill my lessons so that they are short and to-the-point, and then give students as much time to practice as possible.
Remember that you don't have to do every activity in the same way every day. You may not have time to meet with 3 guided reading groups every single day, even if you teach full day Kindergarten. You don't have to plan for a shorter guided reading block for the entire week – just meet with 2 groups some days and 3 groups other days. Or, if you don't have time for a full writing workshop every day, make your minilesson super short some days and give students time to write.
Begin and end the day as a group. It builds community for students to come together for morning meeting or an end of the day song/routine. Those are my favorite times of the day for sure!
I hope this post gave you some ideas for structuring your literacy block! If you are looking for reading and writing curriculum for Kindergarten, click on the images below to read more.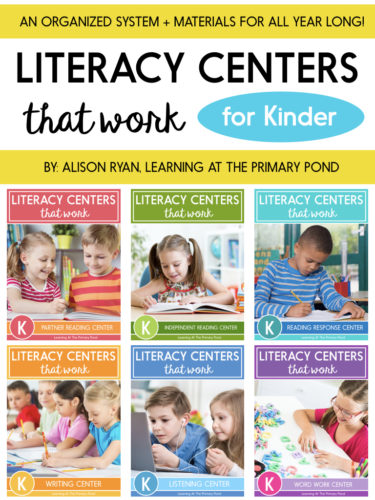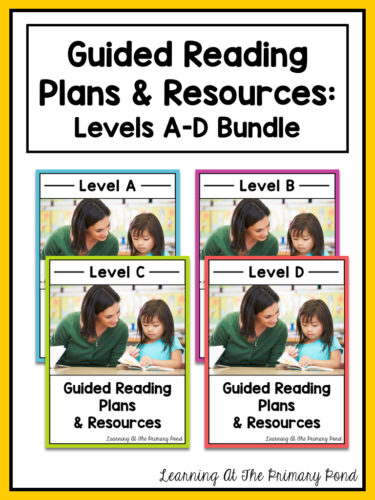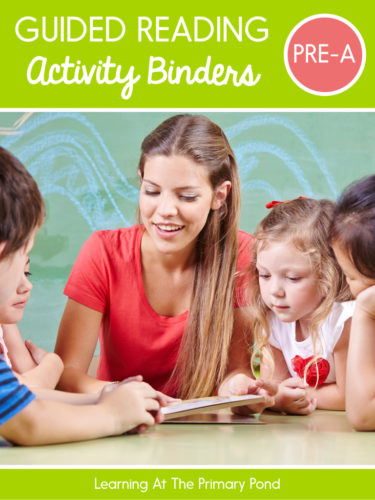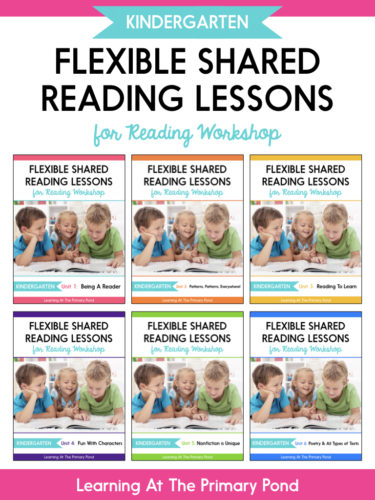 Do you have any other strategies or suggestions? Please comment below!
Happy teaching!