There's a ton of free websites for teachers out there, right? But let's be real – you don't have hours and hours to sift through them all!
Teachers are busy. YOU are busy. There's never enough time for planning, prepping, or instructing.
What if I could help you steal a few moments?
It's a start, right?
Technology CAN make your life easier if you know the right websites and tools. So keep reading this post if you could use some:
Tools for classroom management
Resources for fun ways to spice up learning
Access to more books
Other professional development and helpful tools for teachers
(All of these sites have FREE content!)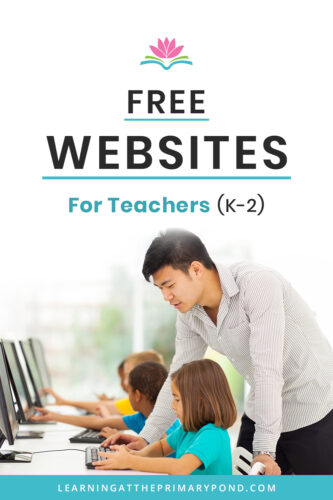 Free Online Books
No matter how much money we pour into our classroom libraries, we always need MORE books. Maybe you have a student that has read EVERYTHING. Maybe you have a super picky student that only reads books with dogs, magicians, or a purple cover.
Whatever the reason— we've all been there. But thankfully, these free websites can help fill in the gaps:
EPIC is free for educators. It has more than 40,000 popular books. You can see what your kids are reading, assign stories, and differentiate. You can even set classroom reading challenges. Students can use a limited version of EPIC at home after school hours for 2 hours each week. Click here for more info on EPIC FREE. Click here to read a previous blog post about the awesomeness of EPIC and some ways you may not have thought to use it.
Starfall isn't AS free as Epic, but it does have some stories. It also has a lot of games and activities stretching across content areas. Not everything is free, but there are some great resources that are!
Fun Brain has a good selection of mainstream books. It also has a "math zone," videos, and games. (One word of caution—the ads can be distracting and lead to accidental off-site clicking.)
ReadWorks provides amazing (and FREE) reading passages, lessons, and digital reading resources to K-12 teachers and students. The amount of resources available on ReadWorks.org is incredible, and the staff is dedicated to helping teachers improve kids' reading comprehension. Click here to read a past blog post about using ReadWorks to create engaging, differentiated independent work.
Storyline Online is a website that has free read-alouds of popular books. Some of the book readers include Oprah Winfrey, Kristen Bell, and Betty White. It's fun alternative you can use in a reading center, free choice, or even at dismissal time.
The Libby App is a resource you can use with your local public library. There are lots of great ways to use it, like projecting books for Shared Reading.
Free Math Sites
Splash Learn is a website with unlimited access to grade levels PK-5, diagnostic tools, and the ability to differentiate for students on different platforms. It's game-oriented, and the kids seem to like playing it.
Hooda Math is a site with a variety of math games for different skills. You can select your grade level, and it will present you with grade appropriate games. (It is ad-heavy, and even the most experienced user can accidentally click the wrong thing and get whisked away to a new land, but it has some good games.)
Free Educational Games & Activities
Starfall we've already talked about. Good for books. Good for games. Not just literacy either. It's worth checking out!
ABCYA is a free site of educational games. Again, it stretches across the content areas. This site is free if used on your computer, but if you're using iPads or tablets, some of the content is blocked.
Fun Brain, in addition to books, also has games, activities, and content for different subject areas.
The Florida Center for Reading Research doesn't have online games, but they have tons of printable literacy games and activities for students! After you click that link, you can narrow your search down by grade level(s). SOO much good stuff in there!
Spice up Learning
Directed Drawing Videos has a collection of fun videos to show to your class. You can use these videos for a quick, fun activity. Or you can add onto them. For example, you might pair directed drawings with writing instruction. As a prompt, say, "Tell us a story about the picture." You could do a partner or whole group share afterward. These are super cute for displaying on bulletin boards!
Chatter Pix Kids is a free app available for iPad. The kids take a picture of an object or drawing and then use the app to give the object/drawing a mouth. Then, they use the character to share a short story or explanation of a chosen topic. It's loads of fun, and the kids always get a kick out of it! Click here to watch a how-to video by Talkin Pinata Teaching.
Flipgrid is a free tool you can use on a computer or tablet for a ton of different things. Reading reflections? Book talks? Explaining their answers? You can pose a question on Flipgrid, and each student will make a short recording. This is a great tool because you can also save the videos to show at parent conferences. You can also allow students to watch the other videos and comment (think positive feedback). Click here to watch how Mr. Merrill's First Grade class uses Flipgrid. The possibilities are endless!
Free Classroom Management Tools
Wheel of Names is a random selector tool. What can you use it for? SO MANY THINGS! You can use it to pick helpers, groups, choosing a student to answer a question, etc…BUT WAIT! There's more! You don't have to just use names. I know, right? You can put whatever you want in the wheel. An impromptu game of four corners? Brain break activities? Review questions or writing prompts? Again, endless possibilities.
Bouncy Balls is a free online noise meter. You don't have to download anything! Just use it in your web browser with access to your mic, and the kids can see a visual representation of their noise level. The balls jump higher and higher as the noise increases. You can also choose different themes like eyeballs or bubbles.
Calm Counter is like Bouncy Balls but in meter form. The simple meter goes from green to red, indicating noise level.
Classcraft is another free and fun noise meter with a bonus of a timer. You can turn this into a game with your kids. You get to choose the time length and adjust the threshold to suit your needs and your classroom's unique ability. If you have a super chatty class, you can start off at a higher threshold and work towards lowering the threshold successfully.
Classroom Timers has a great selection of timers to use in your classroom. There are even special occasion and holiday versions available. You can use them to keep you and your students on track in a fun way.
Free Professional Development
Learning at the Primary Pond…my website! ? I love sharing literacy teaching strategies and freebies on my blog and during my online workshops! Check out the schedule for my upcoming live webinars, or check out my recorded webinars for teaching phonics, writing, guided reading, or literacy centers.
Reading Rockets has great information about teaching reading, writing, learning disabilities, struggling readers, ELL students, classroom strategies and even some great STEM ideas. They offer one-hour professional development webcasts on a variety of topics.
Do you use a box curriculum/basal reader? Lots of these curriculum companies offer professional development and resources on their websites.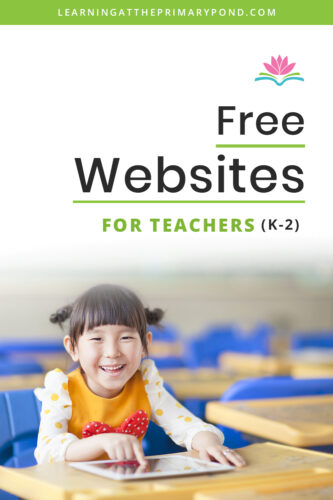 Conclusion
I hope this list and these online tools help save you some TIME! ?
If you're looking for more free, time-saving resources, check out my free resources on TeachersPayTeachers by clicking here.
Happy teaching!