Are you short on time for teaching grammar? If so, you're going to love the quick, fun adjectives lesson plan I'm sharing in this post! It's perfect for 1st or 2nd grade, and it won't take long at all to teach!
This adjectives lesson is best taught when you're first introducing the concept of adjectives. I'll also share some activities you can do to follow up on this lesson!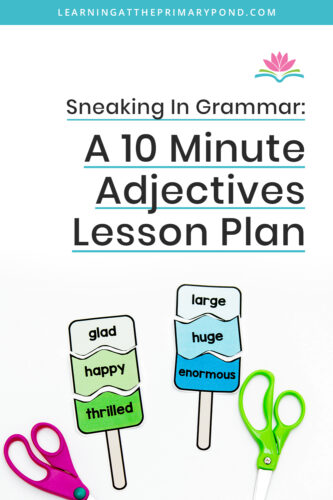 Adjectives Lesson for 1st or 2nd Grade
NOTE: This lesson comes from my first grade Grammar Alive bundle.
STEP ONE: Set-Up
On each table or group of desks in your classroom, place an object that will be interesting to students. For example, you might choose a seashell, a rock with crystals, a toy animal, etc. You could even choose objects related to your current science or social studies unit, if applicable.
STEP TWO: Introduce the Activity
Say to students, "I've put some different items on your tables. I'm going to give you a few minutes to look carefully at the objects. Ask yourself, Is the object big or small? What color is it? What shape is it? Talk with everyone at your table to describe the object."
STEP THREE: Go Through the Rotations
Dismiss students to sit at a table. Give them only 1 minute to sit and discuss at the table. If students are quick writers (or you have a quick writer in each group), they can record the words they used to describe each object.
Next, have students rotate to the next table. Rotations will continue until students have visited all the tables.
STEP FOUR: Reflections
Bring students back together. Take out a piece of chart paper and say, "Let's record your observations. What object was on Table #1?" Write the name of the object on the paper. Then, ask, "What did you observe about this object?" Have students list out words that describe the object. Focus on getting them to use specific adjectives (but don't use the term "adjectives" yet). Your goal here is to get them talking, not teach any new describing words. Record all of their observations on the chart paper.
STEP FIVE: Concept Introduction
After you've gone through each object, say, "Great job! You thought of many different words to describe the objects on our tables. And guess what? These words have a special name – they're called adjectives. Say 'adjectives.' Good! This week we're going to talk all about adjectives and how they help us describe things!"
And that's it! You'll want to keep things moving at the tables so that the lesson is truly only 10 minutes.
Follow up Adjectives Lessons and Activities
Of course, students will need further practice with adjectives, beyond this lesson. Here are a few ideas:
>> Read example sentences to students. Have them identify the adjectives and the nouns that they describe.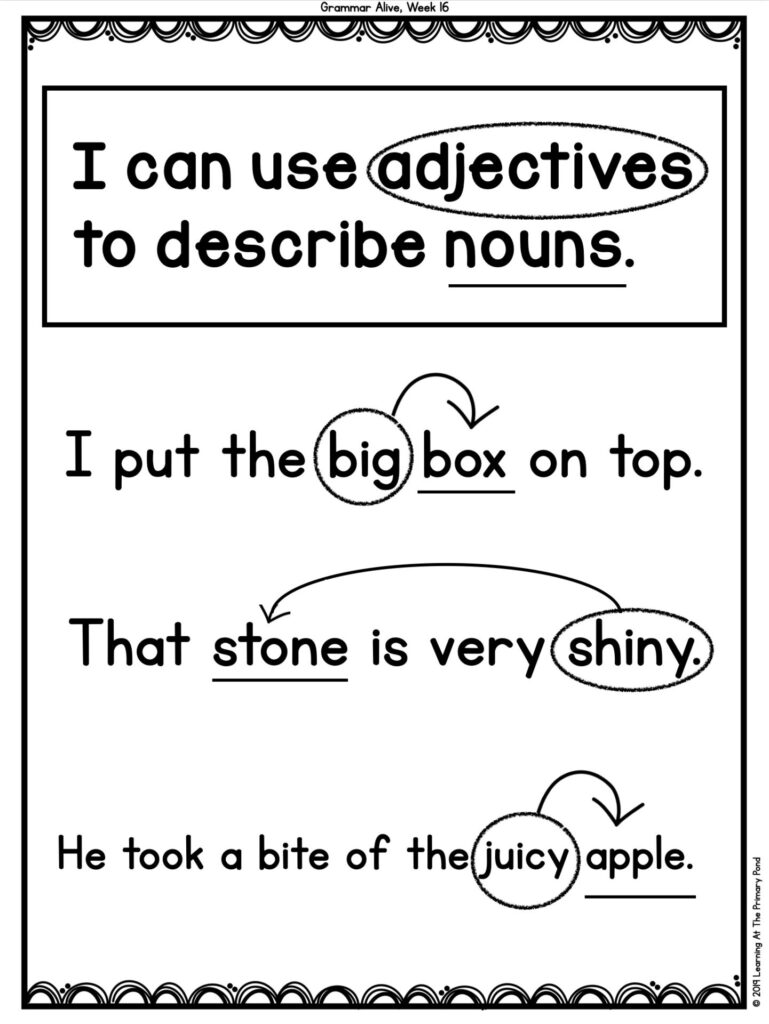 >> Have students create a list of adjectives to serve as an anchor chart, or give them practice describing things using a pre-created chart like this one: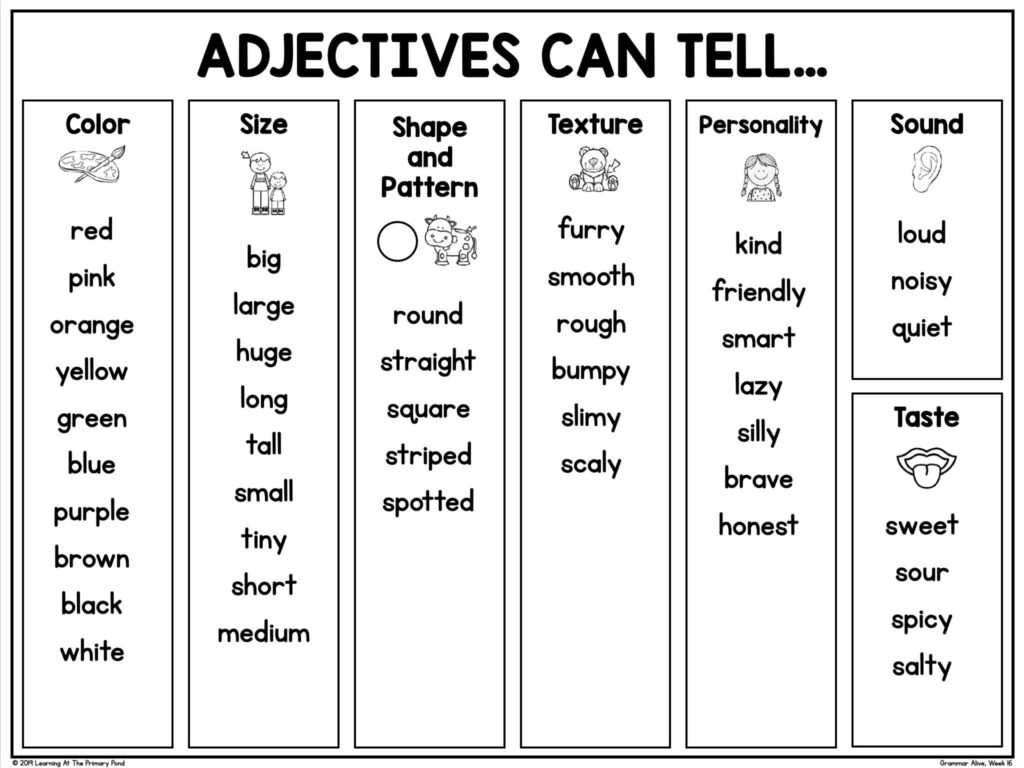 >> Read A is for Angry, by Sandra Boynton
>> Have students write adjectives about themselves: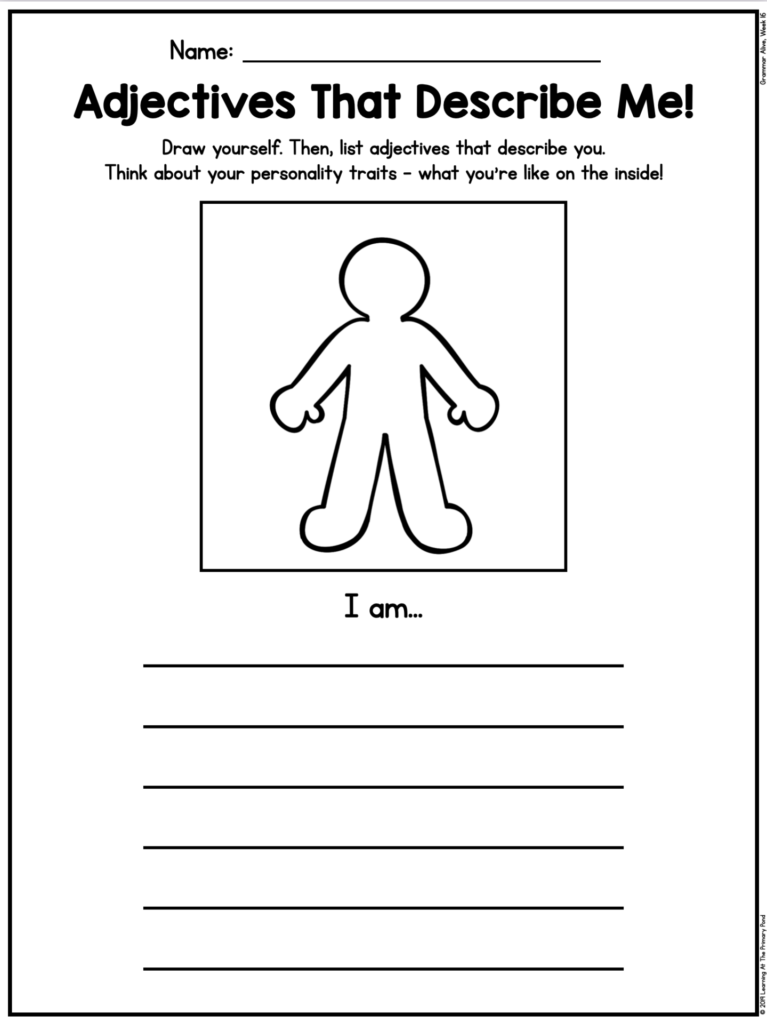 All of these fun options come from 1st Grade Grammar Alive, but there are other adjectives activities in the 2nd grade version, too.
Of course, Grammar Alive covers far more than just adjectives! It's a program that covers your grammar and language instruction for the entire school year.
Check out a few more of the fun activities included: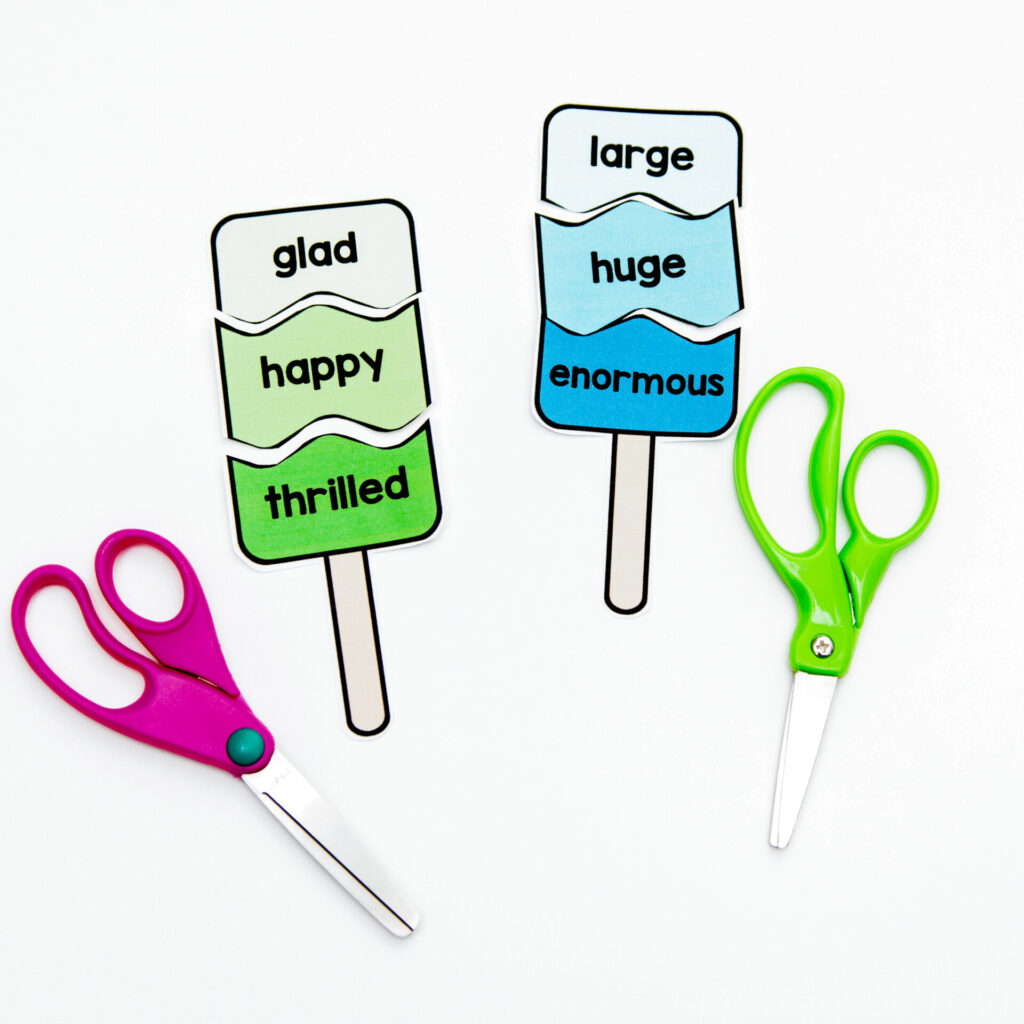 Read more about the Kindergarten, 1st grade, and 2nd grade (plus K-2) bundle options at this link.
If you'd like to read more about how to fit in grammar instruction, check out this post.
Happy teaching!