As teachers, we want our students to become the leaders of tomorrow. We want them to make their communities better places to live. We want them to become agents of change!!
In our busy day-to-day classroom life, however, sometimes all of this gets lost. Math facts and reading levels take precedence over students using their learning to serve the community.
But at Carolina Garcia's school, these values are at the forefront of everything they do!
Doulos Discovery School uses an expeditionary learning model. This model is all about having students actually apply their learning to make their community and country a better place to live.
Sounds amazing, right? I was so excited to interview Carolina and learn more about her unique school in the Dominican Republic.
Even though her school might be a bit different from yours, there's so much we can learn from what they're doing—and can apply it to our own teaching!
Check out our interview here.
Don't have time to watch now? Pin this post for later!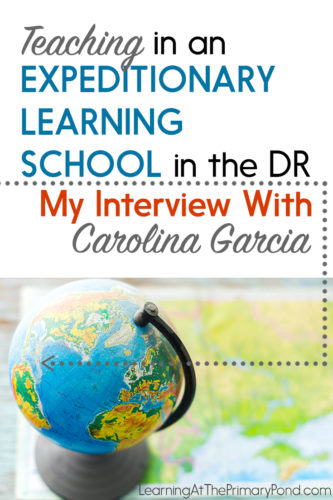 I hope you enjoyed this interview as much as I did! Feel free to leave questions for me or Carolina below!
Happy teaching!