Have you ever wondered what it would be like to teach in another country?
There exists whole group of teachers who move from school to school, country to country … getting to experience life and education all over the world!
Sounds pretty amazing, right?
Kindergarten teacher Kristi Budworth has taught in multiple countries, and she currently teaches in Kuala Lumpur, Malaysia. She was super generous and allowed me to interview her about her experiences!!
Kristi's school is literally in the middle of a rainforest. And yeah, sometimes monkeys get into the gym!!
Sidenote: I was totally cracking up when Kristi told me about "monkey drills." But now I know what NOT to do if I ever encounter a monkey …
Okay, enough about the monkeys. You've GOT to watch this interview!! Kristi's experiences are fascinating, and you'll love hearing about her school.
Watch our interview here:
If you want to save this post for later, pin this image: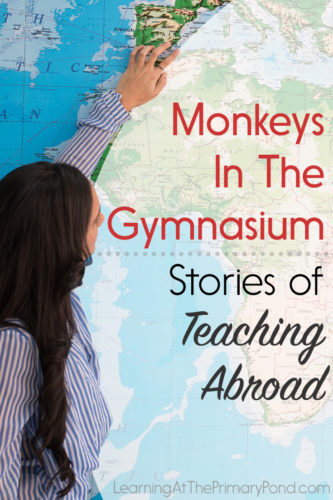 If you liked this interview, you'll also love my interview with Carolina G. She teaches in the Dominican Republic at a different kind of school! You can see that interview HERE.
Questions for me or Kristi? Leave us a note! Happy teaching!