Happy Memorial Day weekend, everyone!  Hopefully the end of the school year is in sight for you – just 4 more days for us!

I wanted to share something I've given to my kids for the past several years at the end of the school year – a take-home activity box.  All I do is go to a local pizzeria and ask for 25 empty, unused pizza boxes (I've found the medium size to be best).  They've never made me pay for them – it's free advertising for them, really.  Then I fill the boxes with summer learning activities, books, and extra school supplies.  Here's a photo of mine this year (they're not quite done yet):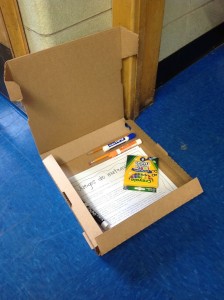 The reason I use a pizza box is because it's sturdy and I figure there's less of a chance of it being misplaced over the summer.  The parents always love it!
If you are a kindergarten teacher and are looking for an activity packet to send home with your kiddos for the summer, click
HERE
for 100+ pages of summer learning activities!  Even if you don't send all of the pages home, 
this Kindergarten summer homework pack will also give you
 review activities for the last few days of school.  Happy almost summer!