The 2020-2021 school year has brought unprecedented challenges. Some teachers are currently teaching in-person AND also have students tuning in remotely.
If this is you and you're struggling – I am so sorry!
But the good news is: YOU ARE NOT ALONE!
Although I don't personally have experience with this type of teaching, I've rounded up some tips from teachers who DO have experience with this. And I have some great ones to share with you!
In this post, you'll learn helpful, tried-and-true strategies for teaching in-person and online at the same time.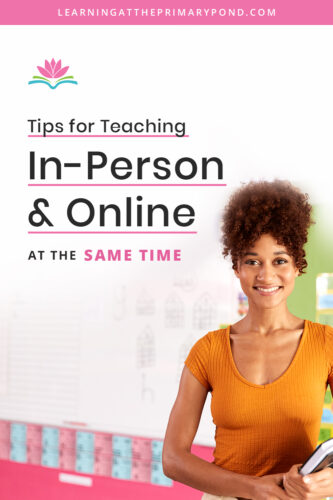 Mary M. says:
During livestream lessons, try to interact and call on in-person students and virtual students equally
Plan the whole week out and send home materials in advance (for those students who are learning from home)
Allow opportunities for whole class interactions through morning meetings, Flipgrid, etc. so students can get to know one another
Spend time helping students organize their materials if they will be bringing their materials back and forth between home and school
Sabrena B. says:
Try to have your distance students and in-person students using the same materials (I had to prep a bag for when students came to pick-up their iPads and then mail home assignments/materials every 2 weeks). Have extra activities/options readily available for your in-person students that they can do independently if you are having to meet with the distance learners for something different or there are tech problems (I have drawers of activities for each student that they can pick from–ex. books, math flash cards, handwriting, center activities, monthly themed packet). I am also pre-recording content for those who can't make a Zoom call, so then my in-person students are able to watch those for certain assignments as well. I know this is a lot, and it isn't the most fun to do, but someday this will be over, and we will be better educators because of all we are going through now! Best of luck to all.
Allison W. says:
Make sure your virtual learners have the same or similar materials available to use at home as the in-school students. Sometimes that means I can send links to virtual manipulatives for math and other times I send a lesson overview with a list of materials that are easily found around the house for a science activity. I usually include some substitutions in case they don't have particular materials.
Zarina P. says:
My top tip is to address the social-emotional needs of the remote kids—find ways to include them with peers, such as Buddy Reading through Zoom during literacy time, or putting them on a device set up near another student during free-writing/free-drawing time so they can chat while working. I also send home photocopies of some of our math game boards, so they can play with an in-person group via Zoom. It all helps my remote students feel less left out.
Jeena V. says:
I teach first grade grade and building a sense of community between my in-class and at-home learners was important to me. I make sure my at-home learners don't miss out on the "fun stuff" in the school, like spirit days. They get dressed up at home and we take a "group picture " all together in front of my promethean board. It makes everyone smile!
Dalia E. says:
I use Kahoot, pear deck slides and smart learning suite to teach hybrid and face to face. The kids in class use whiteboards while the kids online use their screens and voila no extra planning or having to look at a group while not giving attention to the other. All kids are engaged, and it is easy to check understanding on the spot.
Tammi V. says:
I use a document camera and teardrop mic almost all the time. I share my screen and project onto the screen in the front of the room, so my roomies and my zoomies are all seeing the same thing at the same time. All of my students have dry erase boards so they can write on them and then hold them up for me to see…so much easier than trying to see their writing using paper/pencil!! At the beginning of the year, I made supply boxes for all of my kids – they have manipulatives, ABC Chart, 100's chart, number line, and a baggie of plastic coins – so all of my students have all of the same learning tools in their toolboxes. At the end of each lesson, I try to tell them which supplies they need to have ready for the next lesson, so they don't spend time looking for things during my teaching time.
Darian P. says
The biggest "win" for us has been utilizing a Google form "to-do" list or a single Google slide presentation to for students to follow for the day. This has allowed students to be independent and have clear direction during asynchronous times and have everything in one spot when we are teaching synchronously. It has for the most part eliminated questions coming from families at home while we're trying to teach the kids in the building. In addition, get your groups on meet as small as possible! Some grade levels have their whole grade on a single Google meet which has been challenging for students to get help because you can't see them all at once if they're raising their hand or sometimes, they're waiting a long time for help just because of how many kids are on there. In our several of our elementary classes, we've been able to utilize Google breakout to do "stations" or parallel teach. We have support staff that log in to our meets with us during core time and then to practice skills we break out into small groups with an adult in each. Many days, I am working with a group of 8 kids on reading and math, and that has provided opportunities for immediate feedback, assessment, and personalized instruction that has been super challenging. We treat our in-person group as a separate station, so they are also participating, but using materials within the classroom. Our 1st graders do not get on Google meet if they are in the building but are receiving in-person instruction and hands-on activities as though it were a "normal" school day!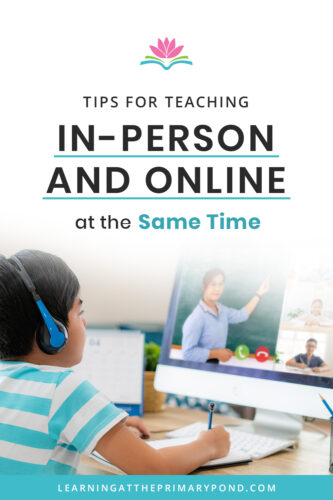 This is a tough year, but I hope these tips help. If you'd like to get more help from other teachers who are in the same boat, I'd love to have you join my free Facebook group.
And above all, do whatever you can to take care of YOURSELF!
Are there any tips you'd like to add? Please share in a comment!