Phonological awareness is an essential component of early reading instruction.
But if you're teaching online, you may bump into some challenges.
For example, it may be hard for your students to hear sounds during video chats. (Even with a great microphone, this can be tricky.)
It may also be difficult for you to tell if students are pronouncing sounds correctly. And if you're working with multiple students at a time, the timing and sounds may really be off during a live video call!
I've been there. Teaching phonological awareness virtually isn't quite the same as in-person instruction. But it's still possible – AND still important!
In this blog post, I'll share some tips for teaching phonological awareness online. I also have a few bonus tips for educators who are teaching in-person but need to wear a mask due to the pandemic.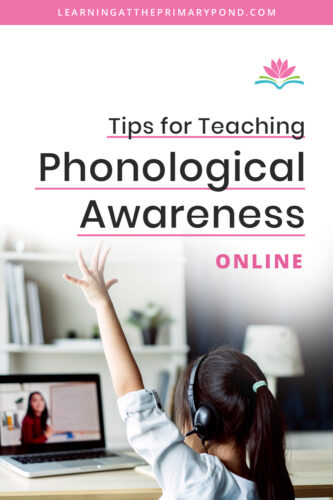 Tips for Engagement During Phonological Awareness Instruction
Keeping students engaged is important – whether we're teaching online or in-person. Here are some strategies that have worked well for me:
Use hand signals to indicate when you want students to listen and when you want them to speak. When it's time for students to listen to me saying words or sounds, I cup my hand behind my ear OR I point to myself, indicating that it's "my turn." When it's their turn to speak, I point or extend my hand toward them.
Have students repeat words or sounds before following the directions of the activity. For example, I might say, "The word is 'hot.' Say 'hot.'" (Students say "hot.") "Tell me the sounds in 'hot.'" (Students say "/h/ /ŏ/ /t/.") It might be tempting to say a word and have students simply tell you the sounds. However, having students repeat the word is worth the time it takes. It allows you to check that students heard the word correctly, and it makes it more likely that students will successfully segment the word.
Use visuals whenever possible. Technically, phonological awareness activities can be done entirely without visuals. But visuals can increase engagement and clarity, especially during online teaching. Maybe you display a picture of each word you want students to segment. Maybe you use Elkonin / sound boxes. Having something to look at can be helpful, especially if you're teaching online.
Hearing Sounds Accurately
I've noticed that, even with a good internet connection, it can be hard to hear sounds during a live video call. But sometimes the quality is improved with a recorded video.
You can use a free program like Loom for education to create pre-recorded phonological awareness videos. You might even create a video that mimics a typical "in-class" phonological awareness activity. For example, you say a word, and then pause so that students can repeat it and segment it (or substitute with whatever skill you're working on). The video alternates between you speaking and then pausing for students to practice while they're watching.
Phonics by TurtleDiary on YouTube also has some ready-to-use, free videos. In each video, a sound is pronounced, and an animation shows correct mouth position. (Technically, this involves phonics work, too, because the sounds are associated with letters.) These recorded videos are great for students to refer back to in the future.
Teaching Phonological Awareness with a Mask
As I'm writing this, the pandemic has changed teaching as we know it. Many of us have to wear masks while teaching.
This complicates phonological awareness instruction because students can't see our mouths! A mask can muffle sounds, too.
Here are a few tips to help:
Use pre-recorded videos. You could record your phonological awareness exercises ahead of time, using something like Loom for education. While in class, press "play." Students will be able to see your mouth and hear the sounds more clearly.
Use visuals whenever possible. Even if you might not normally display a picture for each word, consider doing so. This can be helpful if students are having difficulty hearing you due to a mask.
Accept the imperfections of the situation. Teaching with a mask on is not ideal for phonological awareness instruction. But something is better than nothing! We have to do our best and realize that this situation is temporary.
Conclusion
If you're teaching online or with a mask due to the pandemic…it's difficult. I know from firsthand experience!
But I hope that these tips were helpful to you. If you want your students to practice phonological awareness skills with clear audio, check out my digital phonological awareness activities below: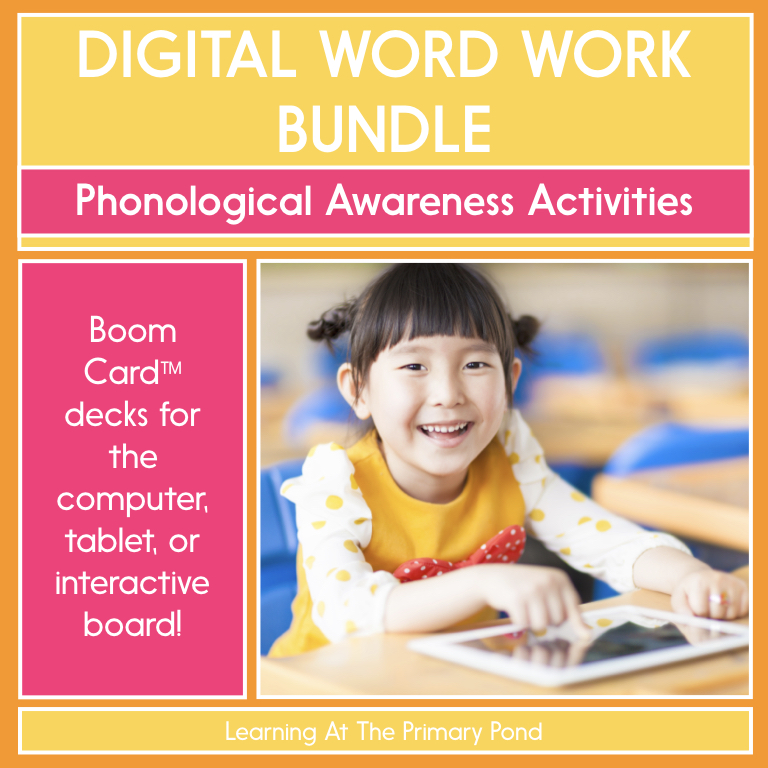 Happy teaching!