Do your students write with lots of details? If not, you're not alone.
Last week I began a blog post series on a topic that is challenging for many of us – getting our students to write with details. You can read that post (and get some tips for getting students to write with details in any genre) HERE.
Today I'm going more in-depth and focusing on writing details in nonfiction. I'll provide ideas for different lessons and videos for 3 of the lessons. The lesson ideas are in order from least difficult to most difficult and are appropriate for Kindergarten, first, second, or third grade. I also have some FREE lesson plans to share with you! 🙂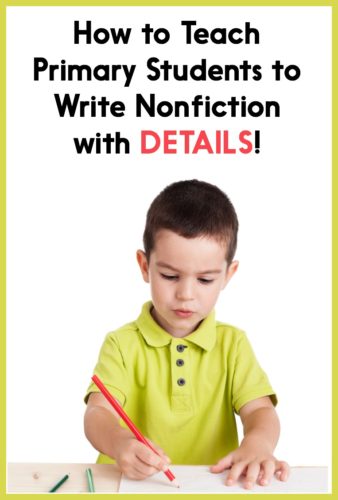 Photo Credit, Milos Vucicevic, Shutterstock
Lesson Idea 1: Draw body parts of people and animals
I always teach my students that "writers teach with their pictures, too." I model how to draw as many body parts as possible on the people and animals that I draw in my nonfiction books. When I teach this type of lesson, I like to use nonfiction books that have illustrations, rather than photos. This helps students see how the illustrator drew details like body parts.
You can also click here to check out my nonfiction Decodable Safari texts that are available for Kindergarten, 1st grade, and 2nd grade. This would be a great way for your students to see nonfiction examples of animals in picture (and writing) form!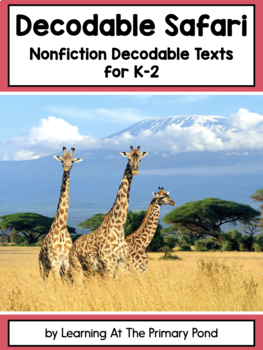 Lesson Idea 2: Draw a background for your pictures
Although it's sometimes useful for a nonfiction book to include an isolated picture, writers/illustrators can also draw backgrounds to teach the reader. For example, a background might show where an animal lives. Or a background might show what a professional baseball stadium looks like. Again, using nonfiction books with illustrations instead of photos can be helpful.
Lesson Idea 3: Add labels/captions to your pictures
Many nonfiction books combine images and text, and this is something that students can imitate. Depending upon their ability level, students can add simple labels or more complex captions to their illustrations.
You can also use the app Skitch to introduce this concept in a fun way! Students can use a tablet, computer, or phone to take a photo. They can then write on the photo using the Skitch app. For a FREE lesson plan on adding captions to pictures (and 8 other free writing lessons!), please put your information in the boxes below. The plans will be sent to you automatically!
Lesson Idea 4: Use adjectives to describe
You can combine a grammar lesson and a writing lesson by teaching students to use adjectives in their nonfiction writing! Students can use adjectives to describe animals (a small, green, scaly body), plants (large, smooth leaves), sports (round, green ball), or just about any other topic. You can model your use of adjectives within a real piece of writing, and then have your students add adjectives to their own writing. One of the lesson plans in the free download (see above) teaches students to use adjectives in their nonfiction writing.
Lesson Idea 5: Give specific examples
Kids tend to use general words in their writing, like "things" or "stuff." We use these words in our everyday language, but children can learn to give specific examples that better teach their readers. For example, instead of saying that a lizard eats insects, a student might write that the lizard eats flies and beetles. One of the lesson plans in the free download teaches students to give specific examples when writing nonfiction.
Lesson Idea 6: Use vivid verbs
Students will often include verbs in their nonfiction writing, like "Cheetahs run fast" or "Football players tackle each other to get the ball." We can teach them to replace over-used verbs (like "run") with more vivid verbs, like "sprint."
Lesson Idea 7: Make comparisons
Many published nonfiction texts use comparisons to help the reader understand the size of something. For example, we might read that "Some spiders are as large as dinner plates." Students can make comparisons in their nonfiction writing, too. They might write that something is:
As large as…
As tiny as…
As fast as…
As slow as…
As colorful as…
As soft as…
As hard as…
Etc. Older students can learn that these comparisons are called similes.
Lesson Idea 8: Use adverbs
Nonfiction is a great context for teaching students about adverbs! For example, adverbs can describe how animals or vehicles move (quickly, slowly, rapidly). Again, when we teach adverbs, we want to make sure that students know how to use them in the context of real writing. We can model how we add adverbs to our own writing and then have students revised a finished or nearly-finished piece by adding in their own adverbs.
I hope that this post gave you some ideas for nonfiction writing lesson plans! Make sure that you signed up to get those free lesson plans! (If you didn't sign up yet, put your information in the boxes below).
Next week I'll share lesson ideas and videos about teaching students to write narratives (personal narratives, realistic fiction, fantasy, etc.) with details. See you then!
Update: My "Writing with Details" blog post series is complete! Here are the links to the other posts in this series:
How To Teach Primary Students to Write with Details
How to Teach Primary Students to Write Narratives with DETAILS!

How to Teach Primary Students to Write Opinion Pieces with DETAILS!