Have you ever asked your students "What's the main idea?" of a text and received the most random responses?
Students might answer with the smallest detail from the book…or even something that didn't even happen at all! There have been times when I thought to myself, "Were you even listening to the same book I was reading?!"

That said, when we think about all that's involved in identifying main idea and details, it's no wonder that it can be difficult for students!
Not only are they being asked to listen to every detail from the book…but then they need to synthesize all of that information to identify what is most important.
In this blog post, I'll go through the steps I take to help students identify the main idea and details of a text. I'll also provide a few suggestions for activities for practicing main idea and details with your students!
**This post is part of a series on reading comprehension, so if you haven't had a chance to check out the other posts, here they are:
Reading Comprehension: Making Connections

Reading Comprehension: Summarizing & Retell
Reading Comprehension: Cause & Effect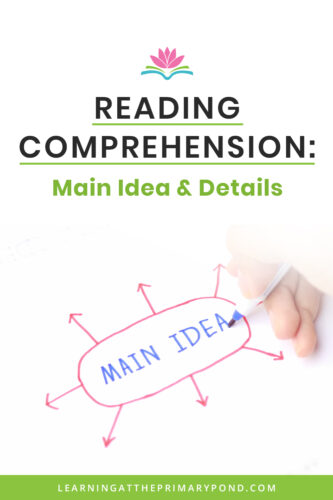 How do I explain main idea and details to students?
Having a kid-friendly definition for this reading comprehension skill will put teachers and students on the same page (no pun intended!).
I like to tell students that the main idea is the BIG point the story is trying to make. It's what the author most wants you to remember after you're done reading.
The details tell the reader a bit more about that main idea.

Identifying main idea and details is a perfect skill to practice with both fiction and nonfiction texts.
Sometimes it's actually easier to identify the main idea and details in informational texts! It can also be helpful to start with identifying the main idea & details in shorter passages (even just a paragraph at a time) before moving on to applying this skill to an entire book.
What are some ideas for teaching main idea & detail?
Like any reading comprehension skill, starting out with teacher modeling will help students learn the correct terminology:

"Now that we're finished reading that paragraph, I think the main idea is that New York City is a busy place to live and work. The reason I think this is the main idea is because the author kept talking about how busy it is! That was the big idea he was trying to tell us about. Also, the picture shows a really bustling place too. The details that tell me more about this main idea are that the author says: New York City is really loud even at nighttime, New York City has a lot of people living in a small area, and New York City uses public transportation to help so many people get to their jobs. These details help give me a bit more information about that big point."
Here are some more tips and activities for teaching main idea & details:
Provide a visual anchor chart for main idea/details. Many learners are visual learners, so having main idea & details presented in this way helps a ton! I've seen:

– food themes (apples, pizza, ice cream cones)
– nature themes (tree, umbrella, sun, rainbow)
– simple web for main idea & details

Take, for example, the ice cream cone. The analogy here is that the cone is the main idea, and the scoops on top are the details.

One anchor chart is not necessarily better than the other! I think it's great to show students a variety of visuals. (You can click here for a freebie of a simple apple visual for main idea & details!)

Encourage students to be detectives, searching for clues. When students need to identify the main idea & details, have them:

– Reread the title
– Reread the first/last sentences of the text
– Look at the headings/subheadings (if applicable)
– If there were pictures used, think about why the author chose to use those specific images
– Identify any repeated words in the passage

Students can then use these clues to narrow down the main idea a bit.

"Hmm, the author mentioned in both the first and last sentences that Little Bear likes to get into trouble. She also included a picture about Little Bear doing something naughty. These are clues to help me figure out the big point the author was making."

Of course, you can always make it extra fun with goofy detective hats, fake mustaches, and magnifying glasses!

Graphic organizers, graphic organizers, graphic organizers!! Students will really learn to put main idea/details into practice if they have a graphic organizer at their fingertips. This helps provide the visual to the concept. Here are a couple of simple examples from my Kindergarten, 1st grade, and 2nd grade Decodable Safari products:
What should I do with students struggling to identify main idea & details?
Make it look (and therefore seem!) fun. Here's an example from my 1st grade Decodable Safari product. Students get to actually write their details on a leopard's spots!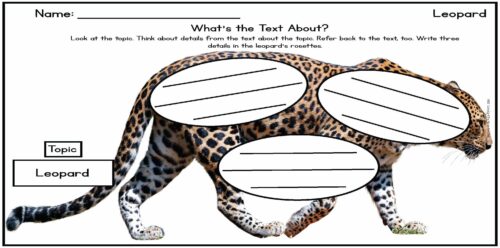 Make it obvious!! This may sound, well, obvious, but help students out by working with passages where the main idea and details are crystal clear:
– The first and last sentences name the main idea.
– The sentences in between should list out the details.
– Repeated words are present for students to highlight.

Once students start to feel successful, the skill becomes more attainable!

Differentiate for students who need a bit more support. With this Kindergarten Decodable Safari graphic organizer, students are able to trace, cut, and paste to identify the details.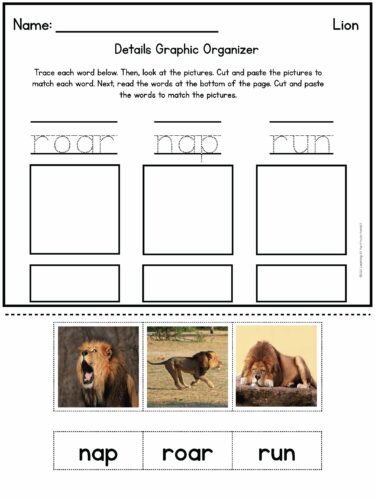 Once the main idea of a text has been established, you can provide students with extra options for details. Then play the "Which doesn't belong?" game.

Let's say students are reading a passage where the main idea is that pizza can have many toppings. Provide the following details, and ask "Which doesn't belong?"
– Pepperoni can go on pizza.
– Some people enjoy pineapple on pizza.
– Tacos are another yummy choice to eat at dinner.
– There are lots of veggies to add on pizza.

Push students to explain WHY option #3 just doesn't quite fit as a detail.
Conclusion
I hope that this blog provided you with some fun and practical ways to teach main idea/details. If you're looking for specific lesson plans to help teach main idea and details, check out this resource: Unit 4 of my Reading Comprehension Lesson Plans for Kindergarten and First Grade.

Please share in the comments section any other ideas you have for teaching main idea & details – I'd love to hear from you!
Happy teaching!