Getting Kindergarten, first grade, and second grade students to have an opinion is not a difficult task! They love to argue about "the best" and "their favorite" things quite often! You probably hear students talking about:
which tv show is the best
why they deserve extra "free choice" time in the classroom
their favorite animal from the zoo field trip
It's easy for most students to verbalize their opinions to anyone who will listen! So if they can talk about their opinions, how can you help them transfer that to actually writing about their opinions?
One thing that helps tremendously is teaching them how to plan. I've found that students do best when they have a structure and a solid process to follow, rather than just diving into their writing! (If you're in need of a FREE resource for opinion writing in K-2, I do have 30 lessons/materials you can grab here: Opinion Writing Freebie)
In this post, I have a video (and transcript, if you prefer to read) that will provide some tips on how to get your Kindergarten, 1st grade, and 2nd grade students to plan out their opinion writing.
Note: If your students have already successfully begun opinion writing, and you need some support in getting them to add details, check out this post: How to Teach Primary Students to Write Opinion Pieces with DETAILS!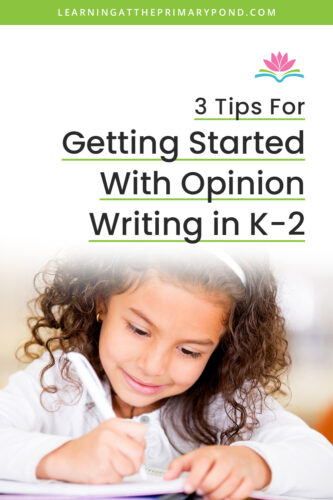 Watch the video to find out what tips I have to offer!
Read the transcript here:
"Hey, I'm Alison from Learning At The Primary Pond. I'm a literacy specialist, and in this video I'm going to share with you some tips to help your kindergarten, first grade or second grade students get going on writing a really good opinion piece. Before we dive in, if you haven't subscribed to my channel (https://www.youtube.com/@learningattheprimarypond) yet, make sure to go ahead and do that now, and then also hit the little bell so that you're notified every time I post a brand new video about teaching literacy in K-2.
Whether it's opinion writing or any other genre, sometimes it can be a little bit hard to get students going, or to get them going to where they actually have enough to say, and they don't write a couple of sentences or a sentence and say, 'I'm done, Mrs. Ryan.' I'm curious, what's something that your students struggle with specifically when it comes to opinion writing? You may also call it persuasive writing or opinion writing. Let me know in the comments if there's something that your kids tend to specifically struggle with.
What I've found in my experience is it is often easy for students to verbalize their opinions, 'Ew, this is for lunch today?' Or, 'Oh, look at my pink hat. I love it so much.' They verbalize their opinions all the time, which is great, but the next step is to actually get them to write their opinions and to do so in a way that includes details and is clear. So having them plan, in my experience, the opinion writing piece before they just jump in and start writing is incredibly helpful.
Now, I'm going to show you a couple of resources and materials today. They are from my comprehensive writing program for K-2. It's called Primary Writing Success. Now whether you use Primary Writing Success or something else, you can absolutely use these ideas. Here's the link for Primary Writing Success (https://www.primarywritingsuccess.com/) if you would like to check it out. You'll get so many different resources to help you with writing and differentiation and all that good stuff.
Let's get into our tips. Tip number one is to have students brainstorm a list of possible opinion writing topics before, or rather at the beginning of, the unit or provide them with some type of prompt or guidance.
I want to show you a little tool, and I have these in a couple of levels of Primary Writing Success, but this is an Idea Lookbook. This is a tool that I use for my kids. Sometimes they have guidance in specifically what they're supposed to write about, but sometimes they're just supposed to be writing opinion pieces, on opinions they have. So, you can have them, at the beginning of the unit, think of some things that they have strong opinions about, but this can actually help guide them in it.
There are different activities in there. Do they like playing games? Do they not like playing games? Do they like music? Do they not like music? What types of music do they like? What kind of food do they like and not like? What kind of places do they like to go or do they not like to go? Do they not like to go to the doctor? Do they love to go to the park? There's weather, holiday seasons, etc.
Basically, the point of this is for them to be able to look, and you can actually make a couple of copies of this and just have them in the classroom. So when it's time for a child to write a new opinion piece, they can go to this Lookbook for some ideas and inspiration. You could even put one of these on each table if you have your students in table arrangements or at tables so that the group can share this and get some ideas.
The advantage of having them choose some topics before they write, or use a tool like this, is that when they finish a piece, children tend to write at different paces. So, when they finish one piece, it's not like, 'Oh, I don't know what to write about. I'm stuck. I'm done.' They have a ready-to-go list that they've made or they can go to their opinion writing Lookbook, and they can get going with a new piece. So there's really no finishing early.It's just that they start a new topic when they're done with one topic.
Tip number two: After a child has a topic, have them plan out their writing in a graphic organizer ahead of time. Now, I have a couple of options for graphic organizers. I have multiple options in Primary Writing Success, but you could use something very simple. Like for this prompt, it's just what is your favorite animal? Why is the animal your favorite? They write or draw their opinion at the top. And then it says, 'because…,' and they just give two ideas. You could also use something like a little web, where the opinion goes in the middle and the different reasons go around the outside. So obviously, this would be a little bit more challenging because they have to come up with more reasons. But, these are just two options.
Tip number three is to model. Actually take a completed graphic organizer and turn it into a piece of writing. Model so that students can watch you do this and provide some sort of structure. When I say structure, let's say this is a second grade example from Primary Writing Success. The topic here is, if you could take a vacation anywhere, where would you go and why? And so it's 'I think…,' where they're giving their opinion. Then it's three reasons why and then a little conclusion. You're going to want to have this organizer completed and you might worry that the kids are going to copy you, and sometimes they will go off what you're saying at first. So, gradually release more responsibility to them, but it is important to model it first.
Then you could structure it like this. It's the same prompt here. They're just taking what they've written here, and the language is actually pretty much the same as in the organizer. So it says, 'I would go to ______ because…' and they give at least one reason or two reasons. Also blank, 'In conclusion…' So, it very much matches what's on the graphic organizer.
Do you need to always provide this level of support? Probably not, hopefully not. But, some kids will need it, and especially toward the beginning of a writing unit, it is really helpful to have the writing paper mimic the graphic organizer.Even if it's just a graphic organizer with three spots. I have three blank pages here, and you have three pages for them to write on, it just helps if they know, 'Hey, I wrote this here. This is going to go here.' And they can add to it. They should add onto it, but it helps them follow that general structure that they planned out.If you'd like to learn more about the opinion resources and so many other writing resources offered in Primary Writing Success, here's the link – https://www.primarywritingsuccess.com/. Thanks so much for watching. I hope this was helpful. Don't forget to hit the like button, subscribe (https://www.youtube.com/@learningattheprimarypond), and I will see you in my next video."
Conclusion
I hope these ideas on teaching K-2 students to plan out their opinion writing are helpful to you! If you're interested in learning more about teaching writing (and making it fun!), check out my free webinar: "5 Secrets to Getting K-2 Students to Write Independently."
Also, if you need a comprehensive writing program that includes all of the materials discussed in the video (and much more), check out Primary Writing Success. Included in Primary Writing Success are:
lesson plans (for both writing and grammar)
student materials
suggested daily schedules
pacing guides
professional development videos
Start your free trial week for Primary Writing Success by clicking here!
Happy teaching!