When I was in my second year of teaching Kindergarten, I tried something new.
A few times a week, I started having my students practice writing sounds on whiteboards. For example, I might say the /m/ sound and students would write the letter m.
Eventually, they began writing words – at first, with lots of help from me.
After that, they began writing sentences. (Again, with lots of help at first.)
I noticed that this several-times-weekly practice seemed to be really helpful. It appeared to be improving their letter sound knowledge, their decoding, and their overall phonics knowledge.
A year or two later, I learned that I was not the first teacher to have discovered this practice.
This instructional practice – the one I thought I'd "invented" – had a name. It was called a dictation.
And – good news – it WAS an effective practice!
But the funny thing about a dictation is that it seems SO simple…and yet there are lots of nuances.
So we're going to cover all of this in this post:
What is a dictation?
How do you give a dictation?
How do you support students who need extra help? (Or a challenge?)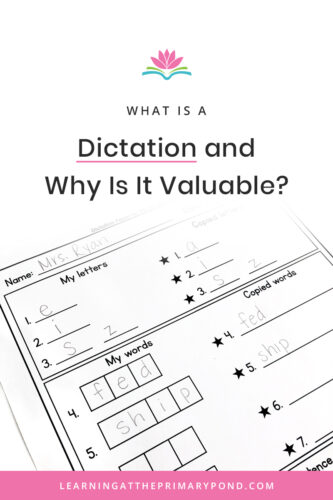 Sound Dictation
As I mentioned, I began by having my Kindergarten students write sounds (or rather, the letter for a sound).
But hold on! Even if you teach 1st grade, 2nd grade, or above, you will still want to include sounds on some of your dictations.
For example, you might say the sound /ō/ (long o, as in "oatmeal") – and then your students would need to write all of the following:
o (as in "go")
oa
oe
o_e (o silent e)
ow (as in "know")
You would have them write as many ways as they've learned to spell the sound. So if they only know "o" and "oa," for example, they would only be responsible for writing those two spellings.
Sound dictations aren't just for Kindergarteners! ?
Here are the steps I follow when I do a sound dictation:
Teacher: "The sound is /ch/. Repeat."
Students: "/ch/"
Students write "ch" on their whiteboards / paper.
Teacher: "What says /ch/?"
Students: (pointing to the letters) "C-h says /ch/." (They're naming the letters and giving the sound.)
Teacher writes "ch" on the board and students fix their work if needed. (Note: If you see many students spelling the sound incorrectly, you can do this step before asking "What says /ch/?". Either way, the kids get almost immediate feedback on their work and make changes if needed.)
Notice how I have them repeat the sound before they write it – and after they write it.
Word Dictation
Except for the first few weeks of Kindergarten, I always include individual words in my dictations.
I choose words that have our target phonics patterns PLUS some review patterns from previous weeks. Kids are only asked to spell sounds / patterns that they've already been taught.
(However, they might be asked to spell unfamiliar words, so that I can see if they can apply their sound knowledge to spell a new word.)
This is what it might look like in practice:
Teacher: "The word is flip. Repeat."
Students: "Flip"
Teacher: "She can do a flip on the monkey bars. Let's say the sounds in 'flip.'"
Teacher + Students: /f/ /l/ /ĭ/ /p/
Teacher: "Write 'flip.'"
Students write "flip" on their whiteboards / paper.
Once students are finished, the teacher writes "flip" on the board and students fix their work (if necessary).
You can then do some quick work with the word. For example:
Teacher: "Let's say the sounds in flip and touch the letters as we say them. Ready?"
Students + Teacher: "/f/ /l/ /ĭ/ /p/" (all pointing to each letter as they say the sounds)
Teacher: "What's the blend in this word?"
Students: "F-L"
Teacher: "What's the vowel sound in this word?"
Students: "/ĭ/"
Teacher: "Which letter says /ĭ/?"
Students: "i"
You don't need to go through all that for EVERY word, but I usually do discuss 1-2 of the words in depth in each dictation.
If you're thinking right now, "Well, some (or all) of my kids wouldn't be able to do that" – no worries! I've got you covered!
You can provide more (or less) support if needed.
Ways to Provide More Support with Word Dictation
Tell students each sound in the word. (Like "/f/ /l/ /ĭ/ /p/," in the example above.) Have them repeat the sounds after you finish.
Tell them each sound, one at a time. After you say the sound, students write the corresponding letter(s). (Only do this if students truly need a lot of support.)
Ways to Provide Less Support with Word Dictation
Have students say the sounds in the word without your help.
Don't say the sounds in the word as a group – require students to say the sounds and write the word on their own.
Sentence Dictation
Last but not least, my dictations usually include at least one (sometimes two) sentences.
The sentences only include:
High frequency words that I've taught
Words with sounds / spelling patterns that I've taught
In other words, students are practicing concepts they've already been introduced to (just like the sound and word dictations).
Here are some tips for success with the sentence dictation:
Have students repeat the sentence twice.
For younger students (Kinder and early 1st grade), consider drawing a line for each word to help students space correctly and develop concept of word. As they repeat the sentence a second or third time, they can touch each line as they say each corresponding word.
Keep the sentences shorter for younger students.
Incorporate high frequency words from previous weeks for review.
After you dictate the sentence, write it correctly so students get immediate feedback. Younger students do better with re-writing the entire sentence (as opposed to fixing their mistakes in their original work) – erasing can cause paper tears and other drama.
Use this opportunity to remind students about capitalizing the first letter in the sentence and ending the sentence with a punctuation mark.
Putting It All Together
Many times, I'll dictate sounds, words, AND sentences for students to write. We do this in a 7-10 minute dictation.
If it sounds like a lot to fit into 10 minutes…it is! Earlier in the school year, we don't do very many words. Once students get in the routine, things do move more quickly!
As I mentioned, dictations can be done on whiteboards.
But I also like to do them on paper. In mid-Kindergarten and up, at least one weekly dictation is done on paper like this: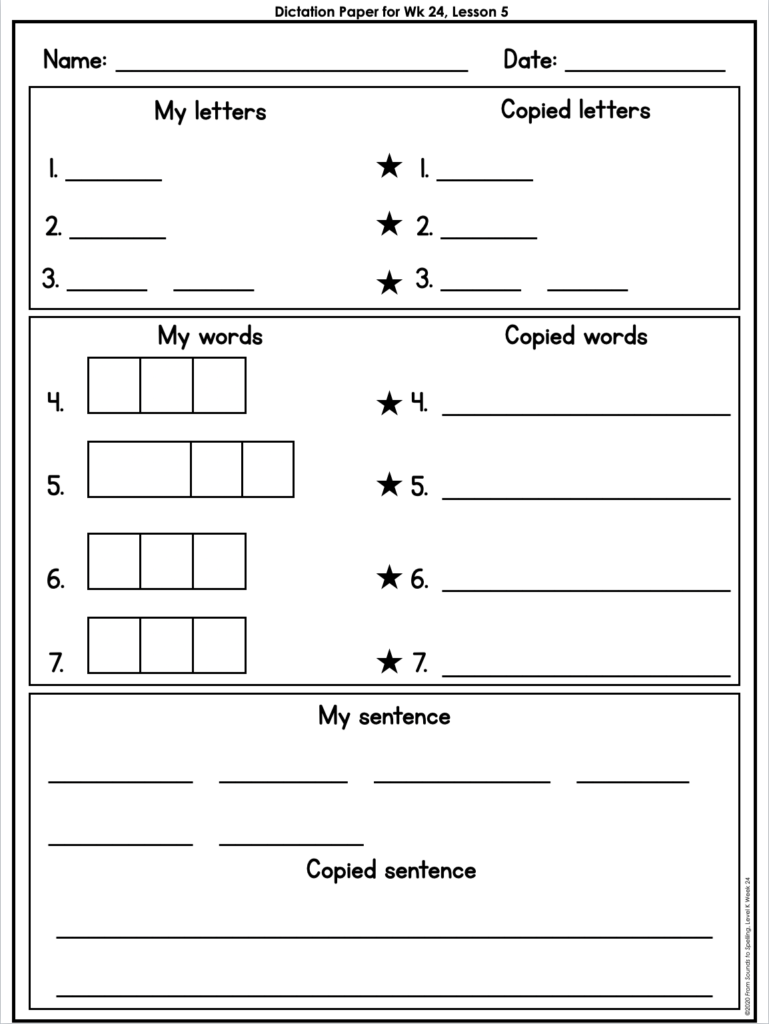 This dictation paper comes from my phonics program, From Sounds to Spelling. The lessons tell you exactly what sounds, words, and sentences to dictate to students – so that you cover your weekly patterns AND review previous patterns.
Notice that there are 2 columns for the sounds and words ("My letters" and "Copied letters;" "My words" and "Copied words"). This gives students a place to write the correct sounds and words after they see the teacher's version. ALL students re-copy, even if they were correct the first time. They leave their original work as-is, so that you can see their mistakes.
You may also have noticed that the "My words" column has sound boxes. These can be used to guide students in writing words. One sound goes in each box. The larger box in #5 is for a digraph, like "ch" or "sh."
Here's another version of a dictation paper. Notice how we aren't practicing sounds during this particular dictation. There are no sound boxes, and there are no individual word lines in the sentence: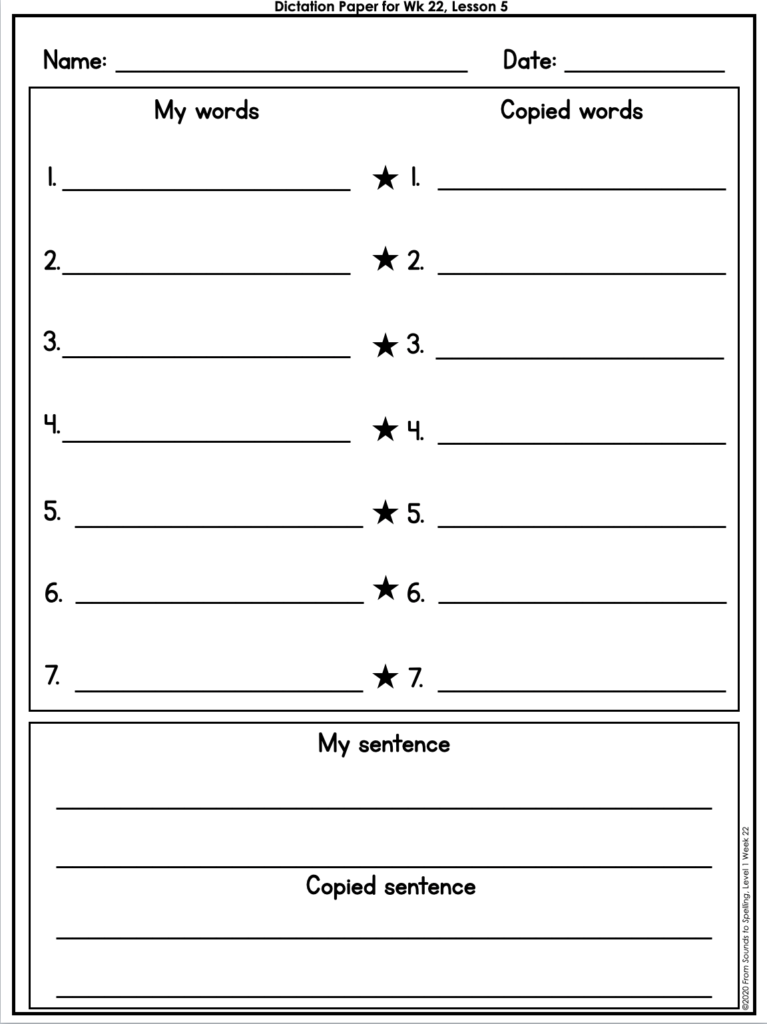 As you can see, there are tons of minor variations and adaptations that you can make to the dictation process! It's all about meeting the needs of your students. You want to provide them with enough support so that they can be successful – but not too much support so that the tasks are easy.
Do you use dictations in the classroom? Or do you plan on giving them a try? Let me know in the comments!
And if you need a ready-to-use program to guide you in using dictations and other phonics teaching practices, check out From Sounds to Spelling. The program includes professional development videos to help you understand the "why" behind many phonics concepts – plus ALL the materials you need to teach phonics, phonological awareness, and spelling to Kindergarten, 1st grade, and 2nd grade students.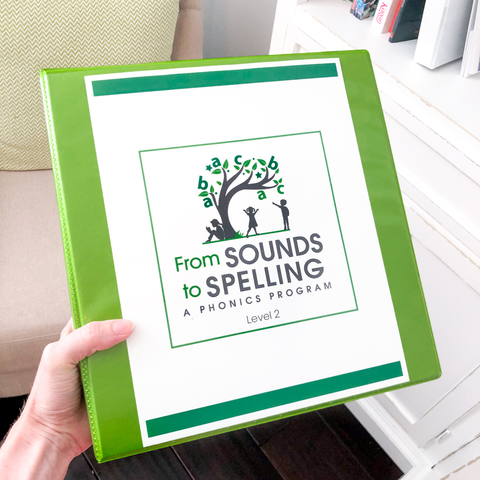 Happy teaching!