When you have students use decodable readers, your primary purpose is to reinforce phonics skills and give them decoding practice. However, can decodable readers be used to teach other skills, too?
Yes, absolutely! Decodable readers can be used to work on high-frequency words, building fluency, and improving comprehension.
In this post, I'm going to explain how to use nonfiction decodable readers to work on comprehension skills. These strategies are a great way to save time by integrating science and social studies into your literacy block!
Use Decodable Readers to Build Background Knowledge
Research indicates that background knowledge plays a key role in a reader's comprehension of a text. If you're reading about surfing and you already know a lot about surfing, it's going to be easier for you to understand the text, even information that is new to you.
Whenever you can have students read nonfiction decodables, you are helping grow their background knowledge! Reading about a range of topics (wide reading) as well as reading multiple texts on a single topic (narrow reading) are both beneficial.
For example, you might have your students read multiple texts on different animals. This could be considered wide reading in one sense, since students are learning about different creatures. But because certain concepts like adaptations might appear in multiple texts, they are also gaining in-depth vocabulary and concept knowledge on the single topic of animals. This will help them better understand books about animals that they read in the future.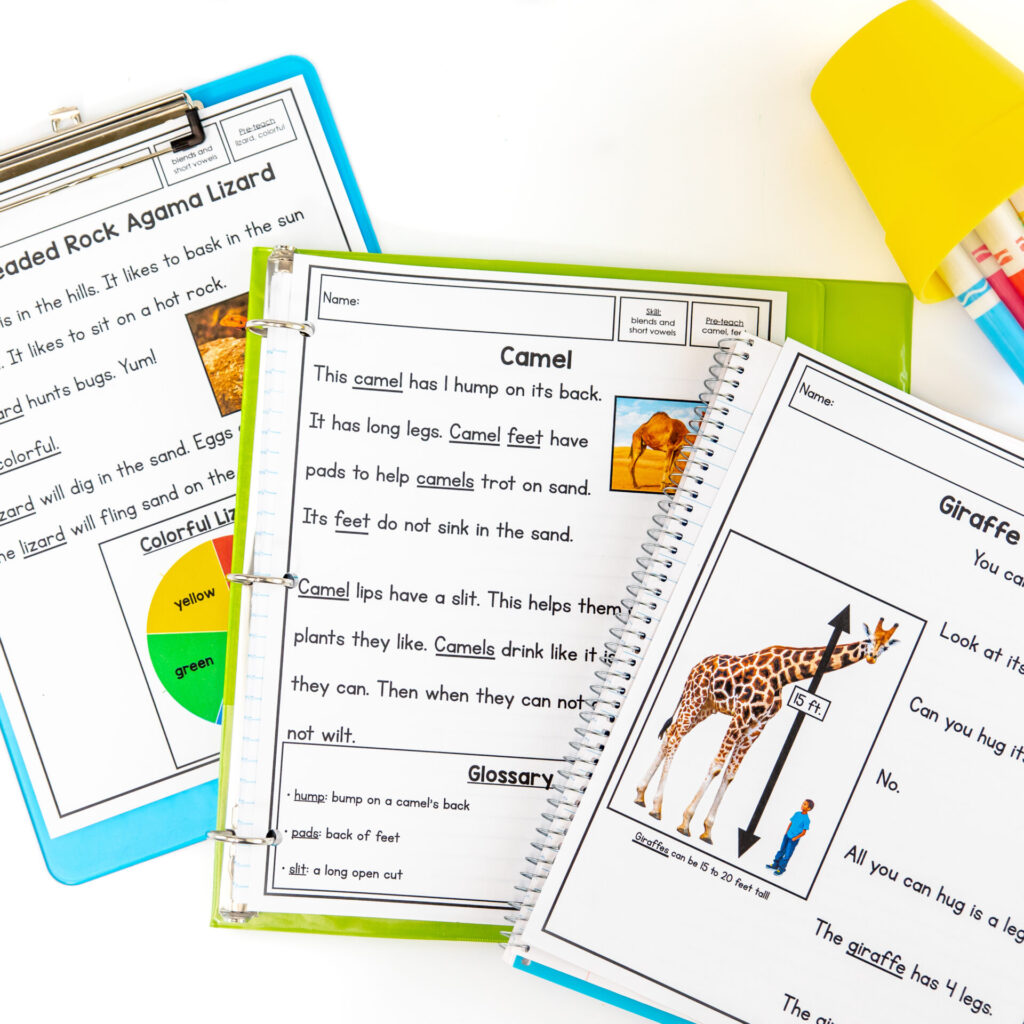 Use Decodable Readers for Explicit Teaching of Comprehension Strategies
Again, the main purpose of reading a decodable text is for students to practice decoding the words and applying phonics knowledge. However, once students have had an opportunity to read the text and become a bit more fluent, you can also use the text for explicit instruction in a comprehension strategy.
Here is a very simple graphic organizer. Students have to distinguish between the main idea/main topic and supporting details. You would, of course, want to explain what the topic of a text is, and have students identify supporting details. Your lesson would include more than just completing this organizer!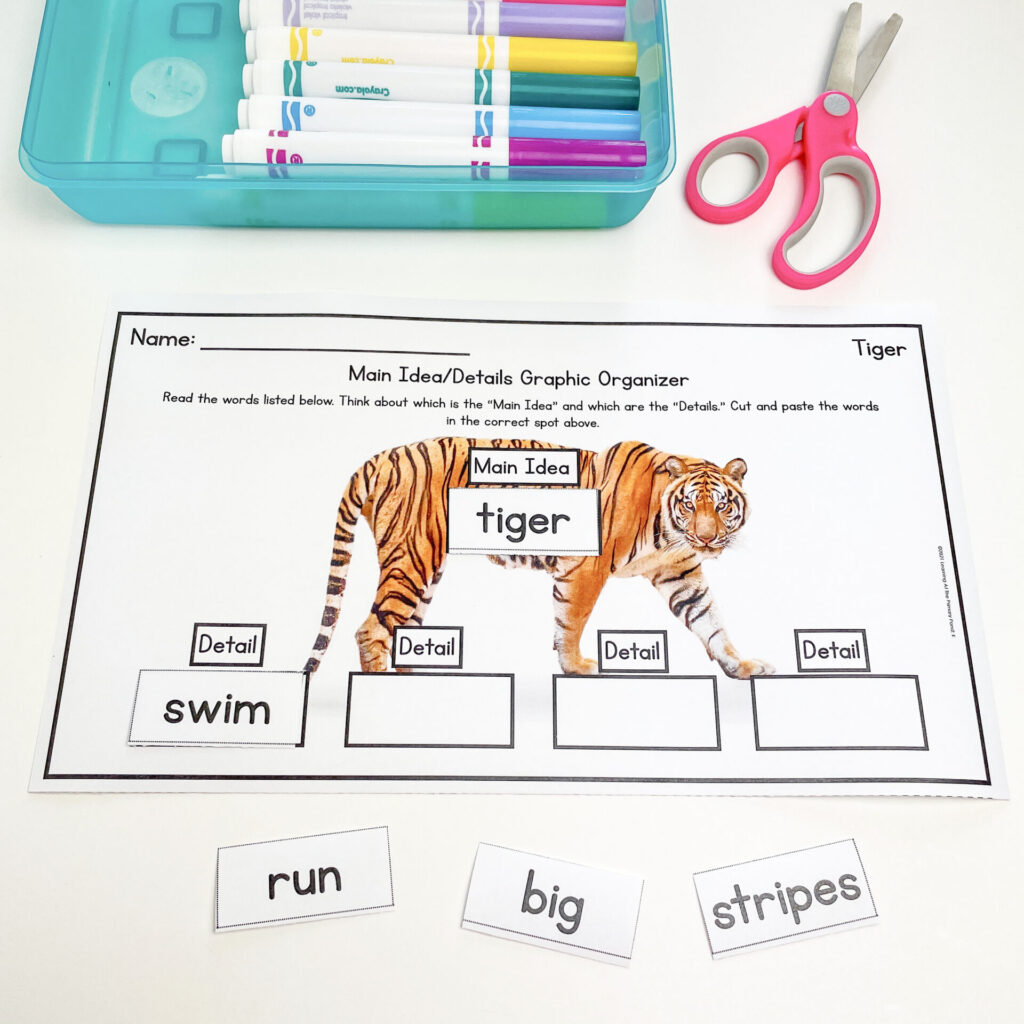 Use Decodable Readers for Teaching Nonfiction Print Knowledge
Nonfiction has some special features! Students might see headings, photos with captions, diagrams, maps, etc. These are text features that they can learn from, but many students skip over these in their reading.
Using nonfiction decodables with text features gives you an opportunity to guide students in attending to text features. You might even have them complete an activity like this, where they differentiate between illustrations and photographs related to a nonfiction decodable text that they read: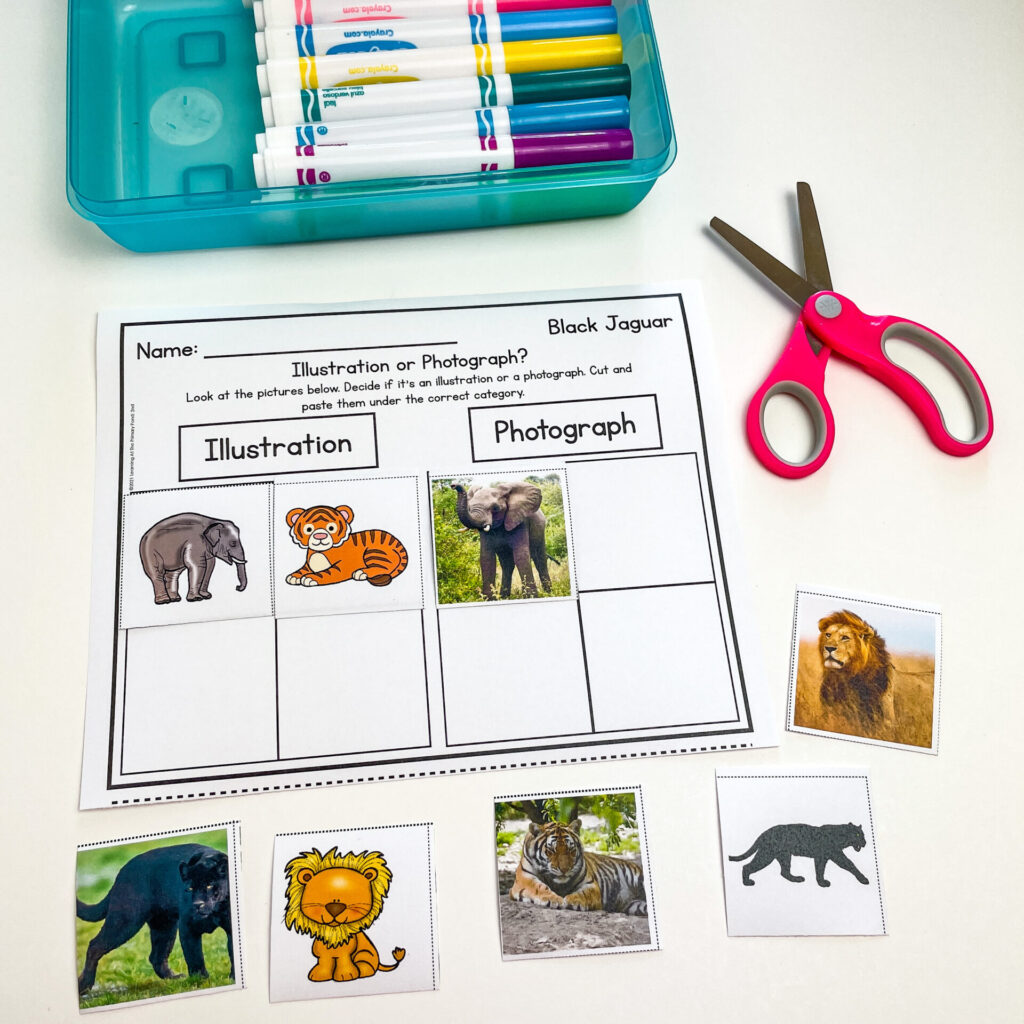 Use Decodable Readers for Teaching Students to Write About Text
Having students write about what they read is a way for you to see what they've learned and how well they've comprehended a text. But did you know that the process of writing about text actually helps students learn and comprehend text?
The thinking work that a student is required to do in order to write about a text is incredibly valuable! Plus, it gives you a simple activity that students can do independently, after you've read a decodable text in small group. (When you ask them to work on a task like this independently, make sure that they've had opportunities to see you model this kind of writing first. You could also get them started writing while they are still at your small group table, and then they finish on their own.)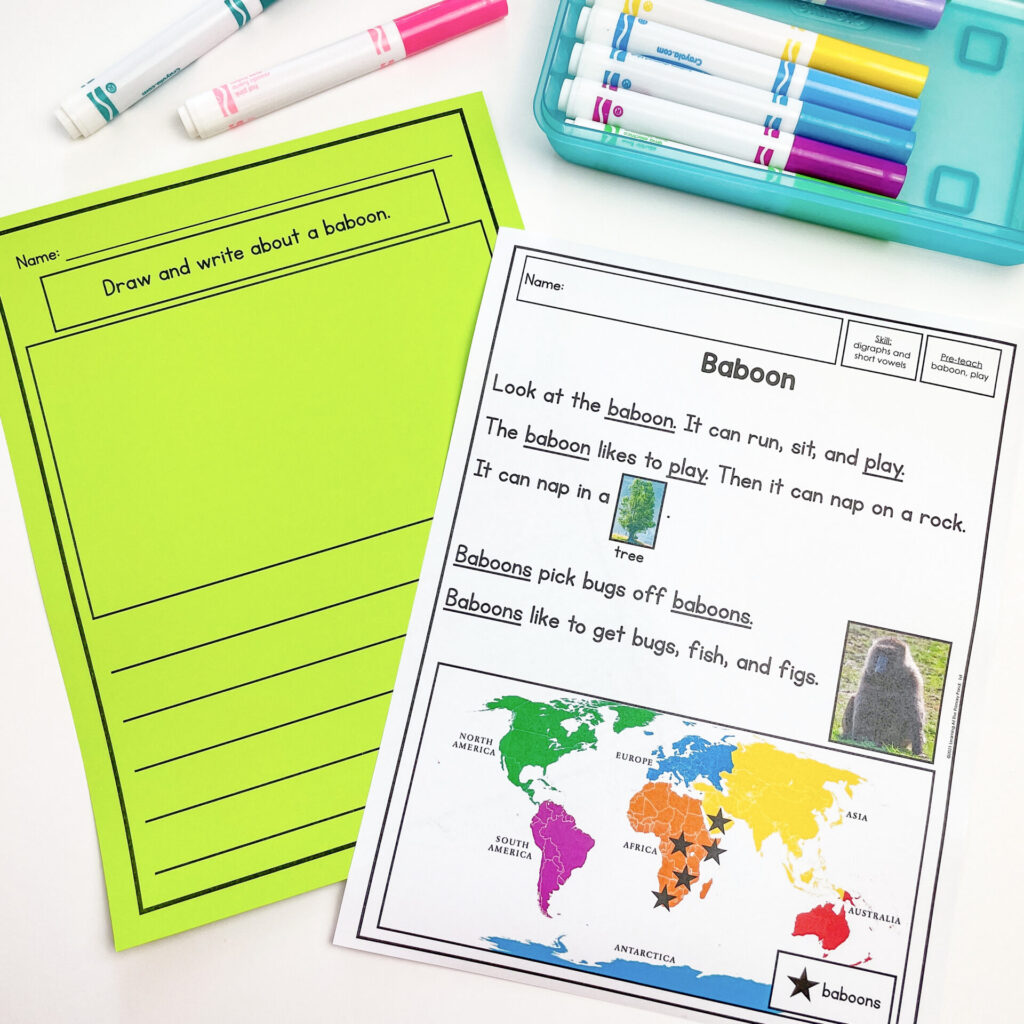 Nonfiction Decodable Safari Texts for Kindergarten, 1st Grade, and 2nd Grade
Want to take your K-2 students on a fun safari journey? My Decodable Safari texts for Kindergarten, first grade, or second grade students are nonfiction passages (science decodables) that present lots of opportunities for phonics and comprehension work!
You can choose the texts that are right for your students, whether they are working on CVC words, consonant blends, vowel teams, or other skills. They also allow students to practice simple high frequency words!
Plus, as you've seen from the photos, there are graphic organizers, question sets, writing prompts, small group lesson plans, and all kinds of goodies included in the sets.
Read more about my Decodable Safari packs here!
Save These Activities for Teaching Nonfiction Comprehension Skills with Decodable Texts!
If you'd like to come back to these decodable readers activities later, save this post! You can add the pin below to your Pinterest account. That way, you'll be able to quickly find these activities later, when you're ready to use them!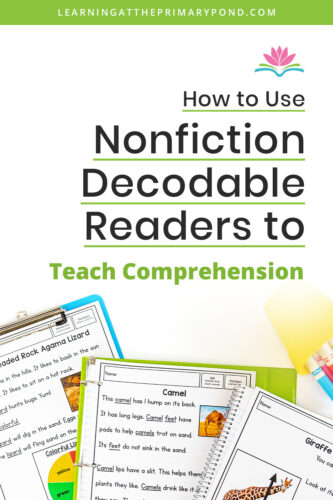 Happy teaching!