Are you considering implementing a reading workshop model in your classroom? Or maybe you already use this model but want to get your workshop off to a strong start? In this post, I'll explain why reading workshop is so effective and how to start reading workshop in your classroom.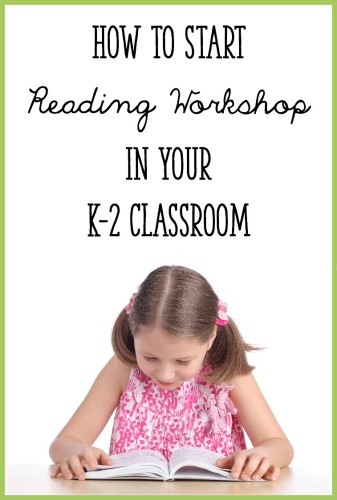 What is reading workshop?
Reading workshop is a structure for teaching reading. It may look slightly different in different classrooms, but its general purpose is to a) teach students strategies to apply to their own reading and b) allow students time to practice those strategies as they read independently.
The workshop typically includes a brief minilesson during which the teacher models a strategy and then provides an opportunity for guided practice. Afterward, students read independently (and sometimes engage in other reading-related activities), and the teacher confers with them individually and/or in small groups. Last, there is some sort of wrap up (book clubs, partner sharing, revisiting the teaching point of the minilesson, etc.).
Why reading workshop?
There are many different ways of structuring a reading block and your students' independent reading time. Some of these structures or ways of doing things have come and gone throughout the years. For example, when I first started teaching, we used the Four Blocks framework. Later on, the Daily Five became popular. I've also used literacy centers / stations in the classroom.
Honestly, I don't think there's one right or wrong way to structure your literacy block. However, I strongly believe that choosing a reading workshop model is a great way to set your students up for success. Here's why:
The reading workshop model facilitates an intrinsic love of reading and helps kids develop their identities as readers. In the reading workshop model that I promote, students choose their own books. They also choose appropriate strategies to use with those books, rather than being required to practice a certain skill. Kids read for enjoyment, to learn, and to grow as readers – not to complete worksheets or answer questions. Personally, if I had not been allowed to choose my own books, or if I had to answer questions on every book I read, I would not have become the avid reader I am today!
Reading workshop creates a focused, quiet (not silent – at least not in the early grades!) classroom environment that many kids require in order to fully attend to their reading. While some reading workshop models have kids working on different literacy activities simultaneously, I prefer a model that has all kids reading at the same time. During some of my years in the classroom, I incorporated independent reading time into centers. Throughout my classroom, some kids read independently, while others read with a partner or completed other literacy work. I found that, with this structure, my kids didn't focus on their independent reading as much as because there were "other things" going on in our classroom. Dedicating 30 minutes to 

just

independent reading was transformational in helping my students remain on-task. Even if you can't devote a whole 30 minutes to independent reading, why not try 20 minutes of reading time and then use the rest of the time for partner reading and other literacy work?
Reading workshop promotes volume reading. Kids need to practice reading – a lot – in order to learn how to read. This makes sense, right? I didn't learn how to play tennis by sitting on the sidelines and watching Serena Williams! Just like any other skill, in order to become good readers, kids need to practice reading. When you set aside a chunk of time for reading workshop each day, you make sure that kids get that all-important practice time. We just can't assume that kids will get in their independent reading minutes at home, because family situations and home lives vary.
How do I set up reading workshop?

As I mentioned previously, there are lots of variations on how to run reading workshop. I'll share with you how I ran it in my 1st/2nd grade classroom, but this certainly isn't the only way to set up your workshop. (Sidenote: I also taught reading workshop in my Kindergarten classroom. If you teach Kindergarten, make sure to check out this post after you finish reading today's article. That post walks you through setting up reading workshop even when your kids can't read yet!)
Before the school year started (or before I began implementing the workshop), I did the following things:
I made sure I had lots of books at a variety of reading levels. One year, within my group of second graders, I had a range of levels that extended from Guided Reading Level C to Level P (if you're not familiar with the GR levels, that means that some of my kids were at a Kindergarten reading level, and others were at a 3rd/4th grade level!). Anyway, my point is that you need to take a close look at the books in your classroom library. I use the Scholastic Book Wizard to look up books' levels. I have also looked up Lexile levels when I couldn't find a book in the Book Wizard. If you find that you are lacking books at certain levels, search for garage sales and used book sales in your area. I have scored a lot of books this way, and I've also bought some inexpensive book collections on Ebay. If you want some ideas about what books to purchase to fill in the gaps in your library, you can use the Booksource advanced search option to look for book titles at specific levels.
I organized my books by topic / genre, and labeled a select few books with their reading levels. Some teachers organize their classroom libraries by levels, and require that students choose books only at that level. This is not something that I did in my own classroom, however. I believe that we can develop students'  love for reading by providing them with freedom and choice. Restricting children to reading only within a certain level seems, in my opinion, pointless and potentially damaging. Instead, I chose to teach my students how to pick books that were just right for them – or even a little hard, if it was a topic that they were very interested in. Nevertheless, choosing just-right books (no matter how well you teach this skill) can still be challenging for little ones. In the past, I have had my students choose half of their books from anywhere in our classroom library, and half of their books from a book bin with books close to their independent reading level. And as I mentioned, I do label just a few of my books with levels. That way, I can use these books to help kids see the kinds of books that might be right for them. Having a few books labeled also makes it easy for me to find a book at a certain level when I need it. Here's a photo that shows how I labeled my books: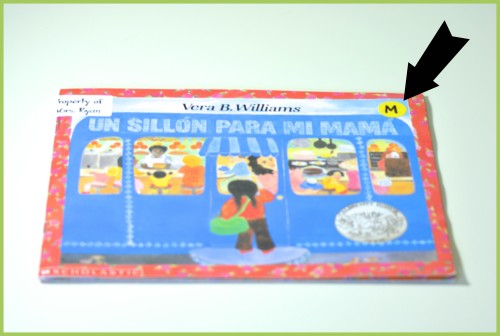 I labeled my books with my name. I am a big believer in sending home books with my students each night. Yes, I've lost some books. Yes, I've had some books mangled by little brothers. But (in my opinion) replacing a $5 book is more than worth the opportunity to give my students books to read at home.
I designated an area in my classroom for our minilessons. I always have students sit on the carpet during reading workshop minilessons. Having them close to me ensures that they can see the work that I'm modeling, and it cuts down on behavior issues. I also like having an easel and pad of chart paper near this area.
I chose book bins or bags for my students. When I taught Kindergarten, my kids had cloth tote bags that were donated by a local organization. In my 1st and 2nd grade classroom, however, I used plastic baggies. Each child had a Hefty 2.5 gallon baggie, and a 1 gallon Zip-Loc baggie. The larger baggie stayed at school, in my students' desks. The smaller baggie fit inside that large baggie when the kids were at school. When the kids went home each night, they placed a book they wanted to read at home in that smaller baggie, and then brought back the book and baggie the next day (placing it again inside the larger baggie).
I obtained additional supplies for the workshop. My kids have used reading journals, sticky notes, and highlighters in past years. Although their reading journals and highlighters usually came from home, sticky notes weren't always on their supply lists (those suckers are expensive!). I did a Donors Choose project one year and got loads of sticky notes for my kids!
Once all of your "stuff" is ready, you can get down to the real work of launching the reading workshop: preparing your minilessons. I like to generate an outline or pacing guide for the entire year, figuring out what genres and skills I will cover before I jump right in. This helps me make sure that I address all of the skills I want to, as well as revisit key skills throughout the year.
I also make a list of skills that students will need in order to be successful with the reading workshop (like choosing just-right books, staying on task during reading time, sharing with a partner, etc.). I make sure that I teach those skills during our first unit, and then I plan for opportunities to revisit those skills again and again throughout the year. Here are some of the lessons I make sure to include: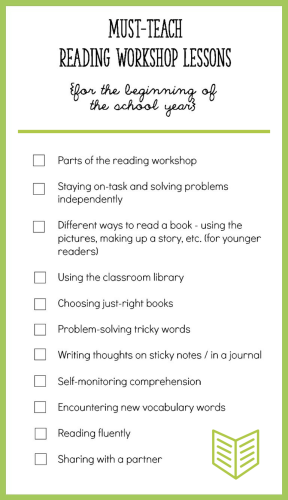 If you teach 2nd grade and would like to have those minilessons already written out for you (with materials to go along with them, like reading strategy bookmarks and posters), click on one of the images below: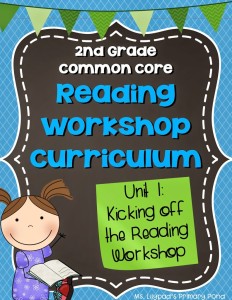 I also have K-1 reading comprehension units available, but they're not exactly like the 2nd grade units. My 2nd grade units teach decoding, comprehension, vocabulary, and fluency, while the K-1 units focus on the use of comprehension strategies. However, you can still definitely use the K-1 lessons within a reading workshop model. The first unit in the series, shown below, teaches kids how to set a purpose for reading, identify the parts of a book, distinguish between fiction and nonfiction, answer questions with text evidence, and other foundational skills.
As always, let me know if you have any questions. Happy teaching!