Prompt writing sounds pretty straightforward, right? You just give a prompt to students, and they write… right?!
But it's not always as easy as it looks. For example, have you ever assigned a writing prompt activity – only to have students fully copy your example? 🙋‍♀️
Or have you ever assigned a prompt – and then most students finished in 3 minutes, because they only wrote 1 sentence?
Responding to prompts is an important skill, but it can be challenging for K-2 students. It can also be challenging for us as teachers, when it comes to providing that "just right" amount of support to our kids.
Although prompt writing can be challenging, I've found some strategies that help a LOT! So in this post, I'll provide 5 clear tips to help your Kindergarten, 1st grade, or 2nd grade students successfully respond to writing prompts.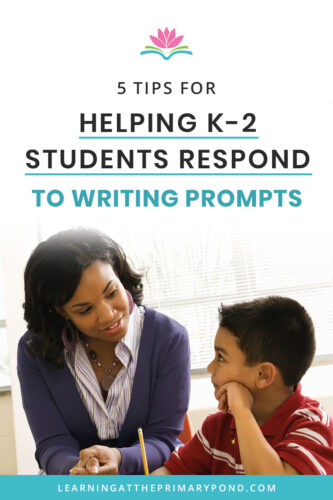 Photo credits: iofoto, Shutterstock
What is Prompt Writing? Why is it Important?
Prompt writing is when students are provided with a clear, specific topic to write about. For instance, "Write about a time you felt very happy."
This is a skill that students will use throughout their school careers, as well as their entire lives!
Think about your life as an adult – we are often asked to do prompt/"on-demand" writing! (Write an email to this parent about _____, Write a cover letter explaining your reason for applying, Write a letter giving feedback to a local restaurant about your recent experience…and so on!)
This is a little different from Writing Workshop or open-ended writing assignments. In a writing workshop, for example, students might be invited to write a nonfiction piece on a plant or animal, and they choose their specific topic. Or they write stories about a topic of their choice.
Responding to a prompt may take 15 to 45 minutes, while creating a piece for Writing Workshop may take several days. Writing Workshop units are typically lengthier, too.
I like a healthy balance of Writing Workshop and prompt writing so that students have opportunities to practice both. (If you're looking for more information on how I find a balance between Writing Workshop and Prompt Writing, check out this blog post).
Now back to prompt writing – here are 5 tips to help students be successful!
Tip #1: Provide a prompt that isn't too specific.
Which prompt could you write more about: "Write about a special party you attended," or "Write about your favorite birthday party"?
The first prompt is more general and the second prompt is more specific.
A more general prompt allows for students to use their creativity and take the piece in their own direction.
Giving students prompts that are too specific can result in them getting "stuck" – especially if they don't have life experience specific to the prompt.
One exception to this: when students have learned about a specific science or social studies topic, I do give prompts that are more specific, so that they can demonstrate their knowledge.
Tip #2: Model your actual response to the prompt.
Modeling is so, so crucial to our students' learning. They need to see real examples of what is expected – and they need to hear you think aloud as you write!
As you model, think aloud. Talk students through your entire step-by-step process:
"Hmmm, a time when I was very happy? Well, I was really happy when I ate ice cream this weekend. I was also happy when my nephew was born last year. I think I'm going to write about when my nephew was born because that was a big deal in my life!"
Next model your planning process. As adults, we usually don't just start spewing things out. We give some thought to what we will write. Then, we might jot down some planning notes. Model this for your students, too!
"Well, I remember the day before my nephew was born. I was getting so excited for the baby to come! And every time I heard my phone ring, I thought it could be my sister telling me the baby was here! When my sister finally called, she said the baby's name was James. I felt so happy that I was an aunt!"
This talking and thinking aloud shows students what they should do as ideas begin to come to mind.
And of course, model how to actually put your thoughts down on paper! Transferring ideas in your brain to words on paper can be tricky. Slowing down and fully demonstrating this process will be important for your students.
When I first became a teacher, I was worried that if I modeled how to respond to a prompt, students would just copy my work. To help ensure students don't just copy your response, I like to have students tell me a bit about what they're going to write about before I "release" them to go work.
I also love to celebrate students when they produce unique work – emphasizing that all writers are different and have their own stories to write (not just copying mine)!
Tip #3: Provide graphic organizers/planning documents for students.
Like with any form of writing, students need a way to plan out their responses. Graphic organizers are a great way for students to see the scope of their story or piece.
This is an example of a planning document I provide in my Kindergarten writing prompt bundle.
With the help of graphic organizers, students can self-identify areas that are strong as well as parts that need to be added to/worked on before getting into the nitty-gritty.
Tip #4: Use a variety of prompts, and differentiate the prompts! 
Even though prompts are a bit more structured, it's still important to expose your students to different genres of prompts. For example, you'll want to make sure you're providing opportunities for students to respond to informational, narrative, and opinion prompts. Here are examples of each:
Informational: Explain how to clean your room.
Narrative: Write about a time you felt proud of yourself.
Opinion: What is your favorite part of the school day? Why?
Like with anything in your classroom, you will have students with a range of writing abilities. For example, what about the student who's working on writing sequentially? What about a student who just needs a bit more support with vocabulary words? What about a student who is past the phase of needing beginning/middle/end – and is ready for more autonomy? Here are three different examples of the same prompt, differentiated to meet students' unique needs: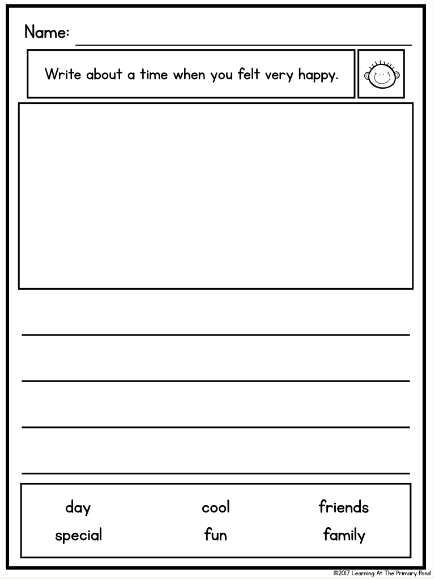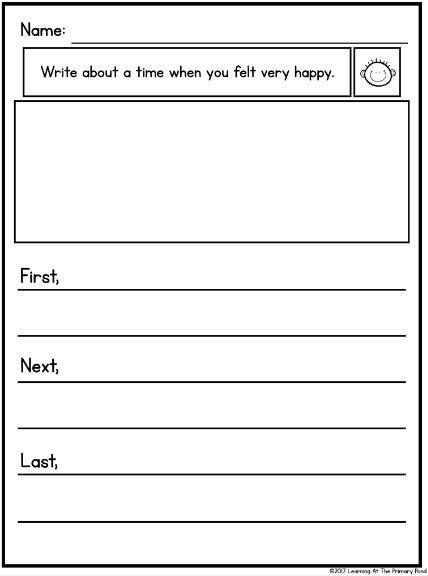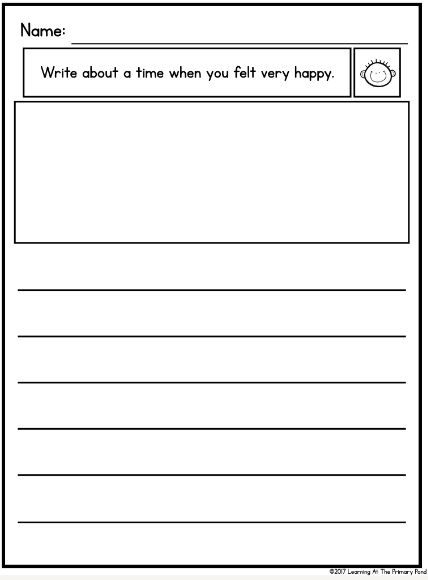 As you can see, the prompt stayed exactly the same, but the level of differentiation changed. These are also from my Kindergarten writing bundle, and many more adaptations are included in the actual purchased materials!
For more information on differentiation, here's a blog I wrote about differentiating writing instruction in K-2.
Tip #5: Make revising a natural part of the writing process. 
I'll start off by saying that revising is both difficult to learn and difficult to teach. But it's absolutely essential we teach our students to revise. Young writers need to learn that rethinking and reworking a piece of writing is a normal part of the writing process.
We want students to consider whether or not the writing meets the needs and interests of their audience. We want them to think about word choice and sentence structure. These are revisions that go beyond just fixing a misspelled word or adding a period.
For revisions, I've found it most helpful to provide a rubric or checklist so that students can self-evaluate their work. In that same bundle, here's an example of what that could look like: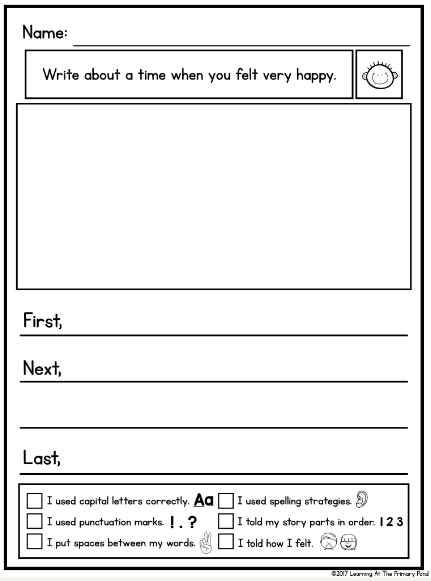 Make sure you combine Tips #2 and #5 to model how to revise! Again, we want students to know this is a totally normal part of writing!
And last, have students engage in peer revision. I personally like having a specific spot in the classroom where students do this. During writing time, once students have completed a draft, they can head to the table. With a partner, they work together to make both of their writing pieces better.
To support students with peer conferring, you may want to provide them sentence starters, like this from my Revising and Editing Toolkit:
Conclusion
Prompt writing (and any type of writing for that matter!) is a step-by-step process. You are their best resource for learning those steps! Combining the correct materials with modeling and revisions will be key to students' success.
Want some FREE seasonal writing prompts? Here's a freebie you can download! Seasonal Writing Prompts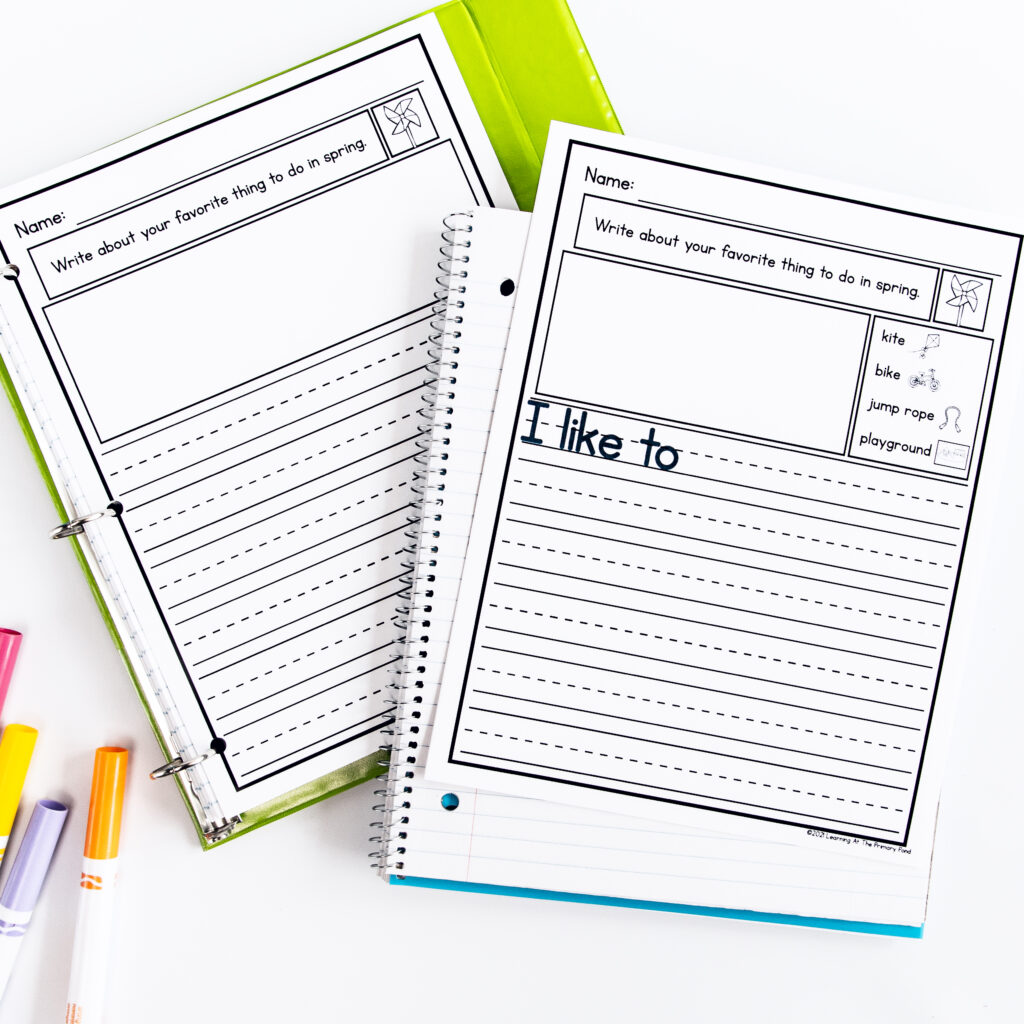 I also do have a comprehensive writing program called Primary Writing Success for Kindergarten, 1st grade, and 2nd grade!
These program comes with the prompts, complete lesson plans, printable student materials, schedules, and pacing guides. There are also embedded professional development videos to help teachers effectively implement the program and support struggling writers!