Wondering how to make a guided reading schedule for your Kindergarten, 1st grade, or 2nd grade classroom?
You're in the right place!
In this post, I'll walk you through my step-by-step process. I have example schedules and freebies for you too!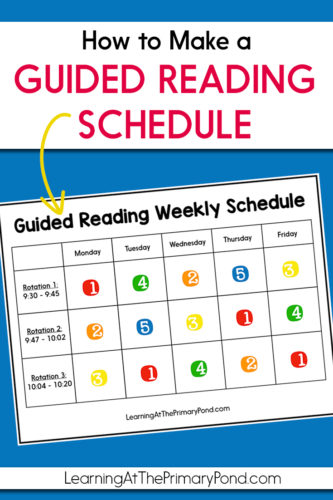 Step 1: Form your guided reading groups.
First, of course, you'll need to determine how you want to group your students.
For guided reading (not all small group instruction – just guided reading), I group students by reading level.
If you need some help forming your groups, check out this blog post! In it, I explain what to do if your students' levels and group sizes aren't coming out to be nice and neat. 🙂
Step 2: Set your

daily

and

weekly

schedules.
Next, answer the question, "How long will my guided reading block last?"
Sometimes schools determine this time block for you, but sometimes not.
If you're setting your own time block, here are some things to take into consideration:
Length of each group (I recommend 10 mins for Kinder, maybe 15 by the end of the year; 15 mins for 1st grade; 15-20 mins for 2nd grade)
Number of groups you want to see (I recommend 2-3 per day)
Transition time (2-3 mins for clean-up and rotation)
Write out your daily schedule, like this:
Rotation 1: 9:30-9:45
Rotation 2: 9:47-10:02
Rotation 3: 10:04-10:20
(Yes, I know the last rotation contains an extra minute! This is just in case anything gets pushed back during the first 2 rotations. :))
Then consider your weekly schedule. Will you follow this same schedule, 5 days per week?
Or will you incorporate other types of small group instruction a few days each week?
For example, you might want to incorporate strategy groups, which you can read about in this post.
Create a grid to represent your weekly schedule (a simple spreadsheet works great for this). Here's an example: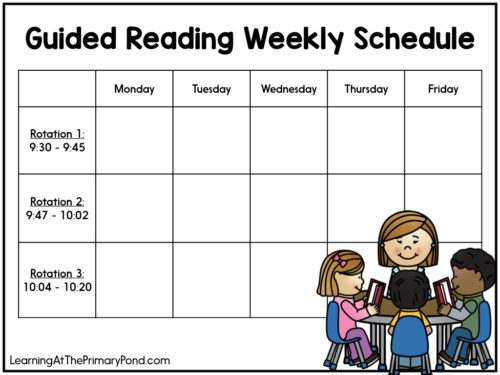 Step 3: Determine how often you want to see your lowest 1-2 groups. Set aside those slots in your schedule.
If possible, see your lowest group every day. Fill that into your weekly schedule template (I labeled my lowest group as "Group #1).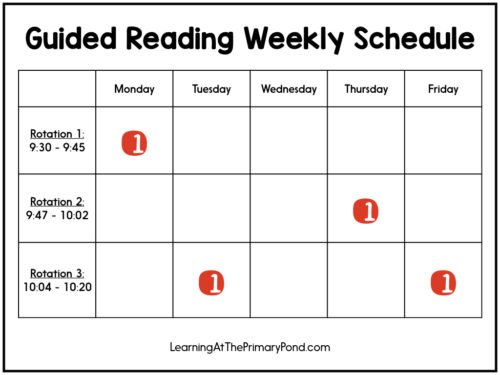 In this example, I chose to see my lowest group 4 times per week, because they were also receiving extra support during an intervention block.
Step 4: Count the number of slots remaining in your schedule. Divide them up evenly among your other groups, perhaps making an exception for your highest group.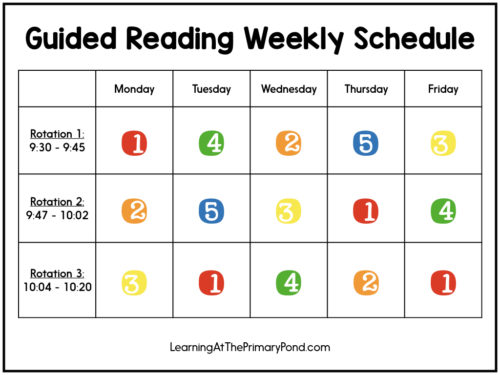 In this example, I saw my lowest group 4 times per week. That left 11 spots for other groups.
This wasn't an evenly divisible number, so that's why my highest group (Group 5) is only seen twice a week.
However, some weeks I did see them 3 times per week! I replaced Group #4 with Group #5, or just tacked on a bonus group at another time of the day.
You can also adjust this schedule by seeing your two lowest groups 4 times per week. This means that you'd have 7 slots for other groups. Those 7 slots can be for Group #3 (3 times per week), Group #4 (2 times per week), and Group #5 (2 times per week).
But you know your students best; adjust this example as needed!
Step 5: Try it out! Make adjustments as necessary.
Once you've set a schedule, don't spend too much time worrying about whether it's perfect or not! Just try it out and see how it feels! You can always make changes later. 🙂
Guided Reading Freebies
Want some free schedule examples and lots of other guided reading freebies?
Download my free guided reading toolkit by clicking on the image below!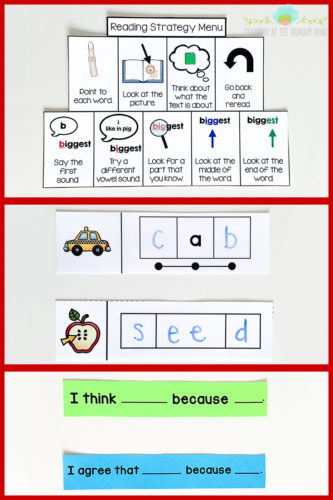 Happy teaching!!