Guided reading time goes by SO quickly. If you're like me, you want to make the most of that time – but also monitor how students are doing!
Guided reading assessments can be difficult to implement…but they don't have to be!
In this blog post, I'll share two simple ways to track how students are doing during guided reading.
These assessments will give you plenty of useful data to guide your instruction!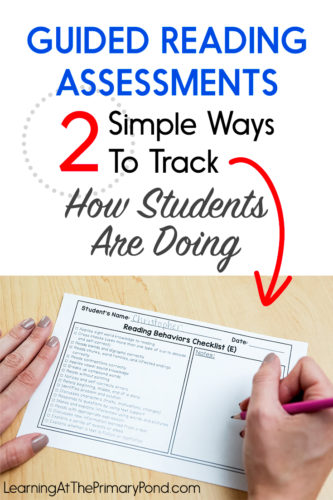 Method #1: Running Records
At the beginning of each guided reading group, I take a running record of one student's reading. (If you're not sure how to take a running record, please read this post.)
Meanwhile, the other students quietly re-read familiar texts. This is awesome for fluency!!
I have one student sit next to me while the others are reading. I hand them the book that we read during the previous guided reading lesson.
I have the student read all of the book to me (for lower level books only) or some of the book (about 150 words).
I then ask the child to retell. I try and ask one inferential (higher level) comprehension question, too.
I record the child's fluency on a scale from 1-3 (1 being disfluent, 3 being fluent).
And that's it! This whole process only takes about 5 minutes.
I stick the running record form in my binder, and get started with the rest of the students.
Later, on Thursdays, when I plan for the following week of guided reading, I review the running records.
If I haven't had a chance to calculate accuracy and self-correction rates, I do it then.
I may not have a running record for every single student from that week, but I'll have a couple of running records from each group. (I rotate through students, so I get a running record for each student about every 2-3 weeks.)
From my running records, I can make decisions about:
What books to choose for upcoming lessons
Phonics patterns that students need to work on
Which strategies to focus on
Whether or not any students need to change reading groups (read this blog post to help you figure out when to move students up a guided reading level)
Method #2: Level-Specific Checklists
In addition to taking that running record toward the beginning of my guided reading lesson, I like to take notes and make observations during the rest of the group time.
However…I've often found that REALLY HARD to do! Even with the best intentions, I don't end up taking many notes. I'm busy supporting students in the group!
So I ended up creating my guided reading checklists.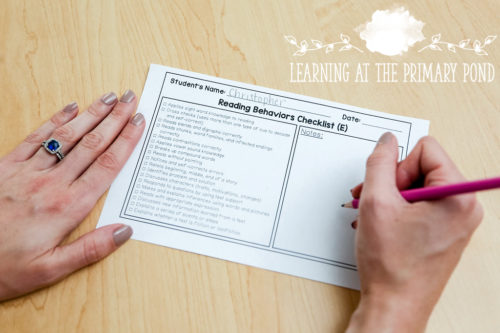 These checklists list out skills that students are focusing on at each individual level. Rather than having to write out complete sentences, I simply make checkmarks or ratings
I usually work on 1-2 checklists per group each time we meet. In other words, I'm not trying to fill out a complete checklist for all 5 students! Sometimes I don't even complete a full checklist for one student.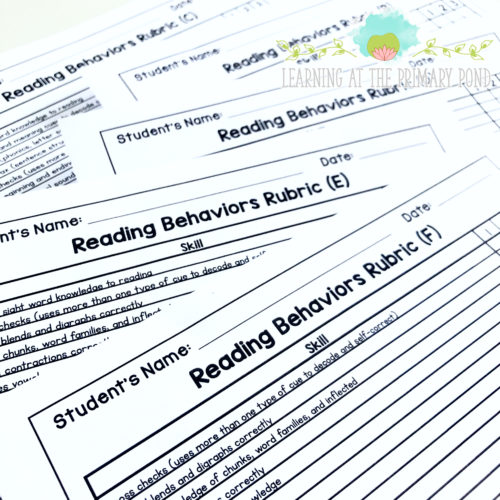 Just like the running records, these checklists can help you make instructional planning decisions and adjustments to your groups.
Download Assessment Forms
If you'd like to use the same guided reading checklists that I do, you can grab my Kindergarten, first grade, or second grade set here: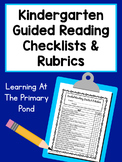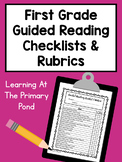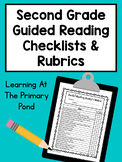 And if you'd like to download a free running record form (and other guided reading goodies), click HERE.
Happy teaching!