If you're looking for writing prompts for first graders AND you want to learn how to help kids be successful with their writing, you're in the right place! In this post, I'm going to share 5 steps to follow when having your 1st graders respond to writing prompts. I'll also include examples of narrative, informational, and opinion writing prompts that you can use. Plus, I'll share how you can use differentiation to make sure that all your young writers are successful!
Five Steps for Success When Using Writing Prompts
Step #1: Choose a writing prompt that's engaging and inspires more than a one-word or one-sentence response.
Writing can feel difficult for kids in this age group. Their writing abilities may still be limited, and some kids may feel reluctant to write. To help motivate them, choose prompts that will capture their attention!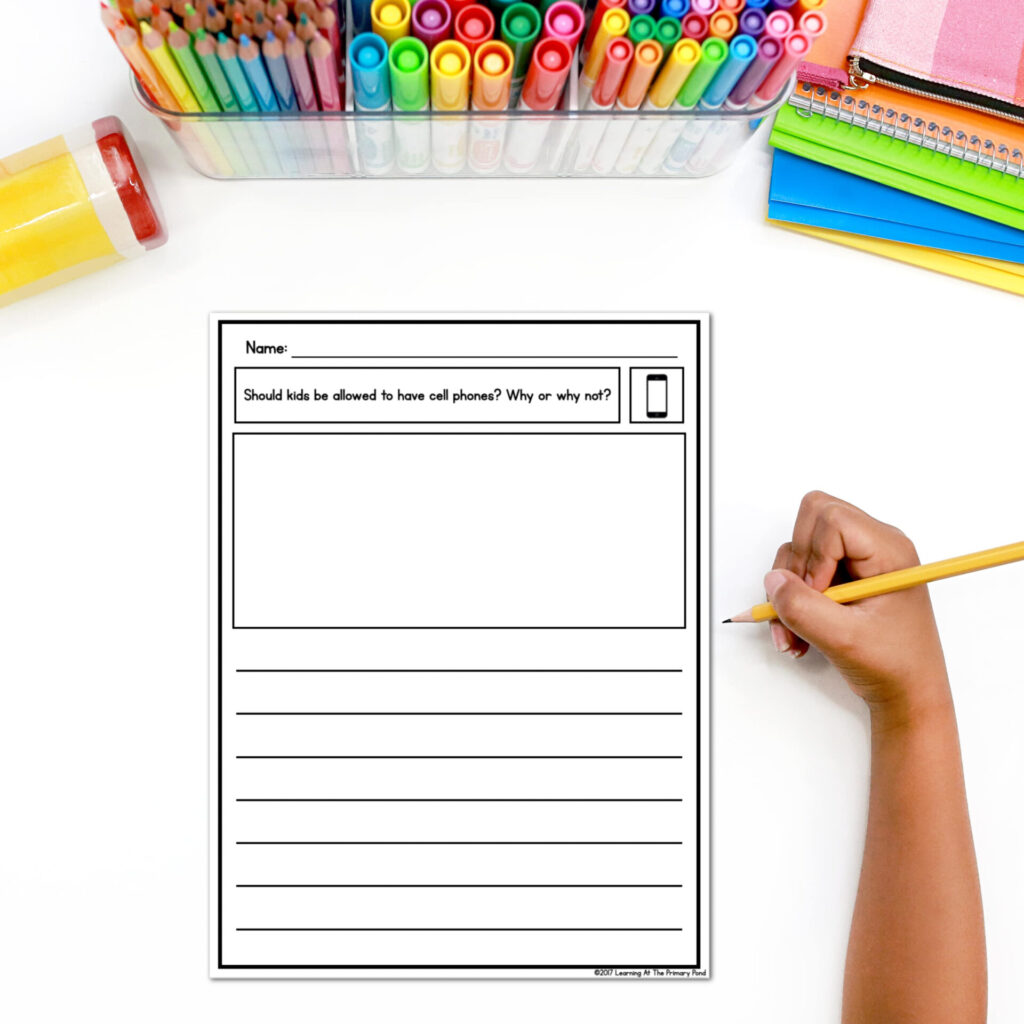 You'll also want to make sure that students have enough to say when they respond to the prompt. Questions that require only a one-word or one-sentence answer will result in students finishing quickly.
You'll also want to make sure that students actually have something to say about the writing topic – perhaps from something they've experienced at school or in their daily lives, or from something related to a science/social studies topic you've taught them about. If you choose something outside of these areas, students won't be successful. For example, if you ask students to write about their favorite vacation, it's possible that they've never been on vacation and won't have anything to say. Or if you ask students to write about their favorite sport but they don't know much about sports (and you haven't taught about them in class), they won't be successful with this prompt, either.
Below are a few prompt ideas from my differentiated writing prompts for first graders that are both engaging and will elicit a good response from most kids. They are organized by type of writing:
Narrative writing prompts:
Write about a time when you felt angry.
Write about a first grader who gets lost in the mall/a store. Write a story about what the first grader does.
Imagine that you walk into your classroom one morning and find a skunk sitting at your desk. Write a story about what happens.
Informational writing prompts:
Explain how to make toast.
Explain how day and night are the same and different.
Give some tips for staying healthy.
Choose an animal that lives in the ocean. Write interesting facts about that animal.
Opinion writing prompts:
What is your favorite thing to do after school? Why?
What is the best part about being a kid? Why?
What is your favorite part of the school day? Why?
Should kids be allowed to choose their own bedtimes? Why or why not?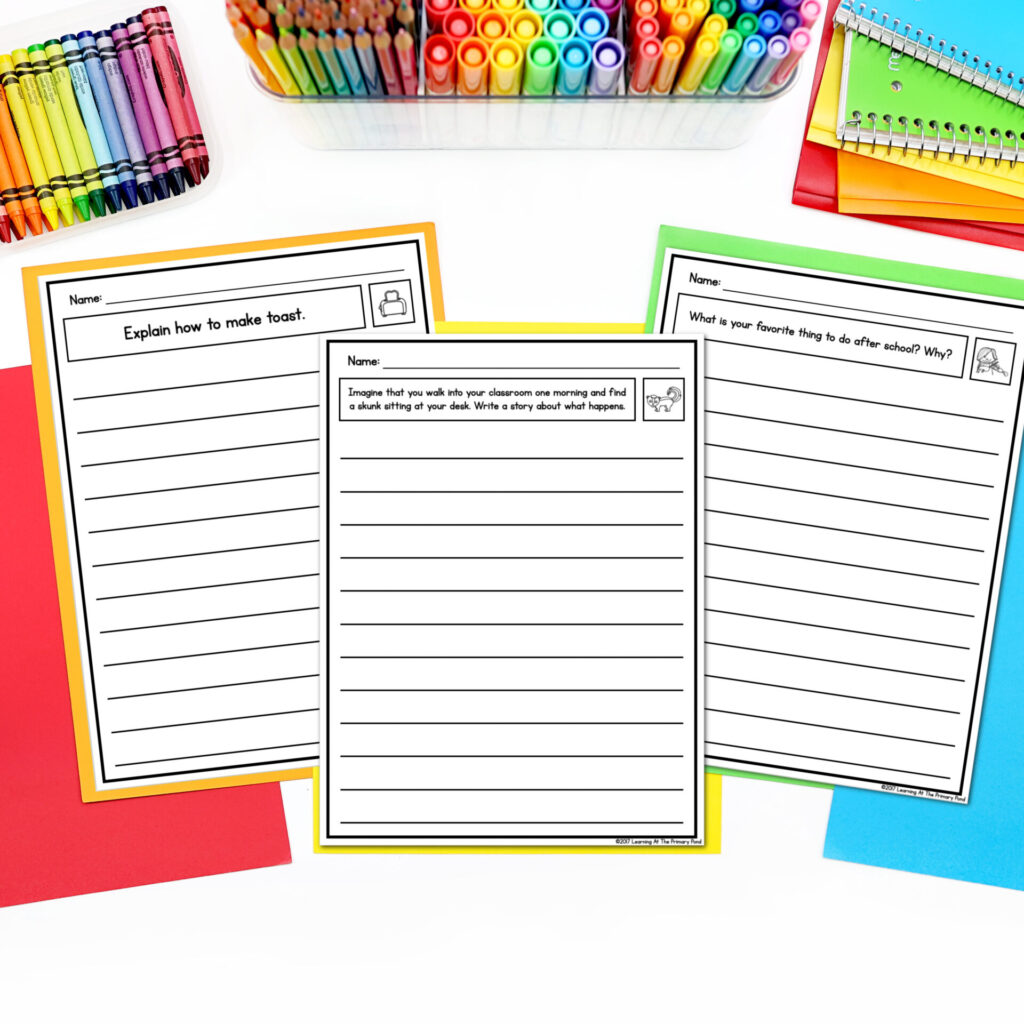 Step #2: Model how to make a plan for your writing.
When you want students to respond to a writing prompt, the first thing you'll need to do is model.​ And I mean fully model – not just get them started or talk about what you want them to do! You'll need to show them and talk them through each step in the process. (Of course, as time goes on and students become more comfortable with the writing process, you'll be able to model less. But when they're getting started or having difficulty, there's no such thing as "too much" modeling!)
Using a graphic organizer is a great way to guide students in making a plan for their writing. Even if their written response is not going to be very lengthy, drawing or writing in an organizer will help them create a more complete, coherent piece of writing.
On chart paper, on the board, or under a document camera, take a blank copy of the same graphic organizer that you want students to use. Think aloud as you fill out the graphic organizer.
Let's say that you want to model how to respond to the prompt, "Write about a time when you tried something new." You might say to your students (while modeling how to complete your graphic organizer):
"First graders, I want to write about a time when I tried something new – something I've never done before. Hmmm…well, an idea that popped into my mind was the time I first went kayaking. That happened years ago, but at the time, it was new to me. I'd never done it before."
"Let me think about what I did first, next, and last. I'll close my eyes for a second and picture what happened. Well, first, my husband and I listened to our kayak tour leader who was going to lead us in the water. She explained kayak safety rules and how to paddle. In my graphic organizer, I'm going to write 'Listened to kayak tour leader explain safety rules and how to paddle.' This is not a complete sentence but that's okay – it's just an idea, and I'll add more later when I create my draft."
(And so on.)
For narrative writing, you might give students a "timeline" graphic organizer so they can map out real events or imagined events for their story: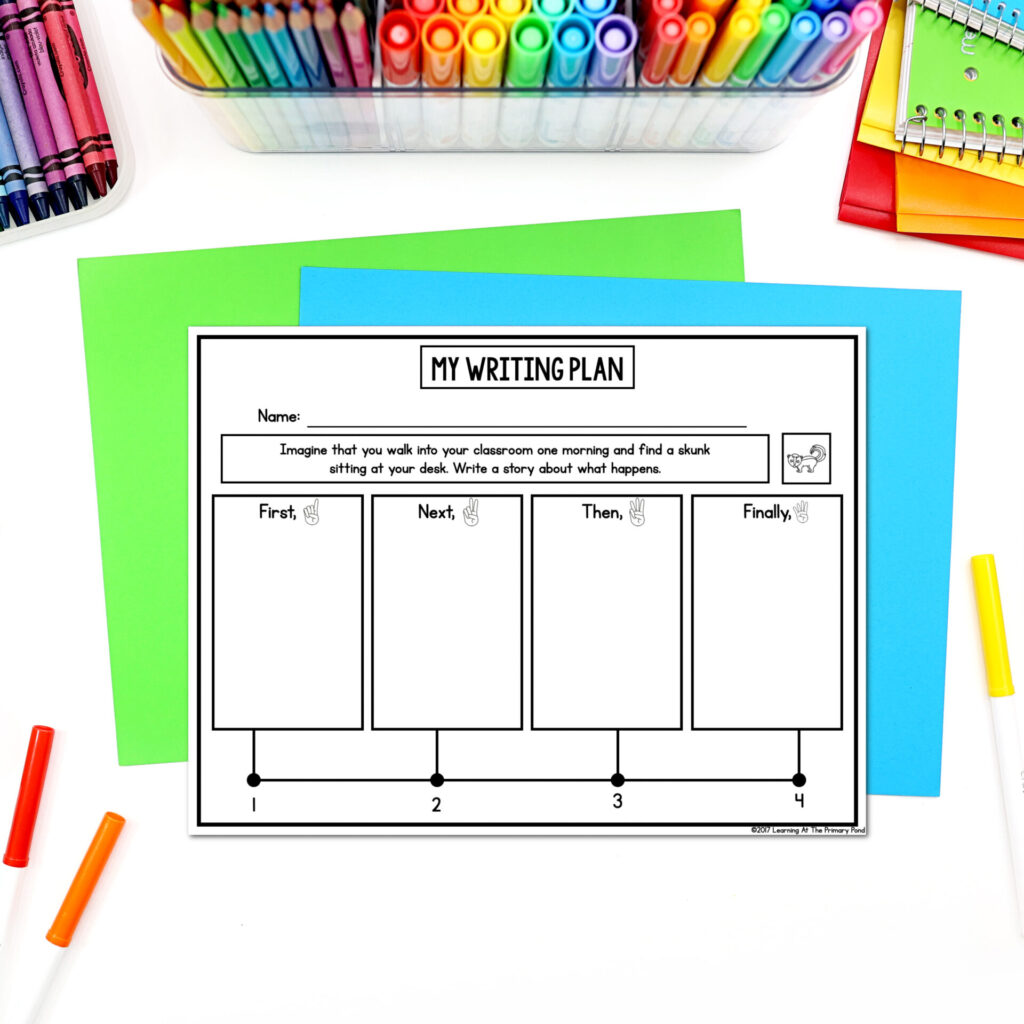 Or, a simple "beginning-middle-end" graphic organizer works, too!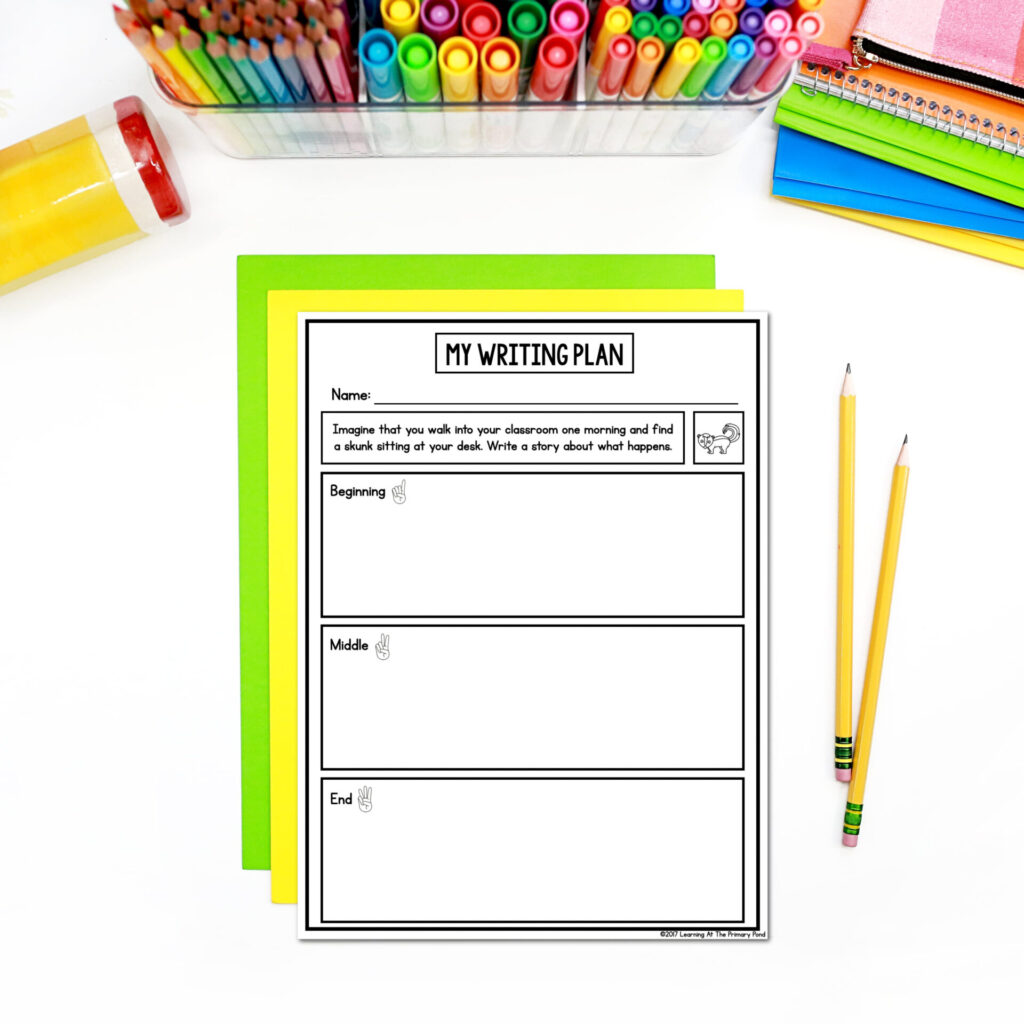 For informational writing, you might try a web (each bubble includes a nonfiction fact):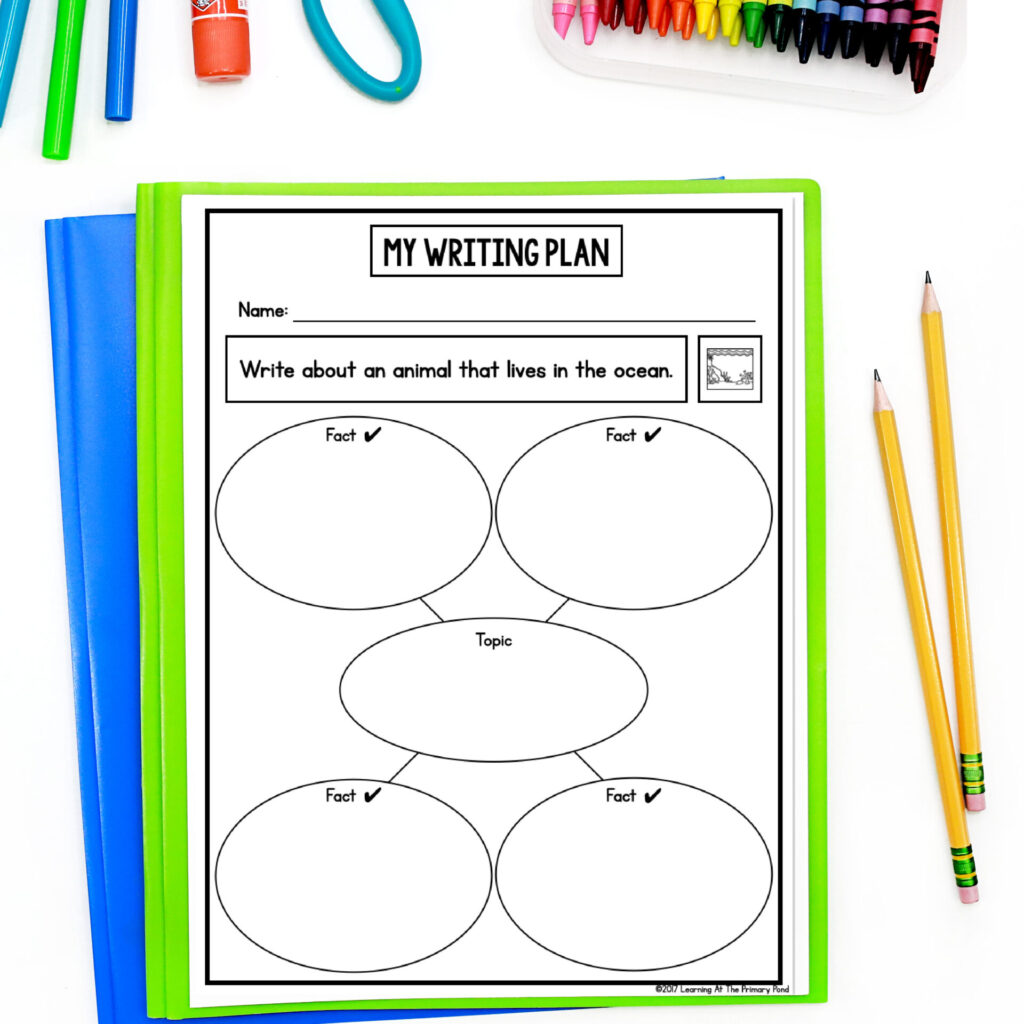 You might also try an organizer like this that encourages students to plan an introduction, facts and details, and a conclusion: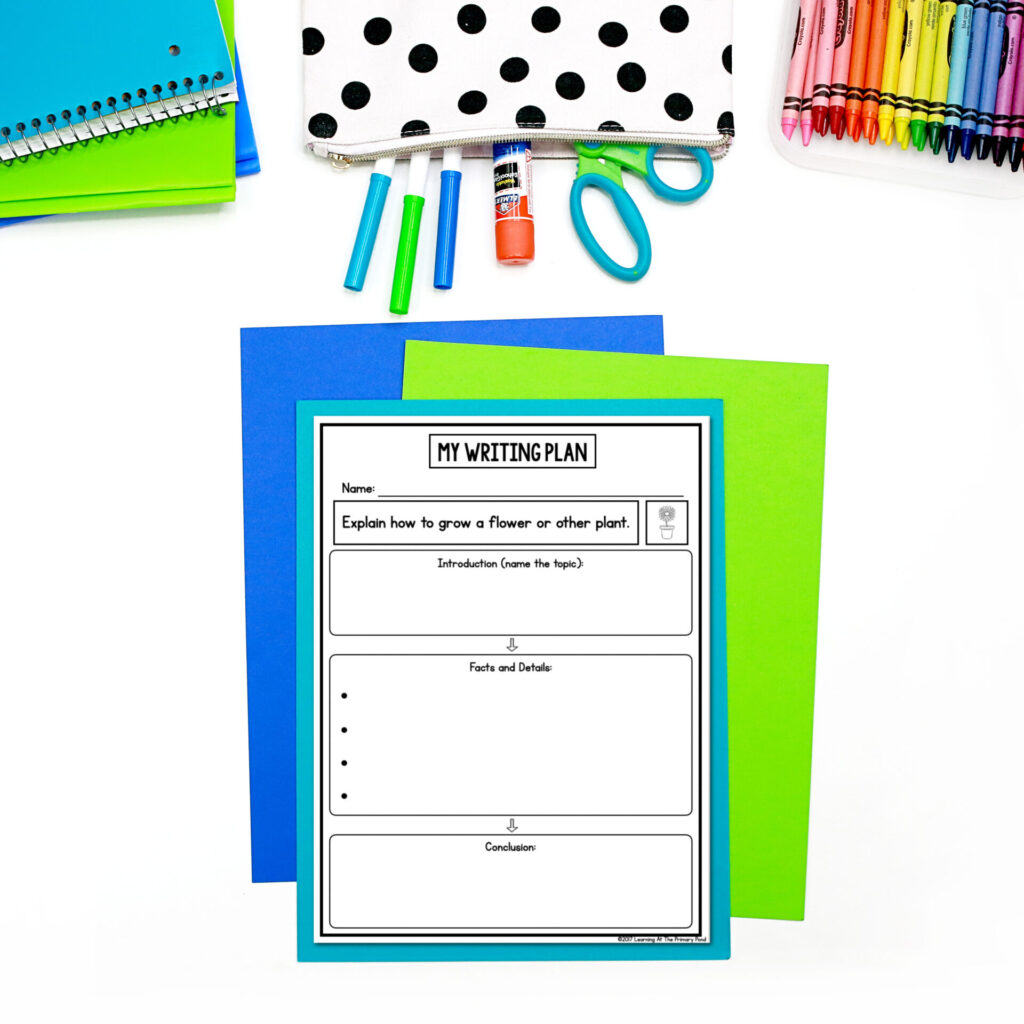 For opinion writing, you might try a "flow chart style" graphic organizer that starts with an opinion, gives reasons, and wraps up with a conclusion: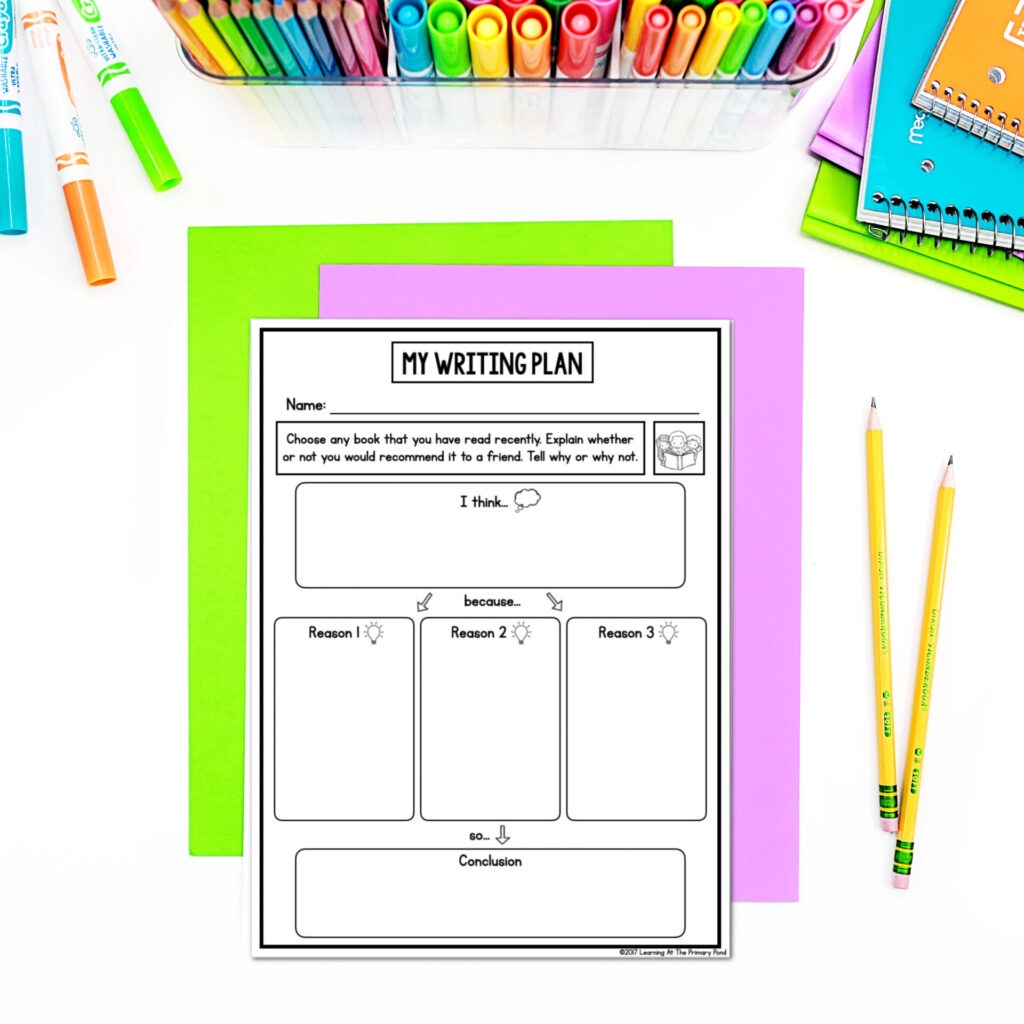 After you've modeled how to create a plan for writing, allow students to create their own plans. Another tip to help your kids be successful – allow your first graders to talk through their writing idea with a partner before they sit down to fill out their graphic organizers. This conversation can give them a starting point so it's easier for them to begin working. It can also be motivating for reluctant writers!
Step #3: Model how to take your plan and turn it into a first draft.
Once you've modeled how to create a plan and students have made their own plans, it's time to actually write! Place your graphic organizer next to your blank writing paper (drafting paper) and start modeling how to draft. Explain how you are adding more details and writing in complete sentences.
You can also focus on a particular skill that you want students to master, like one of these writing skills:
Segment words and use your phonics knowledge to spell them
Begin each sentence with a capital letter
End each sentence with a punctuation mark
Write in complete sentences
Use spaces between words
Write with lots of details
Use transition words
Tell events in chronological order
Avoid run-on sentences
(etc.)
Once you've modeled how to turn your graphic organizer into a draft, it's time for students to write! At this point, some of your young learners will be ready to write, write, write! However, some young students may still need some more support. They might be learning English as a second language, have a learning disability, struggle with language skills, have writer's block, or simply need extra help to be successful.
This is where differentiated writing supports can really come in handy. Three great tools are sentence starters, word banks, and self-assessment checklists.
Sentence starters can help show students how to:
Use transition words
Write in complete sentences
Structure and organize their writing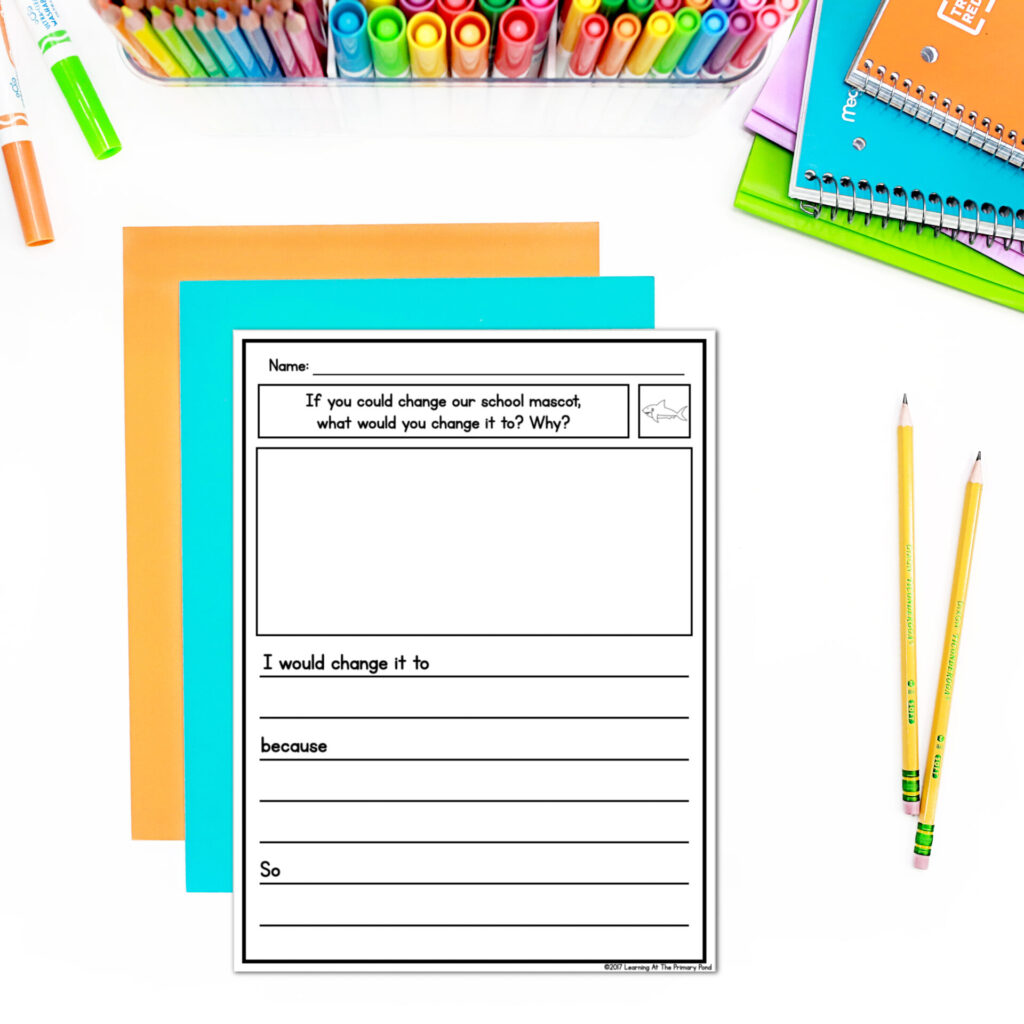 Word banks can help students:
Use more specific vocabulary
Get a boost when spelling is a struggle for them
Get ideas for their writing (the word bank in the photo below lists adjectives a student might use to describe their desired school mascot)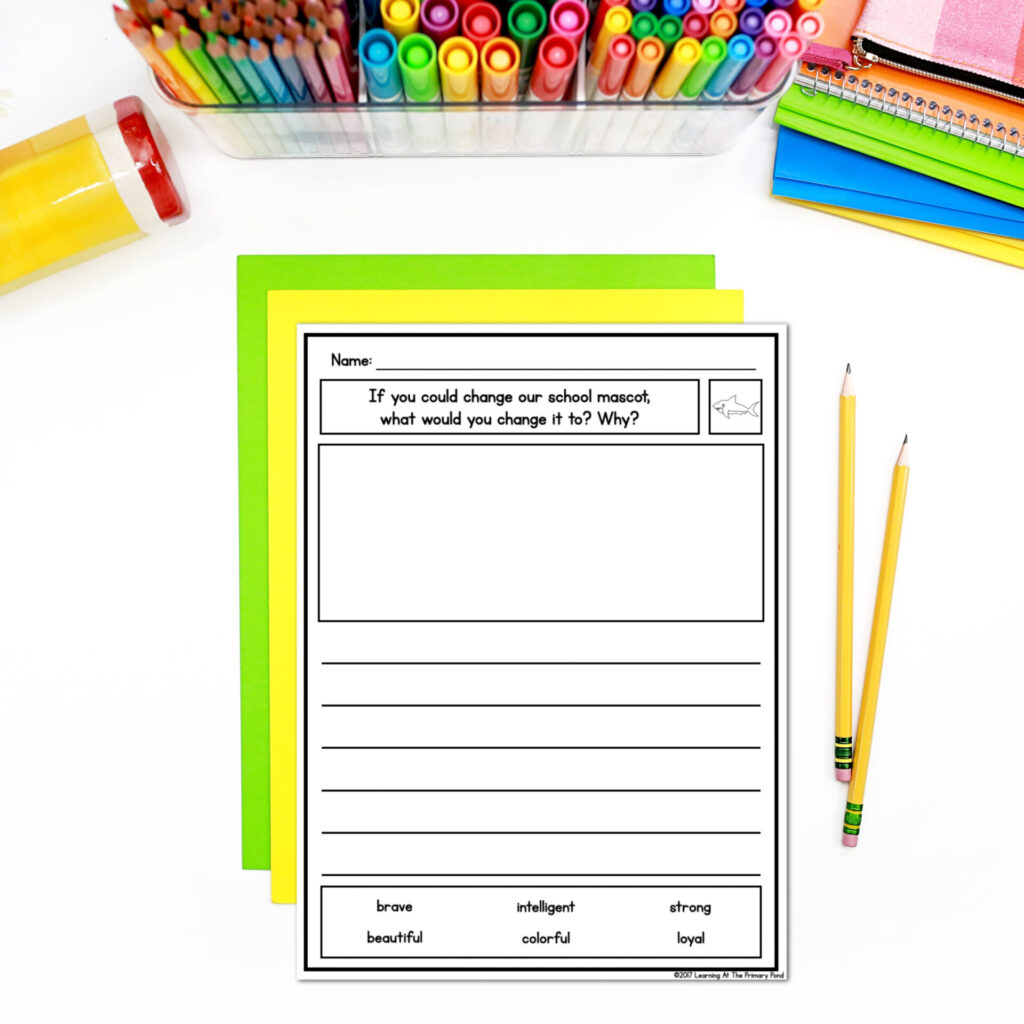 Self-assessment checklists can help students:
Learn to revise and edit their writing (more on that in Step #4!)
Slow down and check their work rather than immediately declaring that they are finished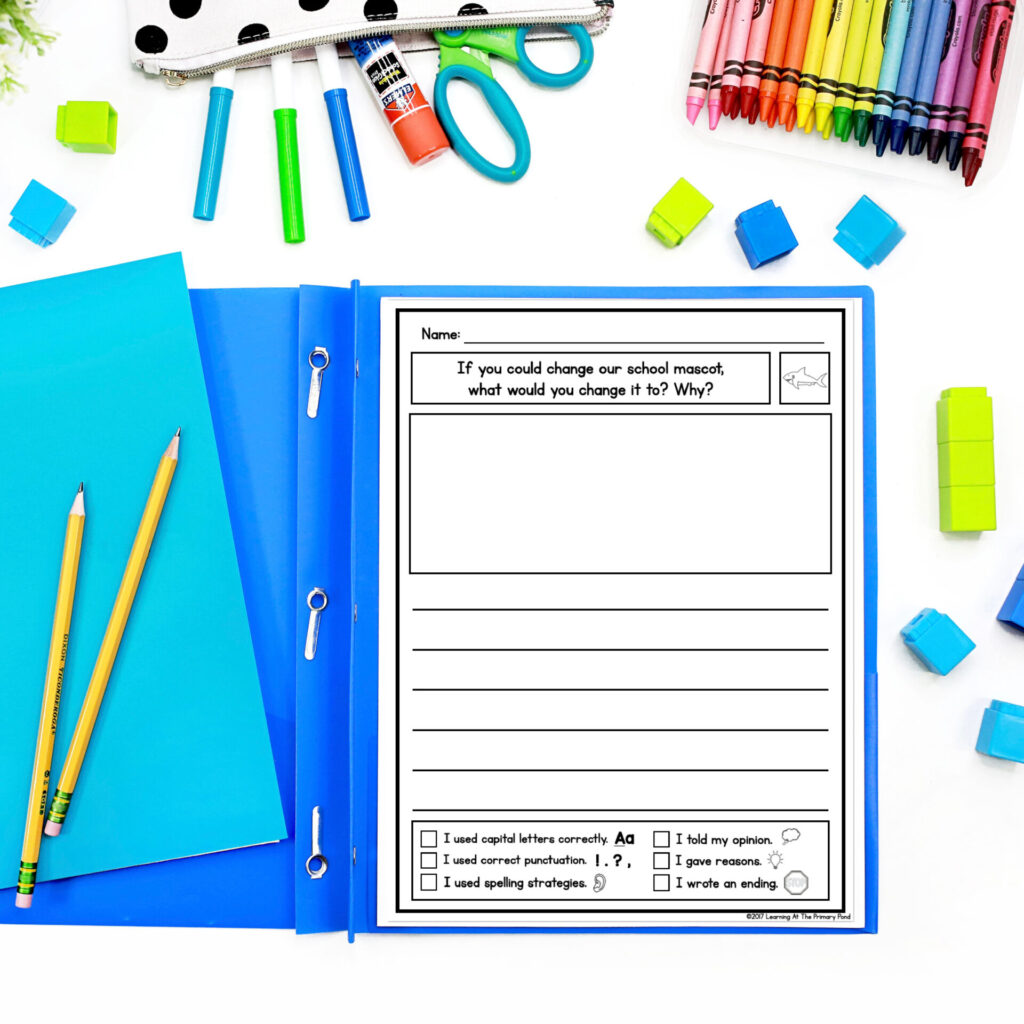 You can even give students a combination of these tools on their writing paper, like these examples: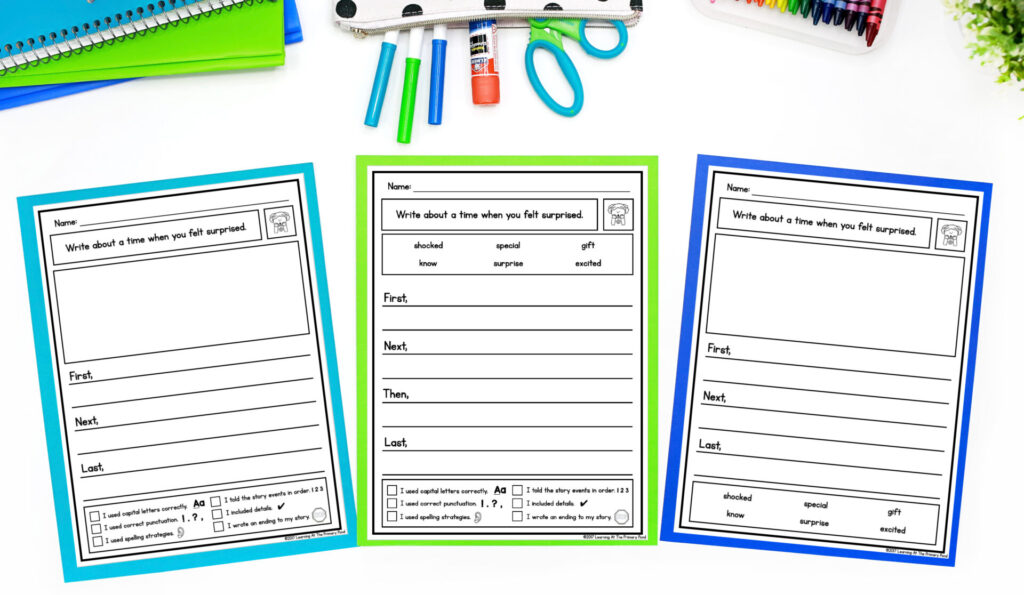 In my sets of differentiated writing prompts for first grade, you get options for ALL of these supports (and combinations of them) for every single prompt! This means that you can easily choose the built-in supports you want to use. You can also differentiate by giving different students different writing paper!
Of course, as the school year goes on, you'll want to remove these supports. The goal is for students to learn to write complete responses on their own. But with first graders, this can take time!
Step #4: Model how to revise and edit your writing.
After students are finished drafting, they might think that they are all done! But we know that an important part of the writing process is revising and editing. You'll want to show your students how you:
Correct spelling, punctuation, and capitalization mistakes
Fix grammar errors like incomplete or run-on sentences
Look for places that could be confusing to the reader, and add more detail
Add an introduction and/or conclusion, if they are missing
Fix up messy handwriting
(etc.)
This is a lot for kids to think about. The self-assessment checklists you've seen in previous photos can definitely help. It can also help to have kids focus on just ONE area each time they review their work (for example, do a read-through and only look for punctuation errors; do another read-through and only look for capitalization mistakes).
Revising and editing can be tricky for ALL writers – and especially for young children. They will likely need your help to fix certain mistakes. However, one of the best ways to get them to revise and edit without your help is to set up peer editing!
In peer editing, kids read each other their writing and make suggestions for improvement. Of course, they will need to see you model this so they understand how it's done.
Step #5: Provide an opportunity for students to share their writing.
Having an audience to whom they can share their writing can be very motivating for first graders – and all students! Sharing could be as simple as sitting with a partner and reading them their finished work.
Or, you might have your students re-copy their work onto fancier final draft paper. They can read their work to their peers and you might display it on a bulletin board. You could even invite another class of students into your class, have students pair up, and allow them to share their writing.
Ready to Get Started Using Writing Prompts for First Graders?
To get access to a set of 60 fun 1st grade writing prompts for narrative, informational, and opinion writing, click here! They are great for daily practice and can even be used in literacy centers, once students understand how to respond to them.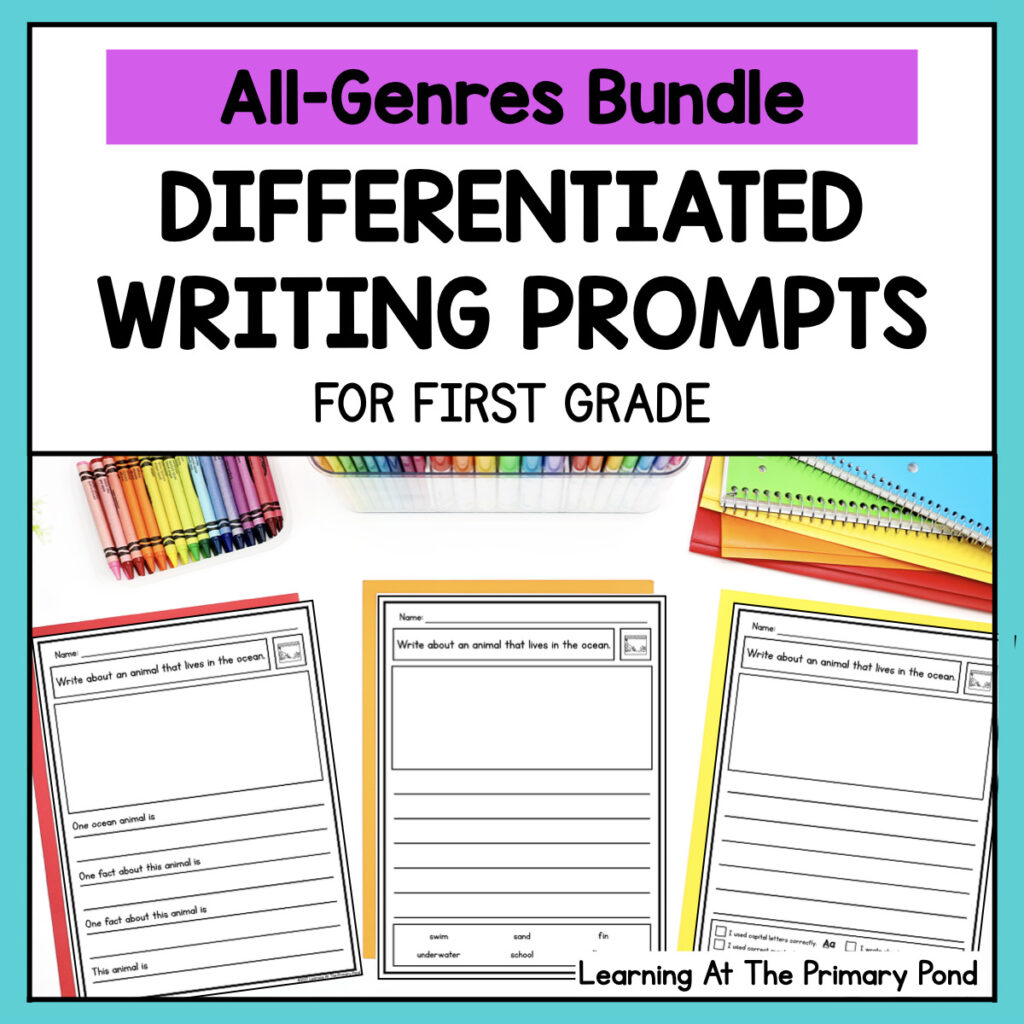 To read how I use prompt writing with other types of writing assignments throughout the school year with my 1st graders, click here!
If you want to save this post to return to it later, pin the image below to your favorite Pinterest board.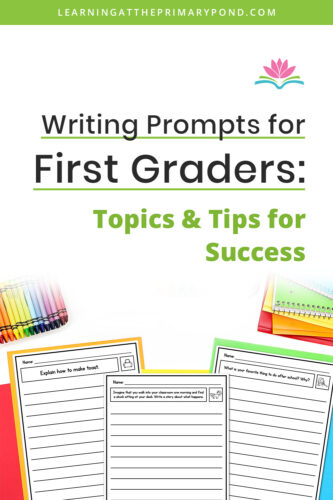 Happy teaching!