Creating a literacy block schedule can be one of the most challenging parts of teaching reading and writing in K-2! There's so much to fit in, you have limited time, and your kids have SO many different needs. Plus, if you've learned about the Science of Reading, it can feel impossible to create a Structured Literacy schedule that addresses all necessary skills, without spending 4 or 5 hours each day teaching literacy!
Good news, though…it IS possible to create a schedule that covers all the important Science of Reading skills and actually works in a real classroom. In this post, I'm going to take you through my simple, 3-step process to create a Structured Literacy schedule for a Kindergarten, 1st, or 2nd grade classroom.
It might be a little different from how you've normally created a schedule, but hang with me! By the end, you'll see how this process can save you a ton of stress and allows you to leave behind feelings of "I can't fit it all in!"
If you'd like to follow along with the FREE printable materials I show you throughout this blog post, grab my Science of Reading K-2 Schedule Toolkit here!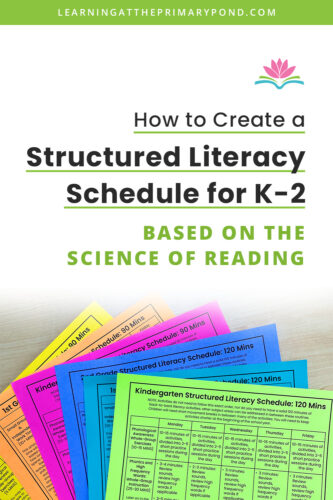 Step 1: Get clear on how long you will spend teaching each skill area.
In my free toolkit, I give you guidance on about how long to spend on each essential Science of Reading skill area.
I broke this up into separate sheets for Kindergarten, 1st, and 2nd grade. You'll also notice that I divided up the skills into "teacher-led" (instruction and guided practice) and "independent student practice." This is key to implementing Structured Literacy, because students will need explicit, direct instruction, followed by supported practice, and then independent practice.
Note that the total amount of time for the skill areas may vary somewhat, depending upon students' needs and any time restrictions you have.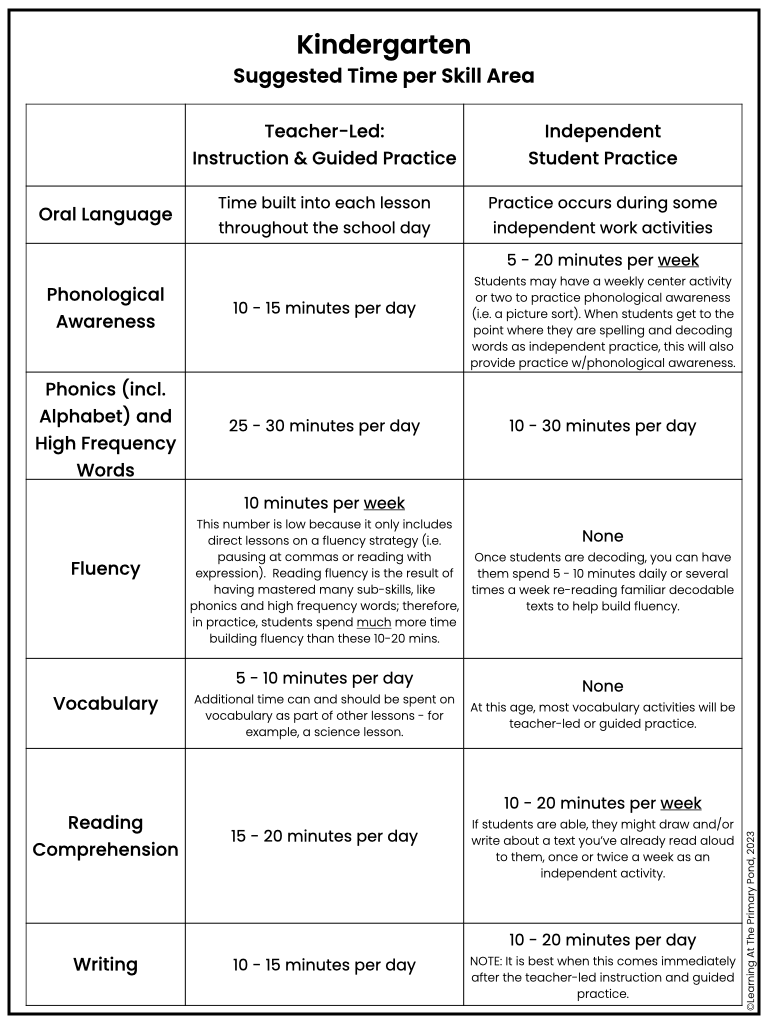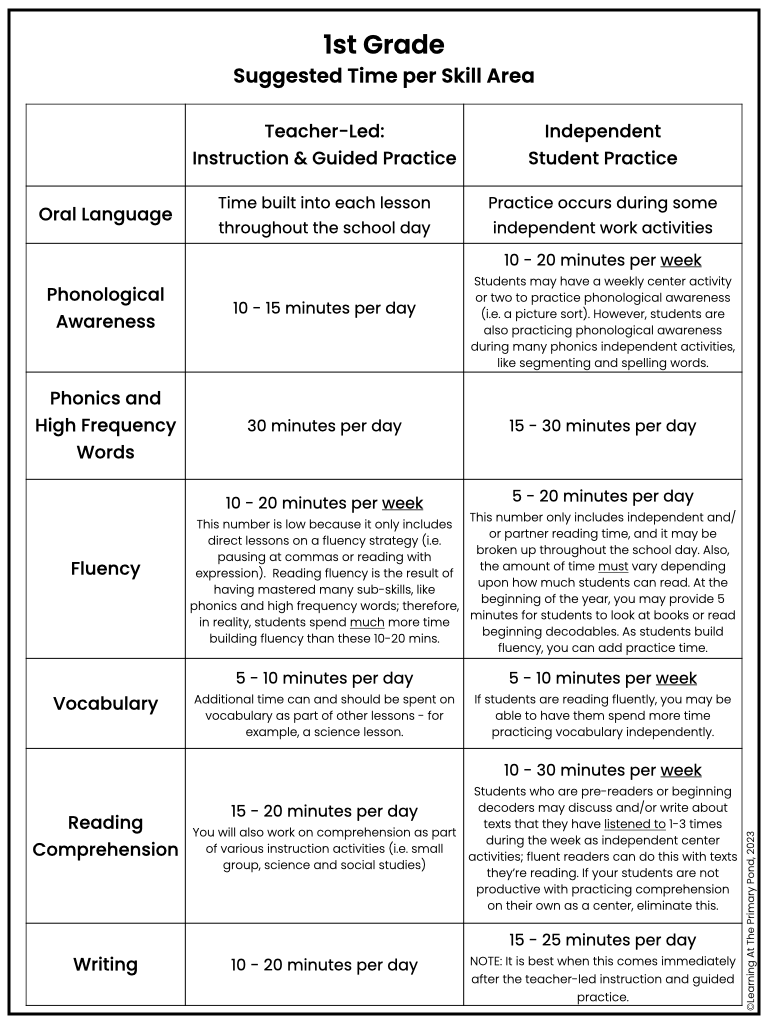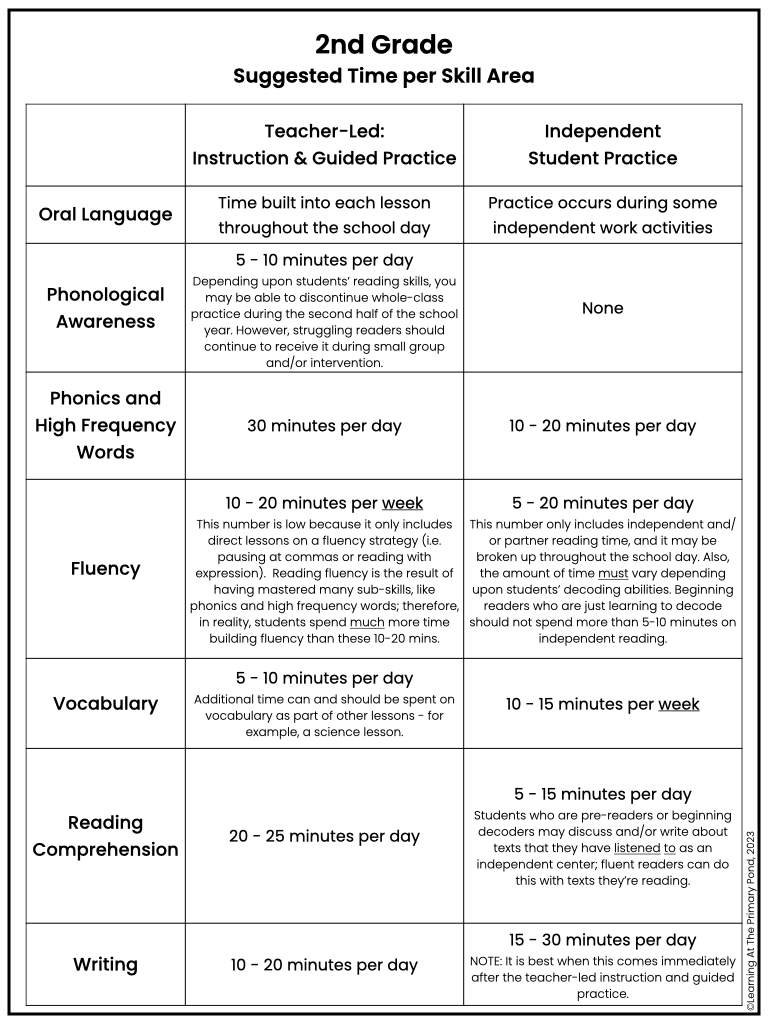 Step 2: Consider how you will incorporate explicit instruction into all Structured Literacy skill areas.
In this step, you'll read over the checklist below (again, it's included in my free toolkit):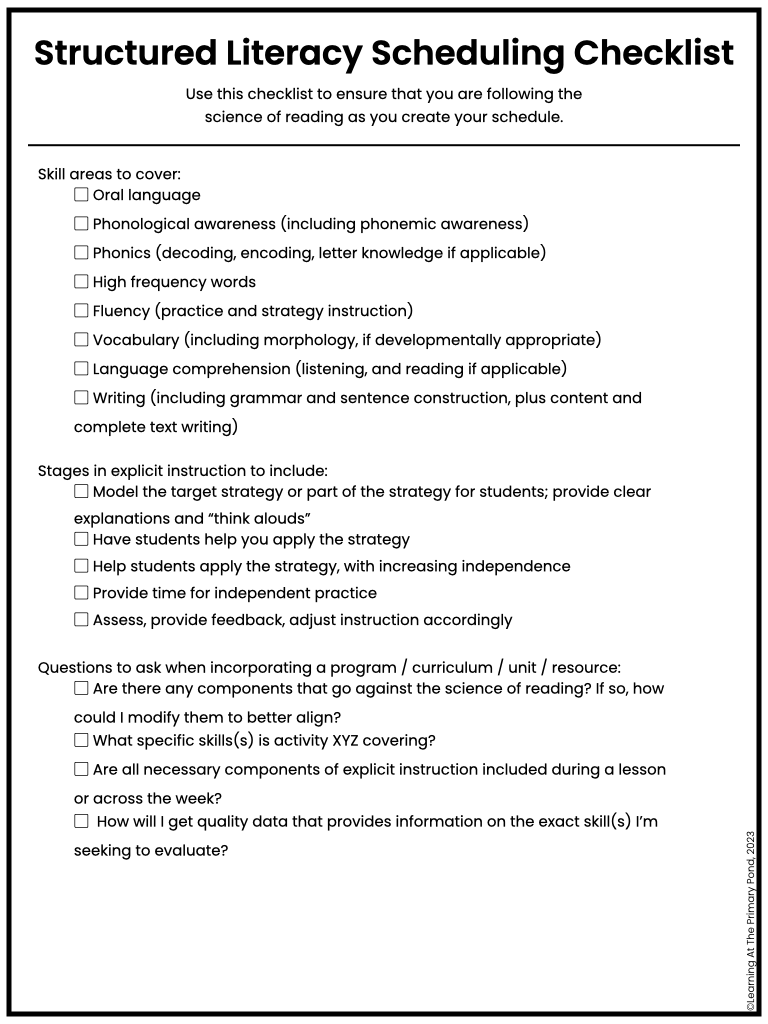 When you use explicit instruction, you'll want to intentionally plan for how students will gradually assume responsibility for practicing a skill independently. Your explicit, direct instruction, supported practice, and independent practice could happen all in one lesson, but more than likely, it will take multiple lessons. Therefore, you should plan for this in advance.
For example, on Monday you might model and use think-alouds to teach your first graders a comprehension strategy like retelling the most important information from a nonfiction text. On Tuesday and Wednesday, you might provide opportunities for supported practice (with continued modeling, but less than on Monday). Then, on Thursday and potentially Friday, students practice the strategy more independently.
It's helpful to think through how you will gradually release responsibility so that you can set up your schedule accordingly! Not every day will look exactly the same, and that's okay (it's actually a good thing!).
Step 3: Create your Structured Literacy schedule by planning for skill blocks, not activity blocks!
Years ago, I would create a schedule like this:
10-10:15: Read-aloud
I listed out instructional routines, like read-aloud, small group, or any specific programs I had to teach.
Now, this is NOT what I recommend! Instead, I recommend you scheduling by skill. I explain this in much more detail in my Science of Reading course for teachers.
But in a nutshell, scheduling by skill:
Helps ensure that you are truly covering all essential skill areas (and not letting certain ones fall by the wayside, like vocabulary)
Cuts down on the feeling of "I can't fit it all in"
Allows you to stop trying to cram so much into small group instruction – because you see that skills are covered during other parts of your literacy block
It's not that you don't use programs or routines, but you think about them differently. They become tools that you use in order to help students master skills – not an end in themselves.
In the free toolkit, I give you this simple template so you can schedule by skill: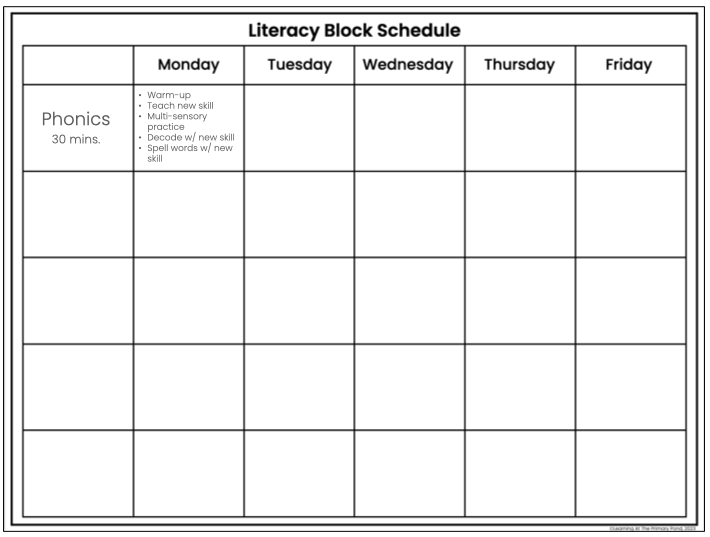 Did you grab the free toolkit yet? If not, do so here!
If you'd like to have ready-to-use schedules so this process is DONE for you, check out my Science of Reading course for K-2 teachers!
This course will help you:
🌟 Master the Science of Reading as it applies to teaching K-2
🌟 Create daily and weekly schedules that apply the Science of Reading
🌟 Feel confident that you're giving ALL your students the tools they need to become successful readers and writers!
In this course, I cover the most important principles about the science of reading that you need to know – without sending you into information overload!
I also teach you how to translate the science of reading into an easy-to-implement daily and weekly schedule.
I show you what to do when you don't have as much time as you need to teach literacy, and/or when your existing curriculum doesn't follow the science of reading.
AND I give you ready-made, detailed schedules for structured literacy in grades K, 1st, and 2nd that you can download and start using immediately!
This is a self-paced course , which means that you can watch the short videos whenever you have time!
In addition to the videos, you also get downloadable resources, like…
> The schedules I described above
> Links to additional free resources to support your Science of Reading instruction
Additionally, at the end of the course, you can choose to take a quick quiz if you want a certificate of completion (with your name on it) to be emailed to you for professional development credits.
When you purchase, you have forever access to the course (no yearly fee or future purchases required).
Read more about the course at this link!
Happy teaching!