In teaching, it can feel overwhelming just to plan for the following day or week…
But for an entire year?! That can seem incredibly overwhelming, if not impossible!
Stay with me though… this type of long-range planning can really help you feel in control of your instruction and fit everything in throughout the year!
Using a scope and sequence is key to this process. But how does it all work?

Let's take a step backwards. First of all, what is a scope and sequence exactly? The scope part refers to what should be taught during that year – certain skills, objectives. The sequence is the recommended order that the lessons will be taught in. Most curriculums come with a scope and sequence. They can each look very different, though.

Here's an example page from a free Kindergarten Scope & Sequence I have: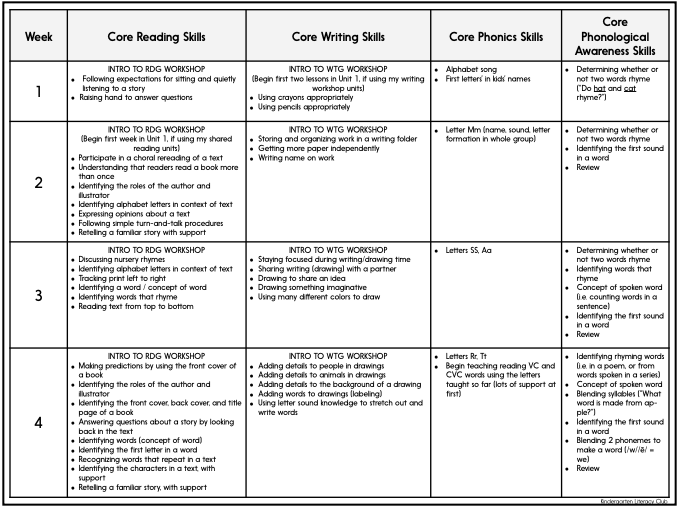 And here's one page out of my free 1st & 2nd Grade Scope & Sequence: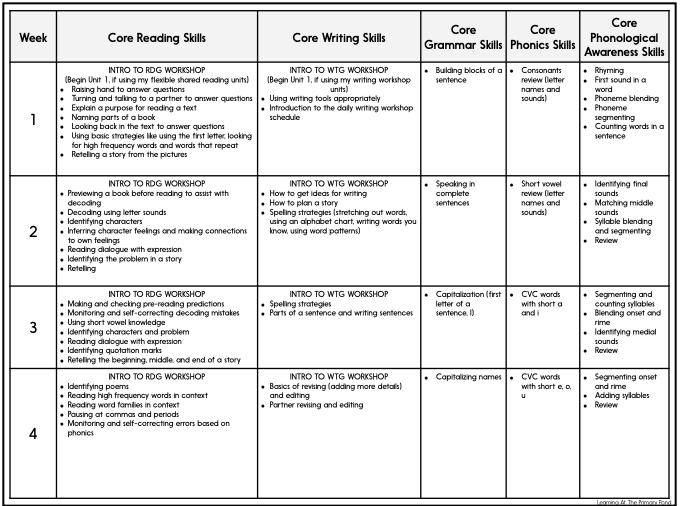 Some scopes are very broad from week to week (ie "Letters"), whereas others are extremely specific (ie "Letter sounds 'b' and 'f'").
When you think about the sequence portion, sometimes skills need to be taught in a specific order (for example, short vowels should be taught before long vowels) and other times, the sequence can be changed around (for instance, a read aloud unit on whales can be taught before or after a rainforest unit.)
What happens when you have multiple scope and sequences (read aloud, shared reading, phonics, grammar, writing, etc) in front of you that you're supposed to use cohesively to plan out the year? This is when things can feel especially overwhelming!
Fortunately, I have a video to help (and transcript, if you prefer to read) that will walk you through the process I use to plan long-range using a scope and sequence!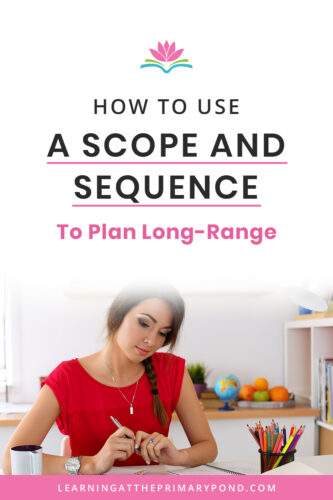 Watch the video to help plan for your classroom!
Transcript if you prefer to read:
"Hey, I'm Alison from Learning At The Primary Pond, I'm a literacy specialist and in this video, I'm going to explain how you can do some long term planning using a scope and sequence. Now long term planning can feel really overwhelming but once you've got it done, you will feel so good and it will really keep you on track throughout the school year.
Okay, so I know a lot of teachers who feel really overwhelmed when they see that they have not just one scope and sequence, but you have one for each subject to teach. I love teaching elementary self-contained …or I loved it before I became a literacy specialist. One of the challenges though is you have all of these subjects and you're trying to figure out how to make it all work, how to fit everything in throughout the school year. That can be kind of stressful. If you have ever felt overwhelmed by the long term planning process or even just planning for a quarter, just type "me" in the comments so that other teachers know that they are not alone in that.
Let's talk about some things that you'll want to gather when you're doing your long term planning. Number one, make sure you have your school calendar. There's always breaks, days off, professional development, whatever else you have going on. You want to make sure that you know when those things are because otherwise, you could end up planning so much content for a week and then it ends up being Thanksgiving and you only have two days of instruction. The other thing I think about is you might have inclement weather days or you might be out sick or a lot of the kids might be out sick and then you have to rework things. So even though you have your school calendar, also keep in mind that if you're planning for a unit, leave yourself a couple of extra days. Even if nothing bizarre or out of the ordinary happens, you might have students that just need reteaching. I always love to give myself just a few extra days for wiggle room.
You will also want to have your daily schedule laid out. Do you have blocks for phonics, for writing, for math? Your school may tell you, "Okay, you're teaching phonics from this time to this time and you're teaching writing from this time to this time." Or you might just have general blocks like literacy in the morning. When you're doing your long term planning, it helps to know how much time you have for each subject. Also, are you teaching every subject every day or do you have A days and B days where you rotate between subjects? All of that can really factor into how much you're able to cover in a given period of time.
In addition to schedules and calendars, you'll also want to bring the scope and sequence that you hopefully have from your school or from the different programs/curriculums that your school is having you use. I find it really helpful to lay out the entire scope and sequence. In my example, we have core reading skills, core writing skills, grammar, phonics, phonological awareness. This is actually a freebie that you can get from me. I have it for kindergarten and then first and second grade.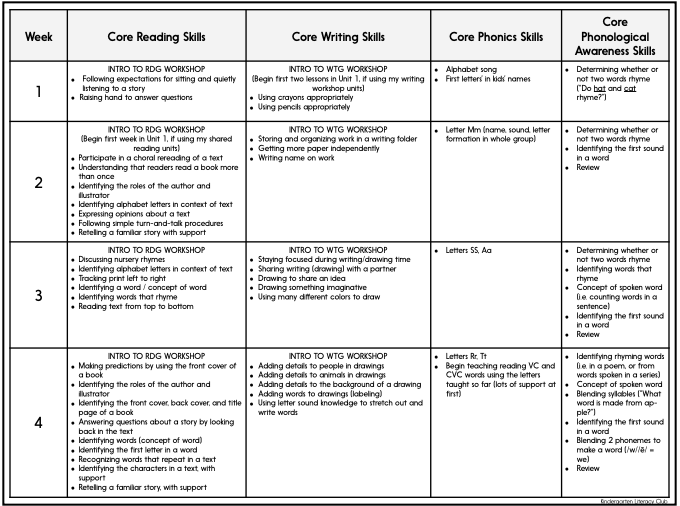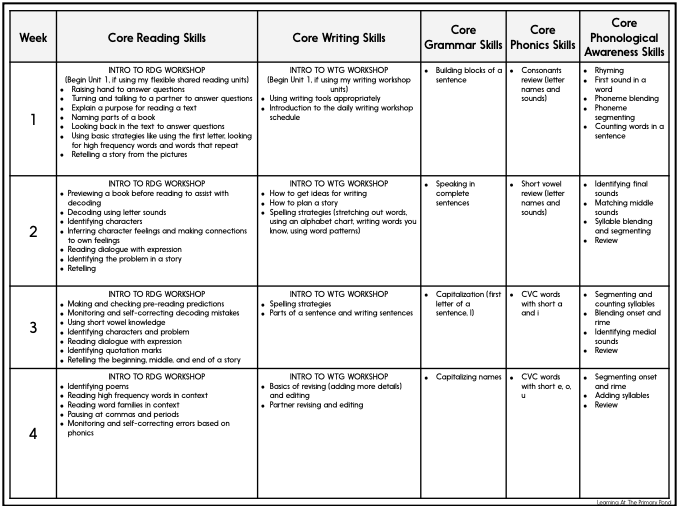 But essentially here, you do not have just one subject. Instead, I have taken the different subjects and put them together so that you can see how skills connect. For instance, maybe you'll notice, "Okay, we're going to be doing a really big project in science and social studies. Maybe I can pull in some of these literacy skills to save time." But I really do feel like it's helpful to have some way of looking at them all together.
Now do you need to retype your entire scope and sequence for every subject? I don't think so, but it could be like "Okay, we're doing this project in social studies and then we're working on these core comprehension skills in literacy," so that you can look at it all together. I do feel it's easier to type it up because then you can go in and make changes more easily. If you want to take a spreadsheet and really lay it out with columns and individual skills. Again, it doesn't have to be as detailed as the scope and sequence of a program that it would provide you, but if you can get the big picture things, it can really be helpful in planning your year.
And one other thing I kind of probably should have mentioned earlier is an assessment. You may need to have certain times blocked off in that scope and sequence for assessment, especially in K-2. You may be doing a good number of one-on-one assessments throughout the year so you want to have time built in. That might be at the beginning, middle, and end of the year. It might be after each unit. Maybe it's not that you have to have a ton of time built in but you need time for a test. So remember to incorporate assessment and like I said those wiggle room days when you're planning out are helpful.
Now as you're filling everything in, you might notice, "Oh my goodness. It's not all going to fit into the year." And I want to reassure you, especially if you're a new teacher, that is totally normal. My preference is quality rather than quantity but definitely check with other teachers at your school or at your grade level if that's an option for you. If you've got a team, see if there are certain things that they don't usually get to, maybe the following grade level does or even check with one grade level up. Like if you're a second grade teacher, "Hey, if we don't get to this, do you cover it in third grade?" So some collaboration at your school level is necessary, especially if you're noticing, "Okay, it's the beginning of the year and we haven't even had anything weird happen or weird interruptions but it's not going to all fit in." Just make sure that you're communicating with other people, either at your team, above or below you, depending on what grade level you're teaching, to make sure that you are covering the things that your school and your team feels are most important.
To kind of put it all together, you've got your school calendar. Maybe you even want to plan all of this on a big calendar, right? It can be helpful to write it out by hand, but again I really recommend typing. So maybe you take a big calendar and then you kind of sketch out, "Okay, this is about how long this math unit is going to be." But then you type it up so that you can more easily make changes because I know I definitely have written stuff on a calendar and then thought, "Oh, we got off, and it's now all messed up." That's why I do feel like it's helpful to type, but again, we're thinking about assessment time, we're thinking about days off, we're thinking about wiggle room, all of those things are going to play into the way that you're laying everything out on the calendar.
If you do want a free literacy scope and sequence for kindergarten or first and second grade, I will include links (Kindergarten and 1st/2nd Grade) with this video so that you can get access. It may not 100% match exactly what your school is giving you, but a) if you don't have something, it is definitely something to start with, right? Something to build from. And b) if you're thinking, "I don't know if my scope and sequence really covers everything that's the most important," definitely grab this freebie because it's just another resource that you can have handy when you're doing this kind of long term planning. Okay, thanks so much for watching!"
Conclusion
I hope the information in this post was helpful in setting you up to be successful in your own planning! If you'd like to get my FREE literacy scope and sequence, click here for Kindergarten and click here for 1st and 2nd grade.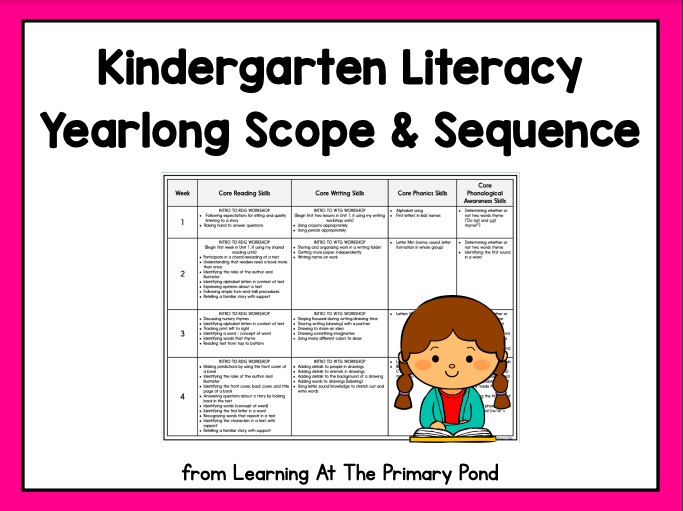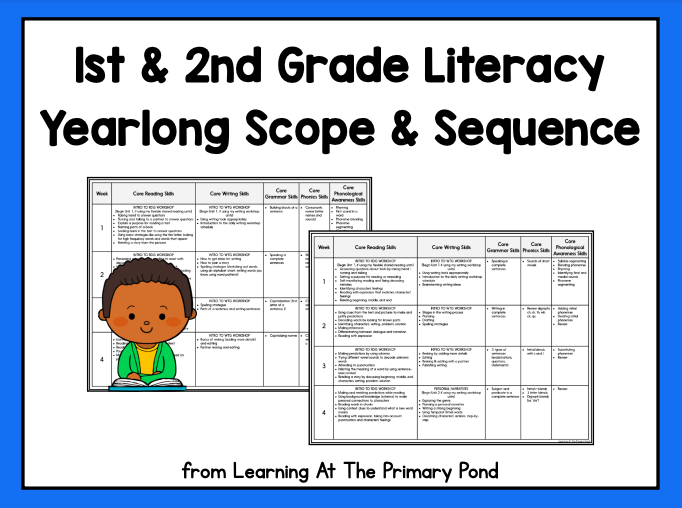 Happy teaching!