Have you ever given an assessment where students had to read nonsense words?
For example, they might have to read the word "mep" or "duzz" – words that aren't real, but that they can use their phonics knowledge to decode.
Nonsense words aren't just for assessments, though! Nonsense word reading practice is actually a great activity for teaching or reinforcing phonics skills.
Now, if you're thinking, "Teaching nonsense words sounds like a strange idea – why would kids need to learn to read fake words?!"…I totally understand that! I used to think the same way.
But adding just a few minutes of nonsense word reading to your phonics routine is actually a GREAT idea. In this post, I've included a video where I explain WHY nonsense word reading is so beneficial – as well as demonstrate a nonsense word activity that you can easily incorporate into your phonics instruction. (There's also a transcript of the video, in case you prefer to read.)
Oh, and one other quick thing! If you're looking for other ways to improve your students' decoding skills, check out my Winter Nonsense Word Games for Kindergarten, 1st grade, and 2nd grade, my Spring Nonsense Word Games for Kindergarten, 1st grade, and 2nd grade, my Summer Nonsense Word Games for Kindergarten, 1st, and 2nd grade, and my Fall Nonsense Word Games for Kindergarten, 1st, and 2nd grade. There's even an assessment included in the products so that you know exactly what skills to practice! Currently, these 3 are available but Fall theme will be available later in 2022.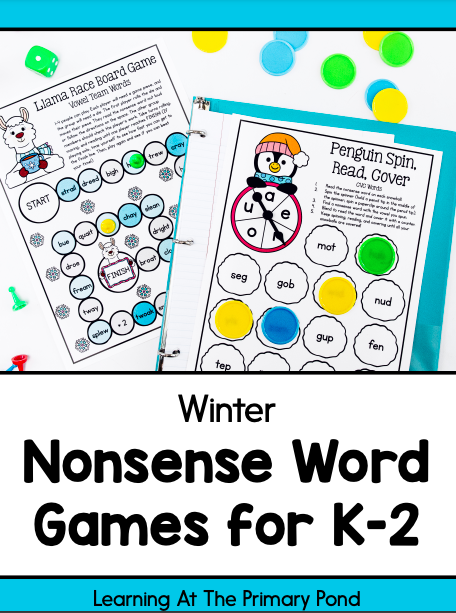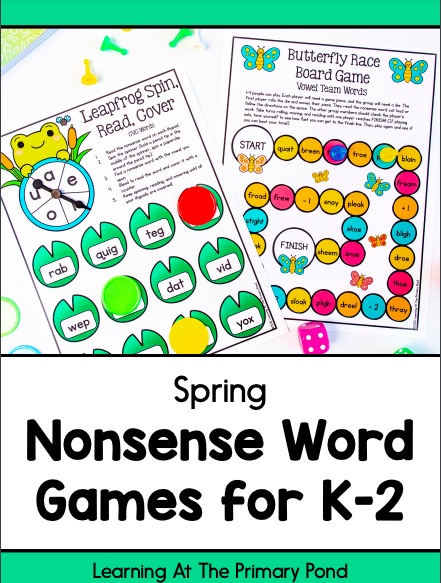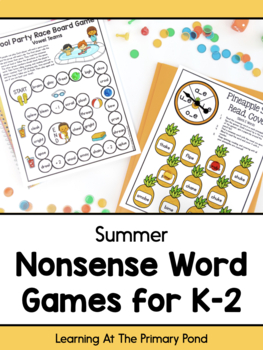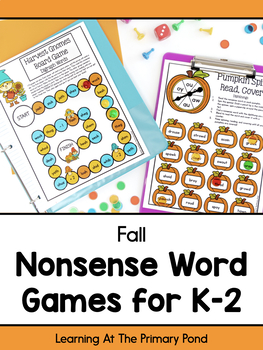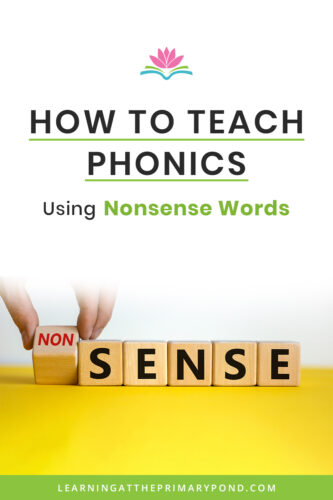 Watch the video to learn how nonsense word reading can help improve your students' decoding skills!
Transcript if you prefer to read:
Hey, I'm Alison from Learning at the Primary Pond. I'm a literacy specialist. And in this video, I'm going to show you how a simple nonsense word activity can skyrocket your K-2 students reading growth.
So first and foremost, what is a nonsense word? Okay. Here are two examples. A nonsense word is a word that's not a real word, but we can use the rules of English and phonics knowledge to decode them.

So my first example here is G U P, and I would read that as "gup". I'm using my short "u," this is like a CVC word, right? And then I'm using the hard "g" sound, /g/, instead of /j/, because I see that the "u" comes after the "g" and when we have a word that has the vowel "u" after the "g," the "g" typically makes the hard sound, like in the word gum. So I read this as "gup". To my knowledge, not a real word. Nonsense word.

Another example here is "sloat". So I'm using my consonance knowledge, "oa", saying, /o/, and then my consonant knowledge here. So two examples of nonsense words that you may have seen them on assessments, literacy assessments, where kids have to read nonsense words. It may or may not be timed. You may also have seen them in certain phonics programs.
Now, when I first started teaching, I did not use nonsense words at all. To me, in my mind, I thought, well, why would I want to have kids read made-up words?! I want them to be able to read books, and so they need to learn how to read real words, right? And my views have changed, obviously. But I understand if you feel like teaching nonsense words is counterintuitive and doesn't make sense. But I'm going to explain exactly how this can be helpful to kids.
So, one thing that you may have noticed, is as your students learn to read more, their sight word vocabularies grow. They can open a book and read some of, many of, a few of, the words instantly. They've memorized them. And that's not necessarily a bad thing, but if they are relying on memorization and they're not applying their phonics knowledge, then when they encounter a new word that they've never seen before, they're not going to know what to do with it. They're not going to be able to decode it because they haven't had the opportunity to memorize it yet.
So that's a problem. I'm going to explain how nonsense words can help with that. But first, I want to know if you've ever noticed the student can read a word in a story, but then not read the word out of context. For example, maybe a student reads, "I looked for my dog." And they read the word, "looked" in context and it's fine.
But then you later take a card and it says, "looked" and they can't decode it at all. Or maybe they see "look," but they can't decode the whole word, "looked," right? So they were able to figure it out because they saw the word "looked" in the context of the sentence and they kind of figured out what made sense, or maybe they looked at the picture. They weren't actually decoding, but they figured out what the word said. But then when you pull it out of context, they can't actually decode it. You may have seen that with more complicated words as well. "Looked" is pretty simple.
If this has happened to you before, where a kid has read a word in context, and then not been able to read it out of context, let me know in the comments. Just type a "yes" if this has ever happened to you before.
The interesting thing about this is that this is a symptom of kids over-relying on context (the meaning of a sentence, what's going on in a story or a text) or over-relying on memorization to decode and not applying phonics knowledge enough. Nonsense word reading forces kids to apply their phonics knowledge because kids have not read these words before probably, right? They probably haven't seen them. Also, with nonsense words, there is no context. There is no sentence to accompany the word. There is no story to rely on because you're just reading one word at a time.
So nonsense words remove those things that can be over relied on by readers. They force the kids to apply their phonics knowledge. So you can incorporate this into your phonics instruction in a really easy way.

The main way that I like to work on nonsense words is through something called a blending drill. Now, I didn't make this up, but it's a very useful activity in teaching kids to decode and apply their phonics knowledge. You can do it both with real words and with nonsense words. Let's start with a CVC word example. Pretty basic, right? Here we have the word "hen". I would present this to my kids, but they are not allowed to shout out the word. The purpose of this activity is for them to say the sounds in blend. So I would point and they would say /h/ /e/ /n/, hen. They are saying the sounds and they're blending to read. Next, I would change one of the letters. So it doesn't matter which one I change. I think I'm going to change the first one. (Change "h" to "s.") Now, when I change this first one, it's no longer a real word, to my knowledge anyway.
Now the word says /s/ /e/ /n/, sen. So I would still have the kids decode it. I would not skip this or try to avoid it because this is an opportunity for them to read a nonsense word, and be forced to apply their phonics knowledge. So if I have a typical group of students, what I will ask them after they blend to read a word, is if it's a real word. They're supposed to show me thumbs up. If it's not a real word, they show me thumbs down. Or you can have some other kind of variation where they're telling you yes or no.
If you happen to have English language learners, you may just want to say, "Hey friends, this is not a real word," if their vocabularies aren't huge, but it's up to you. You know your students and whether they would be able to figure out if it's a real word or not.
So this example was with CVC words, but you can do it with more challenging words as well. I do it all the time. Another example is I can stick in another card stack for the word "slen." So again, it's a nonsense word. I would have them blend to read /s/ /l/ /e/ /n/, slen.
You can even do it with vowel teams. You can do it with diphthongs. This is something that I really encourage, even in second grade, when you feel like, yeah, my kids are reading fine. They may be, or some of them may be relying more on context or memorization than you realize. So I really feel like it's helpful to do, even with second graders and struggling readers that are older.

Another example – /s/ /l/ /ea/ /n/, slean. "EA" can be tricky because it can make two sounds. So you may or may not want to do it if your students know more than one sound for the team, but you can also talk about how it could be read differently, right? You can do something like this /s/ /l/ /oa/ /n/, sloan.
This can absolutely be applied to more challenging words as well. For this little activity, I have magnets here on a board, but you can put these cards under a document camera. You would only have kids do this activity with sounds and patterns they've been taught. If we have not covered or reviewed vowel teams, or I don't know for sure that they covered it last year, I would not be putting this ("oa") in here. Again, we only do it with sounds that the kids have learned already.
It's not a guessing game or it's not for them to try to figure something out. They know these sounds, and they're applying their phonics knowledge to read, both the real and nonsense words. So I would just spend a few quick minutes on this. Obviously there was more explanation, for the purpose of this video, but I'd be flipping different card stacks and reading different words, real and nonsense.
Then the real magic here is that over time, they learn to apply their phonics knowledge and decoding to words in text. Because again, the nonsense word reading activity is just a means to an end. So I would really be encouraging my students, especially in small group instruction, to apply those decoding skills to their actual reading. So when they come to a new word, what are they going to do? Well, they need to blend to read it just like we do during the blending drill.
Conclusion
I hope this idea was helpful to you! If you'd like a complete scope and sequence for teaching phonics in K-2, check out this freebie!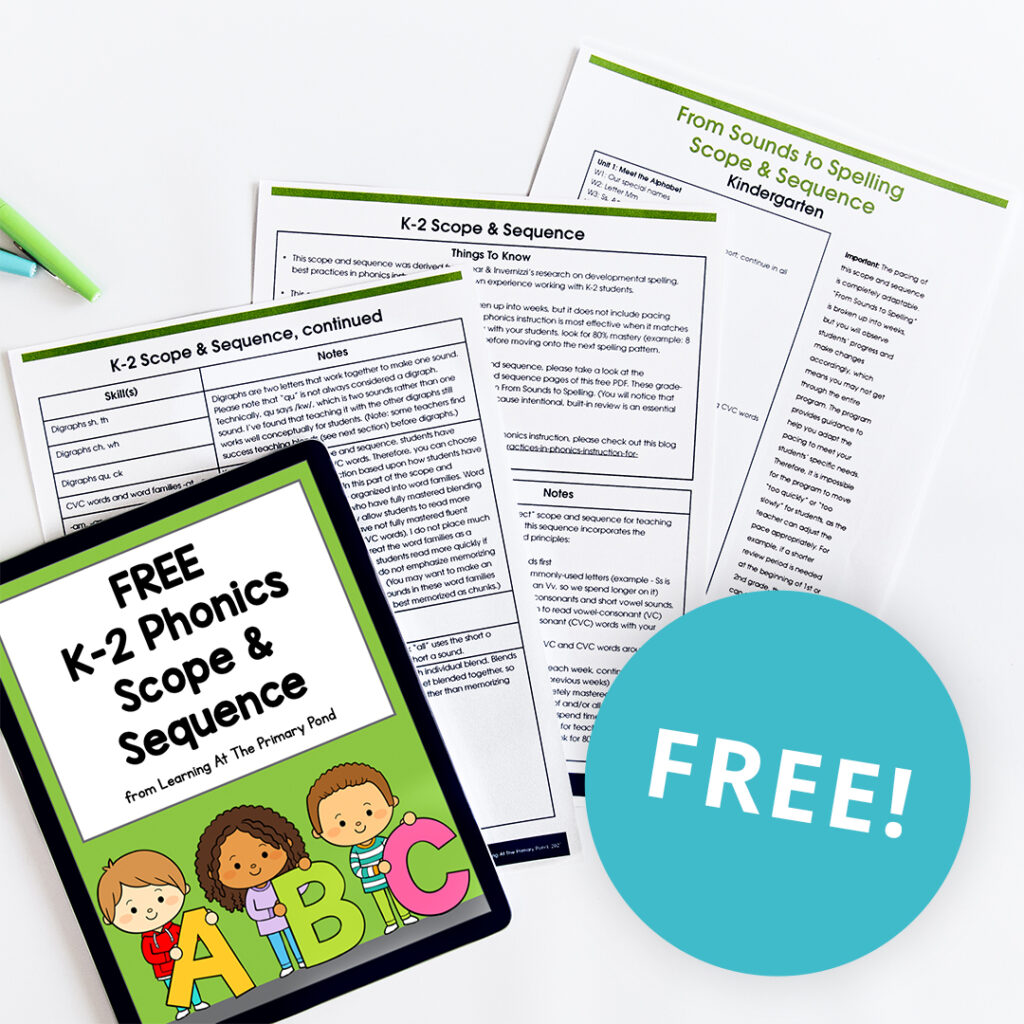 Happy teaching!