If you've heard me talk about literacy centers before, then you probably know that I think the website Epic! is amazing for the listening center!
Epic! is free for teachers, and it gives you and your students free access to fantastic books that they can listen to and read.
Epic! is a digital library of children's books, and I love the way that the site presents book choices to students. Kids can choose their interests, browse by category, and see eye-catching book covers. Epic! makes listening to and reading books incredibly appealing.
Even though I usually recommend Epic! for use in the listening center, there are SO many other great ways to use it. In this post, I'm sharing five OTHER ways that you can use Epic! in the classroom!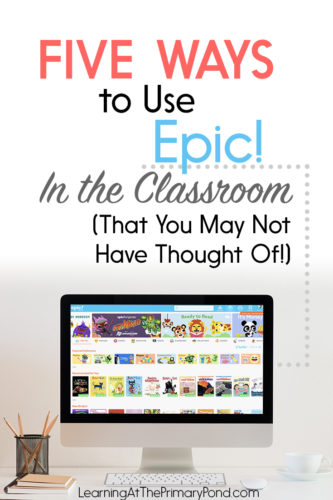 Note: This post was written in collaboration with Epic!
#1: Research Projects
Every year, my students LOVE the opportunity to do mini-research projects. They read about a nonfiction topic and then write about what they've learned.
However, a big problem has been a lack of nonfiction books at lower reading levels. Maybe I can find one book at the library that's at a reading level appropriate for some of my students, but a true research project requires more than just one book!
Epic! makes doing research easy, even for students who are beginning readers. They can listen to books on Epic! to help supplement any print books you can find for them.
My students always feel so proud to share what they've learned—and Epic! is a great help for giving them access to information.
#2: Fluency Practice
Epic! is also a great tool for developing students' fluency. When they listen to a book read aloud on Epic!, they're hearing strong fluency modeled.
Then, students can read the SAME book a couple of times (clicking through the pages without turning the audio on). Rereading the same text repeatedly builds fluency.
Students can then read the books to a partner or to their parents at home (if they have access to technology).
#3: Teaching Visualization and Listening Comprehension
Epic! now has a section for "audio books." These audio books include a text read aloud, but you can't see any pictures or inside pages of the book.
While you can always find a print version of the book and show students the pictures as you read, an audio book by itself is a GREAT tool for working on visualization.
You can give students a little background on a story, start the audio book, and then pause it periodically. Students can discuss and/or draw what they're visualizing (you will want to model this first).
Although I love picture books for readalouds, these audio books are super useful for practicing visualization and working on listening comprehension.
#4: Engaging Your Reluctant Readers with Comics
Some reluctant readers are hesitant to read "regular" books but love reading comics! Epic! has quite a few comic books available.
I also teach my students to make comics as part of the writing center or our writing units. Speech bubbles, thought bubbles, and other components of comic writing can be easily transferred to "regular" writing. Kids love making these comics, but they also need to see some examples first. Epic! has a number of examples that you can use as mentor texts!
#5: Narrow Reading
Vocabulary knowledge and background knowledge play a huge role in a reader's ability to comprehend a text. The more we can develop both of these areas, the better our students become at reading comprehension.
Narrow reading is a great way to develop students' vocabulary and background knowledge. Narrow reading is reading about the same topic across multiple (usually nonfiction) texts.
Narrow reading gives students multiple exposures to some of the same vocabulary words, which makes it more likely that students will actually learn the words.
Narrow reading also exposes students to similar content, which builds deep background knowledge of the topic.
But it can be difficult to get access to multiple books on the same topic—especially if you're looking for books at certain reading levels or appropriate for a certain grade level.
I'm always requesting books at the library, searching through my own stacks…that takes a lot of time, and sometimes I just can't find the books I need.
I'm thankful that Epic! gives me access to many more books, and all I have to do is log in! Epic! is a great tool for having your students engage in narrow reading, because there are usually a couple of books available on a topic, and you can supplement with print books of your own.
Conclusions
Do you use Epic? If you have other suggestions for how to use this awesome site, I'd love to hear them in the comments.
And if you're a teacher who hasn't signed up for a free account yet, what are you waiting for?! ?Sign up for your free account HERE.
Happy teaching!