Ah, sub plans. (You know, the lesson plans you leave for a substitute teacher?) They can be a giant pain to write, but you sure don't want to be caught without them!
Case in point: one time, I rolled my ankle, was awake all night with the pain, and then had to hobble into school in the morning because I didn't feel like my lesson plans were detailed enough for a sub. (Teacher problems, right?)
So yeah, sub plans are pretty important. But you probably already knew that, right?
Whether you're writing sub plans for a…
Planned absence – you know you're going to be out and are making arrangements ahead of time, OR
Unplanned absence – "in case of emergency" plans for when you don't have an opportunity to write out detailed plans
…you want the activities in your plans to A) to be easy enough to prepare on your end and B) easy enough for a sub to carry out.
The key word here is "easy!" So in this post, I'm sharing 5 easy literacy resources you can leave for a sub! And at the end of the post, I'll also share 5 tips for success with sub plans. Let's dive in!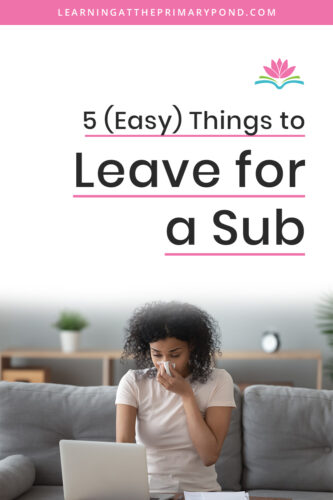 Easy Sub Plan Resource #1: No-Prep Phonics Games
Nothing says "easy" like "no prep!" These games are SO simple to include in your sub plans. Kids can always benefit from review of previously-taught skills, so these are great even for your emergency sub binder.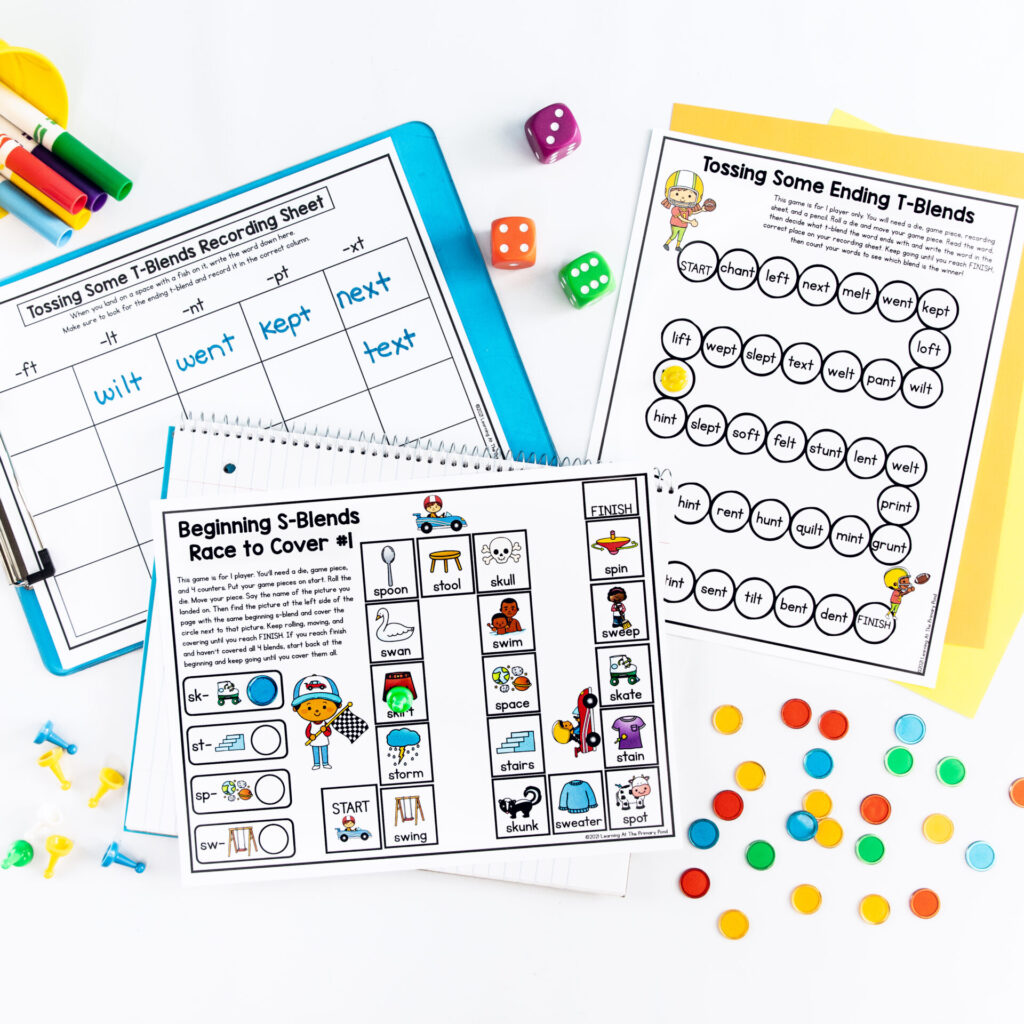 You can use my phonics games all year long, because they cover a huge range of skills. Students learn how to play the games, so when a substitute needs to take over temporarily, the kids know exactly what to do.
(And honestly, even if you haven't yet taught them the directions, they will still be fine – the games are so simple!)
I have packs for individual skills, or grade-level bundles. Check out all the sets here!
Easy Sub Plan Resource #2: Writing Prompts
Although not all of my writing instruction is prompt-based, writing prompts are super easy to leave for a sub.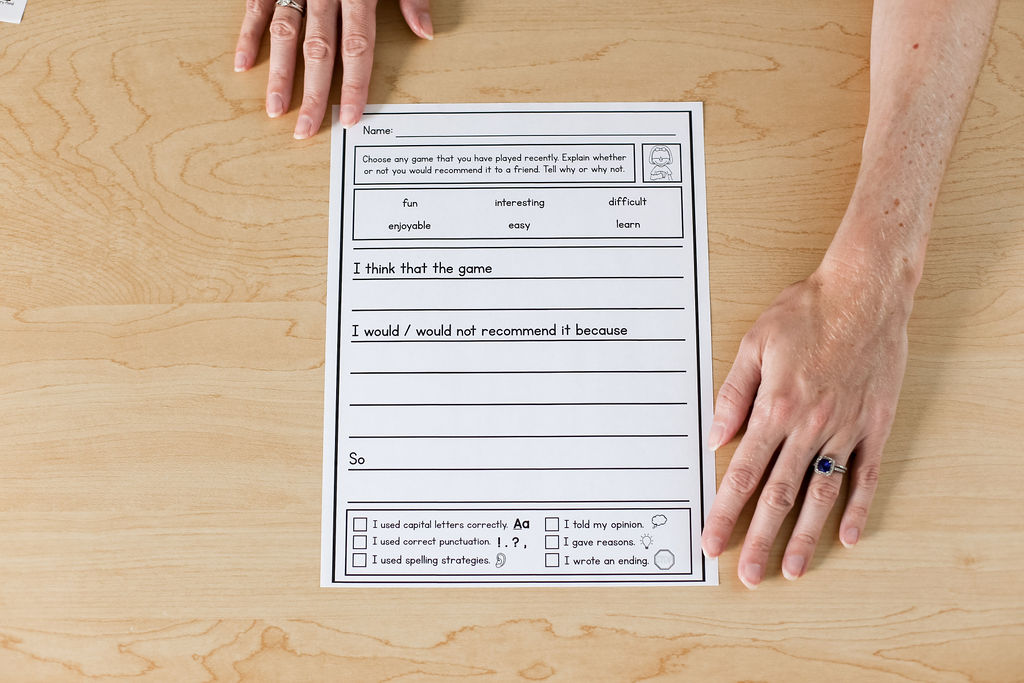 My differentiated writing prompts are especially helpful if you're concerned that your kids will get off task, or tell the sub that they can't do the work on their own. You can simply choose one of the options that has supports like sentence starters and word banks (pictured above), so kids have all the support they need – right there on the paper!
These writing prompts are also "no prep," and you can A) choose a few to place in your emergency sub binder or bin, or B) choose one that matches whichever genre you're teaching (opinion, narrative, or informational) when you're prepping for a planned absence. Grab the differentiated writing prompts here!
Easy Sub Plan Resource #3: Blending Lines
Blending lines are lines of words designed to give students practice with the specific phonics skills they're working on. For example, in the blending lines below, we were practicing ending blends with short vowels. The lines begin by comparing known words (CVC words, in this case – like "pat") with words with the new skill (ending blends – like "past").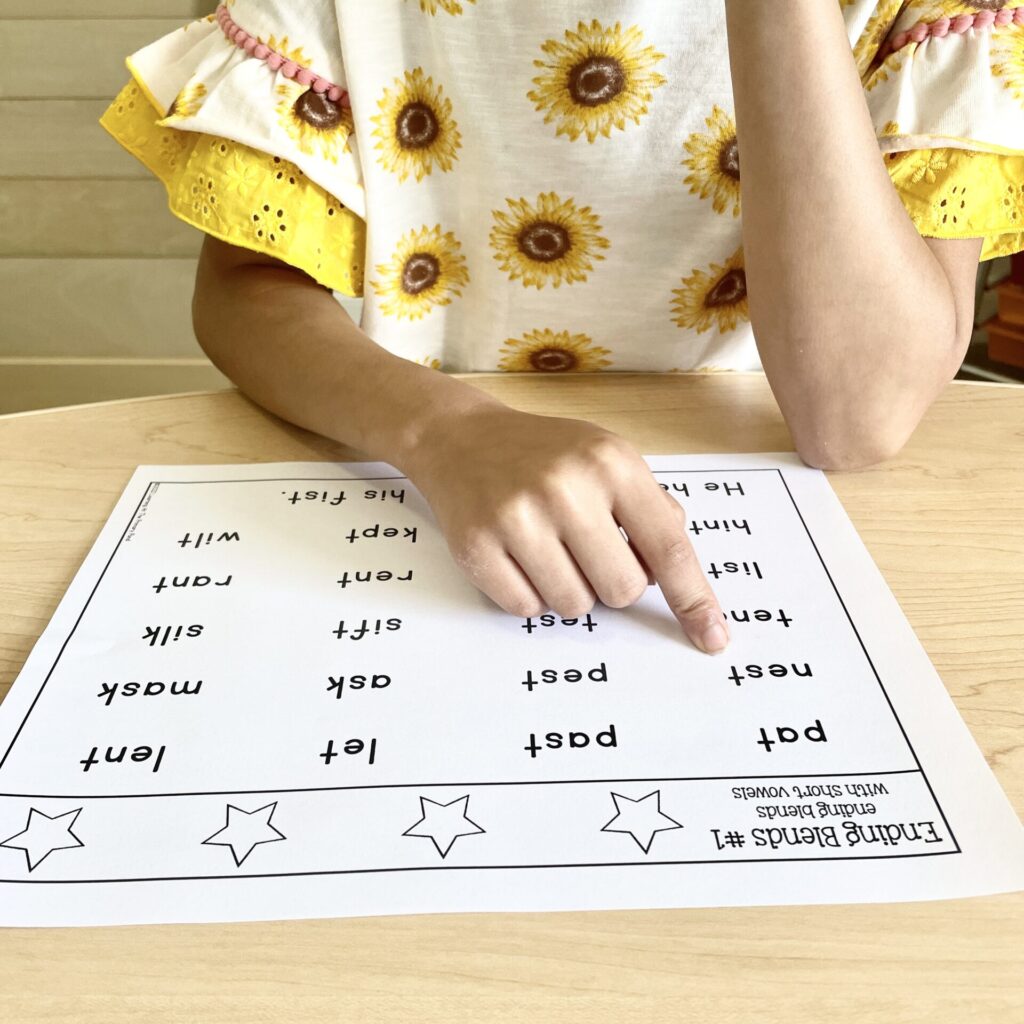 My blending lines are so easy to leave for a sub because they're print and go! If you're working on an emergency sub plan bin or binder, you can choose a couple with skills you'll be covering during the year (or review skills). If you've got a planned absence, you can pull the exact skills students need more practice with.
Another great thing about these blending lines is that they're designed to be read more than once. (This is great for building fluency AND for filling time for a sub!) Students can read them to themselves or to a partner. Each time they read all the way through the page, they get to color in one of the stars on top!
Blending lines are great all year long, and especially helpful for your phonics instruction when a sub is filling in. Grab mine here!
Easy Sub Plan Resource #4: Digital Boom Cards
Sometimes I avoid leaving ANY kind of technology for a sub to deal with, especially if I'm teaching Kindergarten. However, technology can also be a huge help to a sub, as long as it's SIMPLE.
That's why Boom cards can be so great to leave for a sub – because they are so very simple!
If you use Boom Cards all year long, students will already know what to do and how to log in. And even if not, you can use the Fast Pin link option to give the sub a link for all students to go to (or just a group of students). As long as they can access a device with internet, it's just click and go!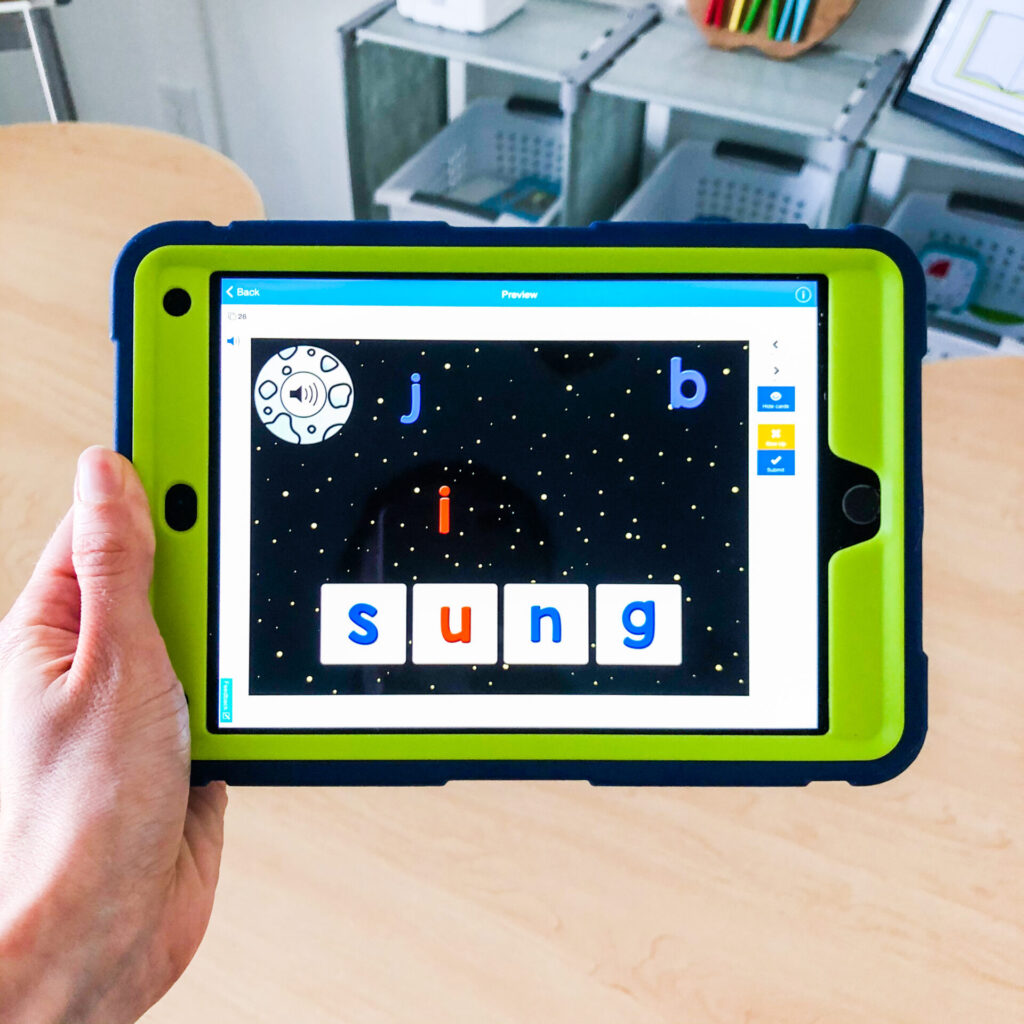 I have phonics and grammar Boom cards, and you can access them here!
Easy Sub Plan Resource #5: Solo Literacy Centers
You know the drama that can arise during partner work or small group work – when kids are supposed to be working on their own? If you can avoid some of that for a sub, you might want to do that!
My solo literacy centers allow kids to practice a variety of literacy skills on their own, AND they're no prep. They can be a big relief to substitute teachers who just need the kids to work independently for a little while!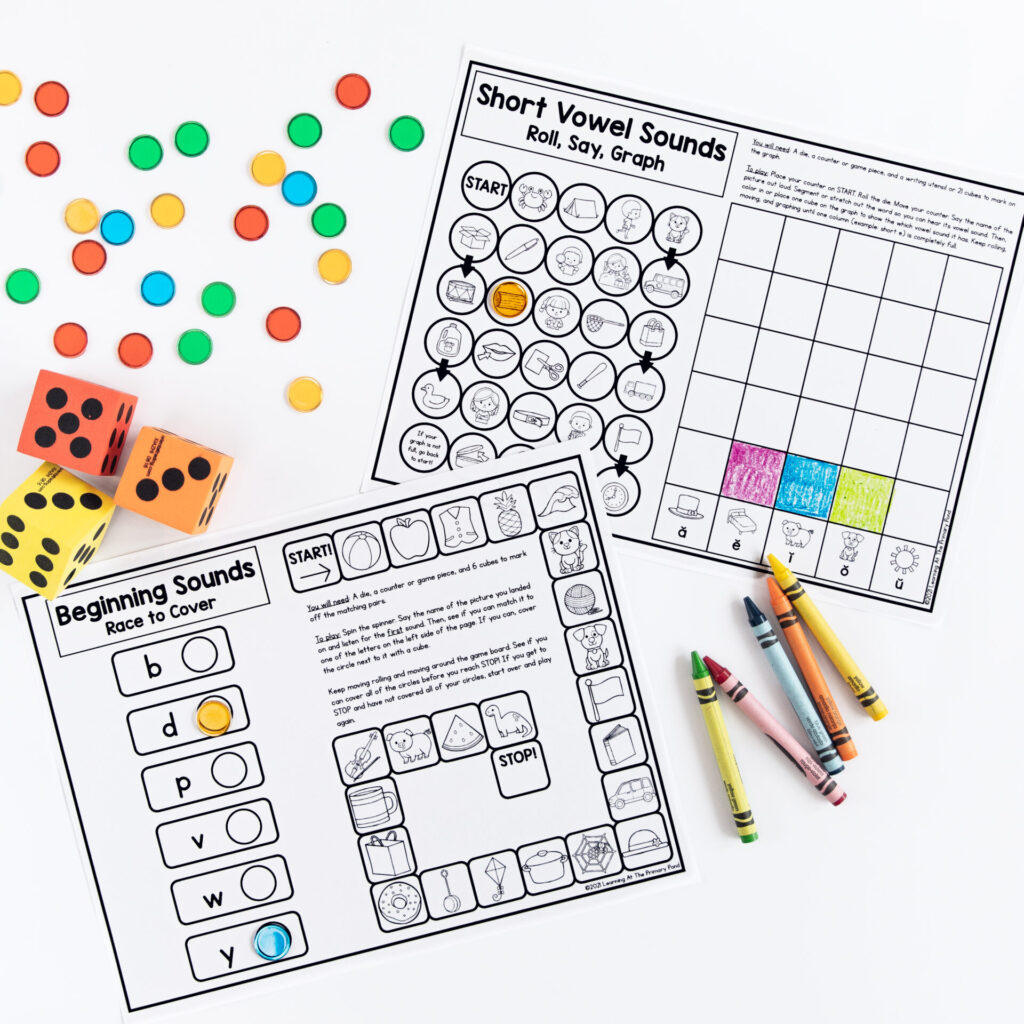 Grab the solo literacy centers here – you'll enjoy having them on hand all year long, especially when it's time to assess one-on-one and you need a quiet classroom!
5 Tips for Success When Writing Sub Plans
I hope these resources are helpful to you!
Next, here are 5 tips for success when you're writing sub plans:
Remember that the sub may not ever have stepped foot in your school before. Include every little detail, down to a map of the school (so they know where to bring the kids for lunch and specials), fire drill procedures, tornado drill procedures, etc. You can have separate documents with the nitty gritty of daily procedures and your lesson plans.
Consider including the names of any students who may be especially strong leaders / help to the substitute.
If your emergency sub binder or bin "lives" in your classroom (rather than with the front office), make sure it is very clearly and colorfully labeled, and that you leave it out all the time!
Try using a digital Google Drive sub folder! If you provide the sub with a link to the folder, you can then switch in and out materials as the year goes on. This also allows you to add material from home, which can be very helpful in the case of an unexpected absence (I can't take credit for this great idea – it came from a Literacy Club member!)
Leave extra materials. You never know how slowly or quickly things will take when a different person is leading the classroom. Better to have too many materials than too few!
And last but not least: just a friendly reminder that you're a human being, not just a teacher. When you're sick, stay home and rest. The kids will be okay (especially when you're so well-prepared with sub plans)! I hope that you have an administration that supports you in taking time off.
Happy sub planning!