If you're starting to think about heading back to school, I'm sure your mental "to do" list is getting longer by the day! There's a whole lot to think about at the beginning of the school year – getting your classroom ready, assessments, lesson plans, getting ready to meet parents.
In this post, I'm not going to give you more "to dos" to add to your list, so you can breathe a sigh of relief! Instead, I'm going to share my top 5 "not to dos" – things you want to avoid doing at the beginning of the school year. Although I'm going to talk specifically about how they relate to literacy instruction, many of these "not to dos" relate to other subject areas, too!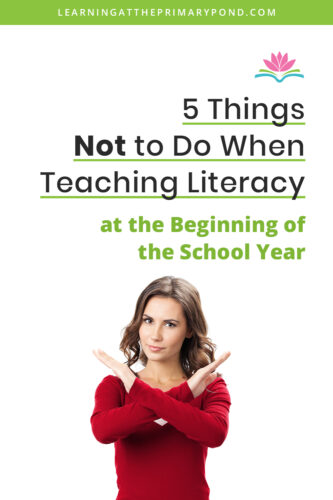 "Not To Do" #1 – Creating all your classroom displays before students arrive.
When you're getting your classroom ready, you might think to yourself, "Hmm…my students learned these 50 high-frequency words last year. Maybe I'll put them on the wall so they can refer back to them." Or "I'm going to teach these 30 phonics skills this year. Maybe I should set up my phonics wall / sound wall with all those skills."
My advice to you? Don't!
Students will be sooo much more likely to actually use your displays when they take an active role in creating them.
Now, that doesn't mean you need to get your kids up on step stools, setting up your bulletin boards with you. 😅
What I mean is that you'll want to add items to your wall space during lessons, while discussing them with your students. You'll want to model how to use these items, too (repeatedly!).
I think it's totally fine to start the year with a few things posted (i.e. an alphabet chart), but you'll probably have better results when your students are present as you add tools to your classroom displays.
"Not To Do" #2 – Relying too heavily on last year's scores.
If you have access to students' literacy test scores (or scores in any other subject area) from the previous year, great!
However…some research has shown that students can lose up to a third of their learning from the previous year over the summer. Yikes!
For this reason, I recommend using last year's test scores as a starting point, but still doing your own testing and "research." This will help you ensure that you're truly getting the best picture of a student's abilities!
"Not To Do" #3 – Asking students to work independently on centers or other tasks for extended periods of time.
Learning how to work independently is an important skill set that's challenging for little ones, especially in Kindergarten and first grade. If you leap into pulling small groups at the very beginning of the school year, you won't have enough time to teach independent work skills. This will likely result in your students getting off task and interrupting you as you work with your small groups.
Also, even if your students are a bit older and were used to working independently in previous years, summer vacation often "does a number" on their ability to focus for extended periods of time! Keeping tasks simple and making time for breaks will be key.
Take the time to teach those important independent work skills, like:
Where to find materials
How to put materials away correctly
How to handle a conflict with a classmate
What to do if you're not sure how to complete an activity
You're also going to want to teach students some simple literacy activities that they can do on their own. Once you see that students are able to work independently (and productively), then you can begin pulling small groups. (This takes multiple weeks!)
All of that said, there are likely going to be times in the school year when you need students to work independently (i.e. so you can pull students individually to assess them). In these instances, you need very simple, straightforward tasks for students to do.
That's exactly why I created my "I Can Work By Myself" back to school packets for literacy skills! They are the PERFECT, no-prep resource you can pull out when you need students to work on their own. The skills are intentionally simple, so they are do-able for students at the beginning of the school year.
Grab one of my back to school packets here (for Kindergarten, 1st grade, or 2nd grade) and save yourself a ton of time:
Additionally, if you want guidance for starting literacy centers at the beginning of the school year, check out this post.
"Not To Do" #4 – Failing to begin with the end in mind.
Instruction at the beginning of the school year is very different from the middle and end of the year. At the beginning of the year, you're very focused on teaching procedures and routines. This is important!
But in order to successfully teach the procedures and routines you want students to master, you have to know what you're working toward. In the case of your literacy block, you want to consider things like:
What materials will students need to know how to access quickly for each routine – i.e. magnetic letters or whiteboards for phonics?
What activities will students be doing in literacy centers? How will students rotate or change activities? How will they be grouped?
How long do you (eventually) expect students to be able to write independently? Will you have sharing time after they write, and what are your expectations for active listening?
How are students expected to transition between activities? Do you have a clean-up signal? Behavior expectations for safe transitions?
This is a little harder to do if you've never taught your grade level before. How can you begin with the end in mind if you don't know what the "end" looks like?!
Honestly, the best way to handle this is just to give it your best guess. I know that it can feel challenging to start a new grade level! But remember that you can always go back and make changes to your schedule and expectations later on.
Also, depending upon when you're reading this, it may be too late to use this idea, but…when I switched grade levels in the past, I always asked to observe that grade level before the current school year ended. It gave me an idea of what students at that level could do, how I might set up my classroom, etc.
"Not To Do" #5 – Worrying so much about "doing everything perfectly" that you forget to enjoy this special time of the year with your students!
There's so much to think about during back-to-school time, and it can be easy to get caught up in (and stressed out about) the details and logistics.
But I also believe that this time of year can be such a special time for you to bond with your students. This is your chance to create a classroom environment where students feel safe. Where they feel accepted. Where they can find joy in learning – even if last year didn't go so well for them.
The more you can accept the imperfections (and occasional chaos!) of back to school, the less stressed you will feel, and the more emotionally available you will be to connect with your students. 😊
Did any of these "not to dos" resonate with you? Leave a comment below – I'd love to hear from you!
Happy teaching!