Ya'll. It is COLD! I am sitting here writing this in my warm and cozy office, so thankful I don't have to go into work today! It is something like -1,000,000,000 degrees in Illinois. All of my friends are here in the midwest, but I spent a good part of my life in the south, and days like these are definitely motivation to move back down there!!

Anyway, in celebration of this "cold day," I have a little freebie to share with you! It's a math center for K or 1st with a winter theme. Math centers are one of my favorite resources to make! Kinders and firsties need lots of repetition to learn counting, addition, and subtraction skills. Themed math centers can be a fun way to help them get that repetition in, without it becoming boring.

Here's a photo from my winter math centers for K and 1st. Both packs have a version of this penguin spinner, but the spinner in the photo is from the first grade pack. In the first grade game, each player spins twice – one digit goes in the tens place, and the next digit in the ones place. The players compare their numbers with the <, >, or = sign on a recording sheet, and the larger number wins!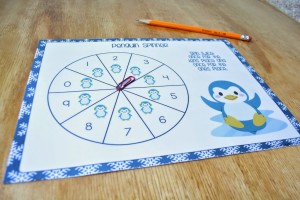 I also have some printable board games that just focus on teen numbers – I found that with my Kinders, this was a topic that we really had to work hard on during the winter.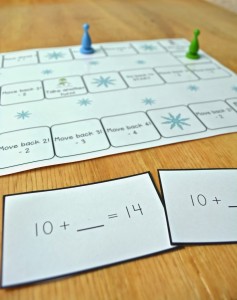 These teen number board games give kids a chance to practice reading and writing teen numbers with a partner or small group. They also get practice counting/recognizing teen numbers in ten frames, and working with teen number equations.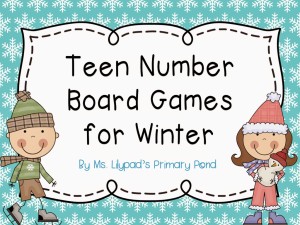 Click on any of the images above to read more about the centers. And
now for the freebie!!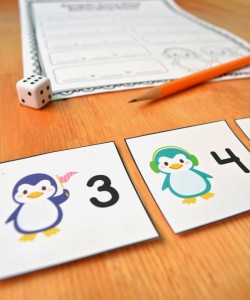 This game is called "Penguin Sums Steal." Kiddos roll either 2 or 3 dice and find the sum. They get to steal that penguin sum card from their partner! There's also a recording sheet involved, so that while one player is counting or doing mental math, the other player is writing down the equation to check the first player's work.
Click on the photo to download the instructions, number cards (in either color or black and white), and recording sheets! This game is great for either Kinder or first grade.
Now I'm going to go change out of my PJs, because, well, it is 1:15pm. 🙂 Teehee. Happy winter!!