Literacy centers and math centers in Kindergarten, first grade, and second grade are so important! Centers provide independent practice, which is an essential part of instruction. Students are able to build on what they already know, as well as fill in skill gaps they may be struggling with.
Finding time to prep centers, however, can be close to impossible! That's why, in this blog, I'm going to give you ideas for quick and easy literacy and math centers that you can use to cover a variety of different skills!
Everything I'll be showing you comes from either my Literacy Clubs or Math Library, both of which are HUGE time-savers when it comes to preparing centers!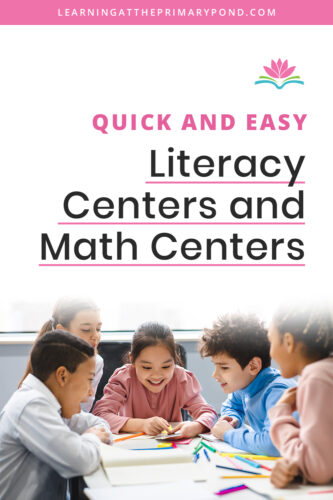 What to Include in Literacy Centers
There is, of course, so much you CAN do for literacy centers.
And if you're just getting started with Literacy Centers, you can check out some other blog posts I've written that might be helpful:
How To Get Started With Literacy Centers For The Very First Time
A Minute-By-Minute Walkthrough of Literacy Centers in My K-2 Classroom
There's a lot to decide about centers! When it comes to activities to cover, I like to think about the big 5:
phonemic or phonological awareness
phonics
fluency
comprehension
vocabulary
Obviously, what this will look like will vary by grade. Kindergarten and 1st grade are mostly about building phonological awareness, phonics, and high frequency word knowledge. When students begin to actually read, you can do more with comprehension.
2nd grade's focus for centers encompasses phonics, building fluency, comprehension, and potentially vocabulary.
Quick and Easy Literacy Centers for Partners
Here are some partner games for literacy centers:
In this "Memory Match" game, kids match pairs of words that have the same number of syllables. You can use Memory Match to practice SO many different skills!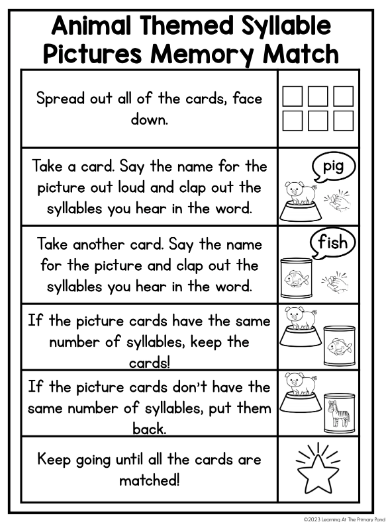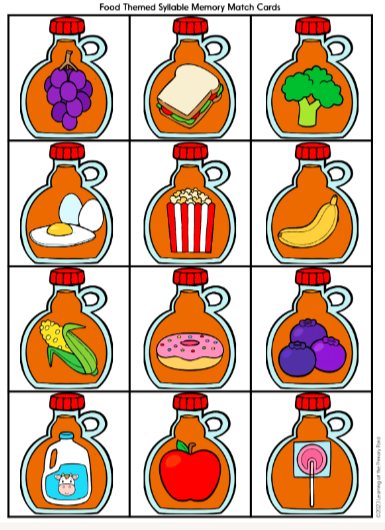 For this "Catch the Frog" game, one student rolls a die, chooses a word with that particular digraph, and reads it aloud. Then, the other student takes a turn. The person to cover the fourth circle around one of the frogs wins! Again, you can adapt this to cover many different phonics patterns.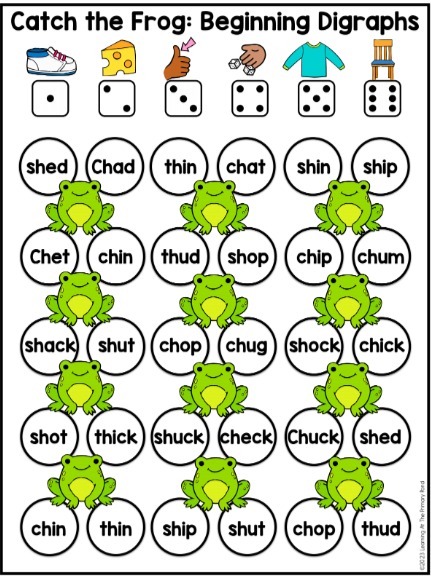 Bingo is always a great option for a partner game or small group! When played with a partner, kids take turns reading a word, but they both cover it on their cards. Here's an example for beginning and ending blends: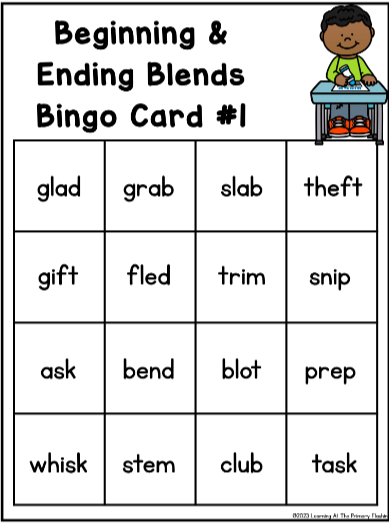 Quick and Easy Literacy Centers for Writing
Writing can be kept simple during centers! I recommend maintaining a separate writing block, so any writing students do during centers can complement the skills you're practicing in more depth during writing time. Here are a couple of examples:
This spring themed writing activity has a word bank for students to refer to, which is especially helpful for Kindergarteners gaining independence.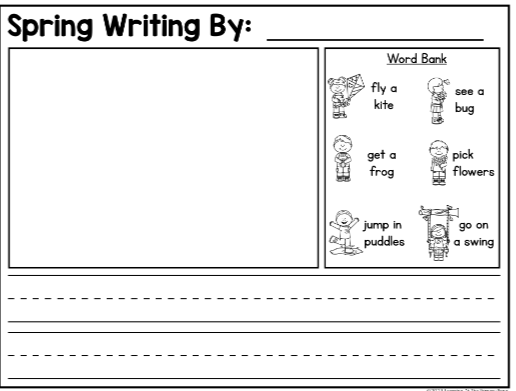 Another option is to have students respond to a text they read in small group. For instance, if students were learning about insects in their small group passages, you could have them answer the following opinion question: Would you rather spend the day as an ant or a butterfly?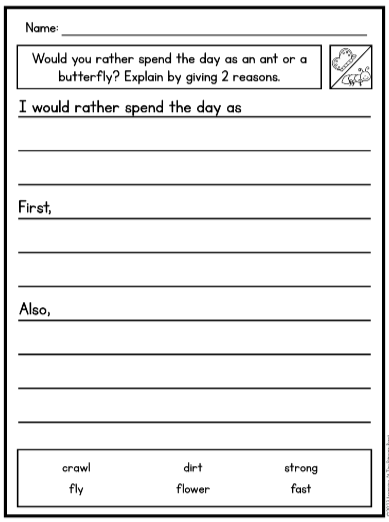 Quick and Easy Literacy Centers for Independent Reading
For your students who are reading, these phonics and fluency passages are a great fit. Our Literacy Club members get these new each month, and each one focuses on a specific pattern (silent "e" words in this example).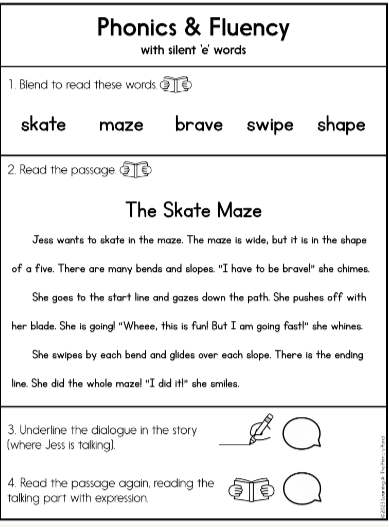 Another option is to have students listen to fluent reading. In my 1st and 2nd Grade Literacy Club, all of the passages come with a QR code. This gives students access to audio. They can listen to the passage AND read along with the recording, which is great for building fluency!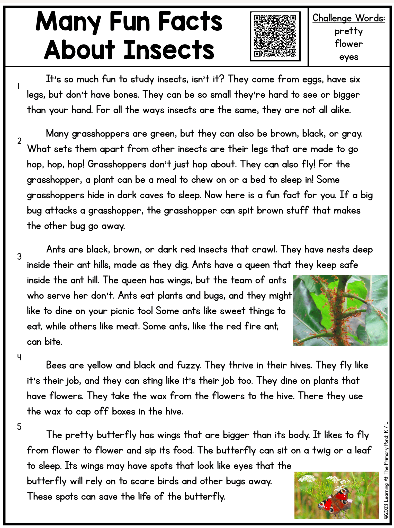 Quick and Easy Literacy Center for Dramatic Play
When possible, it's nice to have a dramatic play option, especially for Kindergarteners. This can help with vocabulary acquisition, building social skills, and so much more!
Here's an example where students are setting up an ice cream shop and then taking orders. It helps students practice reading and writing for a real purpose, even if it's only pretend at first.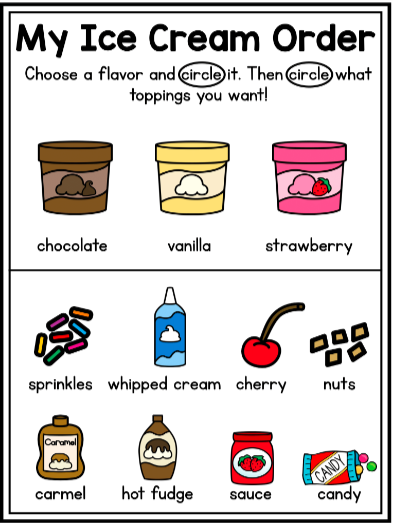 Quick and Easy Math Centers
Math centers can sometimes be tough for teachers to fit in their schedules! Math centers do provide time, though, for independent practice, which is so helpful for students. Students get opportunities to practice current skills and also spiral review on past skills. In general, I like to include center activities for building numbers, counting, and fact fluency (plus any other specific skills we're working on).
Here are some partner games for math centers:
In this "Addition Hop" game, one student rolls 2 dice and then covers up the sum on the game board. Player 2 takes a turn next. The first player to get 4 sums in a row wins. (A recording sheet is included as an extension, too.)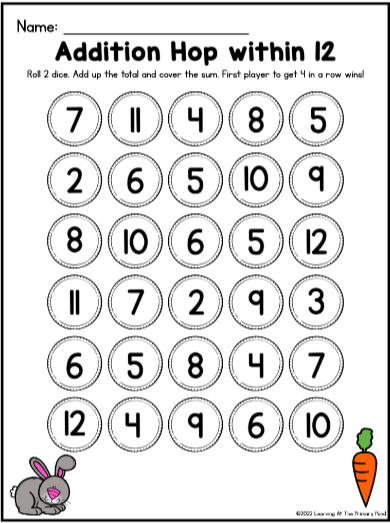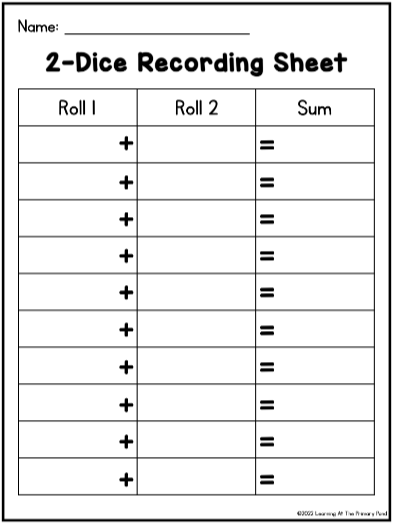 For the following place value "Top-It" game, the teacher cuts out the cards and then each partner gets half of the cards. At the same time, the players flip over a card from their pile. They work to compare the underlined digits in the two numbers. For example, the "2" in 218 represents 2 hundreds, so that would be greater than the "4" representing only 4 ones in 734. The student with the greater card wins their card and the other card, adding it to their own pile.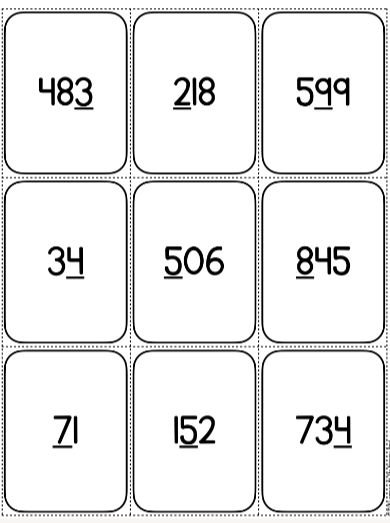 Here are some fluency activities for math centers:
With this squirrel/acorn themed-puzzle, students can match the number to the amount of acorns.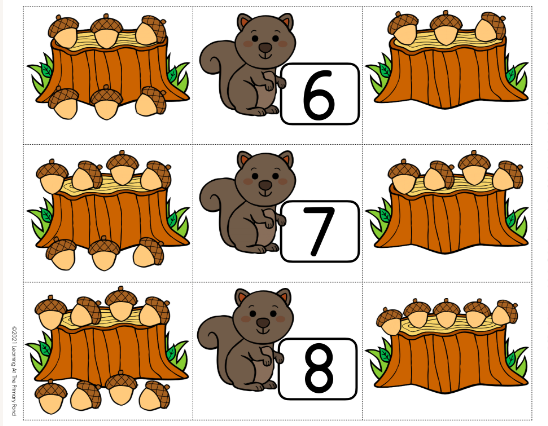 Fact fluency games, such as "Make 10," give students the chance to practice independently.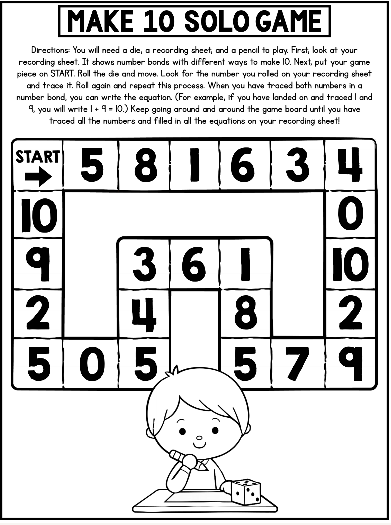 Here is a hands on/concrete manipulation activity for math centers:
For this activity, students can use a manipulative (like Play-Doh, cotton balls, connecting cubes) to make shapes. Then, they write down more information about their shapes, including number of sides and corners.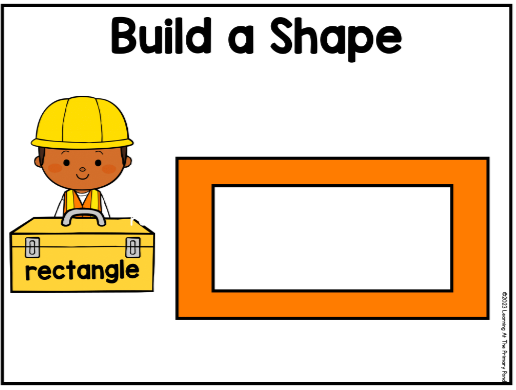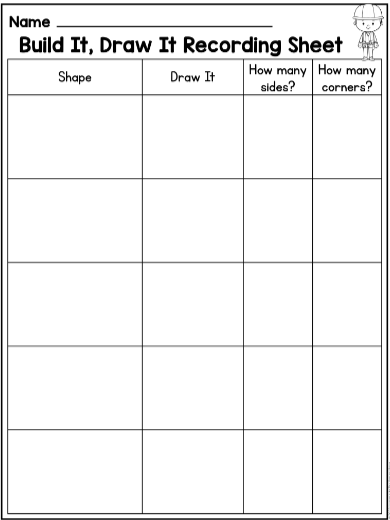 Conclusion
I hope that these ideas for literacy centers and math centers were helpful! Again, everything you read about and saw is from either my Literacy Clubs or Math Library.
I'd love to hear about your favorite literacy or math centers. Let me know in the comments!
Happy teaching!