Word work and phonics learning are essential components of literacy instruction.
In fact, some kids won't learn to read without it.
So it's really important that we follow best practices in phonics / word study instruction AND choose effective word work activities. It's incredibly important to our students' success in literacy, right?
Uhhhhh, no pressure, right? ?
But don't stress—if you're not sure what types of word work activities are actually effective, I've got you covered!
In this blog post, I'll show you exactly what to look for when choosing these types of activities for your K-2 students.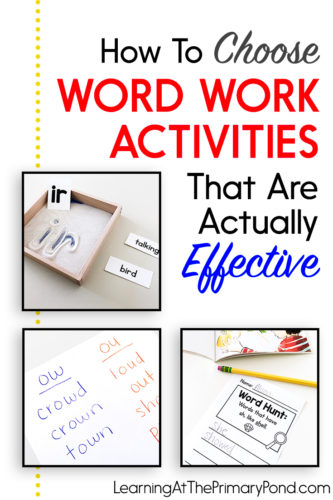 Characteristic #1: Effective word work activities involve kids actually reading the words.
We don't want our students simply completing busy work. We don't want them copying words over and over again, without actually knowing what they say!
So we have to build "reading practice" into our word work activities.
I like to have students read their words aloud to a partner. Students can complete this at the beginning or end of the activity—or even better, at the beginning AND end!
It's also helpful if students are reading the same words to their partner (so they can check each others' work). But even if they're working on different sets of words, the read aloud practice is still beneficial.
Characteristic #2: Effective word work activities encourage attention to patterns.
The English language is a doozy…am I right?! It has many weird spelling and pronunciation quirks.
Nevertheless, the majority of words DO follow rules and patterns, and children need to learn those rules and patterns.
"Rainbow Writing" is a popular word work activity. While it can be helpful for practicing fine motor skills, sometimes kids are just blindly copying words over and over again. They're focused more on the colors they're choosing—not what the words say or the spelling patterns they contain.
But we can easily fix this!! Instead of having students write words in different colors, you could instruct your students to write words into different columns. They can use a different color for each column.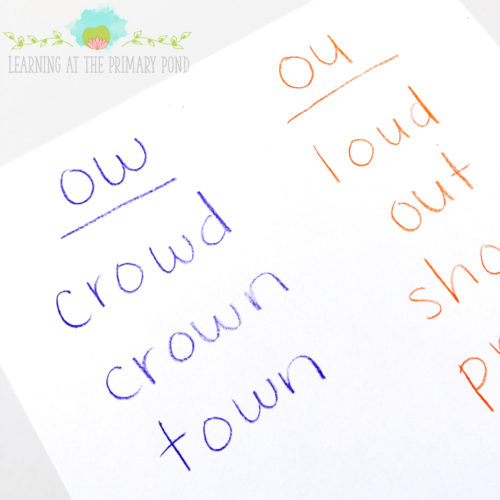 This elevates the activity from rote-copying because it requires students to think about their words and patterns.
Characteristic #3: Effective word work activities incorporate multisensory practice whenever possible.
This is one of my favorites—and one of my students' favorites as well!
Activities that incorporate more than one sense help many students better learn and retain material. (Plus…multisensory activities are just plain fun!!)
For example, you might have students write a phonics "chunk" or set of words in sand. As they write, they say the letters aloud (for example, they might say, "I-R says /ir/."
Tracing + saying the letters/sounds aloud = using more than one sense!

If you're in need of some multisensory resources for phonics centers, check out this FREEBIE for Kindergarteners, 1st graders, and 2nd graders!
Characteristic #4: Effective word work activities sometimes involve connections with reading and writing.
Isolated practice is important for effective phonics instruction. But so is "in context" practice!
We want our students to recognize that they are learning words SO THAT they can be strong readers and writers.
Whenever possible, we want students to be making connections between word study + books/their own writing.
One very simple way to do this is with a word hunt. During the hunt, students search for their word work / phonics words in the books they're reading. All students need is list paper and their book bags/boxes/bins!
Conclusion
I hope this list is helpful to you in choosing effective word work activities for your students! If you have anything to add to this list, I'd love to hear it!
If you're looking for word work / phonics activities that require NO PREP but are also interactive, check out my Boom cards!
Here are my Kindergarten, first grade, and second grade bundles—and you can also purchase individual skill sets.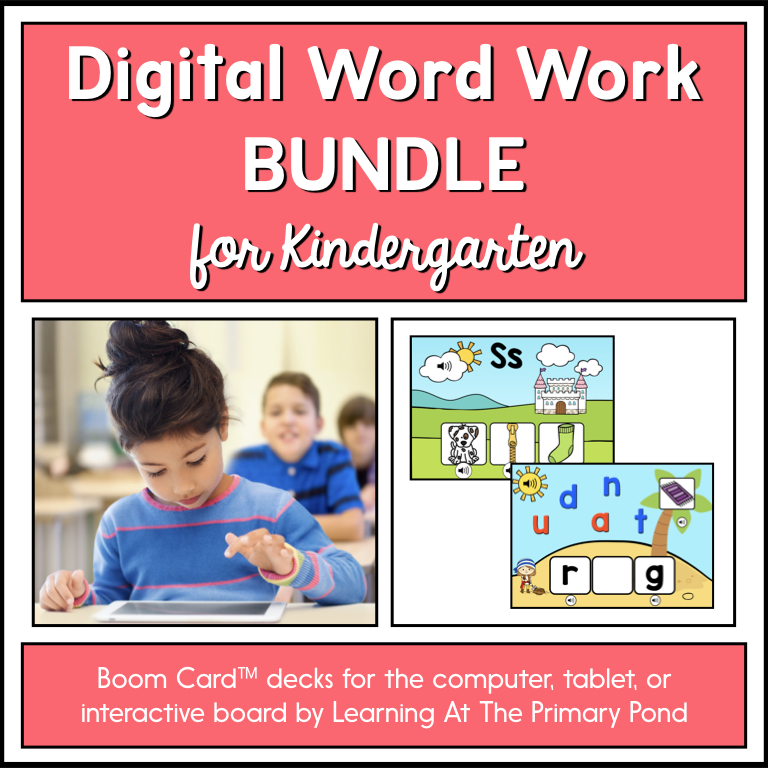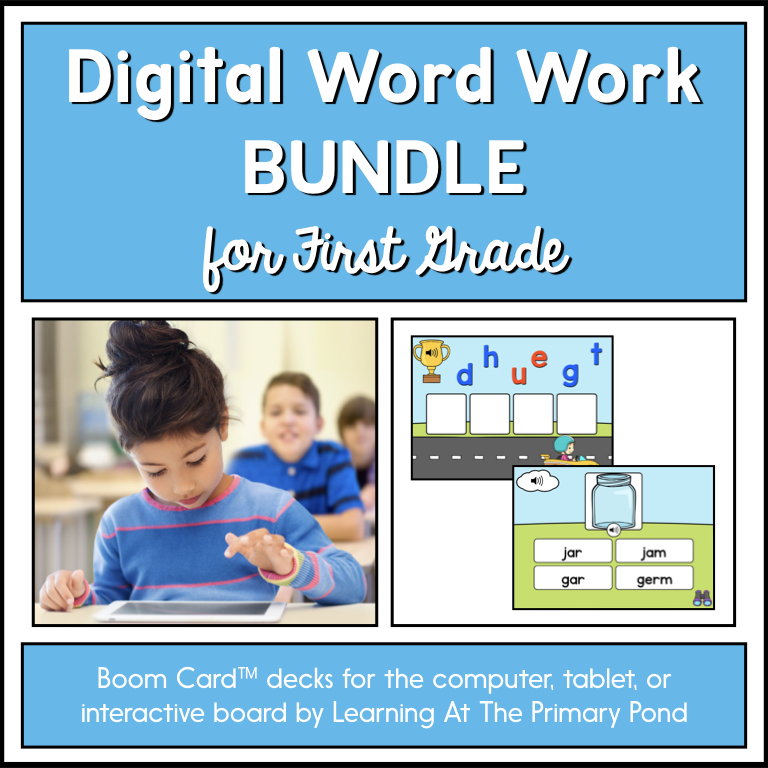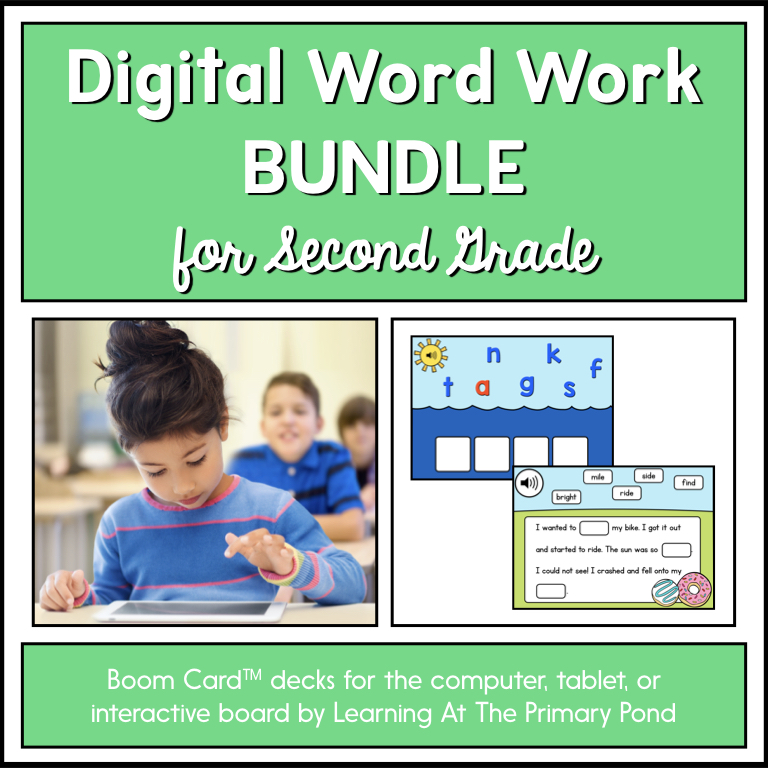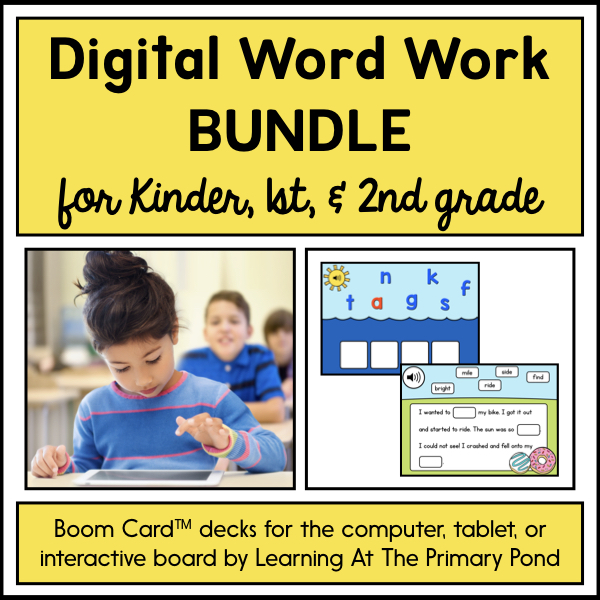 Happy teaching!