I've heard some teachers say that they love teaching…but also sometimes hate teaching.
And I relate to that. 100%.
To me, there's nothing better than seeing the "lightbulb" go on in a child's brain. Or building relationships with my students and their families. Or having a good laugh about something funny and sweet a child said.
At the same time, all the responsibilities of teaching can be overwhelming. ? Unrealistic expectations are often put upon us. We never have enough planning time, or even time to breathe during the school day. And sometimes we're really hard on ourselves, too!
Teaching is a beautiful profession, but sometimes it feels really tough.
So in this post, I'll share 5 things you can do to help recharge when teaching feels draining.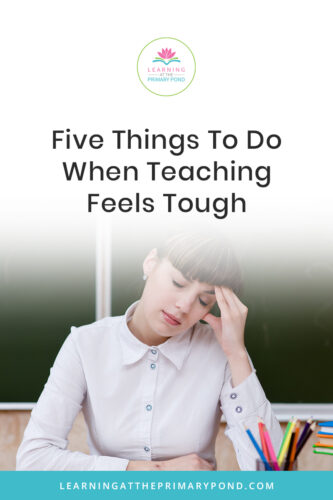 Celebrate
It's SO easy to focus on what we haven't done (hello, never-ending to-do list) – that we often forget about all the good things!
But if we only focus on the negative, it feels really hard to push through the challenging times.
So take some time to make a list of what you're proud of. These can be things you've accomplished personally or professionally.
And they might not even be accomplishments or things that you've physically done.
Take pride in who you are as a person. You are valuable and worthy, regardless of what you've gotten done or not gotten done.
So celebrate the fact that you're a good listener, or that you build strong connections with your students. Recognize that you care deeply about your kids.
Maybe you can:
Journal about what you're proud of and grateful for
Make a list of accomplishments on a sticky note
Take and display pictures (of student progress, your classroom, etc.)
Talk to a friend/family member to share successes (so helpful if you've fallen into a habit of complaining!)
Creating a "feel good" box of letters, pictures, and notes from students and colleagues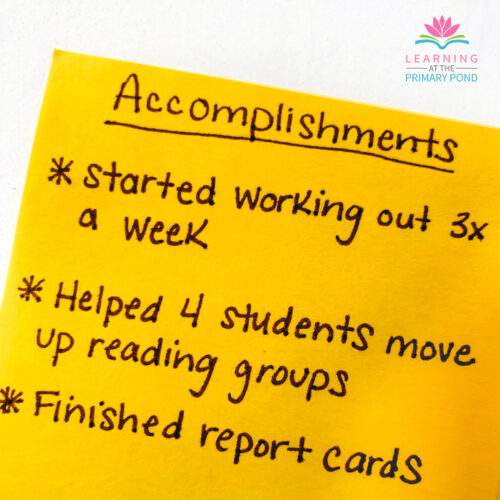 Recognizing your successes can also help you reconnect to your why. When things get difficult, it's easy to lose sight of why we do what we do.
So don't forget to celebrate you. ?
Seek Out Support
Teaching can feel isolating at times. Sometimes we're the only adult in the room all day long!
So building a support system is essential. We can't do this alone!
Your teammates, co-workers, family, friends, and even groups on social media (like my Facebook group for teachers) are all great places to find support.
Sometimes it feels scary to reach out. But sharing your feelings and struggles actually helps people feel closer to you. And you'll find that you're sooo not alone in what you're going through!
Teaching is a difficult job, so we've gotta find – and rely on – support systems.
Engage in Self Care
I'm sure you've heard the expression, "You can't pour from an empty cup." It may be cliché…but it's absolutely true.
For me, caring for others comes naturally. Many times, I think about others' needs before my own.
And that's all good and fine until…I get burned out. ? ??
But we shouldn't wait until we're feeling burned out to take care of ourselves.
Think of it this way: Would you rather avoid getting a burn by not touching the stovetop? Or would you prefer to treat a burn after you touch it?
I don't know about you, but I'd rather avoid the burn to begin with!!
So let's make self-care an ongoing thing. Here are a few ideas:
Go for a walk, or just spend time outside
Plan something to look forward to (an activity, trip, or stay-at-home date night!)
Read a book just for fun
Spend time with family/friends who fill you up
The "right" self care = whatever activities "fill your cup."
I have a big list of ideas for self care that you can do at home AND at school. You can grab that freebie at this link.
Reflect
"Reflective thinking leads educators to act deliberately and intentionally rather than randomly and reactively" (Shandomo, 2010).
As teachers, we're always reflecting when planning for instruction. We ask ourselves, "What worked well?" or "What do I need to do differently in the next lesson?"
This is awesome. And guess what? We can apply this to our personal lives, too.
Sometimes I'm just GOING, GOING, GOING! I'm trying to check everything off my to-do list, and not being very reflective about what's working well or not working well.
Here's an example – I was finding myself feeling frazzled all day, from start to finish.
When I reflected a little more on it, I realized that I was "diving" into my day too quickly -checking work email, getting started on work, etc.
I needed to give myself more space in the morning to ease into my day.
And that helped a lot!
So if I'm noticing a problem, I'll either A) write in my journal about it, or B) go for a solo walk and explore the problem mentally. In either case, I try to stay chill and not stress myself out about the problem. I approach it with curiosity: "Why might this be happening?" "What might help?"
When we take time to reflect, we can find small ways to improve our lives and help ourselves feel better.
Make a Plan
If you're feeling overwhelmed by all your to-dos, you may be thinking, "Where do I start?" or "How do I get it all done?"
If you're like me, you might even waste time stressing out…when you could actually be getting things done. ?
Instead of getting stuck in stressful thoughts, try this:
Make a to-do list of your most important tasks.
Allocate time for each task during the day or week (ensuring to leave yourself "off" time).
Set a timer for your tasks (so that you do "good enough" work without getting sucked into perfectionism and spending way too much time on something).
Block out distractions when possible (put your phone out of the room, etc.).
Ask for help whenever you can!
Your Ideas?
Do you have any additional ideas to add? Please leave a comment below. I'd love to hear from you!
References
Shandomo, H. M. (2010). The Role of Critical Reflection in Teacher Education. ERIC.