When I first started teaching, I didn't have a phonics program to use.
I was given "free reign" to do what I wanted. Although I enjoyed the creativity aspect, this was so overwhelming! (And it left a lot of room for error.)
On the flip side, if you have a phonics curriculum, it may be time-consuming or difficult to use. And/or, you may be left with zero room for adapting it to students' needs.
Having a phonics programs to use is important. A program guides you in implementing effective phonics instruction, which is key to student success in reading.
But choosing a phonics program that fits the needs of you, your students, and your school can be a lot!
There are so many options out there. So, how do you know which one to pick? In this blog, I'll tell you the 5 most important things to look for when choosing a phonics curriculum.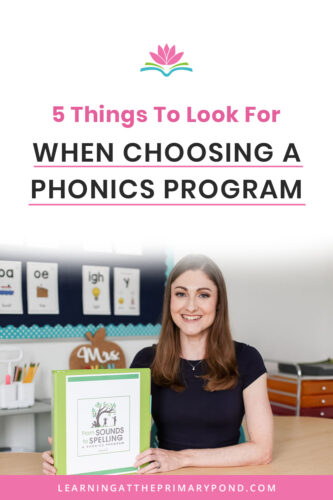 What To Consider
#1: A phonics program should be systematic and explicit.
Phonics instruction should progress through a specific scope and sequence. This includes a summary of what's going to be taught in the program (the scope) and the order in which concepts will be covered (the sequence).
For phonics, the scope and sequence should lay out the different units and weeks in an organized manner so that it's clear what will be taught each week.
This helps teachers set goals and benchmarks for students along the way. Here are examples of the Kindergarten, 1st grade, and 2nd grade scope and sequences from my phonics program, From Sounds to Spelling.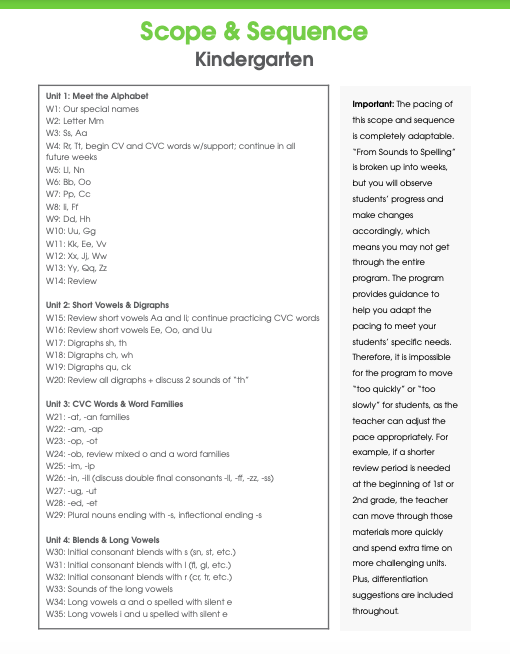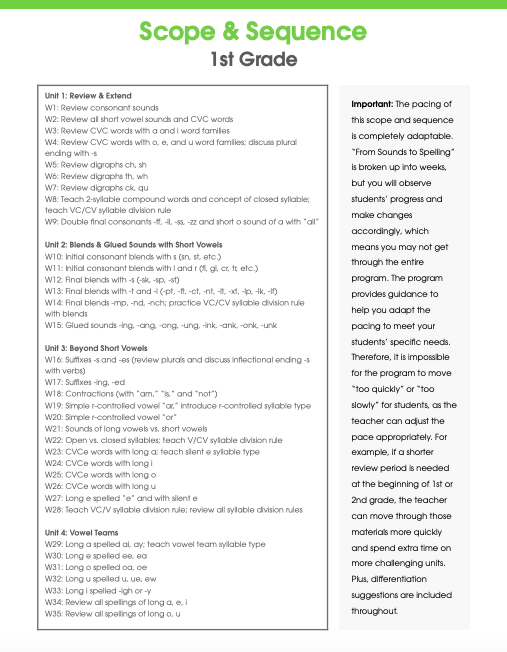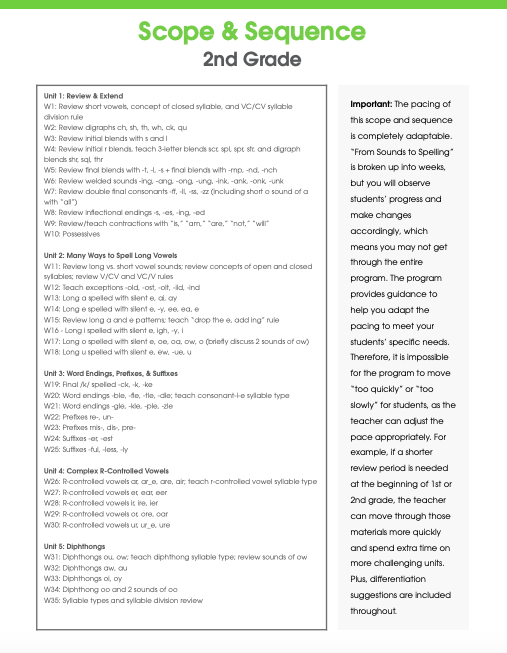 You can see that there is explicit instruction where students are directly taught about letters, sounds, and spelling patterns. The order of skills covered follows research on the sequence by which students learn phonics skills (ie CVC words are covered before CVCe words).
#2: The phonics program should be research-based.
People have been researching phonics and best practices for years, so it's only fitting to follow their advice! A few important research-based criteria are as follows:
Phonics instruction should take place out of context and in context. In other words, teachers should absolutely dedicate time to teaching phonics, but they should also point out and discuss phonics patterns as they arise during reading and writing activities. Plus, students should have opportunities to practice phonics skills through reading and writing connected text.
A traditional "letter of the week" practice should be avoided. This one comes as a huge surprise to many Kindergarten teachers! However, research shows that distributed practice of any skill (shorter practice sessions that take place over longer periods of time) is more effective than focusing on one skill for an extensive amount of time. It's more effective to continuously loop back to review letters.
Multisensory instruction is effective for ALL students. Finding a program that includes multi-sensory practice is super helpful!
When I designed From Sounds to Spelling, I made sure to follow these research based-practices and others.
#3: The phonics program should be consistent.
Kids learn to love routine and thrive when they know what's expected. Finding a phonics program that follows a similar structure each day provides more time for students to focus on the content instead of having to spend tons of time explaining "what's happening today."
For example, in From Sounds to Spelling, a typical lesson includes phonological awareness concepts, high frequency word practice, a chance to review past skills, and both decoding and encoding practice with new material. Students come to know and expect this schedule of events, which ultimately saves time!

Consistency should be present from day to day, but also year to year. At the beginning of the year, you work so hard to teach routines and procedures. Within a phonics block, teachers need to explain and teach the different components and work on transitions between those different activities as well. This clearly takes tons of time on the front-end!

It's really helpful, though, when a lot of those routines carry over from year to year. If your Kindergarteners become confident in a routine working with high frequency words, for example, how awesome would it be for the 1st grade teacher in your building to only need to quickly review that routine at the beginning of the year vs. starting from scratch?
If you use a program that's consistent, there's ultimately more instructional time for students, and this will make a huge impact as far as academic gains!
#4: A phonics program should allow for differentiation and flexibility.
There is no such thing as a "one size fits all" type of program! Even within the same school, what works really well for one teacher might not work as well for another. A strong phonics curriculum should allow you to take into account your students' needs.
Phonics knowledge is developmental. While it's important that students follow the same trajectory or sequence of learning, students will learn at different rates.
Below are examples of resources in From Sounds to Spelling where students are reading a decodable passage that focuses on the "ck" digraph. In the first passage, you'll see an "E" in the corner. This is a bit of an easier text compared to the other one, with simpler word choice and sentence structure as well as an additional image. Having these two passages available allows for differentiation either in a whole group or small group setting.
As far as flexibility, I know that each school has a different allotted time for phonics and different expectations for teachers. Sometimes schools have tons of time for phonics, and other times, not as much. The lesson plans provided in From Sounds to Spelling give guidance on how to prioritize the activities based on your available time and requirements.
#5: The phonics program should provide sufficient training and support for teachers.
Have you ever started the year with a new curriculum, but didn't have enough training to feel confident in front of students? It can be really frustrating to feel like that.
When you're weighing options, make sure to consider what type of support is offered. Included in From Sounds to Spelling are tons of videos! You'll have access to videos that:
provide important details on each unit
model hand movements for certain things like segmenting words, spelling high frequency words, etc.
give step by step directions on how to lead a blending drill
offer ideas on how to organize and schedule your phonics instruction
The list goes on, and on! There are many videos at your disposal to watch ahead of time AND refer back to throughout the year. Some videos, such as letter sound formation, can also be shown to students for support!
Conclusion
I hope that the information provided in this post has given you helpful guidance in choosing a phonics curriculum!
If you'd like to try a FREE trial of From Sounds to Spelling, CLICK HERE! (A free trial is a great way to see if the program might be a good fit for you.)
If you have any more questions about things to consider when looking for a phonics program, leave them in the comments and I'd be happy to answer them!
Happy teaching!