Have you worked with students who speak (and also write) in run-on sentences? Or the opposite – they write in incomplete sentences?
Many (but not all) children who have been listening to and speaking English for years are usually developing some sort of "innate" understanding of what a correct sentence sounds like.
However, as we all know, this doesn't mean that this understanding is complete or perfect!
Plus, oral language and written language are different!
For example, many of us probably speak in run-on sentences. We generally use less "correct" or formal grammar than we do when we write.
This is normal, but it can be tricky for kids who are still making the bridge between oral language and written language as they learn to write.
This is why explicit instruction in grammar and sentence structure is so important: it helps kids learn to write in complete, correct sentences. It can also help kids learn how to expand their sentences to write with more detail.
In this post, I'll first go through the ins and outs of sentence structure and how to teach students to write grammatically-correct sentences.
The first part of this post is a little technical – but hang with me! You might learn something new, and it'll all make sense once we get into the practical applications. (After I've covered some sentence structure terms, I'll then provide ideas for activities you can do to help K-2 students learn to write sentences correctly.)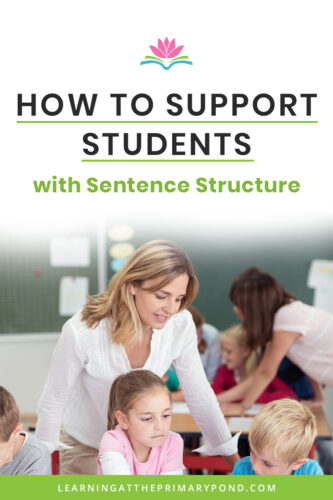 Parts of Sentence Structure
Sentences can include the following:
Independent clauses
Dependent clauses
Conjunctions
An independent clause includes a subject and a predicate, and it can make sense on its own. "He took a nap" is an example; it has a subject, predicate, and can be its own sentence – hence the word "independent!" The subject is who or what the sentence is about, and then the predicate is what is happening in the sentence. A subject can be a noun or pronoun, and the predicate is the verb. For example, in that sentence "He took a nap," the subject is "he" and the predicate is "took a nap."

A dependent clause also includes a subject and a predicate, but it cannot be its own sentence. An example of this is "because he was tired." This includes a subject ("he") and a predicate ("was tired"), but the words themselves form a phrase, not a sentence.
A conjunction is the connecting piece that links phrases/clauses together. There are a couple of types of conjunctions:
Coordinating (examples: and, or)
Subordinating (examples: after, because)
Correlative (examples: not only/but also, either/or)
When I was young, we'd diagram sentences and talk about subject and predicate. Can you relate to that?
This practice may seem out-dated, but the concepts of subject and predicate are actually really useful in teaching students about sentence structure:
The subject is who or what the sentence is about, and then the predicate is what is happening in the sentence. For example, in that sentence "He took a nap," the subject is "he" and the predicate is "took a nap."
If you don't have a subject…or you don't have a predicate…then you don't have a complete sentence!
Types of Sentence Structure
Now that I've covered the parts of a sentence, let's talk about different types of sentence structures.
Simple Sentence – This is when an independent clause is used as a sentence. An example is "The dog barked." Sometimes a conjunction is used ("I like the colors red and purple.")
Compound Sentence – In this case, at least two independent clauses are used. For instance, "I want to eat more cake, and I also want to eat more ice cream." A conjunction is used to link the clauses.
Complex Sentence – With this type of sentence, there is both an independent and dependent clause. "My brother likes chocolate cake but not vanilla" is an example of this type of sentence. The conjunction is the connecting piece between the different clauses.
Compound Complex Sentence – Just as it sounds, this type of sentence combines the compound and complex sentence structure types. A sentence that includes both is "We drove in our family car, which is a minivan, and we played games the entire way."
Now…this is a lot of info!
I'm not saying you need to introduce all of this sentence structure vocabulary to your Kindergarten students!
But I think knowing the correct terminology helps strengthen your own knowledge. When students are ready to be pushed to the next "sentence structure" level, you can start using the vocabulary with them. (Personally, I think "subject" and "predicate" are a good place to start – and I do that with my first graders and beyond.)
Activities for Teaching Sentence Structure
Here are a couple of my favorite ways to work on sentence structure: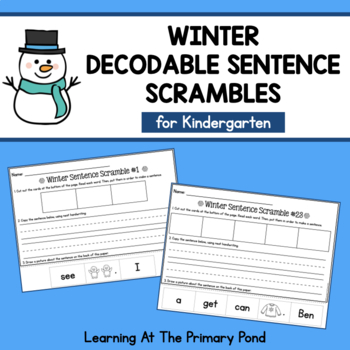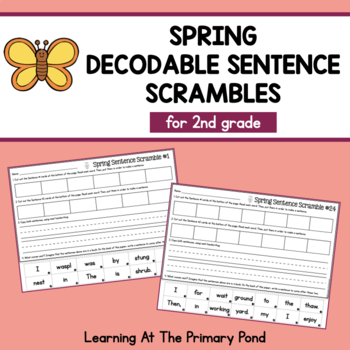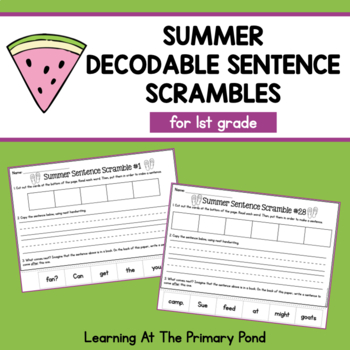 Seasonal Sentence Scrambles: These resources are a great way to work on high frequency words, phonics skills, AND sentence structure all at the same time! Currently, Winter Sentence Scramblers for Kindergarten, 1st grade, and 2nd grade are available as well as Spring themed for Kindergarten, 1st grade, and 2nd grade, and Summer for Kindergarten, 1st grade, and 2nd grade. Fall will be released later in 2022!

Below is an example of a sheet from 1st grade Winter Sentence Scrambles. In this particular sheet, students are working on "silent e" words. Students cut out the words on the bottom and then rearrange them in the correct order to form a sentence. Next, they copy the sentence in their own handwriting. Last, as an extension, students can write their own sentence on the back to add to the story.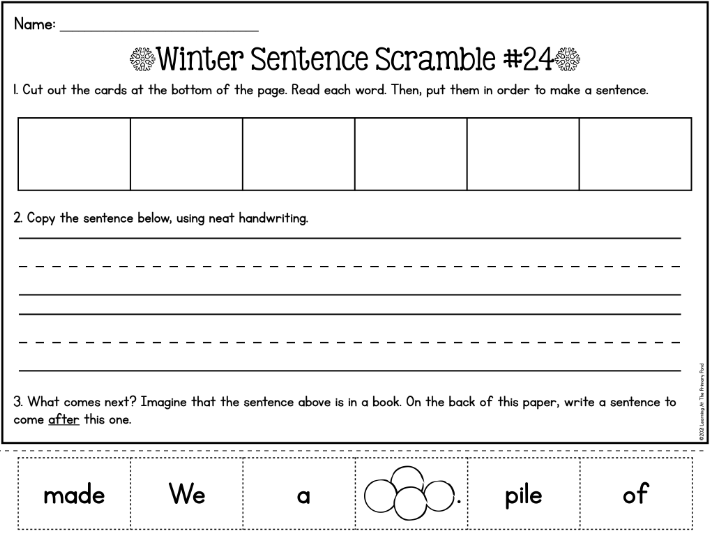 Run-on Sentences: Sometimes a great way to teach something is to show what NOT to do. You can show a run-on sentence for students and ask them to decide where you should have stopped. Students could even be holding little STOP signs that they've made and hold it up at a good stopping point. An example of this could be "I went to the park it was too cold we had to come home we were bored." One option would be to show where more periods are needed (after "park," "cold," "home"). Another option for older students is to decide where to insert conjunctions. ("I went to the park but it was too cold so we had to come home.") (And of course, make sure to also show plenty of examples of sentences that are not run-ons, so they see correct examples.)

Finish the Fragment Sentence: Similar to the point above, showing students that only speaking/writing in fragments will leave your audience with unanswered questions. This provides a fun opportunity for students to be creative to "finish the sentence!" Give the students a fragment ("While I was at the beach,") and then have them fill in the rest of the sentence.

Sentence Cut-Apart Activity: This activity differs slightly from the Sentence Scrambles. Here, students say a sentence, then write it in the correct order (or the teacher writes it). After that, they cut up the sentence before ultimately putting it back together. Check out the detailed description of this activity here: How To Teach Phonics, Decoding, and Concepts About Print with a Sentence Cut Apart Activity

Color-coding: Many students are visual learners, so any time you can add color-coding in, do it! Even when writing a simple sentence, have students use two different colors to identify the subject and the predicate. Once students move onto adding in conjunctions, those can also be a different color. With many of the above activities, color-coding can be added in.
Conclusion
Sentence structure can be overly complicated, but introducing your students to this concept and then building on it will help give them options when writing. It can also give students more insight into reading fluently, with expression, as they begin to understand how ideas are combined and where to pause.
If you love our Seasonal Sentence Scrambles mentioned above, check out this FREE resource to get access to seasonal writing prompts for Kindergarten and 1st & 2nd grade.
Happy teaching!