If you have summer break coming up soon, CONGRATS! You have earned every bit of it! In my opinion, there is no better job than teaching. There is also no one more deserving of a break than a teacher at the end of the year. 🙂
Because teachers are so incredibly caring and devoted, it can be difficult to know when to turn school mode "off" and when to turn break mode "on." In other words, sometimes you may feel like you have to make a choice between enjoying your summer or doing everything you can to have a smooth start in fall. But it doesn't have to be that way!
In this blog post, I'll go through 3 easy things you can do at the end of the year (or even into the summer, like #3) to start next school year off right.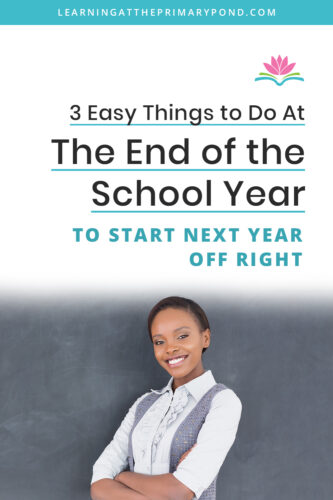 #1: Chat with other teachers!
Having colleagues and coworkers you can confide in and depend on is so important, especially in a school setting! The work you are doing is challenging. There will be days when you really just need someone to talk to (someone who gets it)!
Relationships with fellow teachers can be so helpful for emotional support, and they can also help you do your job better. For example…
At the end of the year, find time to talk with the teacher(s) in the grade below you and the teacher(s) in the grade above you. Before the conversation, it will be best to set some concrete goals or intentions. Examples of goals could be:
Have a clear idea of the math standards this upcoming class has covered/not covered
Share positive reinforcement strategies that worked well for this group of students
Restructure your literacy block at the beginning of the year to fit the needs of incoming students
These conversations aren't meant to be a time to talk about students who had a difficult year behaviorally, complain about curriculum, etc.
Instead, they'll help you and your coworkers…
Get a broader picture of what was covered this past year academically. You can name general academic strengths ("The incoming 1st graders are proficient in letters, letter sounds, and reading CVC words.") and areas of growth ("They will need further support on writing CVC words to begin 1st grade.")
Share behavior-related ideas that can potentially save the students' new teacher time next year. For example, if the Kindergarten teacher spent weeks trying to figure out a great behavior plan for a class and finally landed on one that works, don't shy away from "stealing" their great idea! This does not mean that's the only plan that you'll use. But it's always nice to have some input on what has worked in the past, because it might mean you waste less time trying to figure it out on your own!
#2: Give diagnostic assessments where applicable (i.e. phonics and math).
Many end-of-the-year assessments required by schools give us information like the number of words read correctly in a minute, or a reading level. While this can be helpful, it's also important to know which specific skills students have mastered or not mastered yet.
This free phonics diagnostic assessment is an example of such a test. It will allow you to see what phonics skills a child has mastered (in terms of decoding and spelling). You can use it to find out, for example, if a child has mastered some or all of the following skills:
Letter sounds
VC/CVC words
Digraphs
Consonant blends
Silent e words
R-controlled vowels
Vowel teams
Diphthongs
When you give this assessment at the end of the school year, it will help you because it may reveal certain gaps that students still have after a year of instruction. This is information that can be helpful to their future teacher for the next school year. It can also be helpful to you, because you may choose to change your phonics instruction next year based upon how things went this year.
However, this assessment is great to give at the beginning of the school year, too! If you give it at the beginning (in addition to at the end), you can make instructional decisions based on what students already know. You may be able to skip over certain skills or review easier skills that you ordinarily wouldn't plan to teach.
Grab your free assessment here!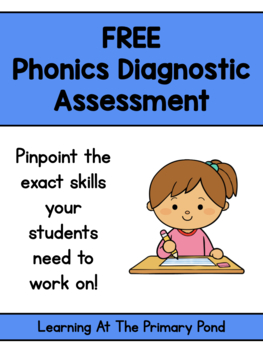 For a bit more information on how to actually use the data in a meaningful way from this assessment, read my blog entitled "Use This Phonics Diagnostic To See Where Your Kids Are At The Beginning Of The Year."
#3: Reflect, reflect, reflect!
By the end of the school year, you're probably pretty aware of what is going well…and then on the flip side, what maybe isn't going as well as you'd hoped.
You may think you'll remember all the nuances from this year to make changes next year, but there's a good chance that you'll forget a few as you relax and get into "summer mode!" My recommendation, therefore, is to set aside a bit of time before break to reflect.
Let's start with the positive! A few guiding questions that may help are:
What was a huge success?
What other things went well?
Why did those things go well?
Which students blossomed? Why?
I encourage you to write down anything and everything that went well! This could be something small – "The students were much more focused when we added in that quick 'get the wiggles out' time right before our writing block." It could also be a bigger win – "Over 90% of my students were proficient in the final unit of math this year. Being diligent about daily small groups during math time was incredibly impactful!"
Then, of course, it's always good to reflect on what you'd love to change for the following year. Here are some reflection questions that may help:
What did I struggle with?
What did my students struggle with?
Why didn't some things work well?
What should change for next year?
Again, these reflections could be for minor things – "I think I'm going to move my center bins to the other side of the room for easier access." Or you could be reflecting on some bigger changes you'd like to see – "The data is showing that our students are struggling to retain their phonics learning. I'm going to talk to my admin team to see if we can purchase some additional phonics resources."
Whatever the reflections are, taking some notes now will help you set aside your thoughts for the time being. Then you can focus on enjoying your summer and revisit your notes later when it's time to get back into "school mode."
Conclusion
I hope these three tips are helpful for you as you wrap up this year and get ready for summer! If you are looking to do some learning during the summer about best practices, I have a few FREE webinars that you may be interested in checking out while you have some time off:
Happy teaching! (And happy SUMMER!)