Are you looking for some activities to teach your students about adverbs?
This post has 5 activities to make teaching adverbs FUN! Some of these activities will also help students learn to use adverbs in their writing.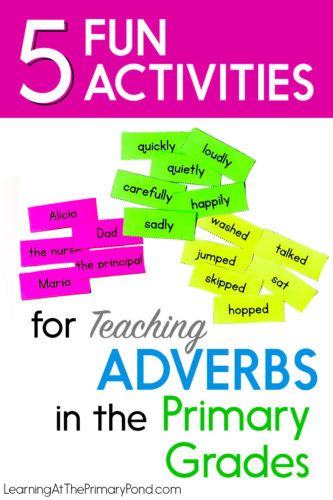 Activity #1 – Act it out!
Learning "sticks" when we engage students' brains AND bodies!
So I often give my students opportunities to act out new concepts – like adverbs!
Once my students know what an adverb is, I have them "act it out" and perform different actions in different ways — like walking quietly or cutting carefully.
To prepare for this activity, first make a list of 10-12 adverbs that students can act out, like this one from Second Grade Grammar Alive.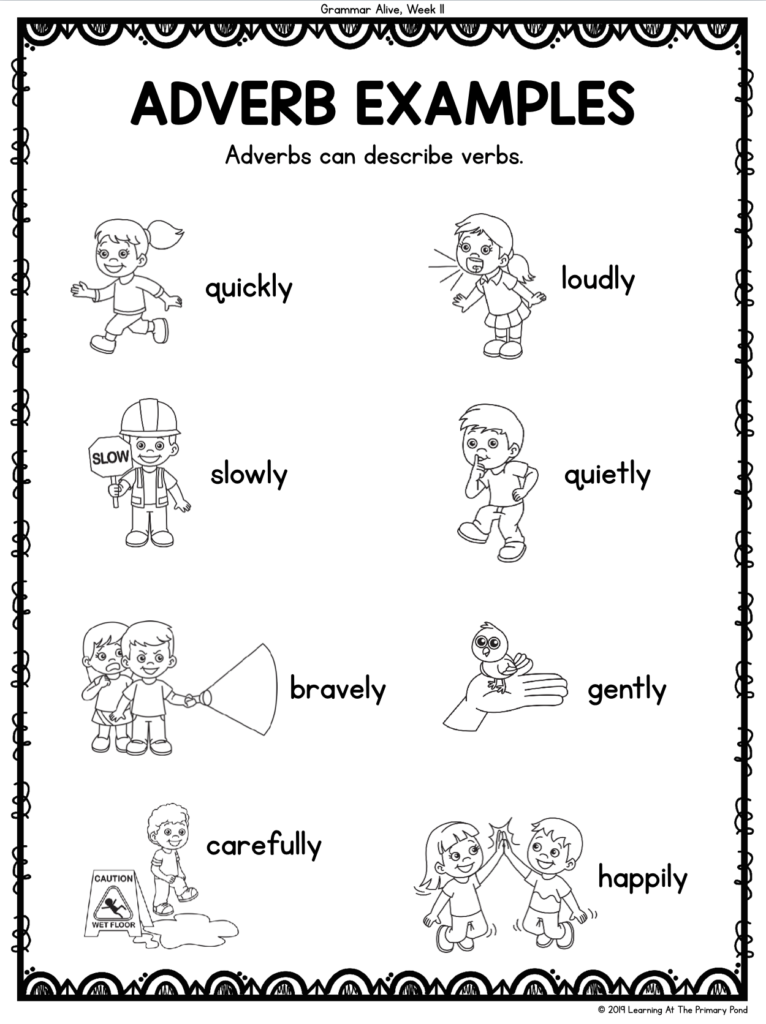 With your students, carefully go over each adverb on the poster, one at a time. Have students brainstorm a verb to go with each adverb. (i.e., "What's an action that we can do QUICKLY?")
Then, ask the students to physically act out the verb/adverb combination.
Your students will likely have even more adverbs to add to the list!
You can also turn the list into an anchor chart for future reference – students can refer to it as they write.
Activity #2 – Partner Writing
The whole point of teaching grammar is so that your students can apply it to their writing…right?!
So when you teach adverbs, make sure to give students opportunities to apply what they're learning by adding adverbs to their writing.
After a modeled writing mini-lesson, partner writing is a great activity to keep the learning going!
For this activity, have students choose an adverb from a list (or brainstorm their own). Then, have students share their adverb with a partner.
Next, tell students to choose a verb to go with their adverb, and share that verb with their partner.
Once students have shared their adverb/verb pair, have each student write a sentence using their words (example: The kids walked quietly during the fire drill).
Students can write their sentences on a white board, scrap paper, or in a notebook.
Activity #3 – Team Adjective or Team Adverb Game
Playing games is my favorite way to practice a skill!
This game, from Second Grade Grammar Alive, helps students compare and contrast adverbs and adjectives.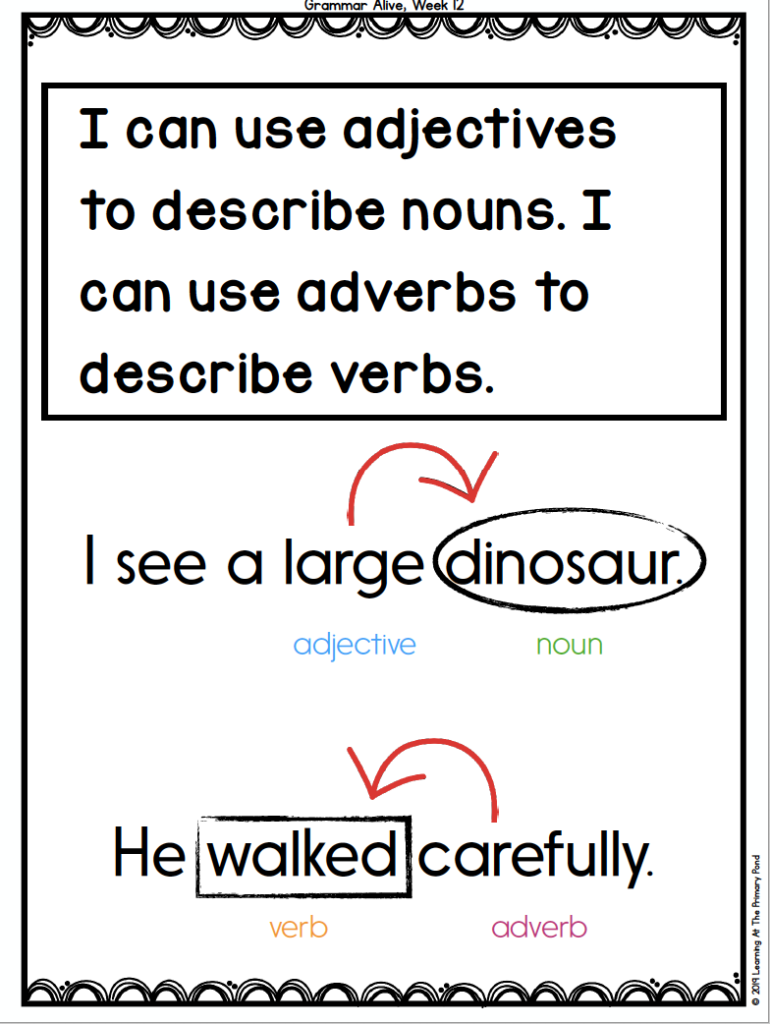 First, prepare word cards ahead of time. Make 9 cards for each part of speech: noun, verb, adjective, and adverb (36 cards total).
To play the game, divide your class into two teams (Team Adjective and Team Adverb). Each team will need a team leader, and the team leader stands in front of their team.
Give the Team Adjective leader the set of adjective cards and the Team Adverb leader the set of adverb cards. Keep the noun and verb cards for yourself.
Tell the students, "I'm going to hold up a noun or verb card. The Team Adjective leader is going to hold up an adjective card and the Team Adverb leader is going to hold up an adverb card. We'll see which one describes the word I hold up. The team whose word fits will get a point."
Hold up your first card ("bag," for example) and have each team leader hold up their team's card. Have students help you read aloud both words (for example, Team Adjective might hold up the word "brown" and team Adverb might hold up the word "slowly").
Ask the students, "Whose word can describe 'bag'?" Students should identify the adjective.
Then say, "Right! Bag is a noun so we can describe it with an adjective. Team Adjective gets a point!"
Continue playing until you have a winner.
Activity #4 – Adjective/Adverb Scavenger Hunt
One way to make grammar instruction more useful to students is to have them connect grammar concepts with real texts.
Having them search for adjectives and adverbs "in the wild" is the perfect way to make this connection!
Students can make their own sorting chart on a piece of paper to record the words they find, or you can use a pre-made chart like this one from Second Grade Grammar Alive!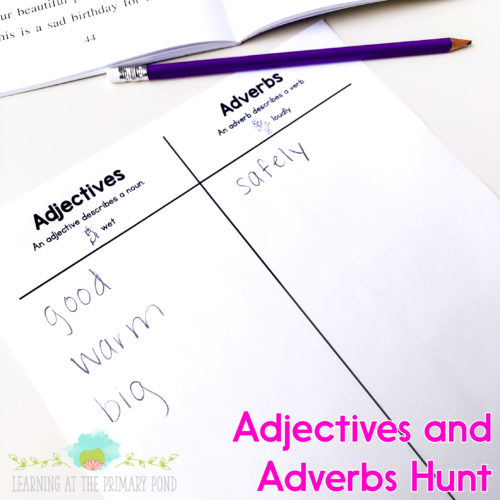 Students could also write their words on sticky notes or address labels and contribute to a class sort on a large piece of chart paper.
Activity #5 – Sentence Grab Bag
For this activity, prepare small word cards with a variety of nouns, verbs and adverbs. Put the cards in three separate bags labeled, "Nouns," "Verbs," and "Adverbs." You might also want to print the cards on different colored paper, as shown here: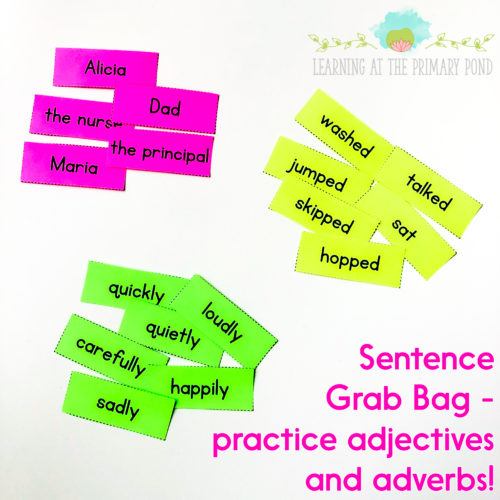 Tell your students, "Today we are going to play Sentence Grab Bag. Let me show you how to do it. First, you need to pick a noun, a verb, and an adverb."
Pull out one word from each bag and read them to your students.
"Now I need to make a sentence with these words. Do you have any ideas?"
Have your students share some of their own ideas. Then, model writing a sentence that uses all 3 of the words (example: Dad quickly washed the stack of dishes.) Point out how you had to add some additional words to make an interesting sentence!
Have the students identify the noun, the verb, and the adverb in the sentence. Then, give them the opportunity to play the game by having each child pull a noun, verb, and adverb card.
"Read your words to your partner and work with your partner to plan a sentence. Your sentence can be silly – that's okay. Just remember that you need to use all 3 words."
Have students turn and talk with their partner, then write their sentences down on a half-sheet of paper.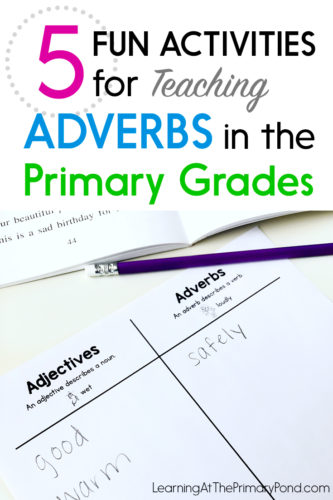 Need more materials for teaching grammar?
I hope you and your students enjoy these adverb activities!!
For complete grammar lesson plans and many more grammar activities (including the ones featured in this blog post), check out my Grammar Alive! bundles for Kindergarten, first grade, and second grade.