Do you have a writing center in your kindergarten, first, or second grade classroom?
In my classroom, the writing center is part of our daily literacy centers rotations. Additionally, I have a separate writing block (writing workshop) at a different time of the day.
The work students do in the writing center reflects what they've been working on during writing workshop — with a few fun twists and more variety in activities.
If you have (or are thinking about adding) a writing center OR independent writing activities to your independent work time, this post is for you!
In this post, I'll share 5 strategies that have increased student engagement AND work quality in my writing center!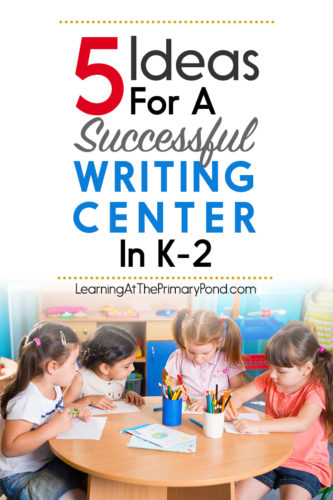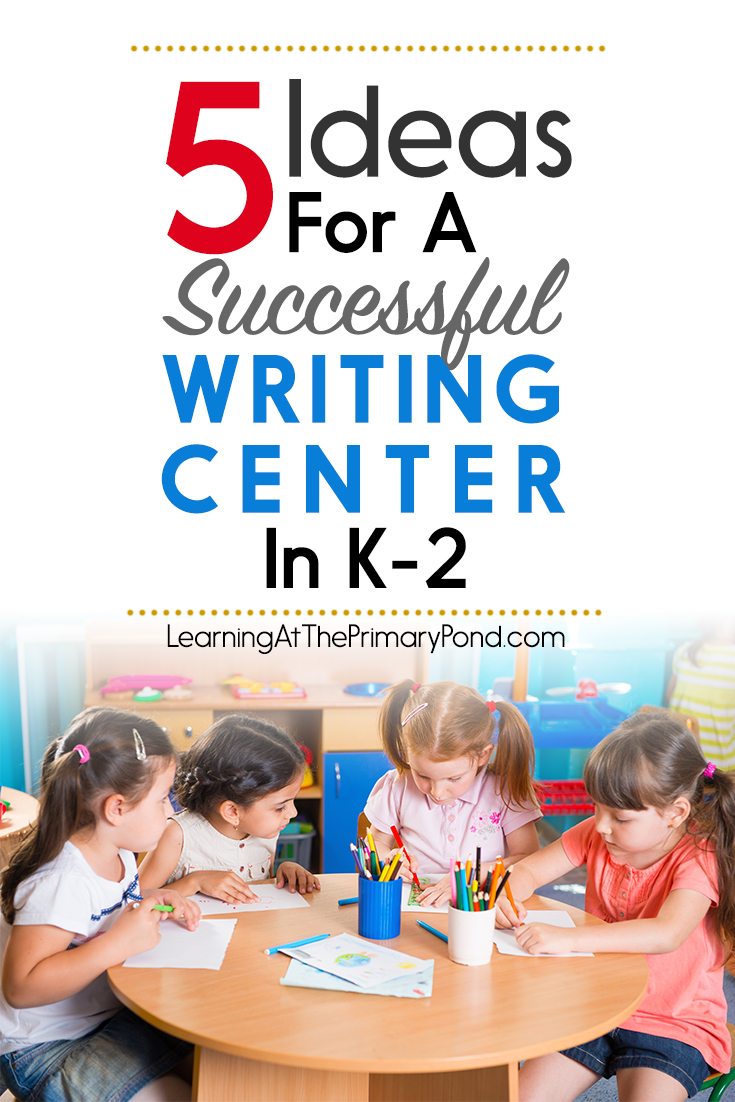 Photo Credits: spass, Shutterstock
1. Create an example binder.
Kids need to see examples of writing projects!
I always model each writing activity before I introduce it to my writing center. But it's also helpful for kids to be able to refer back to an example!
I started the example binder so that students would a) quickly and easily see what writing activities they could do at the center, and b) to provide them the support they needed to be successful with those activities.
My example binder is small, because only 3-4 page protectors need to fit in it at any given time. I don't want to overwhelm the kids with options!
I have one page protector for each project option.
On one side of the page protector, I place a photo or actual example of the writing project.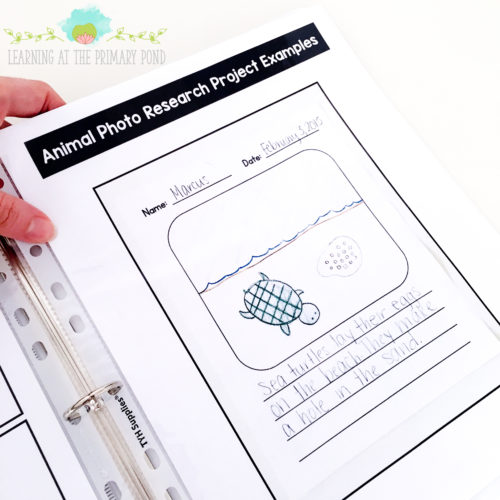 On the other side, I place a sheet with ideas to get students started AND a list of "tips" (basically, a checklist for their work).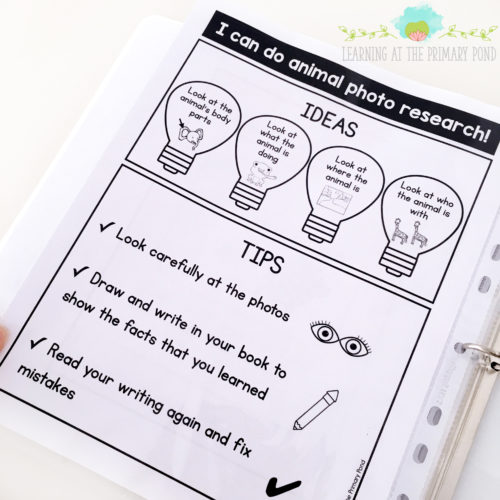 It's pretty simple to put together, but makes a BIG difference in how students do with their writing projects!
If you have lots of students using the writing center at once, consider making two example binders.
If you're interested in done-for-you example binder materials, check out my kindergarten, first grade, and second grade writing center packs. Every activity comes with the finished example binder sheets, so all you have to do is print!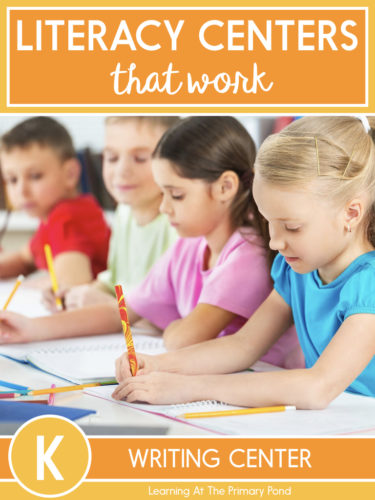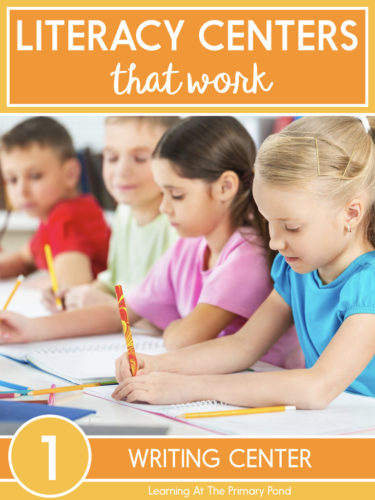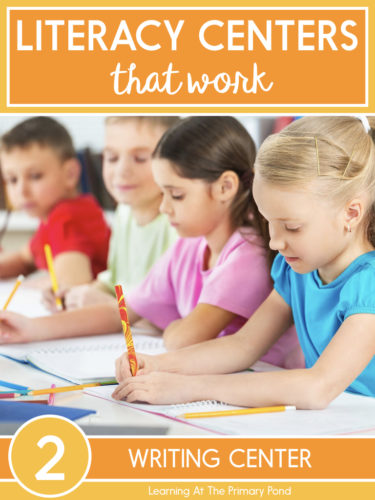 2. Think outside the box for writing activities.
If you find yourself (or your students) getting a little sick of the same old, same old, bring in writing activities that you might not have tried before.
For example, students might make:
Pamphlets / informational brochures
Posters for the classroom or school
Newsletters
Comic strips
Props for dramatic play or other play activities (restaurant menus, ad circulars, signs for a pretend store, street signs for the blocks center)
Photo stories (kids take photos of each other or small toys and then create a story from the photos — BookCreator is great for this)
3. Provide a range of supports.
We all have students who can sit down at the writing center and draw/write for days on end! We also have kids who need a little more help in order to be successful.
Supports like spelling charts, editing checklists, and word lists can go a long way in supporting students who need it!
When it comes to supports, I want to:
Provide a range
Present them in a way that's organized and not overwhelming
Easily change them out as the year goes on and students' needs change
After doing some online searches, I saw that other teachers used a trifold board to display writing center supports. Cool, I thought, but what about when I want to change the supports?
Having the supports stay the same throughout the year didn't seem like the best option for my students. So I got a trifold board, but instead of gluing down papers, I glued down page protector sheets to the board!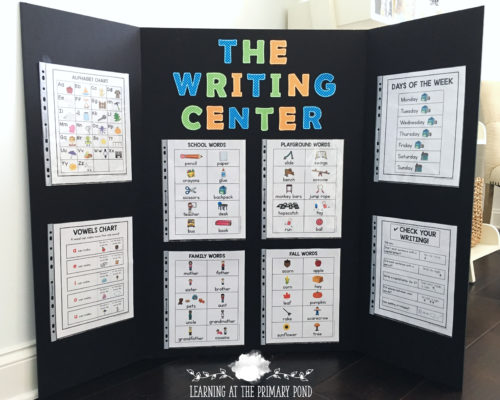 Now I can easily replace the pages throughout the year!
4. Have students plan their work with a partner before they begin.
During writing workshop time, my students always talk to a partner about what they plan to write. This helps them plan out their ideas and get started.
Eventually, I realized that this needed to happen in the writing center too!
So before my students begin working, they tell a partner what they plan to write about.
These speech bubbles, like everything else shown in this post, come from the writing center resources in my literacy centers bundles.
5. Help students find real audiences for their work.
In "real adult life," sometimes we write just for ourselves and our own enjoyment.
But more often than not, we are writing for someone else! Knowing that someone else (i.e., a parent, a teammate) will be reading our writing motivates us to make sure it's coherent.
Similarly, having a real audience is SO motivating to kids, and it improves the quality of their work!
I include a "sharing time" following centers each day. Kids can bring one item to share with a partner (whether it's a piece of writing, a book they read, or something else).
Additionally, students can:
Bring home writing to share with their families
Place select pieces in the classroom library
Hang up posters in the classroom or school
Having students share their work with an audience doesn't have to be complicated or time-consuming!
Conclusions
If you try out any of these ideas, let me know how it goes! And here are those links again for writing center activities in kindergarten, first grade, and second grade: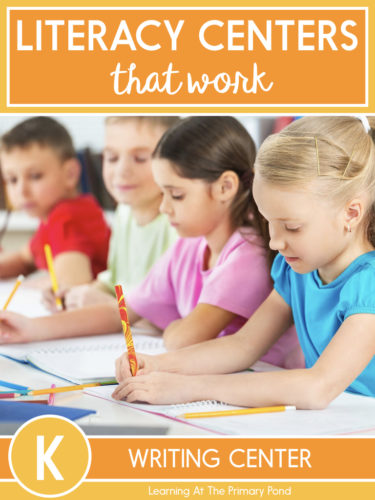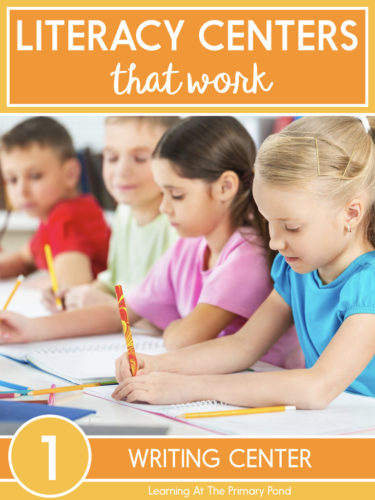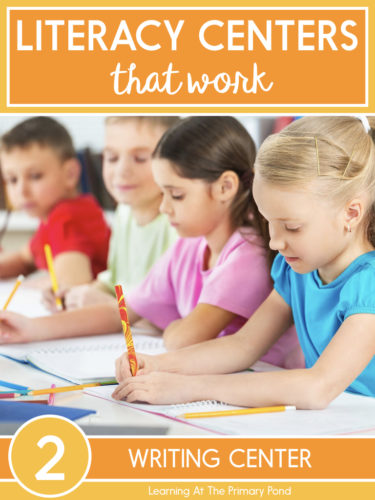 Happy teaching!