Happy Thanksgiving week! There is so much that I have to be thankful for. One thing that I am thankful for and really appreciate is the calm in my life. I definitely did not always have this calmness! I finished my master's degree a couple of years ago, and while I am really glad to have my M.Ed, I do NOT miss the craziness of getting my degree and being a classroom teacher!

When I was getting my master's degree in literacy (and my bilingual endorsement at the same time), I taught full day Kindergarten in the suburbs and had to commute into the city after school 2-3 days a week to take classes. My program was very good…but also challenging and time-consuming. I would be exhausted from teaching my Kinders, and by the time I sat through class at night and drove home, it was time to go to bed. I also got married and bought a house during the last year of my program, which added to the craziness! I thought I was going to lose my mind at some points. One time during this crazy phase, I left one of our gas burners on ALL night and ALL day, not realizing it until I got home from work! The house and cats were fine, thank God. Another time I planned a trip for my husband and I to go visit my grandfather, and didn't realize until the night before that I had bought a plane ticket for him, but not for myself!! Other people go through much more difficult things than this in their lives, but this was definitely a challenging time for me.

I am really thankful that I have my degree now, though, because it's enabled me to become a reading specialist. In the spirit of giving, I want to share with you some things I did that helped me survive teaching full time and getting my degree. If you are a teacher getting your master's degree or considering it, read on for tips about managing your time, finding time to cook, and maintaining your sanity.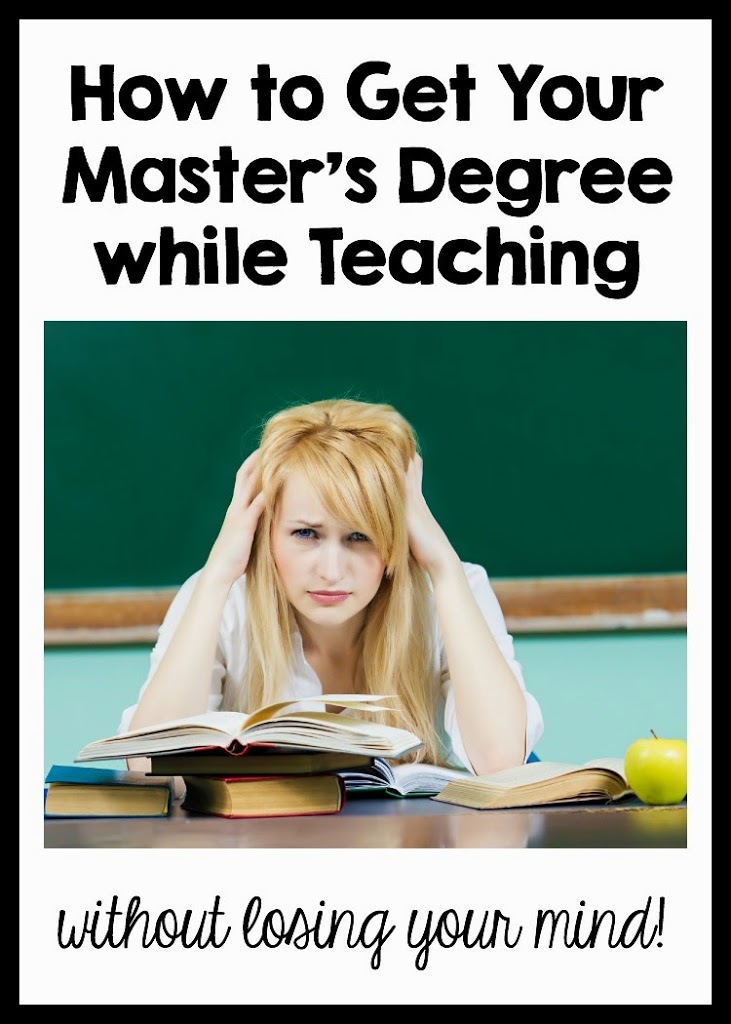 1. Be sure you want/need the degree you are getting. When I graduated from my undergrad program, I knew I wanted to eventually become a reading specialist. But I still taught for several years before starting my master's program. I'm really glad I did this for a few reasons! First, being a new teacher is exhausting by itself, and I wouldn't have wanted to make life crazier (or impede all of the learning I was doing as a new teacher) by piling coursework on top of teaching. Second, I think it's important to be sure that you are getting the degree that you want. If you get your master's degree right after finishing your undergrad, you might realize that there's something else that you love about teaching/education even more than what you originally planned to study. Graduate courses can be really expensive, so you want to be sure you want and need the degree you choose!

2. Accept that you can't do it all. I am a perfectionist. Sometimes to a fault. When I do something, I want to do it well – REALLY well! It was hard for me to adjust to the idea that I wasn't going to be able to do everything perfectly while getting my degree. My bulletin boards weren't always going to be frequently changed…or ever changed… 🙂 I wasn't going to be able to reread my assignments 5 times to make sure that they were perfect before turning them in. It just wasn't going to happen. In order to survive those 2.5 years, I had to lower my expectations for myself. I still gave everything that I could to my students and my program, but it wasn't perfection. And that was okay!

3. Don't take on "extras." When I was getting my degree, I got to school when my contract required me to, and left almost immediately after my students did. I didn't volunteer for extra duties, committees, or clubs. I sometimes felt guilty when I would see my coworkers getting super involved in school activities. But you know what? It was okay. My principal knew I was getting my degree. No one suffered because I didn't lead a club. I focused on work, school, and, well…surviving. I didn't need anything extra to worry about then!

4. Become BFFs with your casserole pans. Getting myself and my husband fed during this time was a challenge! He was working long hours and generally doesn't cook during the week, so I wanted to make sure he had food at home when I was at class until 8. Each weekend, I would make a few different (large) casseroles that we could eat all week. I often brought some of a casserole to work so that I'd have a little something eat before class, rather than waiting until 8:30 to eat dinner. Was my cooking always incredibly healthy, fresh, and exciting? No. But we managed to survive!

5. Plan ahead. This one pertains to food as well! On Sundays, I used to make sandwiches and prepare other lunch items for the entire week ahead of time. Then it was just a matter of throwing things in my lunchbag each morning. I still do this with my husband's sandwiches today! Also related to planning ahead – plan your meals, make a grocery list, and go to the store the same day each week. This will help you avoid the It's-9pm-and-I-have-nothing-to-eat kind of moments and will help you avoid getting fast food.

6. Set timers, use a planner, and write EVERYTHING down! As a result of being so busy, I became verrrrry forgetful. Things that I ordinarily would have remembered instantly flew out of my brain. I had to train myself to write down every little detail of any work or school requirements, counting on the fact that I wouldn't remember a thing about them the next day or even a few hours later!

7. Take walks. This one is kind of random, but as much as time and weather permitted, I would take a walk around the block immediately after school ended or immediately before my master's class started each day. Those few minutes helped me clear my head and regain some energy. Don't take your phone on the walk, and just focus on being calm. You will eventually look forward to those few moments of peace each day!

8. Take one day off a week. Every Saturday, I would (usually) avoid during any work for school or my grad program. Sundays kind of sucked, but having that one day to look forward to after a long week was a saving grace! Do something for you – even if it is as simple as cleaning up the mess in your closet that has been bothering you for weeks. You may not be able to manage it every week, but try to take as many Saturdays (or Sundays) off as you can.

Above all, keep the end in mind! My graduation ceremony was super boring, but I can't even describe how happy I was to be there – and to be FINISHED! I am thankful that I have my degree, I am thankful for the friends I made in my master's classes, and I am thankful that this crazy time in my life has passed. Now, about getting my PhD…….kidding. Sort of. 🙂

Have you gotten your master's degree while teaching? Did you do it with kids to take care of at home?! (God bless you!) Share your tips below!