If you read my last post, you'll know that I've been a little nervous about introducing a new way of doing math centers.  Today I'm sharing how it all went!
My new system relied on kids knowing their group number and being able to use the SmartBoard to figure out where they were going next, even if the other children at that station were not all going to the same place.  However….it worked!  The kids did super well with their playdough number mats (click here to get them for free) and their Unifix cube and pattern block patterning mats (click here).  The materials made for really easy independent centers, and the kids really enjoyed them.  

So, here's how my new system works:

1.  Instead of multiple math centers, there are 3 (teacher table for small group, rug for iPads, and tables for manipulatives/games).

2.  Choice is involved – although the kids don't choose where to go, they get to choose what iPad app they play (I choose 2 that address the same skill), and they also can choose to play a different game/do a different activity after completing the primary activity at the tables.

3.  Kids are grouped heterogeneously for independent work and homogeneously for work with the teacher – this way, they can work with kids from other ability groups, but receive attention from me that is directed at their needs.

4.  The kids only visit 2 stations a day (so the activities need to be relatively open-ended).

5.  Groups 1 & 2 are low, groups 3 & 4 are average, and groups 5 and 6 are high.

6.  Average and high kids visit my station 3 times a week, and the low group sees me 4 times a week.  Of course, they get other math instruction in other parts of the day – calendar, sometimes a mini-lesson, etc.

7.  The SmartBoard gives directions about where to go first and second (I changed up the way the board is organized a bit – the blue box on the left indicates where each group goes for the first rotation, and then the blue box on the left for the second rotation.  The green box has small screenshots of the iPad apps the kids can play):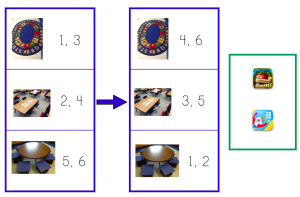 I'm curious to see what kind of results I get with this in terms of my kids' math skills – hopefully this different way of doing things will be worth the craziness of changing everything around!  
If you use math centers in your classroom, click on the image below to follow my "Math Centers" Pinterest board – I'm always adding new ideas that may help you out!