Happy Friday! Today was a good day…I was offered a new job for next year in the area that my husband and I are moving to, and I finally finished my Spanish letter sounds intervention pack! I have one kiddo who still isn't remembering all of his letter sounds, and I've been doing interventions with him for RTI. Flashcards get old fast, so I designed this pack to really engage him.

For each letter of the Spanish alphabet, I've designed three pages of practice activities. You print each page, stick it in a page protector, and place all the pages in a binder. Voila! Instant intervention binder.

Here are some examples of what the pages look like for the letter e: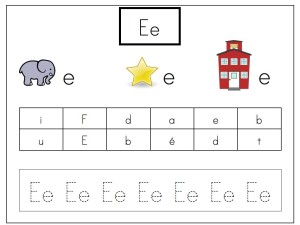 On this page, you and the child say the name of each picture and the letter sound, pointing as you go ("elefante, /e/, estrella /e/, escuela, /e/"). Below, the child circles the letter e, and then traces the letter e. You could also very easily do the letter name instead of the sound, if that's what your student needs help with.


On this page, the child practices writing the letter e. Then, you read aloud the printed words to the child, and he circles the words that start with "e." Then, you and the child practice saying the vocabulary words to match the pictures below, and the child circles the pictures that start with the letter "e."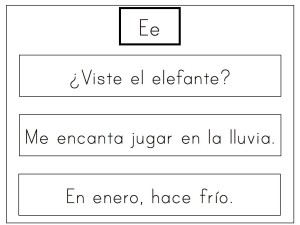 Finally, on this page, you read each sentence aloud to the child, pointing as you go. He then re-reads the sentence, pointing, and circles the word that starts with the letter e.

In addition to all these intervention pages, the pack also includes specific directions for how to use the kit. There are different scaffolds described in the directions that allow you to gradually release responsibility to the student and make the activities more challenging. The activities are also excellent for developing print concepts (1:1 matching, directionality, first letter in a word, etc.), vocabulary knowledge, letter formation skills, and phonemic awareness. And, like I mentioned, you can easily focus on letter names if that's where your little one is struggling. Click here to grab it!