Learning to recognize the letters is an important first step in learning to read! Young children need to learn to name the alphabet letters, plus identify and match capital letters and lowercase letters. And lots of repetition is required for mastery – this is where having lots of letter recognition activities comes in handy!
In this post, I'm sharing 5 different activity ideas that give kids the alphabet recognition practice they need – and are super fun! Some of the activities also help with developing fine motor skills and social skills. You can even adapt some of them for practicing the letter sounds!
Introducing the Letter Recognition Activities
The examples I'm showing in this post come from my pack Letter Recognition Activities with Alfie the Alphabet Alligator. (Even if you don't have this set, you can still absolutely use and adapt the ideas in the post!)
As you will see from the photos, the activities have an alligator theme. Before you start with the materials, you'll want to introduce your students to Alfie the Alphabet Alligator. The pack includes this poster to read to students: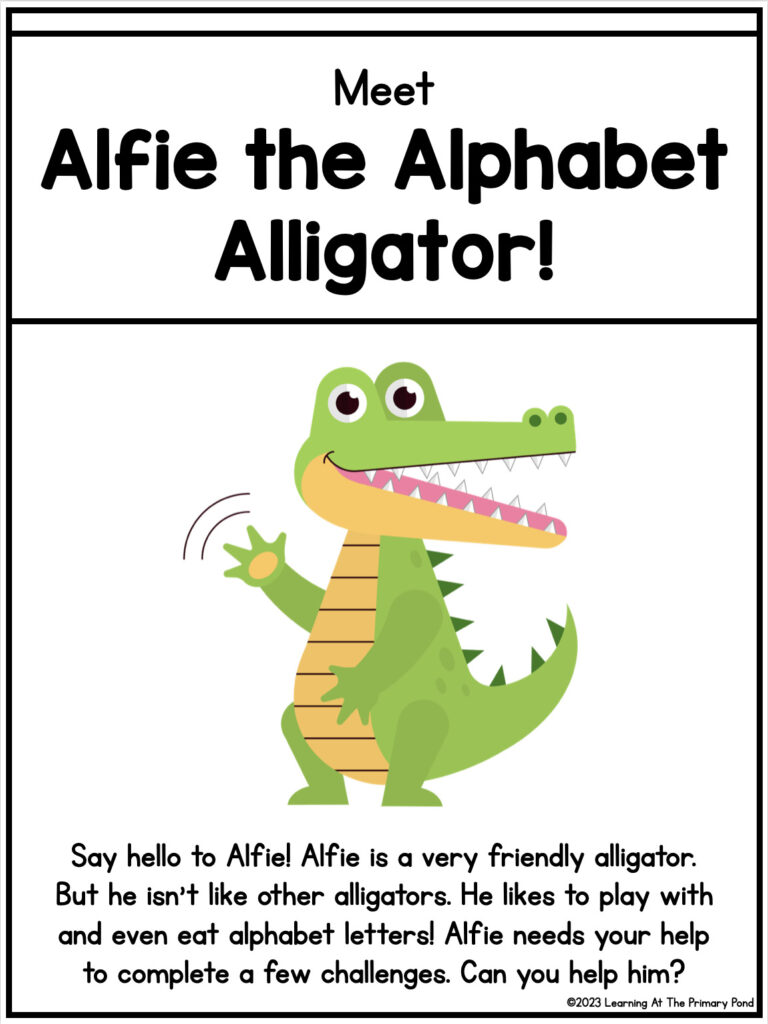 Then, every activity in the set has a "challenge" poster for you to read to students. The challenge poster gets kids excited to help Alfie and complete the activity! Here's an example: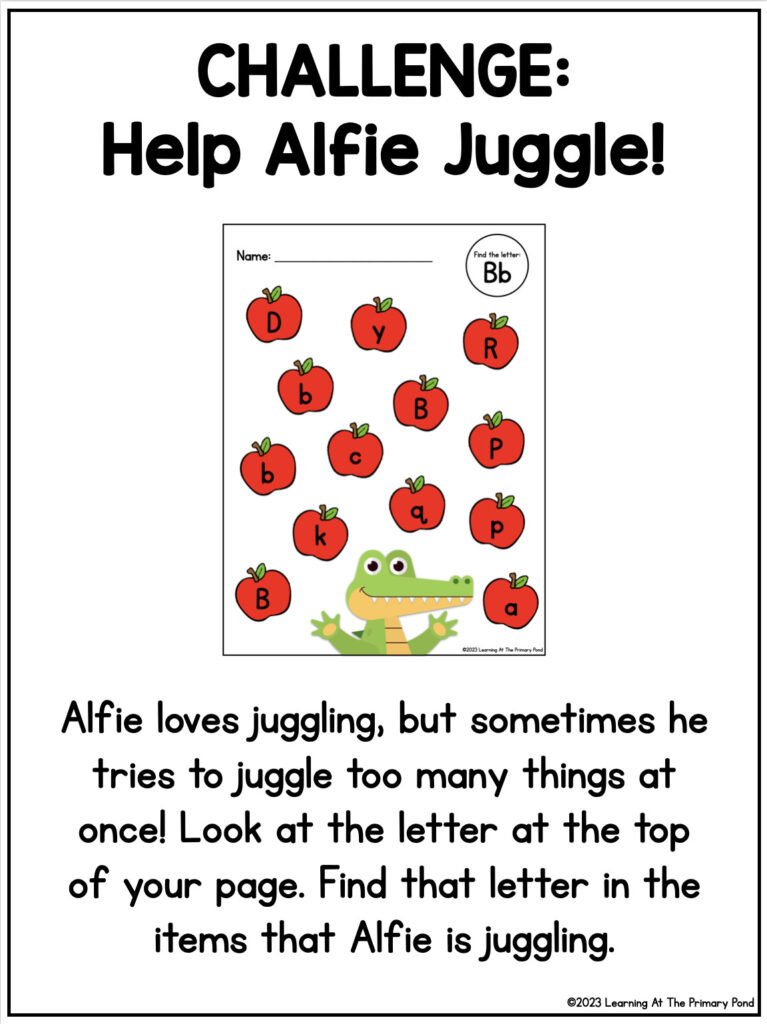 So many kids love playing video games, and the Alfie theme helps all of this feel like a game to them!
Capital and Lowercase Letter Clip Cards
These clip cards are a fun, simple way to give kids practice matching capital letters to lowercase letters!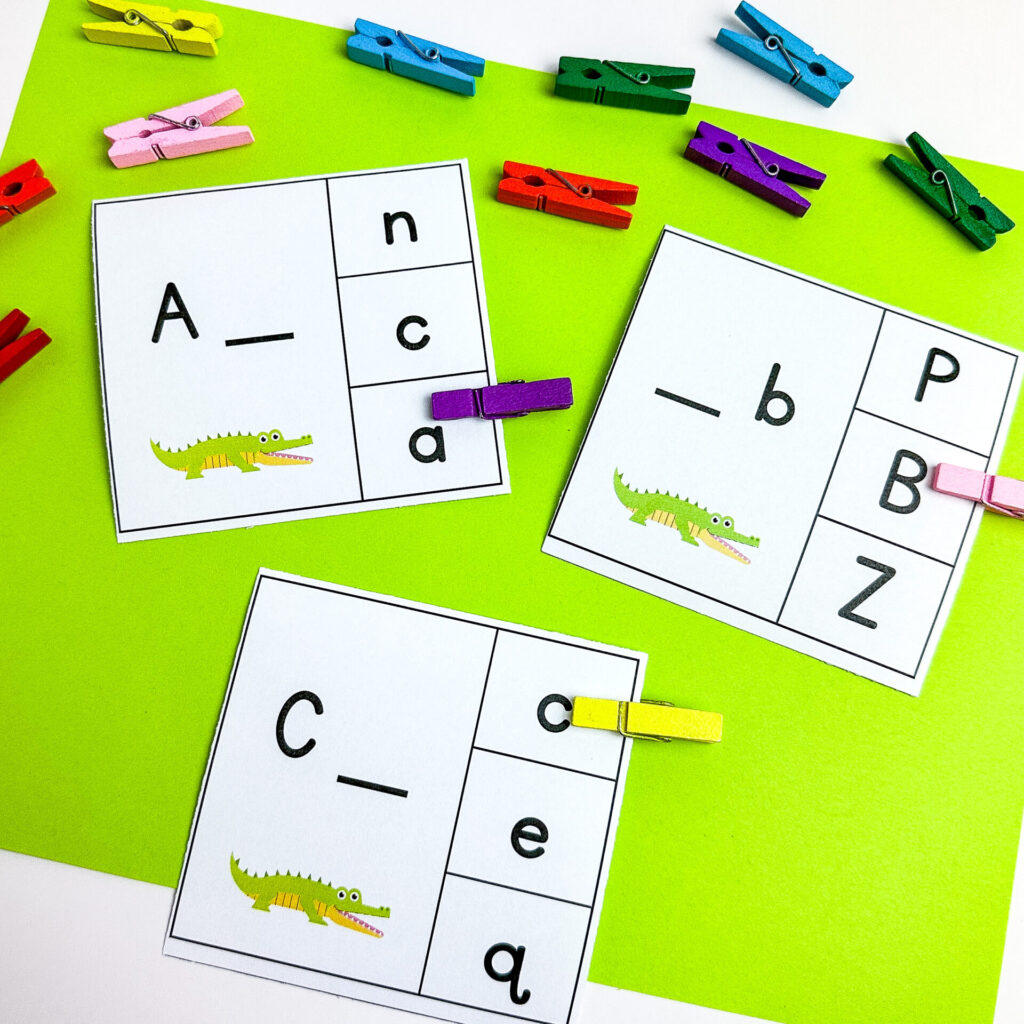 You'll want to print the cards on cardstock (thick paper) and/or laminate them for durability. Using clothespins is a great opportunity for kids to practice fine motor skills. However, if you don't have clothespins or don't want to use them, you can easily have students place a counter or counting bear on top of the correct letter (rather than clipping it).
"Feed the Alligator" Say and Trace Game
This is a fun game that can be played "solo" (i.e. during literacy centers) or with a partner, or even during small group!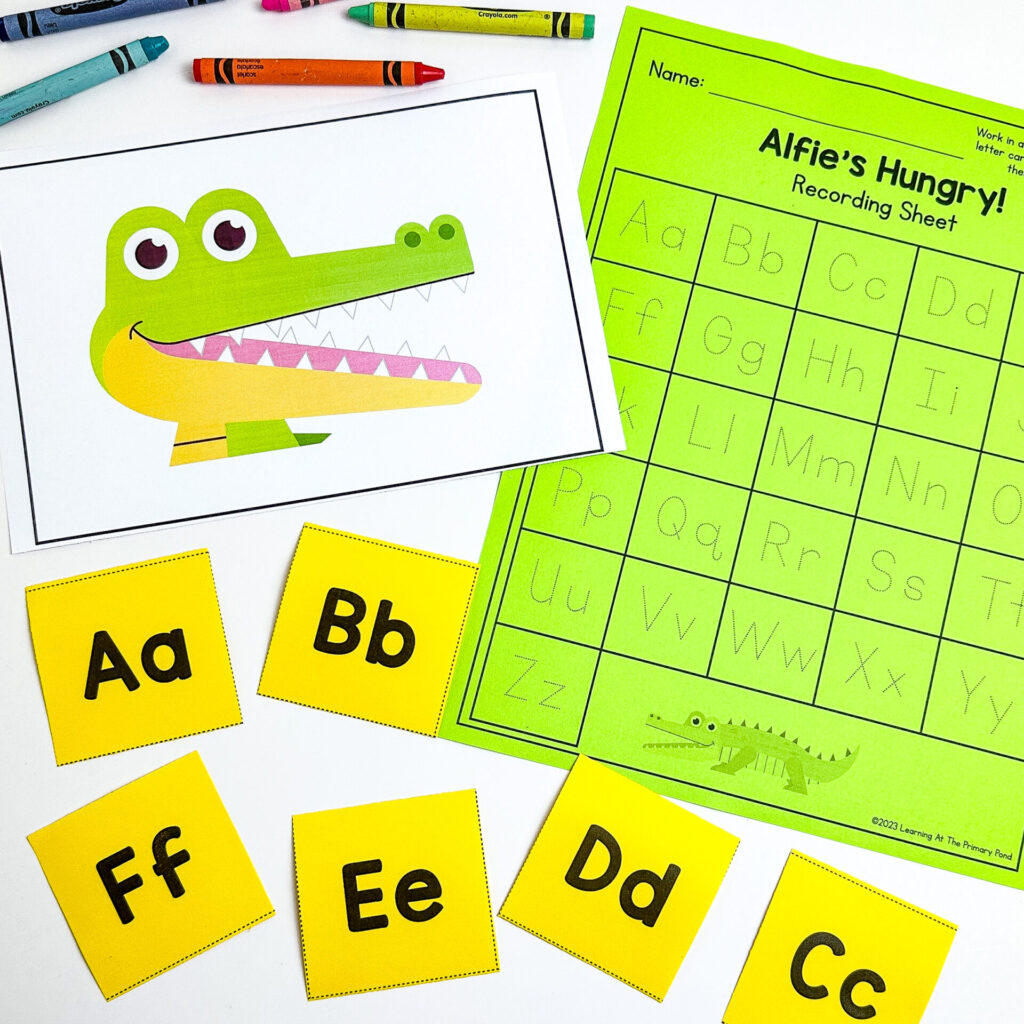 If this is played as a solo game, the child should spread out all the letter cards so they can see them. They place their recording sheet in front of them and start with the letter Aa. They locate the letter card, say the letter name, and "feed" it to Alfie (by placing it on his mouth). Then, the student traces that letter on their recording sheet. They keep going until all letters have been traced, in alphabetical order!
To make this a partner game, students take turns finding the right letter, feeding it to Alfie, and then tracing it on their recording sheet.
Alphabet Letter Mazes
These letter mazes are a fun way to give kids visual practice discrimination by identifying a target letter. Kids start at the top left and circle or cover the appropriate letters to create a maze path to the finish.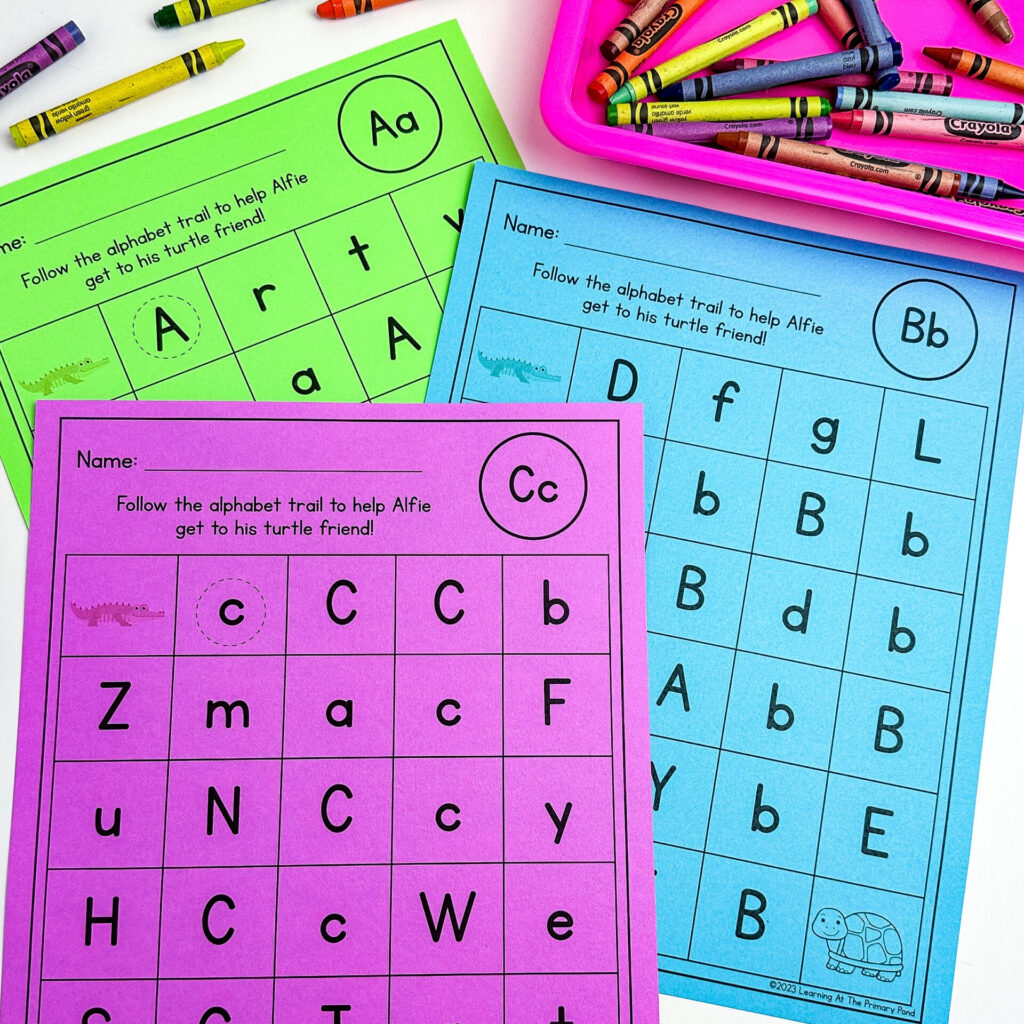 You can use a variety of materials to make these mazes fun. Students can create their maze path by:
Circling each letter with a pencil, crayon, or marker
Covering each letter with a semi-transparent counter
Using a Bingo dabber to dab each letter
The entire pack includes one alphabet maze per letter. To keep kids engaged, you can vary the materials students use to complete the different mazes!
One other tip: Have kids say the name of each letter aloud as they circle or cover it!
Cover the Letter Mats
"Cover the letter" is another fun, versatile, hands-on way to have kids practice identifying the capital and lowercase form of a letter! There is a mat for every letter of the alphabet, and students cover the objects (apples, in this example) that contain the matching letter.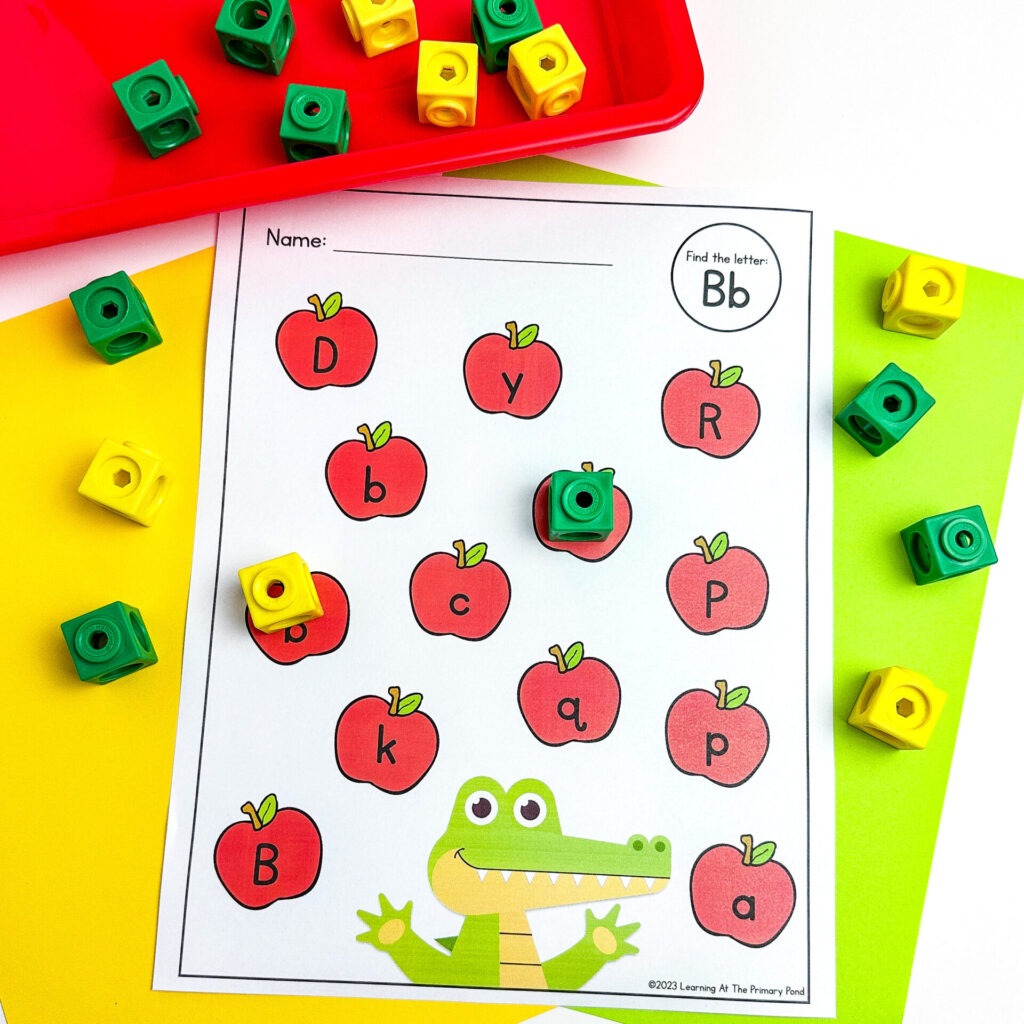 Again, you can have students use a variety of materials. They might cover the letters with cubes, counters, counting bears, or another manipulative of your choice.
The complete set also includes black and white versions in case you want to turn these into letter recognition worksheets.
Letter Fluency Roll and Read
Once kids know many letters, they need to continue practicing them in order to build fluency! This letter fluency roll and read is perfect for that. The child rolls a die, then "reads" through the list of letters (by naming them aloud). Once they read through one row, they get to color in a trophy. They keep going until all trophies have been colored in. The repetition is great for building fluency!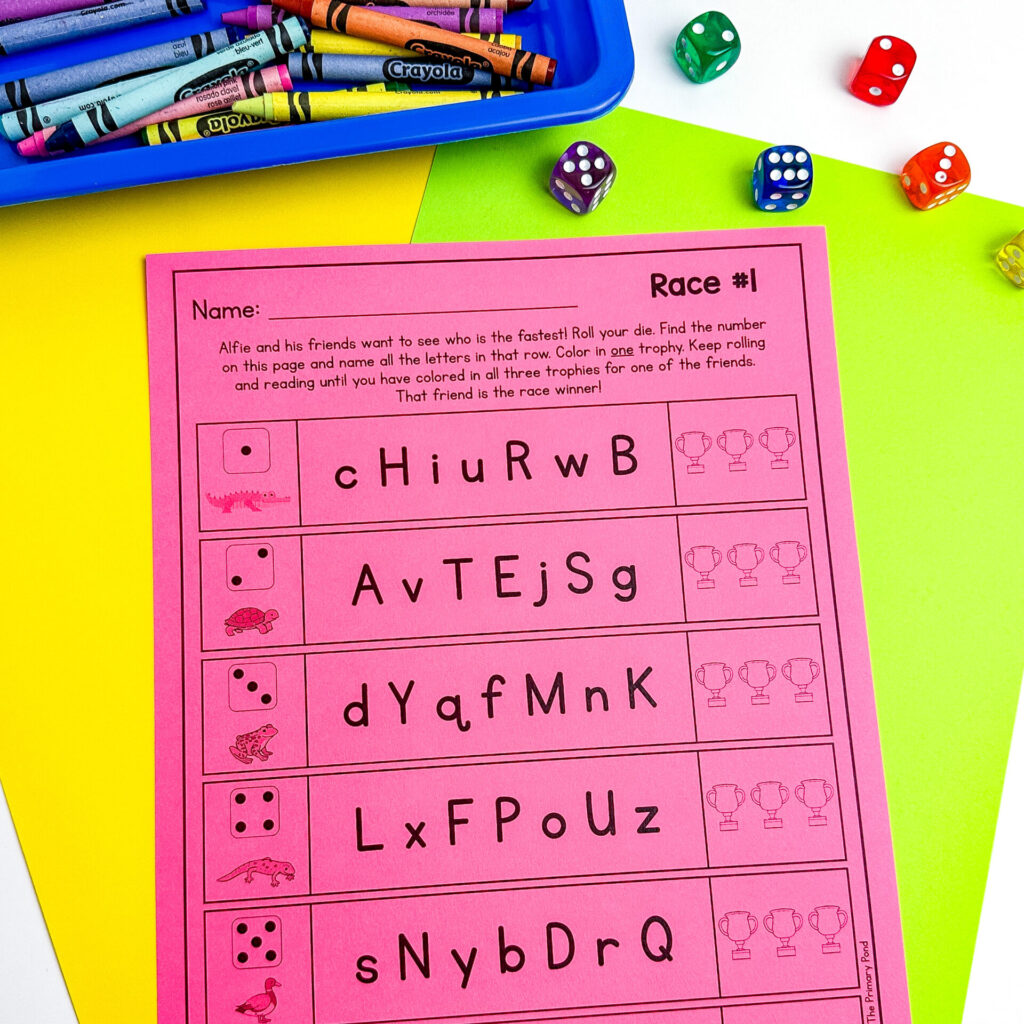 More Resources for Teaching Letter Recognition
All of the letter recognition games and activities shown in this post come from my resource Letter Recognition Activities with Alfie the Alphabet Alligator: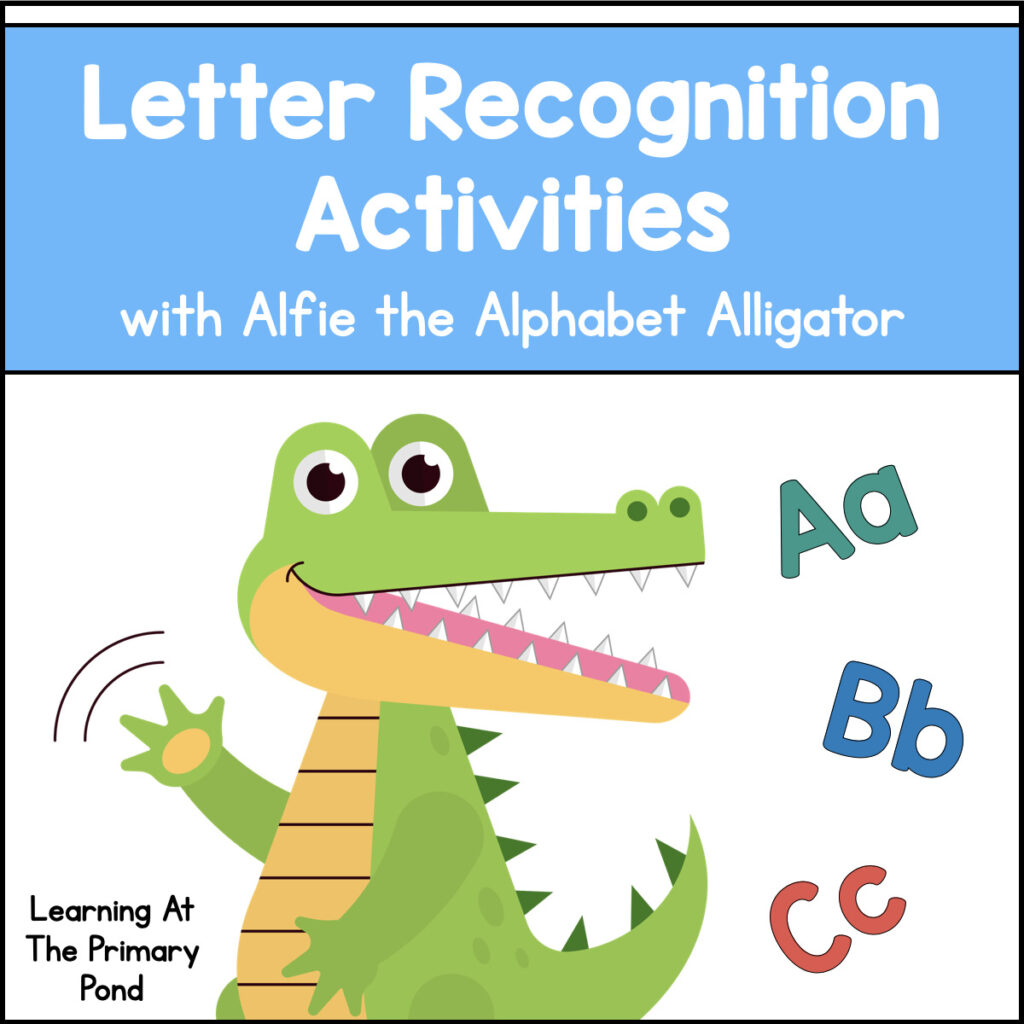 This pack includes:
A "Meet Alfie the Alligator" card to introduce the theme to students 
2 alphabet games that can be played multiple times
26 "cover the letter" mats, one for each letter
26 alphabet mazes, one for each letter
1 set of alphabet puzzles
1 "Read Around the Room" scavenger hunt activity
1 complete set of capital and lowercase matching clip cards
3 "Roll and Read" letter races
Printable "Challenge Cards" to present each activity or game
You can grab it here!
If you need other activities and resources for teaching the alphabet, you can check out:
Want to save this post so you can come back to the ideas? Grab this image for your favorite Pinterest board!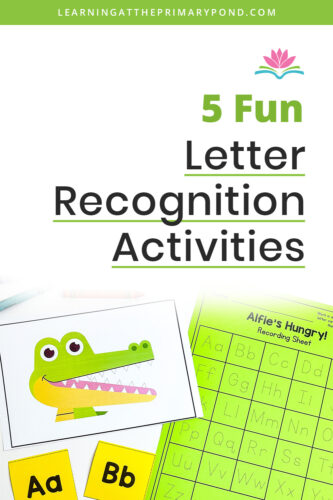 Happy alphabet teaching!