A few years ago, the school where I was working provided me with Lucy Calkins' Units of Study for Primary Writing. I loved those books and her approach to writing – it was developmentally appropriate, rigorous, and got kids involved in creating authentic pieces of writing. I read and reread her lesson descriptions and tried my best to implement her lessons in my own Kindergarten classroom.

While I did love those books, I soon realized that they weren't quite enough. She only describes a handful of lessons for each unit of study, so it's up to the teacher to come up with additional lessons for her students. So, I've spent the last few years coming up with lessons that are developmentally appropriate and rigorous – but that are also appropriate for my Kindergarteners and easy for teachers to implement. When Common Core came out, I again tweaked my lessons to align to those standards. Now, I have 8 different units of study (for Kindergarten) that I've written:

Unit 1: Introduction to the Writer's Workshop
Unit 2: Personal Narratives
Unit 3: Writing Patterned Books
Unit 4: How-To Books
Unit 5: Opinion & Persuasive Writing
Unit 6: Fiction & Fairy Tale Writing
Unit 7: Nonfiction & All About Books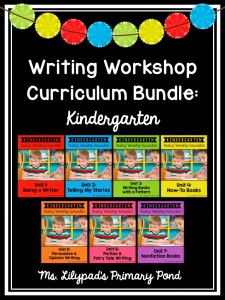 No matter where your Kinders are in their writing abilities, these units will take them from drawing to writing words and sentences. All of the units have tips for implementing writing workshop, complete minilessons, different writing paper options, rubrics (for teacher and kid use), and visual aids. The lessons have worked for my Kinders, and I'm so excited to share them with you!