Today I received my first kiddo gift of the season! One of my little guys handed me a bracelet with the HUGEST grin on his face. He was so excited to give it to me, and it just melted my heart! His gift also made me remember what I forget to do Every.Single.Year. I can never remember to buy thank you notes in advance for the last day of school before winter break! Some years I completely forget, and some years I just don't buy enough. I usually spend my whole lunch break writing thank you notes, because I want to send them home with my little ones before they go on break (and completely forget that they even gave me anything!).

This year…I have a solution! I made these free thank you cards to print out on cardstock. They are four to a sheet, so I can quickly print, cut, and write them. I have to admit, I am kind of proud of myself for actually preparing these in advance. 🙂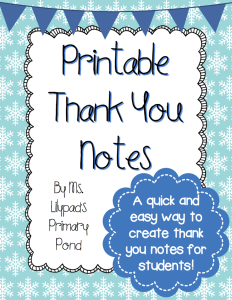 There is a set in English and a set in Spanish – click on any one of the pictures to download for free. I hope they help make this time of year a little bit less crazy for you!