I always say that teachers have 2 jobs rolled into one:
Job #1 = Planning and grading (sometimes even curriculum development)
Job #2 = Actually teaching the children!
The "behind the scenes stuff" – all the planning and prep that goes into each lesson – is incredibly time-consuming.
And if we're being real here, most of us educators can't fit all this work into our actual workday. Some of it ends up happening after contract hours, in the evenings, on weekends, etc. (Not saying that this is okay…just…reality.)
Our time is precious, and most of us want to spend our free times with our families and friends. We need to have time for things we enjoy – things that aren't school-related!
One way we can take back more of our free time is to really use our planning periods wisely.
But at times, it's actually been challenging for me to use my planning periods effectively.
It's not that I don't want to get work done. Trust me, I really do!! ?
But things can get in the way. (Like a lack of focus, not enough energy, spending the whole time chatting with a teacher bestie, and the list goes on.)
So in today's post I want to share my best tips for how I get around those obstacles to make the absolute most of my planning periods!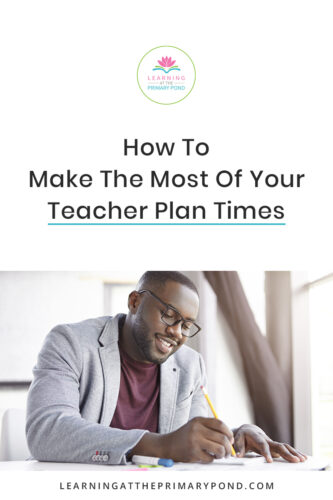 Know Your Energy Levels
Unless you're some type of robot, you probably experience different levels of energy throughout the day. ? And managing your energy can actually be even more helpful than managing your time!
So how does this apply to your teacher planning periods?
Well, you're probably better at completing different types of prep work at different times of the day.
For example, here are my energy levels (plus the best type of work for each part of my day):
Early morning:
Low/medium energy
Sitting, typing, and planning tasks are best
Mid morning to late morning:
High energy
Anything goes – things that involve moving around the classroom are best done here
Early to mid afternoon:
Low energy
Simple tasks like cutting or making copies are best
Late afternoon:
Medium energy, but really depends on how my day has gone
This is a lot of detail, I know! But it's incredibly helpful to me in choosing how I spend each planning period.
Do you know your energy levels super well? If you don't, I highly recommend tracking your energy levels for about a week to learn more about them.
You can jot down L/M/H (low, medium, high) on a sticky note, as well as the time of day. Or you could list out, in a notebook, certain check-in times (examples: 8am, 10am, 1pm, 4pm) and write how you feel at those times.
Once you know your energy levels, you can choose the right type of work to do during each planning period. For example, if I have a planning period in early to mid afternoon, I definitely won't be doing any intense long-term planning. ? ?
Plan Your Planning Periods
Uh, yeah – I just said "plan your planning periods." ? It sounds like MORE work, but hear me out on this one:
When I don't plan my planning periods, this means that when my time block begins, I'll sit down and decide what to work on.
I might spend a few minutes deciding what I feel like doing or need to do, check my calendar or to-do list…5 minutes gone. Plus, this uses up brain energy.
I might start doing a task and realize that I'm really dragging, because my energy levels just aren't right for this particular task. Another waste of time.
But when I have a plan for my planning period, I can sit down and get to it – right away!
So here's how I do this:
I create a running list of weekly to-dos that must get done every single week. This is a little different now that I'm a curriculum director and literacy specialist, but when I was in the classroom, it included things like: write next week's lesson plans, make copies of materials for next week, write my family newsletter, return books to the book room, etc.
I list out my planning times and decide which of those tasks I will accomplish during each planning period. This requires some level of knowing how long things take. So if you're new to this, trial and error will be key. (Recording how long things take will also help.) It's also important to incorporate your own understanding of your energy levels, just like we discussed in the previous section. If you know that you're usually exhausted by the time the kids leave, don't plan on doing anything challenging after school.
I leave in extra space for the unknowns! We all know that things just come up during the school day. Or tasks take us longer than planned. If you're planning out your plan periods, I think you have to be flexible – otherwise you'll end up feeling discouraged that you're not accomplishing what you set out to accomplish. So build in a couple of free blocks of time during your week so you can move things around as needed.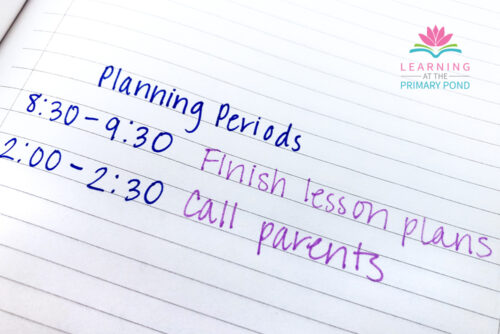 I do this "planning for my planning periods" before the week begins (or at the end of the previous week).
Or, if my planning periods and weekly tasks are very consistent, I can do the same task during the same planning period each week. Having a consistent routine like that is incredibly efficient!!! ?
And remember, don't beat yourself up if you don't stick to the plan. Having a plan to begin with gives you a huge advantage. It's okay if you can't stick to that plan 100% of the time.
Be Ready for Possible Distractions & Obstacles
Even when I have a clear plan for my planning times, things can still get in the way of me getting my tasks done.
For example, I might start chatting with a teacher friend. For a very long time. ?
At the same time, I really enjoy connecting with other teachers! I don't want to come to school, do my job, and leave without having any conversations with my co-workers.
But I can (somewhat) choose when those conversations happen – and how long they take.
For example, if I usually end up chatting with other teachers after school, I might get to school early instead. That way, the building is quiet and I'm less tempted to talk.
Or, if I do want to or need to talk to someone else, I may set an alarm on my phone so I know when it's time to wrap things up.
Another possible obstacle to getting things done is my own level of energy. And yeah, I do know my energy levels pretty well – but some days just feel different or "off."
If I'm not feeling very energetic and I really need to get something done, I'll usually drink some water and maybe have a snack. If you have a water bottle and snack ready for you in the classroom, that can help you salvage your planning periods even when you're feeling pretty tired.
Conclusion
In a nutshell, the most helpful strategies for me have been:
Know how my energy fluctuates throughout the day
Plan my planning times
Rely on lists (like the recurring weekly list) to save brainpower and avoid re-inventing the wheel
Give myself grace when my plan doesn't go as planned
Think ahead to get around possible obstacles and distractions
I should also mention that staying organized (especially digitally) has been really helpful, too. If you'd like to read a post about how to keep your digital resources organized, check out this blog post.
This is what works for me! Do you have any tips for making the most of your planning periods? I'd love to hear them in the comments!
Happy teaching!