I don't know about you, but I am always looking for more texts to give to my students! We have a huge book room at school, and I have a pretty good classroom library, but it still seems like there are never enough. Plus, particularly with nonfiction, I don't always want a whole book for my students to read. Reading shorter articles is time-effective and helps students get ready for standardized testing, and, well, life! Luckily, I have been able to find some super nonfiction reading passages on a couple of free websites.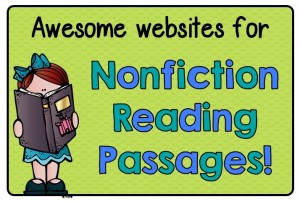 Thanks to Melonheadz, Jen Jones, and KG Fonts!
I'm gonna start with my personal fave…ReadWorks.org! This site is amazing. All you need is a login (free) and you have access to tons of reading comprehension lessons, and texts. The texts also come with Common Core comprehension questions!! You can download the question sets as-is, or even edit them in Word.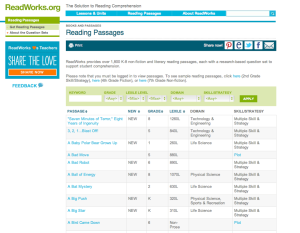 This is a screenshot from inside my login. I clicked on "Reading Passages," and these popped up. As you can see, there are tons of articles to search through (nonfiction and some literature, though I mostly use them for nonfiction). Each article has a grade level, a Lexile level, and a skill/strategy. You can search by title, level, subject area, and skill/strategy. Just choose an article, print, and print the questions to go with, if you like. Amazing!!
Another great website is the DePaul University "Common Core Resources" page. This also has articles you can search through, including paired fiction & nonfiction articles that go together (perfect for Common Core).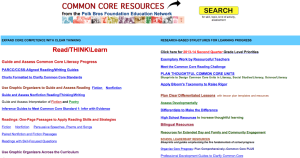 Neat-o! Last, I have a page from readingandwritingproject.com – "Digital Nonfiction Text Sets." Some of these articles are for older kiddos (5th – 8th), but there are some for the younger ones, too. These articles are organized by topic – perfect for integrating with science and social studies.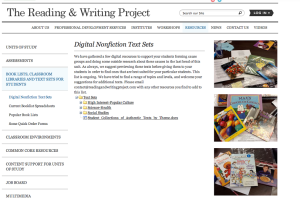 There you have it! Three awesome go-to resources for when you need nonfiction articles. If you have any other great resources to add, please leave a comment! Happy teaching!