When I moved up from Kindergarten to a 1st/2nd grade class, I was pleasantly surprised by how the first day of school went. There was no crying. No bathroom accidents. No wandering around the classroom. It was calm! Enjoyable, even! I could actually do activities with the kids!
That year, my students' favorite back to school activity was our "Get To Know Our Room" scavenger hunt. I had decided to create the scavenger hunt because I wanted my kids to notice where things were in their new classroom. And having them get up and find items themselves was much more exciting than me talking at them!
To prepare for the scavenger hunt, I first made a list of small (but important) items in our classroom. Here's some ideas to get you started:
Globe
Pencil sharpener
Tissue box
Hand sanitizer
Bins of specific math manipulatives
Specific book bins (one genre, for example)
Bathroom / hallway passes
Flag
Extra pencils
Toys for indoor/outdoor recess
I made copies of the scavenger hunt (enough for half of the students) and paired kids up. Each pair of students had one scavenger hunt, one clipboard, and one pencil.
For the scavenger hunt, I had kids check off each item and then draw a picture of it. I instructed them to take turns drawing the pictures.
Another way to design your scavenger hunt would be to place a small colored sticker (like these) on each item for the hunt. Then, when students find the item, they can use a crayon to indicate the sticker's color on their scavenger hunt sheet.
Want to try out a scavenger hunt in your classroom? Download one of the free sheets below! (I apologize that they are not editable due to the clipart and fonts – you will have to write in your scavenger hunt items before copying the form.)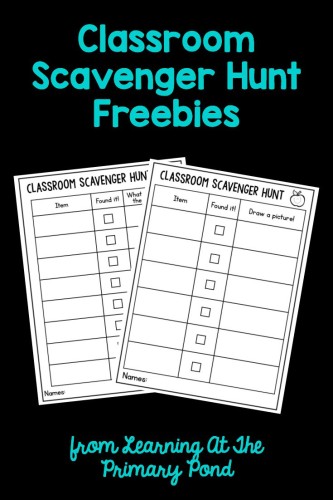 For more back to school ideas and freebies, be sure to follow my"beginning of the school year" Pinterest board here.
If your first day of school is coming up, I hope you have a great one!
Disclaimer:  This post contains an Amazon affiliate link.