I love anchor charts!  I wish I had more use-able space in my current classroom to post them.  Here are two of our recent Kindergarten reading anchor charts (they are in Spanish, but I have included the translations below).  The first chart has ideas for what students can share about (in pairs and with the whole group), when we have sharing time after the reader's workshop.  The second chart has ideas for what they can do with their partners during partner reading.  These charts are definitely works in progress and are easily accessible in the room so that we can add to them as we learn more strategies throughout the year.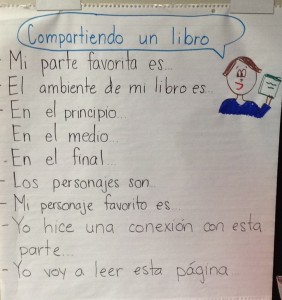 "My favorite part is…"
"The setting of my book is…"
"In the beginning….in the middle….in the end.."
"The characters are…"
"My favorite character is…"
"I made a connection with this part…"
"I'm going to read this page…."
Above:  
Reading with a Partner
"Do you want to read this book?" (how to start off the conversation)
Share the book (book goes in the middle of the two readers)
"I would like to read a different book, please" (what to say if your partner picks a book you don't like
Sit together
You can read the same page (one partner reads it first, the other partner repeats)
Ask, "What is your favorite part?"
In her book

Reading With Meaning

, Debbie Miller talks about how she takes notes on the kids' ideas, and then later, after the kids have gone home, she makes a chart based upon her notes.  I do like making charts as a form of shared writing, but as you can see with my second chart, they can turn out a little disorganized because although the kids ideas about buddy reading are excellent, they were a bit jumbled.  I might redo that chart to have columns, something like:  What buddy reading looks like / what buddy reading sounds like, to divide up what the kids say to each other and what they are physically doing.  I can see how Debbie Miller's way would result in more organized charts (though maybe the kids would take less ownership in them?).  Something to think about and try!  
If you need lesson plans and printable posters to teach buddy reading in your classroom, check out my "Buzzing About Books" pack for K-1.  These lessons have really helped my students become more independent (and productive!) with their buddy reading.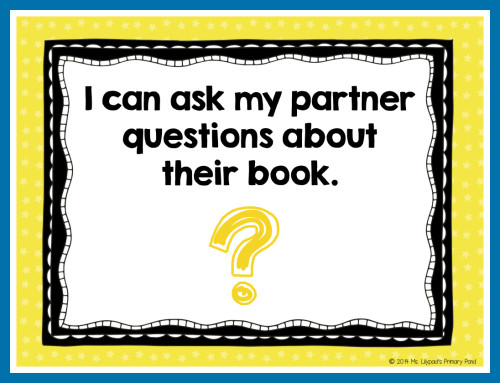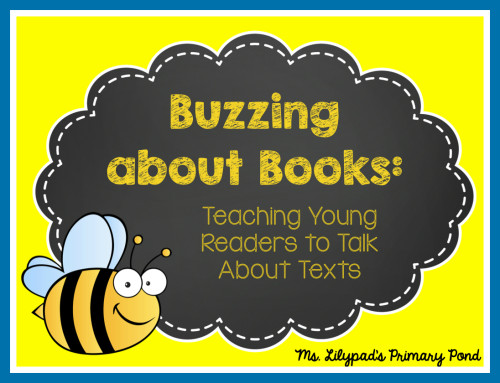 Happy teaching!