Modeling writing for our students is essential for their success as writers. They need to see real examples of what we expect – and they need to hear us think aloud as we write!
Modeling writing sounds pretty straightforward, right? You just write in front of the kids! But how much should you model? How much should students participate? Won't the kids just be sitting there, bored?!
It's not always as easy as it looks. But because modeling writing is such an important part of writing instruction, we want to ensure that we make the most of it.
In this blog post, I'm sharing 5 small (but mighty!) tricks for modeling writing to K-2 students.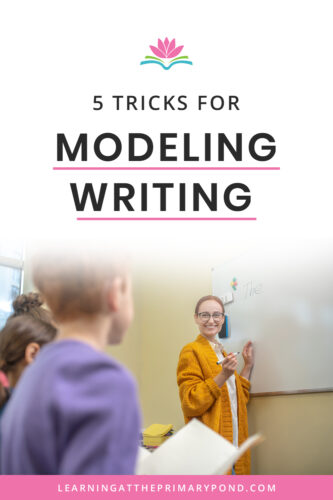 Trick #1: Have a cheat sheet!
Before teaching the lesson, write out what you plan to model on a "cheat sheet." My favorite method is writing my thoughts down on sticky notes. Small and easy to move! Students don't need to even know it's there! Shhhhh – it's our little secret!
In doing so, this helps simplify the lesson because you can be precise about what you say. That way, you're not trying to make up some awkward story on the fly (although that can be pretty funny…!)
Instead, having your thoughts prepared ahead of time, saves time during the lesson and ensures that you really cover what you intended to cover. We all know that every minute matters!
Trick #2: If students copy your work, celebrate those who don't!
It's totally normal for students to copy your writing. Let me repeat, it's totally normal! They see you as the "expert" writer. But by praising students when they do produce original work, the copying will eventually subside. Remind students that not all writers write the same thing.
PRO TIPS:
Typically, you'll have at least one student who creates something original. Stop and immediately praise this student aloud, showing off the originality to the entire class!
Point out examples of different books around the classroom to emphasize how no two authors write about the exact same thing.
If students are struggling with what to write or won't write at all, check out this blog on 7 ways to support reluctant and struggling writers in K-2.
Trick #3: If students are struggling even though you've already modeled, break it down further!
Make the carpet your best friend in the writing process! Rather than having students write at their tables or desks, have them sit down on the carpet with clipboards, paper, and pencils.
You can then take it sentence by sentence with modeling – really break it down. Write part of your own story.
This could sound like "Hmmm, I'm thinking of a time when I felt sad. Well, there was that one time I couldn't find my cat! That was really sad. I know that good writers break their story down into a beginning, middle, and end. So let's start at the beginning, let me first think back to what happened first…"

After you model the beginning of your story, direct students to write part of their story right there in the moment. The close proximity (having students right there in front of you) allows you to ensure students are successfully able to complete the task.
Continue to model a sentence or two at a time, and then have students write the next sentence or two on their own. As students are having success, you can send them back to their desks. Those that need a little more support can stay with you a bit longer.
Trick #4: Model writing at different levels throughout a unit or even a week.
It's highly unlikely that all your students are at the same proficiency level when it comes to their writing. The writing you produce as you model might be too basic for some kids, "just right" for others, and WAY too hard for certain students. To help with this, it's critical to model writing at different levels.

If you're working on prompt writing, go through a low, medium, and high example in the span of 3 days. If you're working on longer, more open-ended pieces, change up the level of writing from piece to piece. Students need to recognize that wherever they are in their writing journeys, it's okay!
Trick #5: Use modeling as a means to review writing tools and expectations.
Although your writing lessons will usually have one teaching point to focus on when you model, do not underestimate students and their ability to absorb other concepts!
These topics (and more!) can be spiraled into your lessons daily so that students are getting extra opportunities with key writing skills and concepts.
Keeping your writing folder organized
Using an alphabet chart or other spelling tool
Frequently rereading your work
Fixing mistakes on the fly
Correct pencil grip
These constant reminders about "the little things" that writers do will help these hints become habits.
Conclusion
As teachers, we all want our students to be the best writers they can be! The key is to intentionally differentiate our modeling to meet the needs of all of our students, not just some. These tricks of the trade will help your students grow as writers and build foundational skills.
If you're in need of a FREE RESOURCE that will help your writers to be more independent, check out these Free Writing Folder Tools for K-2.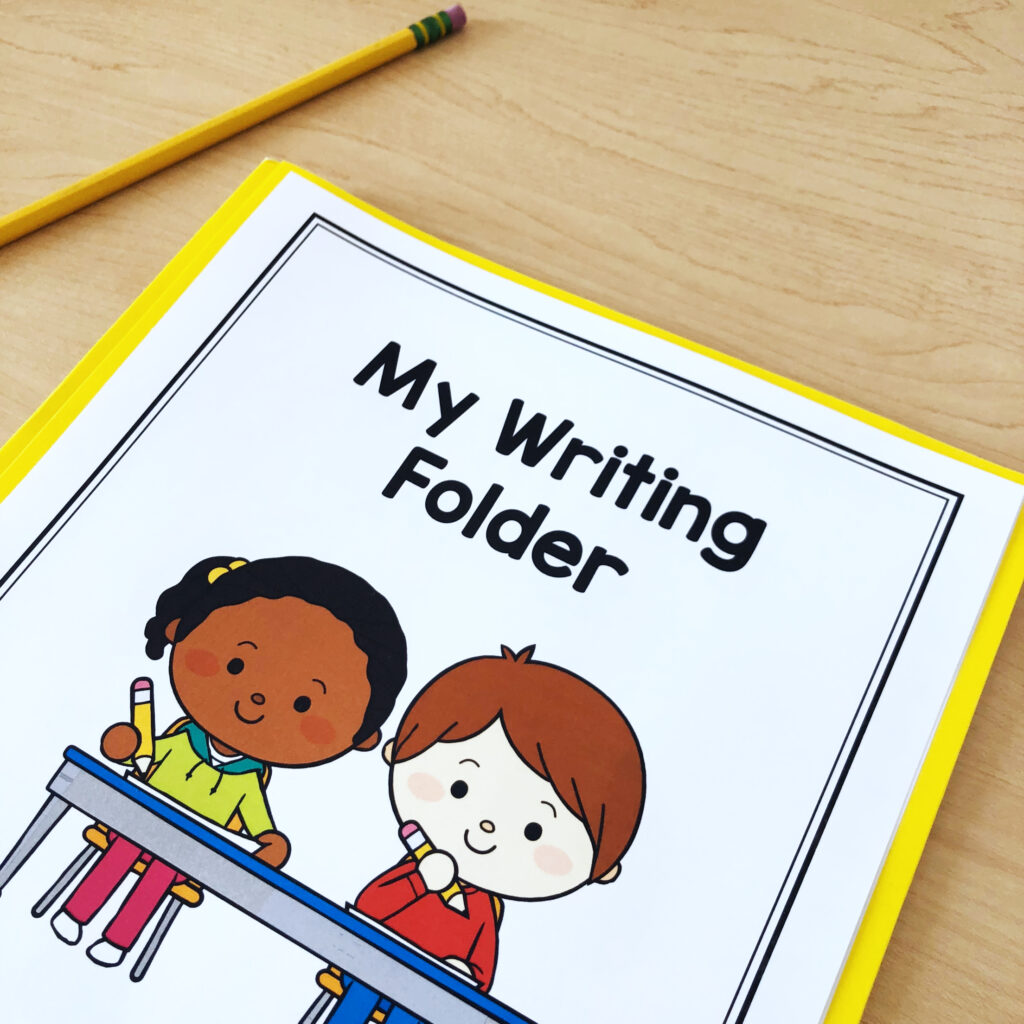 I also do have a comprehensive writing program called Primary Writing Success for Kindergarten, 1st grade, and 2nd grade!
These program comes with complete lesson plans, printable student materials, schedules, and pacing guides. There are also embedded professional development videos to help teachers effectively implement the program and support struggling writers!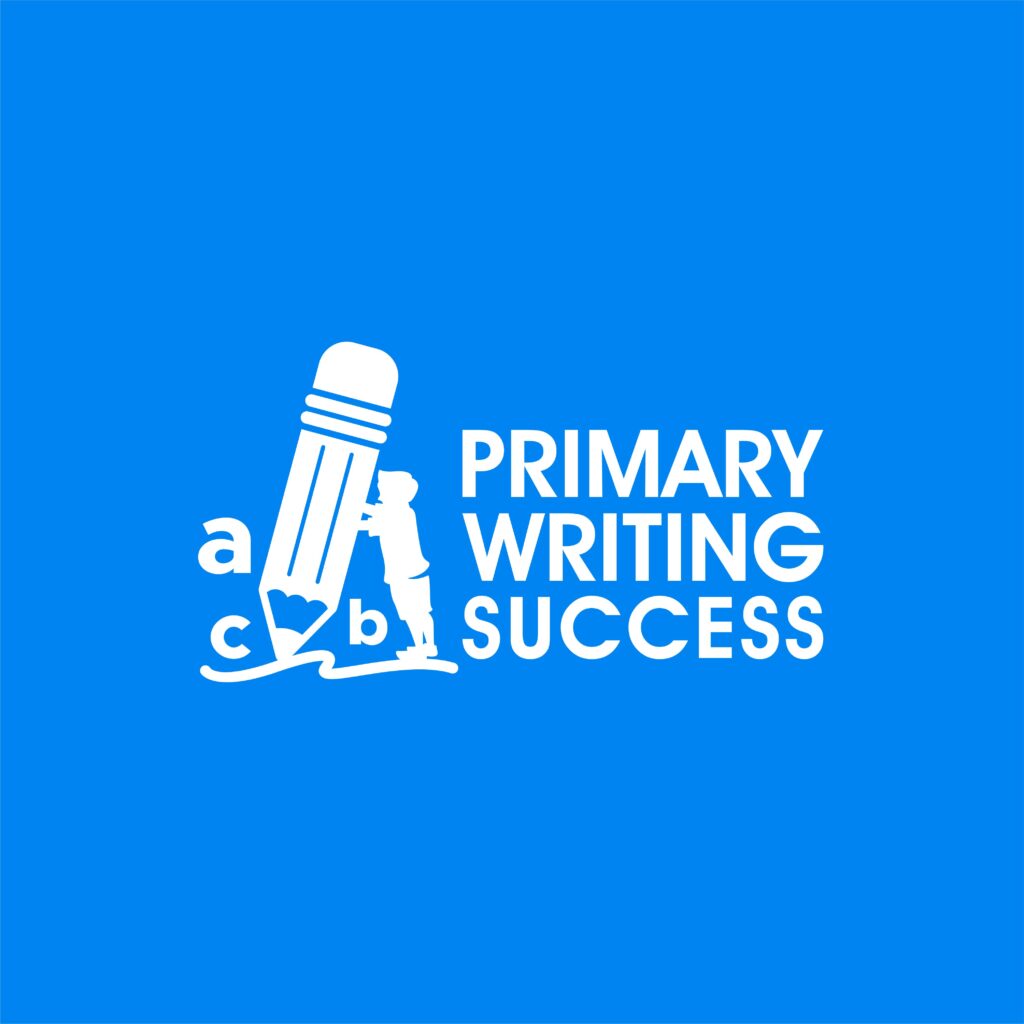 Happy teaching!